Michael Jordan, in response to one of those hackneyed questions journalists sometimes ask to understand why a successful person is just that—successful—gave the perfect answer: "Some people want it to happen, some people wish it would happen, others make it happen."
While his answer did make it onto countless cheesy business inspo posters, it does underscore one of life's truisms: the hustle. Life is hard. Based on a myriad of factors out of your control, things will be weighted against you. Privileges exist. Where our identities intersect is where we'll see life throwing up the sharpest of challenges. For those whose life has been handed to them on a plate, rarely, if ever, do they inspire; the ones we actually look up to know the struggle, have played the system at its own game and come out on top.
For the latest Tech Pack collection from Nike, the Swoosh's Berlin arm went hyper-local and gathered together four voices whose personal journey shows that for those that make it, nothing has been left to chance. Rising Berlin rapper Ufo361, part of the new guard of German hip-hop, joined Rafaela Kaćunić, the fashion stylist, model, and independent publisher of Balkan-focussed cultural zine This Is Badland, along with Hertha Berlin's central defender Niklas Stark and the Chicago-turned-adopted-Berliner and house producer and DJ, Honey Dijon.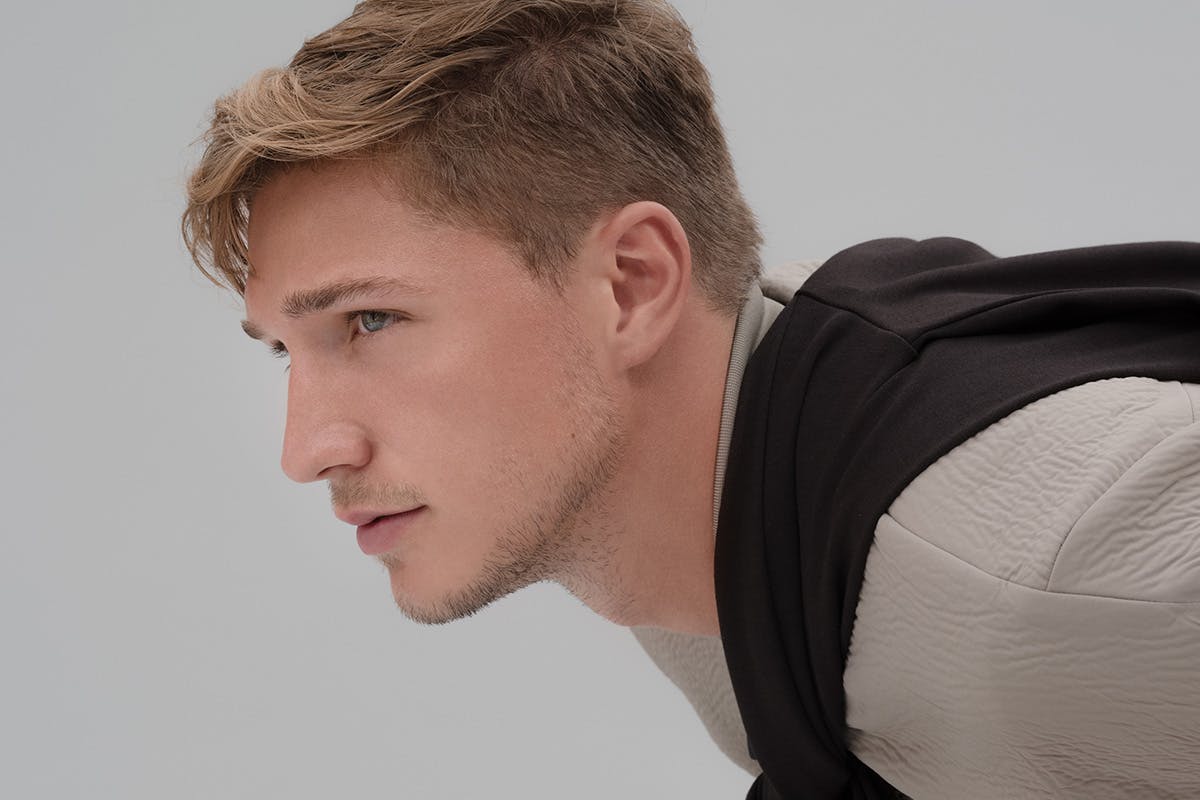 Releasing this Fall, the collection is cut in modern silhouettes and shapes using some of The Swoosh's most future-facing apparel materials — fleece takes a backseat this winter, making way for woven and knit fabrics. A 16 piece collection (eight for women, eight for men, each piece available in different colors), Alpha Numeric Code hints at subtle branding, while muted colorways of metal gray, dusty cool greens, and light earthy brown speak to the urban athlete the pack was made for.
While Ufo361, Dijon, Stark, and, Kaćunić come from different disciples and backgrounds, their lived experiences shared common themes of self-reliance and belief. Each has a creative drive that's meant they've constantly pushed against the status quo. We sat down with each protagonist as Nike and photographer Timothy Schaumburg translated their abstract experiences using its new Nike Tech Pack collection.
Ufo361
Ufo361 grew up in Kreuzberg and has divided the German hip-hop scene with his no-fucks-given attitude and his almost gleeful challenge to the established Deutsch rap scene. Inspired heavily by US hip-hop and Chicago's trap sound, he self-released his first record in 2014, Ihr seid nicht allein, after rejection from record labels and relative isolation in the German scene and his native Berlin.
"Basically, I was one of the first guys [in Germany] who realized there was something going on in America around this thing called trap," he explains. We're sat just off-set in a warehouse on the banks of Berlin's river Spree. He's wearing crisp white Nike AF1s strapped into Sankuanze and a huge silver necklace of a dragon. "I knew the sound was something important and there was a lot of things about it that spoke to me that was relevant for here in Germany."
That being said, at that point, the man was an island and his first record almost never made it out.
"I went deal shopping with my first album and all the major record labels said they couldn't work with it. But then I just decided to release everything independently and all the major labels came back and were like, 'Oh we're really sorry, we got it wrong. How can we help you…?'. So obviously I feel pretty okay with that cos I went with my own ideas and didn't really listen to anyone else but stayed true to what I thought was gonna work. And yeah I'm definitely proud of that."
He continues to divide opinion at the same time as his popularity rockets (both at home and in the US, where increasing numbers of US bloggers post half-bemused, half-awestruck videos trying to decipher the lyrics), all while German rap continues to grow on the international scene.
Case in point: the above track with Migo's Quavo that dropped July 19.
"Looking back, I mostly looked to America for my inspiration and the idols were there. Obviously, that's less and less now. But in terms of things that represent me where I'm at now, this dragon chain I'm wearing is pretty accurate. I designed it and I was born in the year of the dragon, and people born in the year of the dragon are never content, they're always trying to achieve more, and always pushing themselves."
Honey Dijon
"I've always been a misfit," explains Honey Dijon as we sit down ahead of the shoot. "And I've always felt like I was on the outside of everything looking in. As far as being a person of color, being a woman, being a trans woman, and having to navigate all of these intersectionalities of gender, and racial identity, and gender issues — this has sort of prepared me in a way to be an artist."
The house music pioneer, Honey Dijon, has a life that, by its very existence — and as she describes — has defined a type of struggle that goes beyond the general everyday hustle of the creative person. As a trans woman of color, the language and issues of gender, gender identity, and race bear across her lived experience. Yet, despite this, she is first and foremost, and especially within the house music and clubbing scene of her native Chicago (and her new home in Berlin), a phenomenal DJ and house music producer.
Yet she is also a bridge from the hetero world to the issues and experiences of the queer community. She's also a role model for countless young people simply by her presence behind the decks and across her Instagram.
"So my idea of success is not traveling the world, not having access to really highly creative people and things. It's the fact that I get to wake up every day, I get to choose my day, and the fact that I've survived and that I can take care of myself. Because nothing was given to me. Everything I have in my life I worked for," she explains. "For instance, I was told I was 'too straight for gay crowds and too queer for straight crowds,' and so I never fit in. So the fact that now there's more trans awareness, women's awareness, the "Me Too" movement, it sends all this intersectionality and has allowed me to blossom."
Rafaela Kaćunić
Rafaela Kaćunić does not stop. Always working, always moving, my interview with her begins at a breakneck pace and doesn't stop until the site manager tells us that our time's up. In her mid-twenties, she's already drawn enough lessons from a wealth of experiences that have seen her work a myriad of jobs between her hometowns in Croatia and western Germany, before heading to the French capital where she studied and worked before, finally, landing in Berlin.
Originally trained in fashion and today working as an art director, set designer, and tastemaker, Kaćunić is the daughter of Croatian parents that settled in western Germany as the former Yugoslavia violently broke apart in the early '90s. Taught to be fiercely independent from a young age, and with a creative hunger that kept her moving, she eventually co-founded the cultural magazine This is Badland as a way of bridging the international creative scene with a region that's just one generation out of war — the Balkans.
"My partner and I created it out of curiosity because we felt like the area that I call my home was perceived in a one-sided way: as a vacation destination with a violent past," she explains. "However, This is Badland is about cultural exchange and beyond geographical borders, because it's the way I grew up — in between countries and cultures."
I ask her where her energy comes from, and whether it's related to her parents. "Since my parents were working hard, I grew up quite autonomous and had to find ways to sustain and entertain myself. I've learned how to speak German in kindergarten, always had a pencil in my hand and started working when I was 12 so I could buy myself gumdrops whenever I wanted them," she explains. "I think my drive comes from that, and simply because I love that I don't know what's around the next corner."
Niklas Stark
The life of a footballer is one of dedication. For a sport that's so much in the public eye and so globally significant, it demands a level of commitment and discipline that's arguably not seen or asked for by any other. Barely into his twenties, German central defender Niklas Stark is already at Bundesliga level, playing for the German capital's Hertha Berlin.
"I try and go step by step even though there are bigger goals," explains Stark of his success. "I look at it all on a year-by-year basis to accomplish these steps, and that's how I suppose I can progress quite fast."
Growing up in a small town in southern Germany, he knew he wanted to be a footballer almost from kindergarten age. "I started when I was young, going to the academy almost every day," he explains calmly. "So I've given everything for football, for where I'm at now."
Logical and grounded in the real, Stark rarely imagines life outside the game or his own experiences, never letting the outside interfere with his game plan.
"I mean, you're gonna encounter people who will want to tell you that you're the greatest in life, and that's cool, but you have to keep on working and work hard for your next step, the next goal, and that's what makes a difference."
Nike's latest Tech Pack collection is available soon via Nike.com.