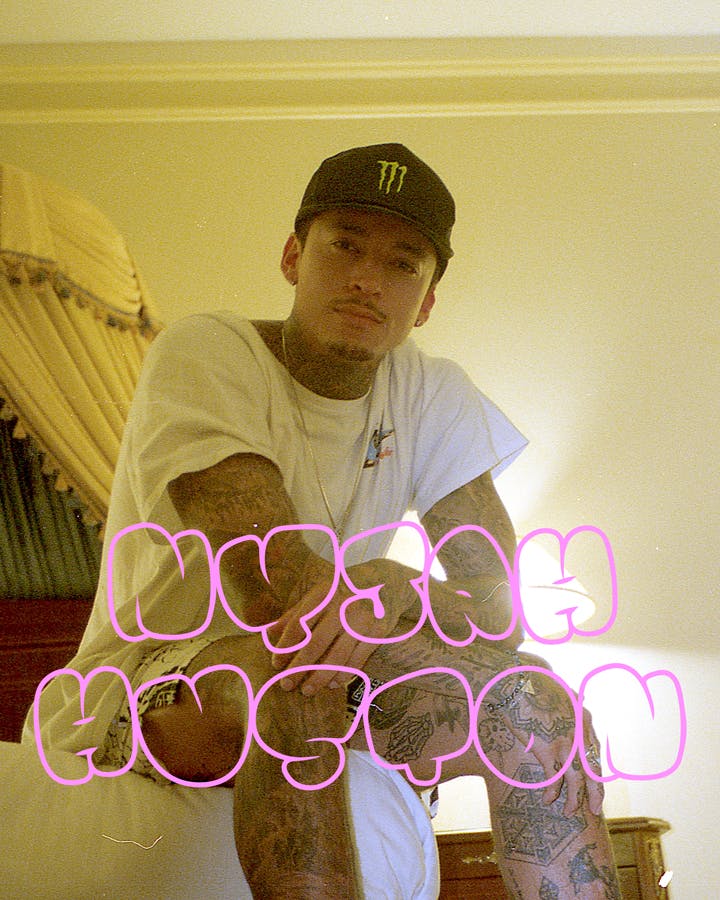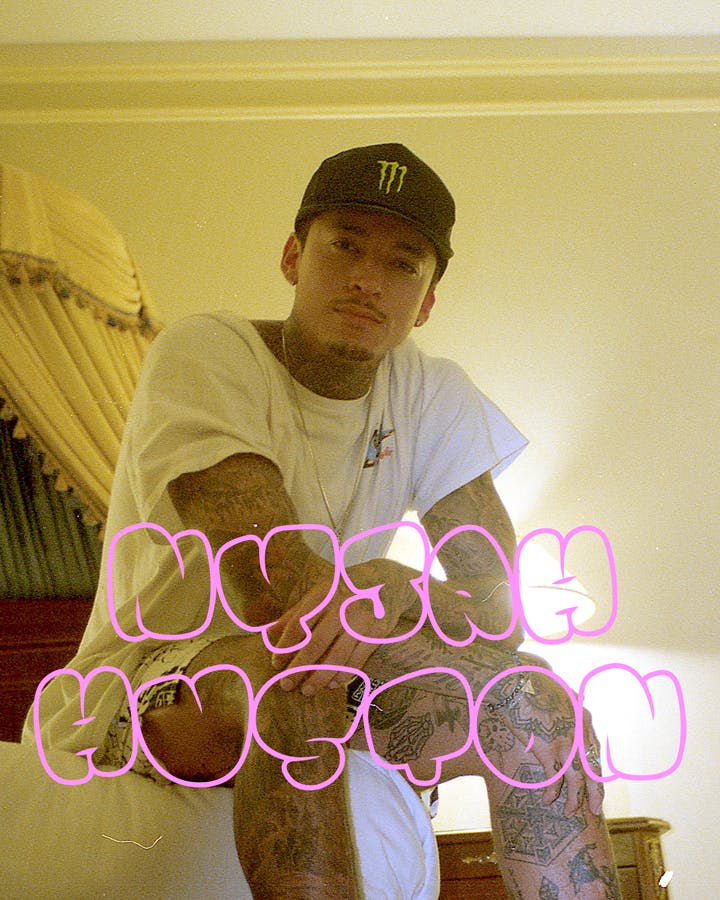 FRONTPAGE is Highsnobiety's weekly online cover story exploring the people, moments, and ideas shaping culture today. For the eleventh edition of our series, Highsnobiety's West Coast Editorial Director Brock Cardiner sits down with Nyjah Huston to learn about his thoughts on skating's debut at the 2020 Tokyo Olympics.
When we meet at the Millennium Biltmore in Downtown Los Angeles, Nyjah Huston is still recovering from his afternoon session at the new Berrics, a nearby skatepark owned by Steve Berra and Eric Koston. A few weeks before, he was in Brazil, earning his fifth career Street League Skateboarding World Championship title with the highest final score in series history.
The skateboarder – known simply as Nyjah within the industry – achieved this record-breaking performance by coming back from a near double-digit deficit with a hard-to-comprehend cab flip front board, followed immediately by a nollie heelflip back lip. Google "SLS Nyjah Huston Brazil" if you also have a hard time wrapping your head around what that means exactly.
Scrolling through his Instagram page, it's hard to peg the kind of skater Nyjah is. Nearly every post is a clip of him landing a trick impossibly clean, almost robotically so. You often have to thumb through the comments just to understand what it is he did. Compared to other skaters du jour that cultivate entire lifestyles brands around themselves, Nyjah is precise, to the point of being anti-style.
His feed is dedicated almost entirely to his craft. Sure, you'll see the occasional flex showing Nyjah tearing it up at his private skatepark with Justin Bieber (although who's really flexing here?), or the flashy Instagram Story of him speeding down the freeway in his Mercedes C63 AMG. Besides that, every clip and every image reflects Nyjah's core ethos: Send It.
Skating, however, is no longer just about being the first to send the next Hollywood 16. Instead, the entire culture and style has been appropriated by the upper echelons of the fashion world, largely by people who were influenced by the sport and its penchant for DIY brand-building in their childhood. Walking down the streets of nearly any metropolitan area around the world, you'd be forgiven for mistaking a skater with someone who just left Dover Street Market.
This generational shift seems to have bypassed Nyjah's sphere of influence entirely. In a fashion scene dominated by English skaters on Parisian runways, he remains far more Nike Running than Dior x Stussy, and spends what's left of his creative energy dreaming up new trick combinations to send during his next session. YouTube commenters liken his approach to LeBron James or Lionel Messi, athletes known to arrive early, leave late, and perform best under pressure.
Born on November 30, 1994, Nyjah sits right on the edge between the Millennial and Zoomer generations. He's found that elusive professional sweet spot, earning lucrative sponsorships from Nike SB, Element, Monster Energy, Black Plague Brewing, Social CBD, and Privé Revaux – all while winning more tournament prize money than any other skater in history.
He's now poised to take his career to the next level with the introduction of skating at this year's Tokyo Olympics. With only a handful of skaters making the cut, there will be more eyes than ever on the 25-year-old California native. As the de facto leader of the team, Nyjah is set to take on a new role in pop culture, one that hasn't been seen in the sport since Tony Hawk first landed the 900 at the 1999 X-Games. Whether summer or winter, Michael Phelps or Shaun White, every Olympic Games has its hero. Nyjah could be 2020's.
Twenty years ago, Tony Hawk landed one of the biggest skate tricks of all time, the 900, and people remember it to this day. Is there still room in skating for that kind of signature trick? The kind of trick that's seen around the world?
You really can't compare street tricks to a 900, because the main reason that was such a big deal is just that extra spin. No one had done that before. There are still tricks that people do that you haven't seen before, but it's more so just mixing [one trick] into another trick, and really technical stuff that the normal person doesn't really know how to comprehend.
Before I forget, happy belated birthday! Can you share anything, for those of us that weren't there?
Man, yeah – my birthdays have become pretty legendary. I feel like every year it becomes more and more of a thing. I always invite a couple of fans to cruise out, a couple of random people from Instagram. So yeah, it's a good time.
If I don't have anything to do throughout my day and I'm feeling good, I'm definitely going to be on the board.
You're competing at a level now that I think no one imagined skating getting to, 25 or 30 years ago. Do you have to cut back on the partying? Do you have to treat partying differently than you used to?
I've been thinking about that more, especially with the Olympics coming up. I will definitely be cutting back and just making sure I'm in my healthiest condition ever. But that's one of the blessings about being a skateboarder. It's not like normal sports, where you have to go out every day and train. It's good to skate as much as you can, but for someone like me, my body already gets so sore that even if I'm not out partying, I still can't skate every day. If I have a really hard session, I've got to take a day or two off.
What's a day in the life of Nyjah Huston like?
A normal day for me is wake up, eat some breakfast, workout in my gym, stretch, sometimes go on a hike – depending on how the knee is feeling. Then go to physical therapy, at least a couple times a week. Then have a skate sesh with the boys. Normally, during the week, it will be at my park. Then on the weekends, we'll get out in the streets and just chill.
Do you have a super tight regimen you stick to? Like, two hours rails, three hours stairs?
No, that's the cool thing about skating – you just go with what you're feeling at the time. You can have a good flat ground session. My favorite thing to skate is rails and stairs. Not too many stairs nowadays, because I get sore in my ankles and knees, but rails have always been my favorite.
You posted a photo the other day of you with Tony Hawk. At 25, you're just under half his age. Over the last two and a half decades, what do you think have been the biggest changes in the sport?
Aside from the whole Olympics thing, in the past 10-20 years, skateboarding has become so much more accepted and thought of as an actual proper way to make a living, instead of parents seeing their kids skating and being like, "Oh, you need to go to college and do this instead." It's been gradually getting to that point. It's a beautiful thing to see. [My dad] was a skateboarder back in his teenage years – his parents were never supportive of it. So when he had me and my brothers, he wanted to get us into skating right away.
I'm really not the type of person [who is] posting a bunch of random brands all the time, trying to make an extra 50-100k here and there.
Are there people that have helped break those barriers over the years?
People like Tony and Shaun White have done a lot to help out with that, but also every pro skateboarder out there [who is] showing people that.
There were rumors about skating in the Olympics for a long time and now it's finally happening. How did you react when you first heard the news?
It all happened pretty fast. The main question then was if it would be in this year's Olympics, or if we would have to wait until 2024. I was like, "Damn, I'm going to be 29 at that time." I wanted to get in this one for sure. Then slowly, it just started becoming more and more real. I noticed so many people hating on it, but those same people are now excited.
So much of skating is style, and that's a hard thing to judge. How do you feel about judging a sport like skating in the Olympics?
Judging and skating, it'll always be a hard thing, no matter what. To this day I see judging in Street League, where it definitely should've got higher [points], or some stuff should've got lower. Not just for me, but for everyone out there. Man, I know those guys do their best, but it's really hard.
Are you approaching your training for the Olympics any differently than you would for SLS?
No, it's going to be the same format as Street League, so it's really just about going out there and landing your hardest stuff. From what I've heard, there's going to be a big rail, a couple of stairs bigger than your normal Street League big rail, which I'm stoked on. All the tricks you see me do on a smaller rail, I'm willing to do [them] on a bigger rail to win.
What still gets you excited to go out every day and try new things?
It's really just the feeling of being on a board. I never fell out of love [with] street skating. After my last Nike video came out, it was a really refreshing thing, because it got me going out to spots and being like, "Alright, I've got to film this today. I've got to do the hardest trick on this spot." It was more so just [me], out with my buddies, having fun street skating, cruising around, hitting random shit, doing lines, and posting them.
Are there ever days where you get up and you just don't really feel like skating?
It's really just my body that holds me back: my ankle, or my knee injury that I've had for seven years now. It's a constant bone bruise that never goes away. But no, if I don't have anything to do throughout my day and I'm feeling good, I'm definitely going to be on the board.
I understand Rob Dyrdek had a big influence on your life. Can you tell me that story?
It was crazy. It was the first Street League contest ever; I was 15 and I had already been skating pro for about four years, but I had yet to get my first big win. I got a ton of second places and I was so over it. It was around the time when my parents just got divorced and all this drama, and everything happened [because of] my dad trying to take control of my career too seriously and not letting me grow into my own person.
I was raised really humble. My family never had a lot of money. I was always around my dad growing weed when we grew up, that was his source of income. Around this time, I just moved back to Davis, California with my mom and my family, and wanted to go out to the contest, but my mom didn't have much money. We got the flights out there, but we didn't have money to get the hotel. Dyrdek actually helped out with that, so shout out to him. Rob's a good guy for that one, man.
I ended up winning that first one and it was the biggest prize money ever for skateboarding. It was 150 grand. That was life-changing. Around that time, I was trying to just hold on to that love for skateboarding after all the family drama and everything that I was dealing with. So, to go out there and get that win, it was a really important time for me because it just made me want to work so much harder.
I've been fortunate enough to make good money and a good living off of skateboarding, but for most of these guys out there, it's hard. There's really not a lot of money in skateboarding.
Do you still feel those kind of life-changing moments when you're out there everyday?
There's no doubt. I don't believe I would be where I'm at now if it wasn't for being raised the way I was, coming from a really humble background and spending those years in Puerto Rico where I didn't even have a very good place to skate all the time. I was raised in a pretty harsh environment, [with] my dad pushing me to skate big ass rails when I was like eight or nine years old. But that's the stuff I love to skate to this day and what I'm known for. It was rough at the time, but I'm thankful for it all.
With the Olympics coming up, I'm sure you have a lot of people approaching you with new business opportunities. Are there brands you have to push back on?
With me, it's mainly what I feel fits me well. Like Element, for example – that was my first sponsor ever. I was seven years old. Then with Nike, that was something that was bound to happen. Social CBD is another one that made sense— with how hard skateboarding is on my body, it's important to focus on the right kind of recovery, and I use their athletic rub all the time. But as far as other stuff, I'm really not the type of person [who is] posting a bunch of random brands all the time, trying to make an extra 50-100K here and there.
But with the Olympics coming up, I think it'll open some more opportunities for myself and for a lot of other skaters out there. I think that's another thing that people just can't hate on. I've been fortunate enough to make good money and a good living off of skateboarding, but for most of these guys out there, it's hard. There's really not a lot of money in skateboarding.
I imagine you'll have a new shoe out as well...
My second shoe will be coming out a couple months before the Olympics! The Nyjah 2. I've already skated a couple of sample pairs and they're sick, people are going to be stoked.
Everyone knows you're a big car guy. What cars are you into right now?
I've actually been pretty mellow on the car thing lately. Right now, I just have my C63 and my R8, which I'm probably keeping forever because it's manual. It was my first sports car – I actually think I'm going to supercharge it and wide-body it, so it's all set up for the track. I do want to get something soon... I've been thinking about a McLaren 600LT, I like those a lot.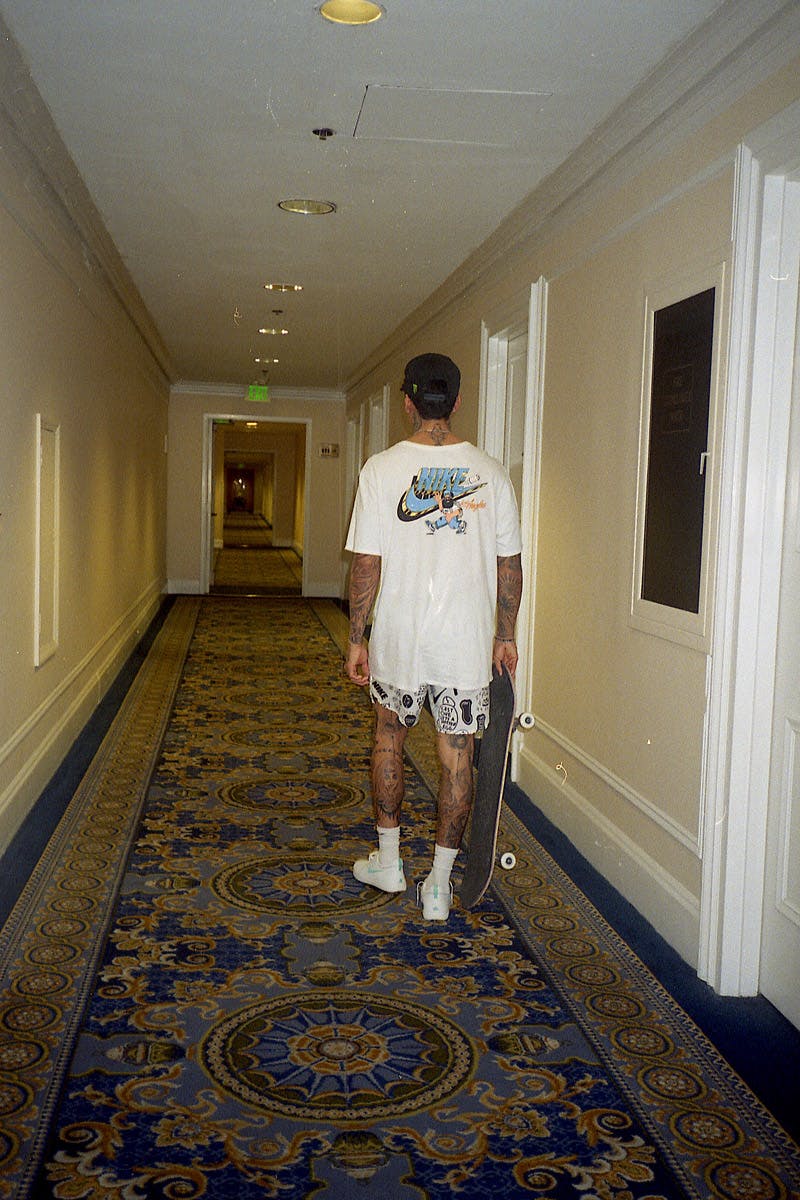 What do you think about the Cybertruck?
It's a little too much for me.
It's not going to be in your collection?
No. It's a little too futuristic. I feel like they jumped ahead 10 years. Let's slow it down a little bit.
So, ask you in 10 years and see what the answer is?
For sure.