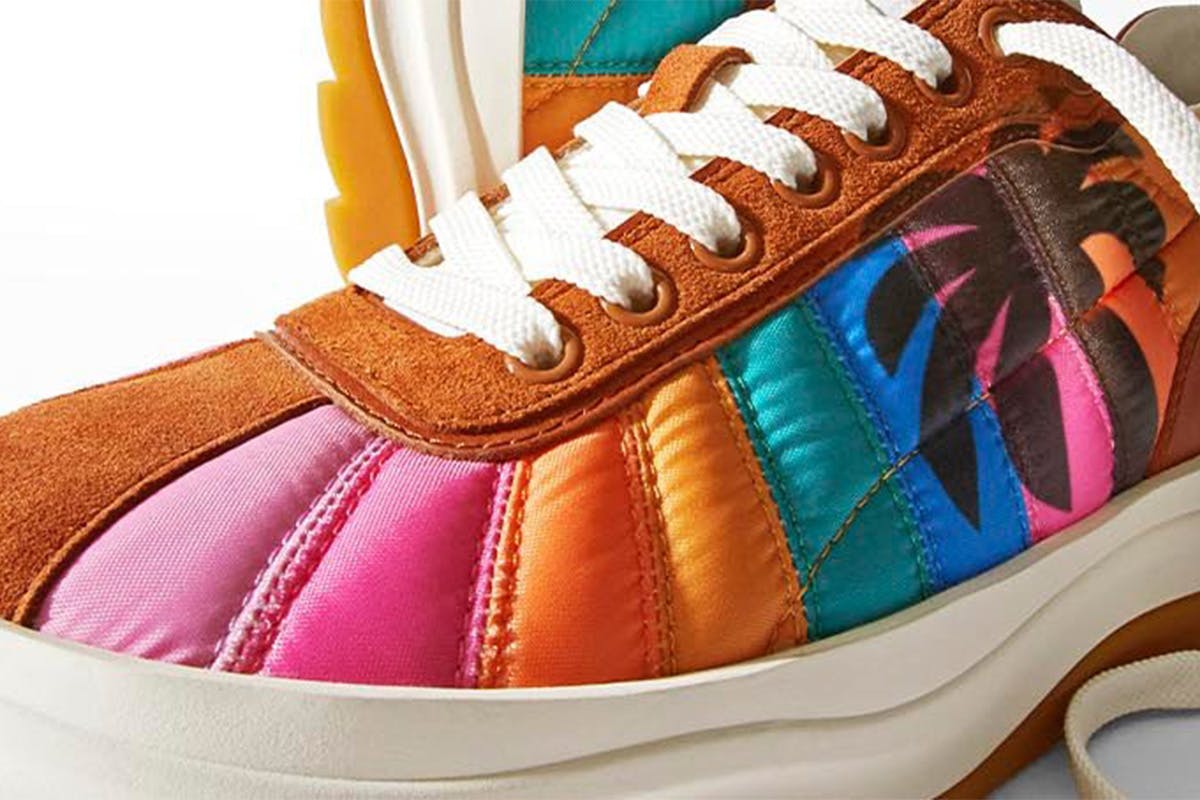 When it comes to sneakers, the needle moves every day. After a long obsession with the wildly futuristic, we reverted back to a love of retro silhouettes some time ago and we're still feeling the effects of that shift now. Lately, though, we're beginning to see the rise of a new kind of retro which skips past the '70s and '80s in favor of the '90s and '00s. A painful hit for all millennials whose childhoods are now 'retro'.
Take all the big, padded skate-shoe reiterations we've seen recently or the reissue of pieces like AI's The Question alongside Maison Margiela. The Y2K revival has been happening for some time now, but it's taking a noticeable hold on the upper echelons of luxury sneakers lately. The most recent sign of this move comes from Francesco Ragazzi's Palm Angels imprint.
Based on a gum outsole and complementing white midsole, the Palm Angels Rainbow Sneakers are defined by their quilted, multicolor upper. Set against the rainbow backdrop is a stencil palm tree — the label's go-to motif.
The shadowed palm tree rounds out the sunset effect of the quilted upper, aligning this pair with warm summer evening strolls. Brown leather and suede make up the rest of the upper in contrast to the bold quilting while the heel is wrapped by an embossed Palm Angels patch with the label's signature gothic text logo.
The Palm Angels Rainbow Sneakers stand in stark contrast to the rest of the brand's footwear offering which revolves around luxury leather uppers in clean white hues with minimal detailing. Like them or not, there's no denying that the Palm Angels Rainbow Sneakers make a statement. We're here for it.
Shop the Palm Angels Rainbow Sneakers below.
Want to keep browsing? Head to the Highsnobiety Shop for more products that we love. Highsnobiety has affiliate marketing partnerships, which means we may receive a commission from your purchase.