Highsnobiety recently announced the arrival of a new and exciting chapter in our history: the launch of a new retail experience starting with a drop of Prada Linea Rossa on May 22. To stay up to date with upcoming Highsnobiety drops, please enter your email address here and follow the Highsnobiety Shop Instagram for more previews.
The FW18 installment of Milan Fashion Week announced Prada as the new wave, one that would continue well into 2019 as Frank Ocean showed up to the Met Gala in a confusing, yet wonderfully chic Prada 'fit.
The 100-year-old Milanese fashion house set last year on fire with the return of its archival prints and a revival of the sorely missed nylon-driven sportswear line, Linea Rossa. First released in 1995 as "Prada Sport" and closed in the mid-'00s, the luxury athleisure line has a rich and storied history, one that demonstrates the brand's seemingly endless relevancy.
The boxy outerwear silhouettes and era-defining accessories like the bucket hat were treated with licks of electric orange and lime green, harking back to the rave heydays of the nineties. Linea Rossa slotted into the luxury streetwear and sportswear trend perfectly, finding a home on Kanye West, A$AP Rocky, and the street style cognoscenti.
However, to really understand the nuanced appeal of Prada Sport, we needed an expert. Ollie Evans is the fashion head behind TOO HOT, an online treasure trove of some of the rarest vintage sportswear from around the world. As well as vintage Prada, TOO HOT stocks covetable archive pieces from Italian sportswear giants such as Stone Island, Best Company and Iceberg.
We caught up with Ollie to talk about the explosion of Prada Sport at the cusp of the 20th century, its intersection with the '00s streetwear scene, and how the line is finding relevance once again.
Tell us about the Prada aesthetic in the millennium, and remind us of the fashion zeitgeist back then.
Fashion and music was very forward-facing heading toward the millennium. We were heading into the future and the year 2000. Prada's style at that point perfectly encapsulated that futurist energy, it seemed space-age and fresh, like something out of a science fiction film. Growing up the year 2000, there was this huge turning point on the horizon and I think Prada really captured that excitement. It was like, "this is the stuff we are all going to be wearing in the future."
Tell us about your first memorable encounter with Prada Sport.
I used to read The Face a lot in my teens and whilst I was at art college studying graphic design, they used to run all the new Prada campaigns which was probably my first exposure to it. Those early campaigns by Phil Poynter were really striking and stood out so much from everything else that was going on at the same time. They really made me want to own the items I was seeing. I think because they directly reference sports like snowboarding, they were strikingly different from all the more traditional lifestyle campaigns you'd see from their rivals.
Can you explain the distinction between Prada and Prada Sport ?
Prada's mainline pieces from that era were very refined, low key and minimal where as Prada Sport (Linea Rossa to give its official name) was this space-age sportswear stuff that was put together in a really high-end manner with a fantastic red plastic branding tab that popped against the mostly monochromatic color schemes they used for it. It was really striking stuff, nobody was making designer tracksuits at this point so seeing them from Prada in the late '90s felt completely radical.
How did Prada interact with street culture? How do you think it will now?
Prada Sport was very popular with a couple of intersecting subcultures, it was big on the terraces with the football lads as an alternative to Stone Island or CP Company, and was also, if not more prominent on the UK drum 'n' bass and garage scenes. A lot of the Prada Sport stuff was very sleek and expensive but also kept a lot of references to sportswear so it was practical to wear inside a club where you might be dancing all night. With renewed interest in these subcultures today there has been a lot of interest in the vintage Prada Sport pieces we've been selling and we're seeing it combined with modern streetwear. I think when the new pieces become available it'll fit right in to what is going on now, and as we've seen from the reaction to the show, it's going to be highly anticipated.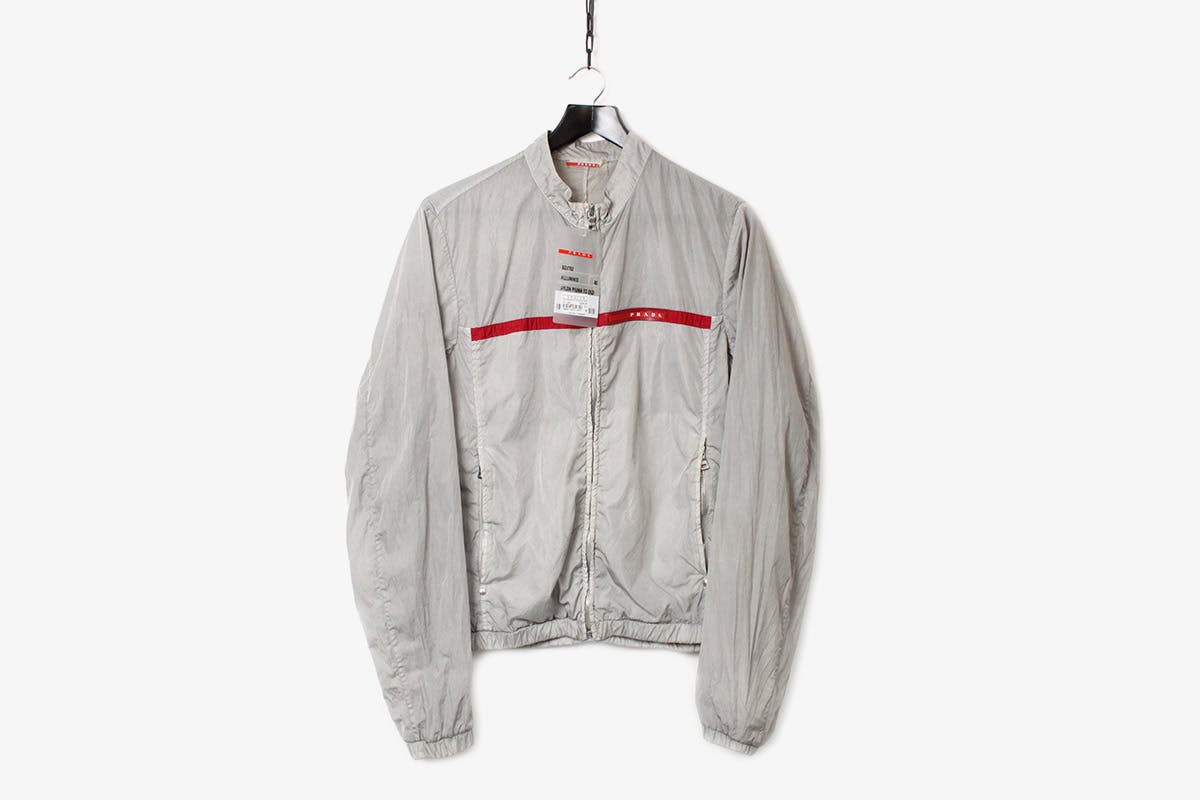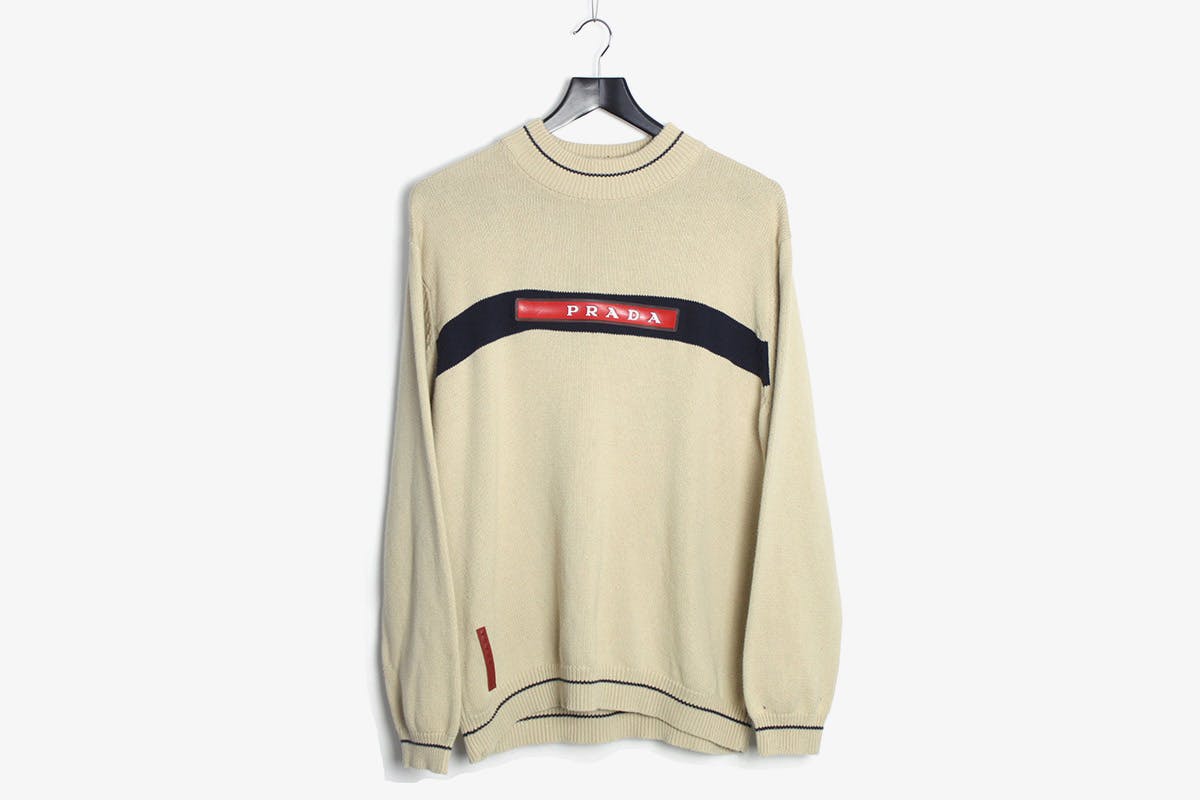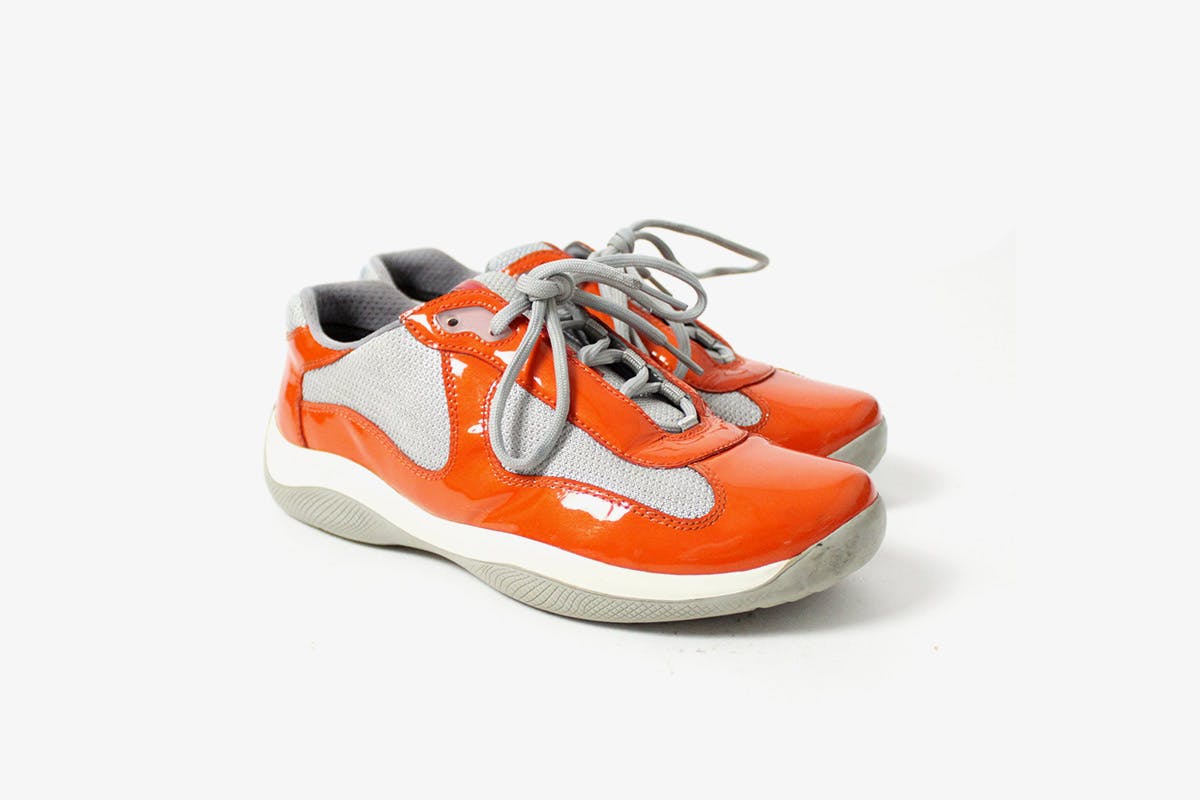 Do you have any notable examples of people who were wearing it back in the day?
Prada was definitely really big on the UK Garage and grime scene — Kano has definitely name checked Prada in his lyrics and I feel like people like So Solid Crew were definitely wearing it. It was that sort of street vibe.
Where can you see the influence of '00s Prada and Prada Sport today?
I think you can see the foundations that Prada laid around the millennium in a lot of the high-end sportswear pieces of today. The thing that was great about Prada Sport was that it wasn't a sporty-looking luxury line, it was practical. They were making the jackets with GORE-TEX and putting details like powder skirts in them to keep you dry. They were pushing the envelope of luxury and technology which at the time hadn't really been done before but is now completely commonplace.
Tell us about the significance of the Americas Cup trainer.
When they came out I had to own a pair, it wasn't even a choice. At the time I bought my first pair I was working in Zee & Co in Bow, East London, while I was studying. Zee at that time was a very influential menswear shop in East London and Essex that sold Stone Island, Burberry, Aquascutum, Moschino, Evisu etc., but we didn't sell Prada so you couldn't wear it on the shop floor. When I first started all the guys I worked with use to turn up to work wearing the Americas Cup trainers and then change into their work shoes. It really intrigued me that they felt they had to be seen in these trainers so much they would wear them to work and home again, they carried so much cultural cache they had to worn. I bought my first pair soon after I starting working there having saved up and gone up to the Prada's Bond Street store to get them.
Thanks Ollie.
To stay up to date with upcoming Highsnobiety drops, please follow the Highsnobiety Shop Instagram and click the button below to sign up for further information.