Yesterday afternoon, Puma unveiled a special collaboration with MHD, the 23-year-old Parisian rapper who's been pioneering the emerging afro-trap genre that's been taking Europe by storm over the past 12 months. Born and raised in the city's 19th arrondissement, MHD has been making steady waves with his homegrown style and DIY philosophy, and his diasporic blend of afrobeat rhythms and trap lyricism has proven a hit with youth in cities across the continent.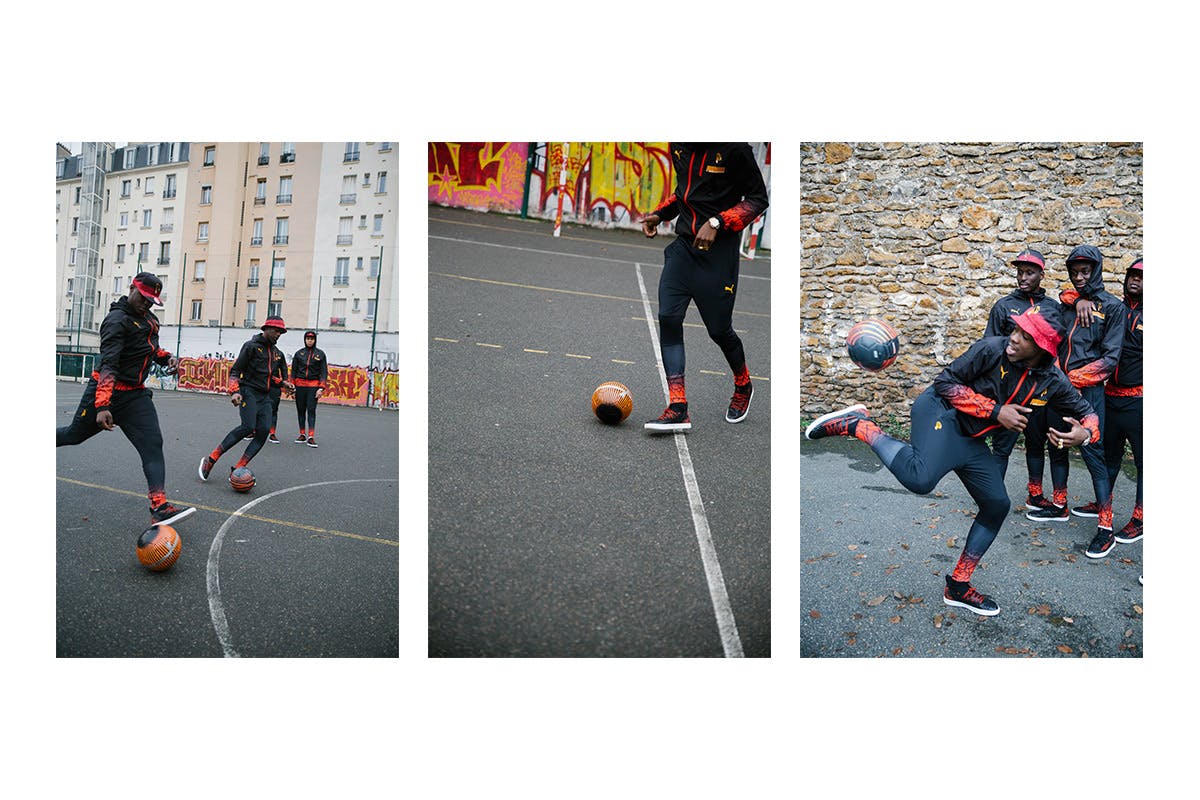 For his collaboration with the German sportswear company, MHD has placed the philosophy of his crew front and center—'pukigawa', a term coined by the artist to describe the spirit of independent youth taking care of themselves and enjoying life in whatever form they desire. Applied to a collaborative two-piece tracksuit and bucket hat, and a pair of sneakers, each adorned with PUKIWAGA graphics as well as the collaboration's "P" hand logo—a mark which can also be read as a 1 and a 9, representing the artist's hood.
Beyond the PUKIWAGA concept, the collaboration is also heavily-influenced by another of MHD's passions: football. A vital cultural marker for much of Paris, football informs MHD's identity as much as his music and creativity, and this collection translates the concept of "Home" games into a personal frame, creating a clean, casual collection that the artist would feel comfortable wearing at home.
To commemorate the collection's launch, PUMA held a launch event at the Courir sneaker store along Paris' Rue de Rivoli, with member's of MHD's own crew, Moula Gang, selling the product in-store. Not only that, MHD himself made an appearance, arriving on a co-branded moped loaded with specially-designed gifting packages made to look like pizza boxes—a reference to MHD's early years working as pizza delivery boy.
Overall, the event was a proud but humble celebration of everything MHD has accomplished so far in his short but eventful career, from the present day to the point where it all began. As accompanying images from the launch show, the PUKIWAGA spirit is one the young artist lives and breathes in every aspect of his work, and this new collaborative venture with PUMA has created another outlet for him to express this vision.
As the MHD puts it himself, there's no such thing as an ordinary day.
Next, check out The Leaping Cat's very nice homage to NYC with this Manhattan Portage collab.