Viral star Quen Blackwell knows how to get a laugh. In this FRONTPAGE feature, we get career and prank advice from the comedian as told to one of her best friends, the one and only Lil Nas X.
Funny, hot, and talented? Quenlin Blackwell — Quensadilla on Vine, @quenblackwell on TikTok and Instagram — is that girl. The mediums and algorithms of the Internet may be changing, but the 21-year-old is still the same. She's throwing her legs up in the splits. She's whipping her braids. She's receiving a standing ovation. Now, she's sitting across from Lil Nas X for Highsnobiety.
Below, the two besties discuss the current value of Internet virality, how soon is too soon to get a tattoo of your new lover's name, the craziest thing Quen has done to get a laugh (don't mind her if you see her do this in public), and why people who only wear neutrals are the worst.
Lil Nas X: Quen, how are you today? How are you feeling?
Quen: I'm feeling great, like today's a new day to be the person who I want to be in the future. I'm kidding — I haven't showered, at all. I have not showered.
Lil Nas X: That's okay. Nobody showers anymore. It's so, come on now.
Quen: How was your day?
Lil Nas X: My day is pretty good. I'm doing a show [later]. I think that you could be at one of those soon. When did you realize you were meant to be an entertainer? When did you know this is what you wanted to do?
Quen: I've liked attention since I was a child. I've always wanted to be the first one to speak in class. I liked to make the girls laugh. Class clown —
Lil Nas X: From the very beginning.
Quen: Yeah, from the very beginning. I remember being seven years old when Disney Channel came to the mall. I was like, "This is my fucking chance. If I get on this stage, they will cast me." Never happened, but I did dance with Alyson Stoner at a mall in Texas.
Lil Nas X: Alyson Stoner?
Quen: When she was pop, lock, and dropping it on Camp Rock.
Lil Nas X: When did you feel like it became a profession?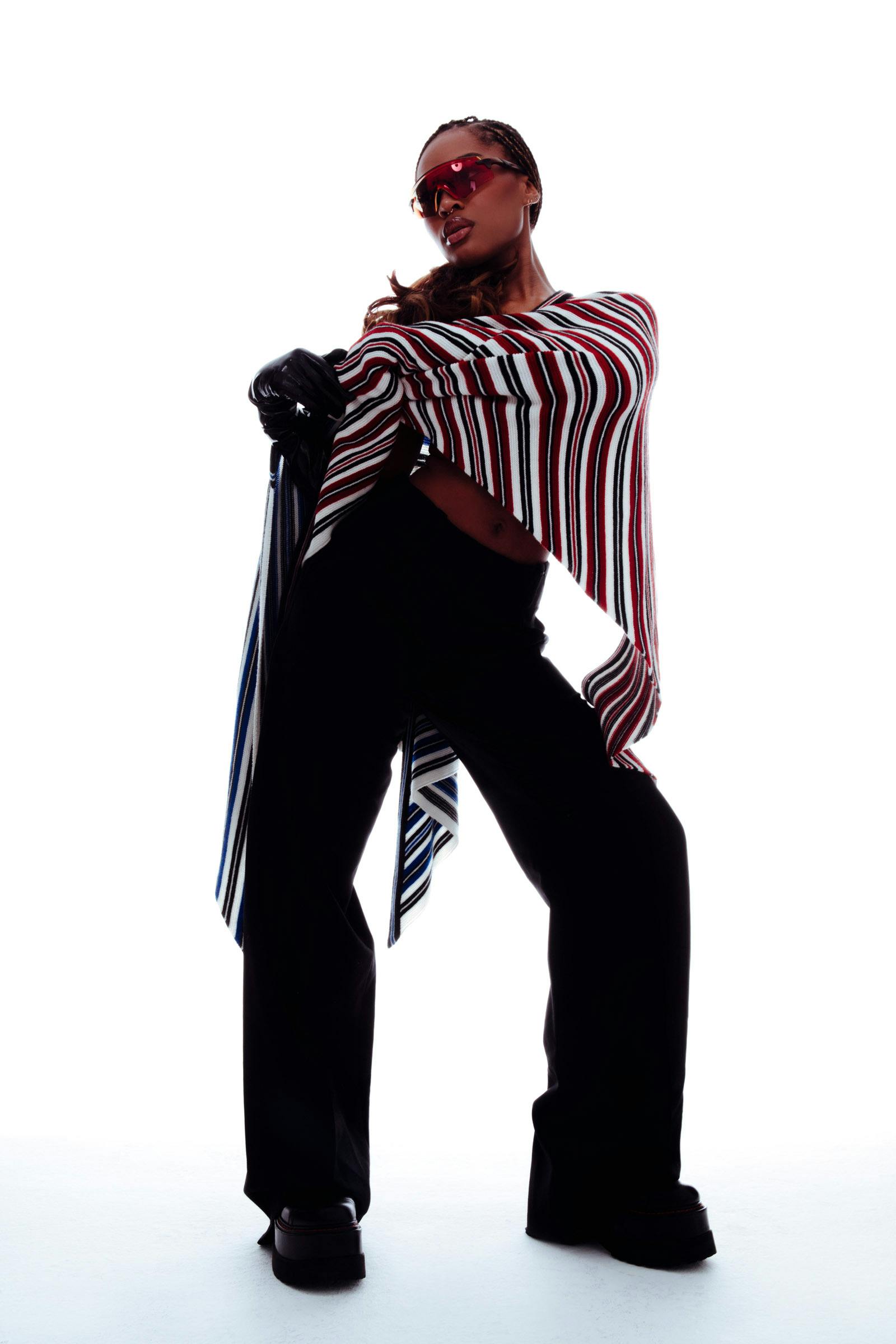 Quen: I never thought about doing anything else except for being funny. I mean, it worked since I was so young. I've been on the Internet since I was a child, so I kind of knew that I had a profession on the Internet. When the SATs came around, mine got rescheduled five times because I just wouldn't go and do it. I moved to LA when I was 17, and I've never thought of any other profession except for doing whatever I want. I don't think I ever was like, "Yes, I'm going to be an entertainer." It was more, "Yes, that's what I do. I will always entertain. I do not want to do a job that everyone else wants to do. I want to figure out my own route with my own name." You know what I mean? What about you?
Lil Nas X: This is not about me! Speaking of your childhood, would you say it was easier when you first got on to be an Internet star? Or is it easier now?
Quen: Easier in what way?
Lil Nas X: Let's say this: For the average person, would it be harder for them to become an Internet star then or now?
Quen: I would say then, just because virality doesn't really matter anymore. The Internet's so over-saturated. In the beginning times of the Internet, very few were selected to entertain the girls on the 'net. Now it's easier to be Internet famous, but it matters less. I think that's why I still have a career, because I was part of an early social media zeitgeist. People who are getting careers based off TikTok — yeah, they're huge. Yeah, they got houses. All of that. But being on Vine, I feel like I'm part of people's childhoods. They care a little bit longer than the people who are our age on TikTok now. But I bet the kids feel the same way about TikTok as they did for Vine in our age. You know what I mean?
Lil Nas X: Absolutely. They'll feel similar ways in the future about some of these upcoming people. And everything is saturated. Even music and shit. What do you think is the most challenging part of what you do?
Quen: A big issue for me is self-motivation. I don't have a boss telling me, "You have to have this done." It's all dependent on how motivated I am in myself and how far I want to push my career. I mean, if I don't want to wake up one day, that's a day where my career's gone to trash. It's challenging being the cog that pushes my career forward instead of having someone else do it for me.
Lil Nas X: Lately, you've been branching out from just being the funny person on the Internet to being the model girl and the fashion girl. What's behind that?
Quen: I feel so much more confident in myself. I'm 21 now. I feel very woman-like. I have been making jokes for so fucking long that I'm tired of making jokes. I actually get tired of making jokes — I've made every joke to be made, and now I want to try something else. I think I'm hot — I know I'm so hot. I'm like, "Maybe I should do something with this." I hate seeing a pretty bitch not do nothing with being pretty. I can't be a hypocrite.
Lil Nas X: Facts.
Quen: Facts.
Lil Nas X: What are three things you can't live without? Your dogs and cats do not count.
Quen: Okay. A bath. Not a shower, a bath. A tongue scraper, because I would rather —
Lil Nas X: What's a tongue scraper?
Quen: A tongue scraper is — you don't know? See, it's people like you. You don't know what a tongue scraper is? When you scrape the white shit off your tongue?
Lil Nas X: I don't be getting white shit like that on my tongue.
Quen: My teeth are rotting out of my mouth. My tongue is pink. That's why I have the tongue scraper. A bath, a tongue scraper, and some dick. I'm kidding. Probably just a fresh set of braids, because once I'm feeling raggedy on my hair, I'm feeling raggedy all over.
Lil Nas X: I feel like dick is a cool option, too. As far as our friendship goes, what do you think is the best thing about it? What are the best things about being my friend and the worst things about it? Honestly.
Quen: The best thing about being your friend is it's a very adult friendship where we don't have to be talking or texting all the time. But when we see each other, we're picking up like we just hung out yesterday. You know what I mean?
Lil Nas X: Yeah.
Quen: And I wouldn't say this is the worst thing about being your friend, but you is a very famous celebrity, so you is very busy. I get very few times to see you.
Lil Nas X: We get our time, though. We get our time.
Quen: I know. It's adult, it's very adult.
Lil Nas X: What is the most ridiculous or fucked-up thing you've done for a laugh?
Quen: Oh, my God. Let me see if I can make this more PG. When my boyfriend and I are in public, I'll act like he kidnapped me. And I'm like, "Can you please just let me go? Let me just call my family one time."
Lil Nas X: Oh, my God.
Quen: And his face gets so red. He's like, "Bro, stop." I'm like, "Please, please. I won't say anything."
Lil Nas X: That is so fucked up. Do people ever respond?
Quen: No. Because I always break the bit before it gets fucked up. But just to see his heart drop every single time…
Lil Nas X: I'm going to start doing that to people.
Quen: It's so funny. It's so funny.
Lil Nas X: That is actually legit hilarious. So fucked up, too, though. Okay, when you create a video or something, is it something you thought about for a long time? Or was it improv?
Quen: I would say my entire career thus far is based off improv. I've never thought about having an idea and then executing it.
Lil Nas X: Do you ever see yourself reading scripts and being a part of [a show]? I feel like you would be great in one of those teen dramas.
Quen: Yeah, I would love to act. That's what I want to do in my career when I'm 40. I want to build an acting career that has longevity, but I don't want to be someone who gets a role because of the career I've built on social media. I don't want to play myself. You know what I mean? So I've been going to acting classes, and I want to join a community theater and start to learn the craft. But I would love to act. You see it, and I'm trying to make it into reality, girl. Little do you know.
Lil Nas X: Who inspires you the most and why?
Quen: People who have made a mainstream career from the Internet, because it's something that I want to do.
Lil Nas X: Is there a person that pops in your head?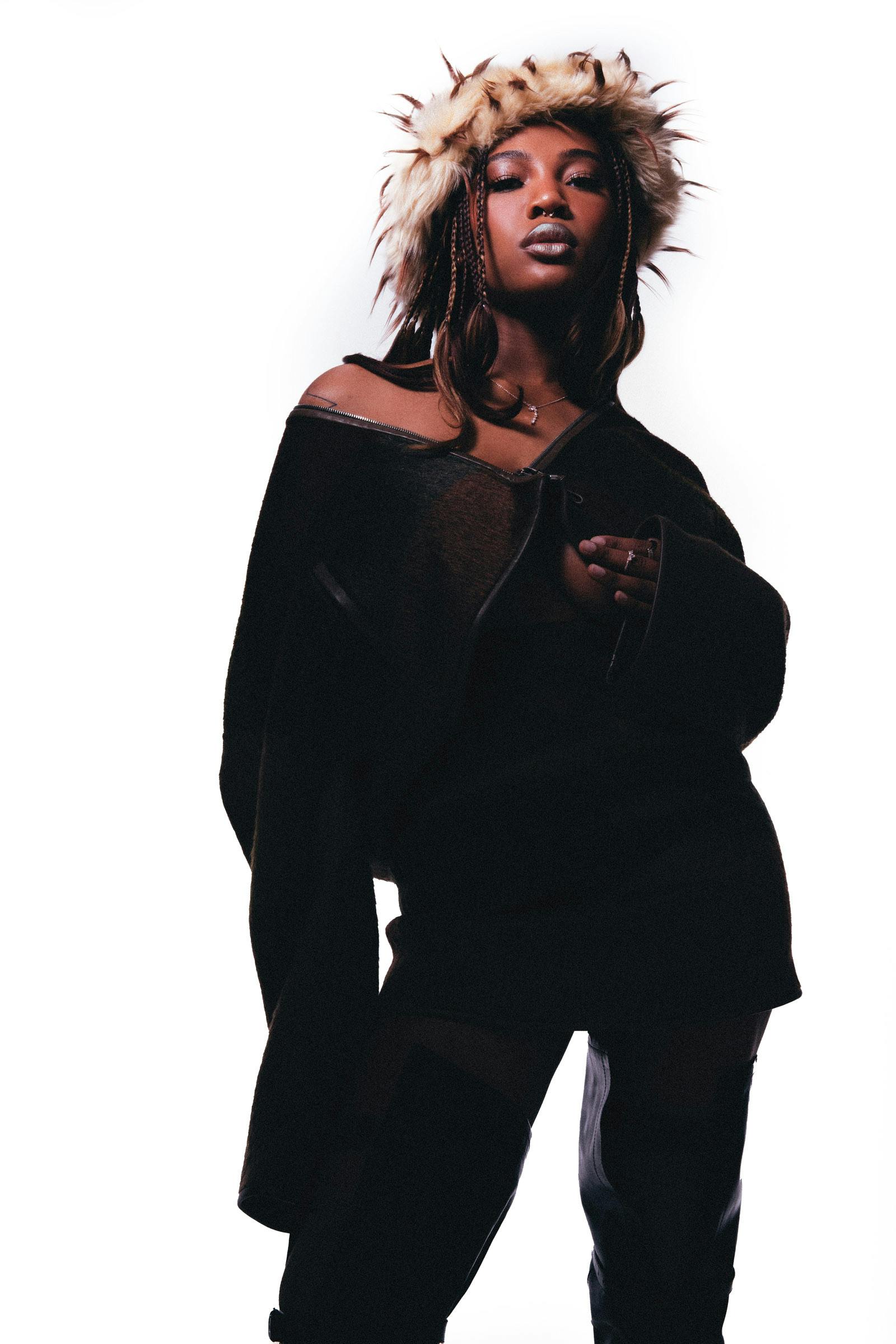 Quen: You.
Lil Nas X: No, I don't count. I'm right here. Is there a person that pops in your head as far as when I ask the question?
Quen: This is going to sound very practiced, but it's my honest, genuine truth. I've never really idolized anyone. I've never stanned anyone. I've never wanted to be someone except for the person that I know I'm going to be in the future, if that makes any sense.
Lil Nas X: Absolutely. I'm on that same wavelength, except I have stanned people before. But I'm not really avidly trying to be the next someone or something like that.
Quen: Yeah, I just want to be the best version of myself. That's who inspires me, and that's who I aspire to be.
Lil Nas X: Okay, Quen, how would you describe your style, your fashion sense?
Quen: I love to wear the rags, wear everything covered up. But I have a nice body, so my style is more so based off my body shape. I mean, I love to wear a little tank top. I love graphic designs. I like shit from the past. I mean, I love big fashion houses that are doing innovative shit, but I get all my clothes from Etsy and Depop.
Lil Nas X: I know you said you don't have a person you look up to career-wise, but what about fashion-wise?
Quen: Fashion-wise, Bella. Bella.
Lil Nas X: Bella.
Quen: Miss Hadid. She eats. Her fashion is actually insane. Bella, Bella, Bella.
Lil Nas X: If you were in charge of the Internet, what are some changes you would want to make?
Quen: If I was in charge of the Internet, I would probably make government-implemented laws that go with scrolling time. It fucks up society's attention span.
Lil Nas X: It does. You're so right and true. So I've heard some of your music, Quen. You're really great at music. So when do you think you're going to give the people a piece of that, an actual song?
Quen: I feel like when you do so many things so great at a young age, you get a fear of doing something new.
Lil Nas X: Are you afraid of the failure aspect of that?
Quen: More the fear of failure and the pain of regret. I'm trying to get this shit done, because I've realized that regretting hurts way more than failing. Because at least you done it. I've recently been asking my friends like, "Does anyone know any videographers?" So I can just shoot some music videos and just put them on YouTube. I'm trying, I'm trying. I'll release some music soon.
Lil Nas X: I'm here for that, I'm ready for that. Is there a trend or something right now that you hate? That you think sucks and should go away and anybody who's doing it should be locked in prison for a long time?
Quen: I hate bland, minimalistic clothes. The world is already bland. Like, wear some sick patterns. Wear some cool graphics. Wear a lot of different colors. Be the colorful person you think you are. I hate a bitch that wears black, white, and beige.
Lil Nas X: I don't like those people, neither. Fuck them.
Quen: Yeah. Fuck them bitches.
Lil Nas X: You've dated a lot of D1 football players. Who was your favorite? No, I'm playing.
Quen: Ugh! No, I didn't. My dating life… I've given you so many dating stories throughout the years.
Lil Nas X: How's your dating life right now? Are you having a great time? Are you in love?
Quen: I'm in love. We have matching tattoos. I'm getting his name tatted on my lower back in the next couple weeks.
Lil Nas X: I almost got a tattoo with a guy that I had just met a few days ago. But I canceled at the last minute because I was like, "What the hell are you doing?"
Quen: No, listen, listen. What I think about quick things, like getting married too soon or getting a tattoo with someone that you might not be with in the future, you can use tattoos as a journal that dies with you. You can get a tattoo, and then you're not fucking with them. It's still a piece of your life that you lived, so why not? I'm down to get married in the next month and get a divorce a year later.
Lil Nas X: Quen, I don't know if that's a thing that is okay to just do.
Quen: I think it would be fun. I live for the fun. Thank you for this interview. This has made me feel amazing.
Lil Nas X: Much love to you.
Quen: Much love to you.
Experience this story and others in the new issue of Highsnobiety Magazine, available from retailers around the world and our online store.