Travel might be on hold, but we can still dream. In partnership with Havaianas, we're virtually touching down with friends in cities around the world to vicariously wander their neighborhoods and spotlight the places they've been leaning on during this unparalleled year.
Fashion stylist, content creator, and creative consultant Vivid Wu, aka vivid, has been based in San Francisco since 2017. Previously in Austin, Texas, and having moved originally from Singapore to the US in 2015, Wu has formed a deep connection with the Golden State explaining how "my husband's family is based in the Bay Area and I really love the weather, food, and the diverse culture in San Francisco, so we decided to move here. This city is where we bought our first home, so it definitely means a lot to me."
Wu lives in a loft conversion with her husband, who is also her photographer, in The Mission District. "It's peaceful, laid back, quiet, and away from the busy center. It's tricky in San Francisco because there are so many microclimates within the city, each neighborhood can have different weather at any given time. For example, when you go to a place a 10-minute drive away, you can get very foggy and cloudy weather, but in Mission, it's always sunny and warm – and I love dry warm weather. The Mission District historically was home to mostly middle-class Latino families, but today, it's centered around Dolores Park and is alive with its diverse culture, brilliant artwork, beautiful architecture, and inspiring small businesses." From its rolling hills and famous landmarks to its expansive gastronomy scene and lush greenery, San Francisco ticks all the boxes when it comes to the convergence of qualities we want our home cities to embody.
Over the past decade, with technology companies like Amazon, Netflix, Apple, and Google all based in the Silicon Valley and growing at an exponential rate, San Francisco has secured its spot as the largest and most influential tech hub in the United States. "Most people here are tech people, and all the ones I've come across are chill, pretty friendly, and low key," says Wu. It is true in some cases that a place is only as good as the people in it, and San Francisco is a testament to that with such an eclectic and diverse community that not only attracts tourists from around the world but has given the city its warm, open, and loving reputation.
As an evidently fashion-savvy individual, Wu's personal style is an all-embracing mix of different movements, rather representative of San Francisco's contrasting communities. From '80s and '90s vintage 'fits to current-day street style and high-fashion chic, Wu can be seen wearing pretty much any texture and cut under the sun, of course almost always accessorized with a pair of sunglasses perfect for that Golden State sunshine.
One of Wu's favorite parts of the city is Little Italy. "It's also called North Beach and it's one of the oldest neighborhoods in San Francisco. It features a great mix of architecture, museums, restaurants, and old shops, and I just feel like I'm in Italy because I can easily get access to authentic Italian food, culture, and fashion." So it only made sense that Wu took us to a few of her local gems in this area that have been helping her get through the past year.
The Playground
"The playground in Little Italy comes with tennis courts, basketball courts, a pool building, and some sports courses – this is my favorite spot in San Francisco to take photos as everything is just so photogenic. While the kids are playing in the play area, the adults will be playing all kinds of sports, and I love the energetic vibe and how everyone is having fun independently, but in the same area and in the same open space. I just feel safe here."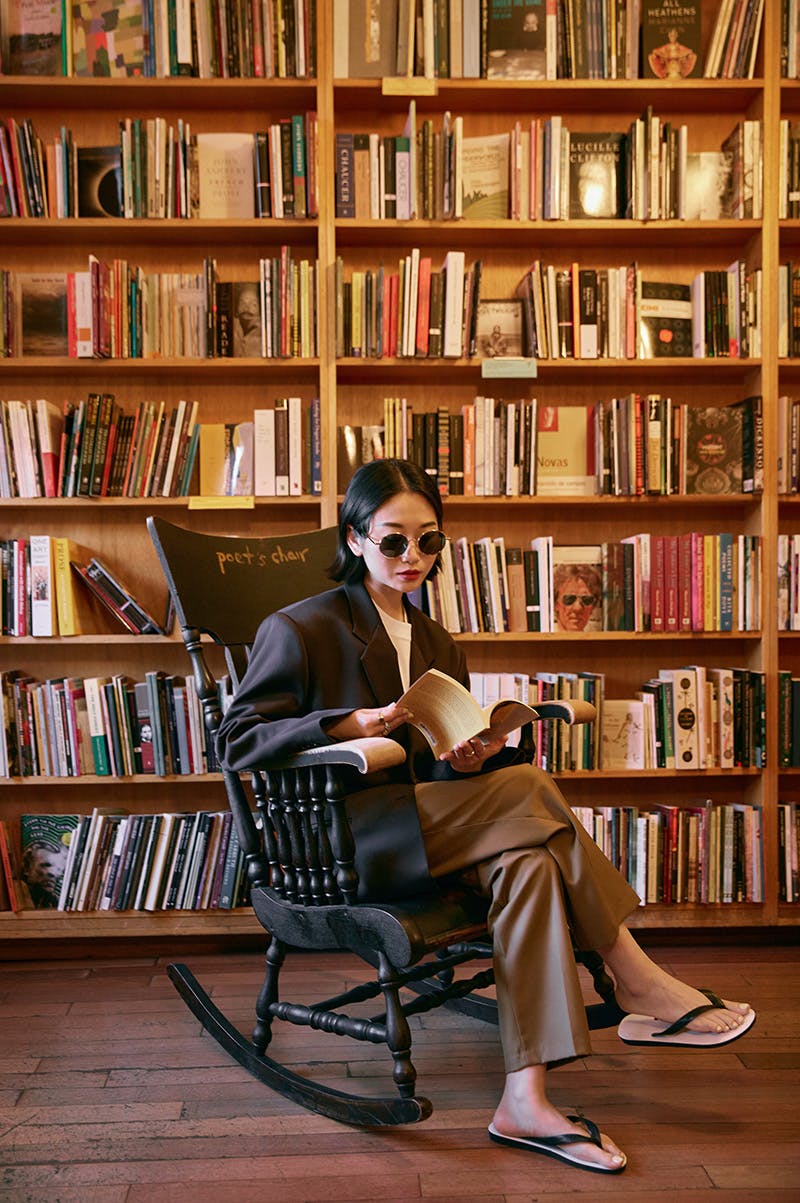 The Bookstore
"In spite of the rise of Amazon, independent neighborhood bookstores remain quite popular in San Francisco. There are a couple in Little Italy that are really popular – I love going there to spend my afternoon browsing. I really think it's a great getaway from the busyness of everyday life and to just get off the grid. Sometimes when I go to Little Italy for lunch, I go to one of these bookstores to just turn off my phone to stay away from the internet. I need that. I've been spending too much time on my phone and I just need a different kind of inspiration, and to relax."
The Pizzeria
With a name like Little Italy, it's hard not to imagine a variety of different pizzerias lining the winding streets. "It doesn't feel right to visit Little Italy without trying the pizza. Some spots are more well-known than others, but you pretty much can't go wrong with any of them. I'd recommend enjoying a pizza in Little Italy if you really want to get a sense of what North Beach is actually all about. My favorite places are Tony's and Golden Boy Pizza – if you visit San Francisco definitely check these out!"
The Laundromat
"In San Francisco, the majority of residents are renters who don't have built-in washers and dryers in their apartment, so we rely on laundromats. Each neighborhood's laundromats are similar, but also very different. I love the laundromats in Little Italy because they have a totally different aesthetic - they actually inspire me creatively because they really show me a different side of the city."
The Cafe
"There are a lot of historical Italian cafes and gelato shops in Little Italy. Before the pandemic, I used to visit one of these hotspots for an espresso after lunch or to meet my friends to catch up on the weekends. I will say, these cafes are so photogenic and Instagram-able. They're also perfect places to combine your love of pizza with coffee."
Shop Havaianas summer collection here.