Last month, Snoop Dogg dropped his first-ever cookbook, From Crook to Cook. Claiming that his kitchen is "blazin'" and that his recipe game is "dipped and whipped," we've been looking for the perfect opportunity to put his claim to the food game on the table. Thanksgiving has provided such an opportunity.
So, if you're still scratching your head about what to feast upon this year, we've laid out Snoop's festive Thanksgiving menu below. It comes with all the good bits, and we can confirm that this is definitely not tight-pants territory.
However, before we start, a little disclaimer: This dinner is brought to you — via Snoop — by a Brit living in Berlin, so a few dishes didn't turn out exactly as the Doggfather intended. But we can assure you they were absolutely delicious. Enjoy!
Remix Gin and Juice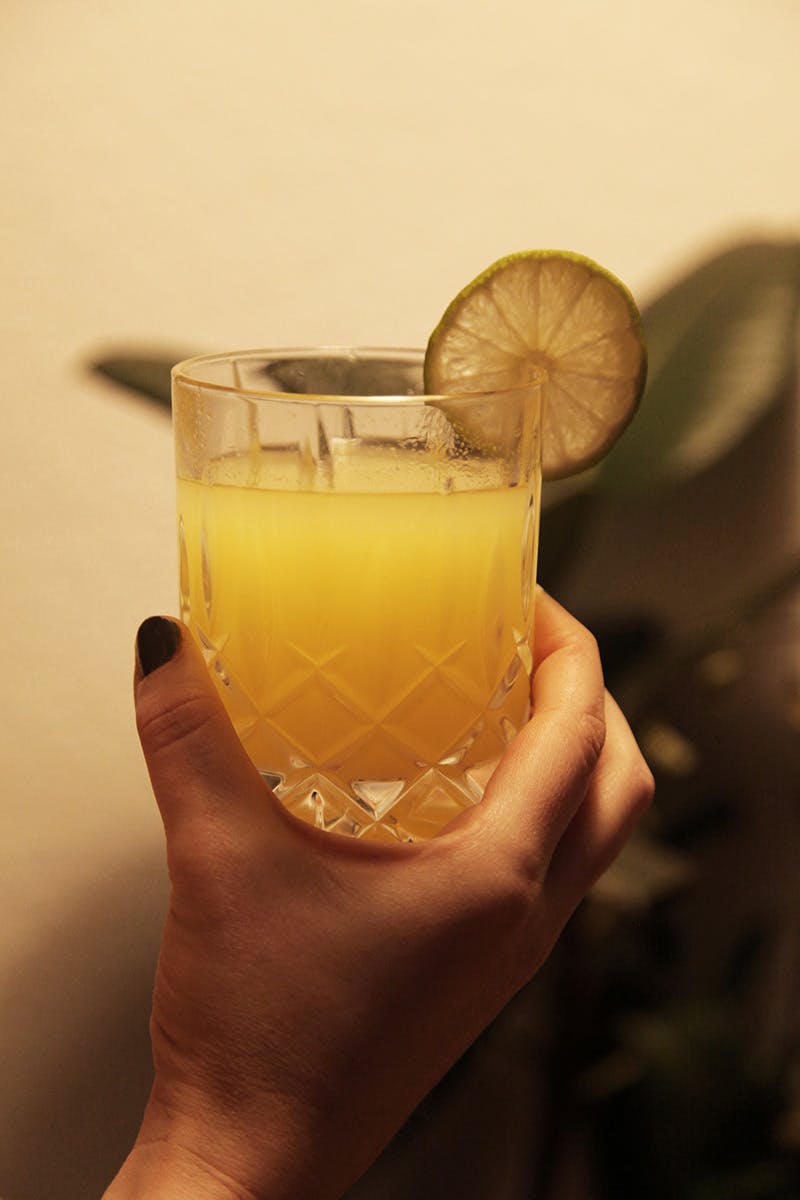 Ingredients: 1oz (30ml) gin (Snoop prefers Tanqueray) // 10z (30ml) apple-flavored vodka // 2oz (60ml) pineapple juice
While of course there's nothing wrong with Snoop's original Gin and Juice recipe, this is Thanksgiving, so we're gonna go for the fancier option: The remix. Plus, it's tropical AF and makes the German winter vibe of permanently wearing three layers, even at home, somewhat easier to handle.
Method: Add the ingredients to a glass, stir, and drink.
Score: 4/5. For some annoying reason I could not find apple flavored vodka anywhere, so I substituted for German apple schnapps and it was a fine replacement. I docked one point because the drink is very sweet, but we'll blame that on the schnapps.
Ain't No Jive Herbed Turkey and Gravy
Bird Ingredients: 12lb (4.5kg) turkey // 1/4 cup (40g) salt // 2 medium oranges // 2 springs sage // 8 springs thyme //2 sprigs rosemary // 8 tbsp (110g) unsalted butter // 2 garlic cloves // 3 medium onions
Gravy Ingredients: 1.5 cups (300ml) chicken stock // 2 tbsp all-purpose flour // 4 springs flat-leaf parsley (optional)
After visiting three supermarkets and discovering that turkey is not a readily-available thing in Berlin (unless you want to buy an entirely frozen 20lb monster that would take until next Thanksgiving to defrost), I left with a chicken. I don't mind this substitute to be honest. I know it's not as #festive but — unpopular opinion alert — turkey is generally kinda dry, a bit boring, and the skin and gravy are the best bits anyway. Plus getting a chicken reduces cost, cooking time, and, if you're oven is as minuscule as mine, it means you have more shelf space for potato-based mountains. However, this meant I only needed half of the listed measurements here, so keep that in mind if you end up switching birds, too.
Method: Hours before you're planning to cook your bird, grab the salt and rub it into the skin, and leave it for as long as you can (Snoop says ideally 24 hours, but of course that depends on how much you're preparing in advance). Once you're ready to cook, preheat the oven to 325 F (165 C), and then make a herb butter: Take the leaves off all sprigs and chop finely, along with the garlic and zest from one orange, and mix with the unsalted butter. Carefully pull up the skin of the bird, so there's a pocket of sorts that separates it from the meat, put as much of the butter in there as you can, and spread it as evenly as possible. Any excess can be rubbed on the outside.
The recipe also says that you should place the onions, chopped into quarter segments, into the bird's cavity, which I guess is fine if you're working with turkey but doing this with the chicken wound up being pointless purely because of the cavity size, so I scattered them around the outside instead.
Now roast. For a turkey, bake for around two hours until golden brown; for chicken, 25 minutes per 500g, and then an extra 25 minutes on top of that. Once cooked, take out, wrap in foil, and let rest for at least 20 mins.
Now make your gravy. Put a strainer over a glass jar and pour in the roasting tin juices, removing any fat that rises to the top. Take out the onions and herbs, and put them aside. Squeeze the juice from the two oranges and add into the dripping, then add two cups of chicken stock. Add in the onions and herbs, cook for three minutes, then add your flour and stir until you end up with a thick sauce. Move it over to a blender and strain once again if you don't like your gravy chunky.
Score: 4/5. I used more butter than I probably should have for a small bird, but this resulted in a crispier, more garlic-y skin, and that's no bad thing.
Good Good Green Beans
Ingredients: 2lb (910g) green beans // 6 tbsp (85g) unsalted butter // zest of 1 lemon // salt // black pepper
Seeing as there's no weed in any of Snoop's recipes, he's got to get the greens in somehow — plus, this lil number stops Thanksgiving dinner from being one big plate of beige colored feeds.
Method: These are super simple and can be done last minute. Put all the beans in boiling water for three minutes. Meanwhile, brown the butter in a separate pan or skillet. Once your beans are drained, add them to the butter and coat thoroughly. Sprinkle with salt, pepper, and lemon zest.
Score: 3/5. It's hard to rate or get super excited about green beans, but these are crunchy, salty, zesty, and go pretty well with the bird's herb butter, so extra points for the coordination.
M.O.P.: Mash Out Potatoes
Ingredients: 4lb (1.8kg) Russet potatoes // 4 tbsp (55g) unsalted butter // 2.5 cups (600ml) heavy cream // 1/2 cup (120g) mayo // black pepper // salt
I have to be honest, I left out the cream. I can't see how 2.5 cups of cream added to potatoes that are already stuffed with butter and mayo will result in anything other than internal curdling and tears. Don't @ me.
Method: Peel and chop the potatoes and boil for 25 minutes. Drain. In another pot, turn up to a medium heat, melt the butter and add mayo (and cream, for the sadists) — whisk together. Add the potatoes, and mash to combine. Season well and serve.
Score: 2/5 if we're following the recipe, 3/5 without the cream. This is obviously a personal preference, but it's totally unnecessary. And plus, if you want to go hard on the dairy train, I feel like cheese rather than cream is the superior mash option.
My My My Sweet Potato Pie
Pie Crust Ingredients: 1.25 cups (175g) all-purpose flour // 1 tbsp granulated sugar //1/4 tsp baking powder // 1 tsp salt // 4 tbsp (55g) unsalted butter // 1/4 cup (90g) vegetable shortening
Filling Ingredients: 4 large sweet potatoes, scrubbed // 0.5 cup (120ml) whole milk // 5 tbsp (75ml) melted unsalted butter // 2 large eggs // 1 cup (200g) light brown sugar // 1 tsp salt // 1/2 tsp nutmeg // 1 orange zest
Top tip: Read the recipe and note what Snoop says about tenting the top of the pie with aluminum foil to stop it browning on top while the thing bakes. I did not do this and well, things could have been better.
Second top tip: Drink less Gin Remix when cooking dishes that require close attention.
Method: Combine flour, sugar, baking powder, salt, shortening and butter until it becomes a course meal, and put in a large bowl. Add a little water at a time and mix with your hands until the dough can be pinched and holds its place. Wrap in plastic and put in the fridge for two hours minimum.
Pre-heat the oven to 400 F (200 C). Scrub the sweet potatoes and bake them in the oven until tender (Snoop says to keep the skin on and remove after cooking but trying to separate molten potato flesh from its coat doesn't sound so fun to me, so I peeled before putting in the oven. Yes, I could wait until cold, but I'm impatient. I also added olive oil so they wouldn't stick to the pan.) Once cooked, add to a food processor along with milk, butter, eggs, brown sugar, salt, nutmeg, and orange zest. Blend until smooth.
Now get your chilled pastry out of the fridge and roll it on a floured surface until it's a little bigger than a nine-inch (23cm) pie plate. Press the dough into the plate and add the puree. Bake for 60-90 minutes, and do the foil-hat thing if it starts to brown prematurely.
Note: I could not locate vegetable shortening in Berlin, so just used the equivalent weight in butter and it turned out fine.
Score: 3/5. I feel like there's a reason Snoop didn't include a picture of his pie in Crook to Cook, but sometimes the tastiest dishes aren't Instagram worthy. This pie is super addictive and you'll probably finish it all at once. But you can saran-wrap it and it'll keep in the freezer for up to two months, so you don't have to eat it all in one sitting.
Beats & Bites: The Thanksgiving Playlist
With each of Snoop's party recipes comes a curated playlist. Before you get started on everything and to save you time searching for tracks as you stuff your bird and trim your beans, we've placed all the Thanksgiving party tracks in a Spotify playlist for you.
Verdict
I would probably go to Snoop's house for Thanksgiving and eat this all again. He's quite the zesty-chef, which was unexpected but heartily appreciated, especially as all that lemon and orange helped to cut through the butter-induced coma I fell into shortly after eating. Plus, I'm sure dining at Snoop's would include access to a hefty supply of a particular appetite-inducing aid if the struggle got too real.
Snoop Dogg's Crook to Cook is available to buy now for $24.95 from Chronical Books. Tap the link below for more info.