PHIPPS is still a relative newcomer on the scene (the eponymous label was founded in Paris in 2018) but that isn't stopping it from making waves by fusing Americana oddities with a European fashion schooling.
The label just dropped new pieces for SS22, but its main man wants to expand the Phipps universe by giving people the chance to buy the archival, vintage pieces that make up his wild mood board.
I meet San Fransisco-born founder Spencer Phipps outside Berlin's Bierpinsel in what appears to be a hotdog van-slash-RV selling motocross, ice skating, and wrestling gear from the '80s and '90s. "This is the stuff we buy for inspiration for our pieces," says Phipps, dressed in full bouldering get-up with hand bandages to boot. "Phipps Gold Label is essentially vintage that I curate for our audience and most of it comes from my personal archive. It's a passion project first and foremost, as I love collecting this stuff, but it also complements our main collections."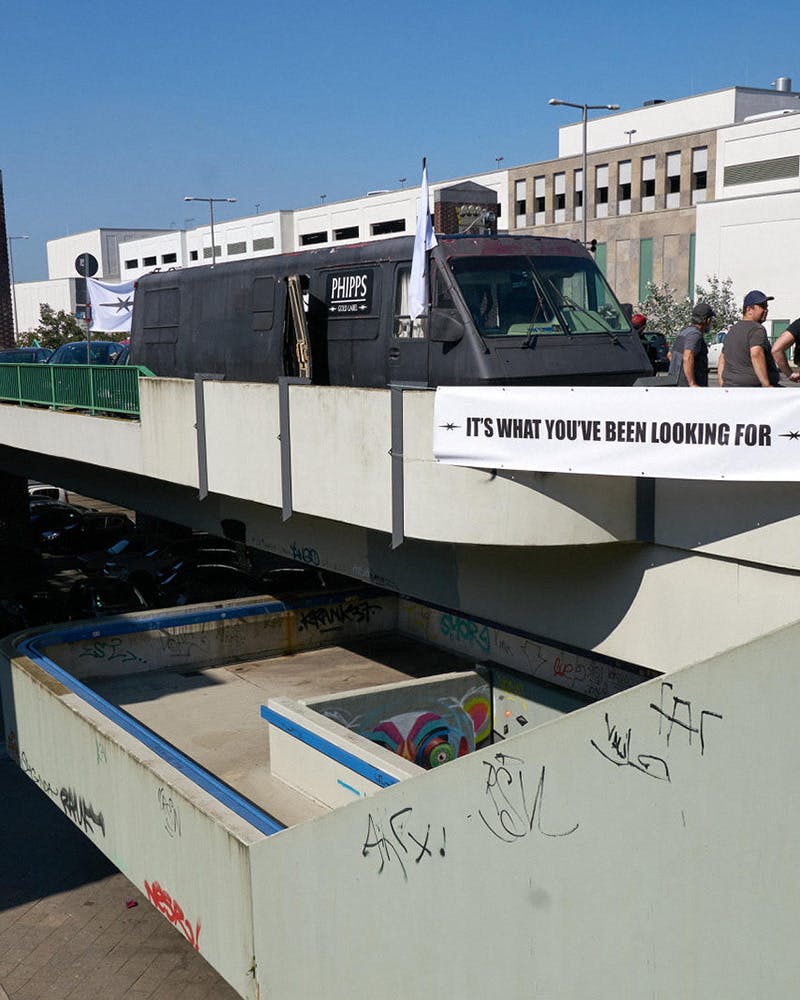 Phipps talks me through a diverse rail of Gold Label items that he's sourced from across the world, all of which are stitched with a know-it's-Phipps gold star and sold. Among them are a Hulk Hogan-signed pair of "Thunderlips" wrestling shorts and a The North Face jacket that's "probably from the 90s." Phipps clearly doesn't discriminate.
Add this Gold Label vintage move to the fact Phipps just released a T-shirt with American NGO Ocean Global that reads "Save the Fucking Whales" and you'd think the designer is going all-in on an environmental mission with the brand. But he's realistic. "When you start talking about sustainability and let's be all do-gooder about it, it gets very wet very fast," he points out. "No one wants to be told, 'I'm better than you and I'm trying harder.'"
"If you can make it fun, you can include people. It's like, 'no, actually, you don't have to wear naturally-dyed linens for the rest of your life — you can also wear vintage motocross pants!'" says Phipps.
If you visit Phipps' own Instagram, you'll find pictures of him scaling US cliff faces and exploring nosebleed-level mountain trails. The natural world is clearly important to him on a personal level, and he won't compromise that for the sake of his brand.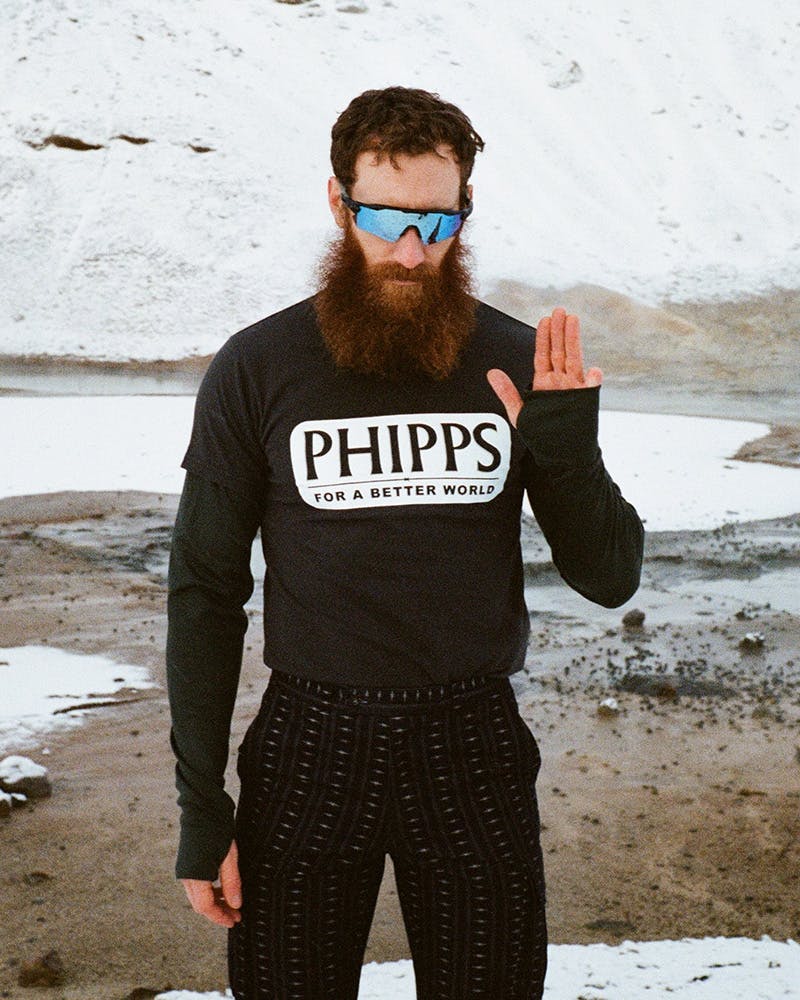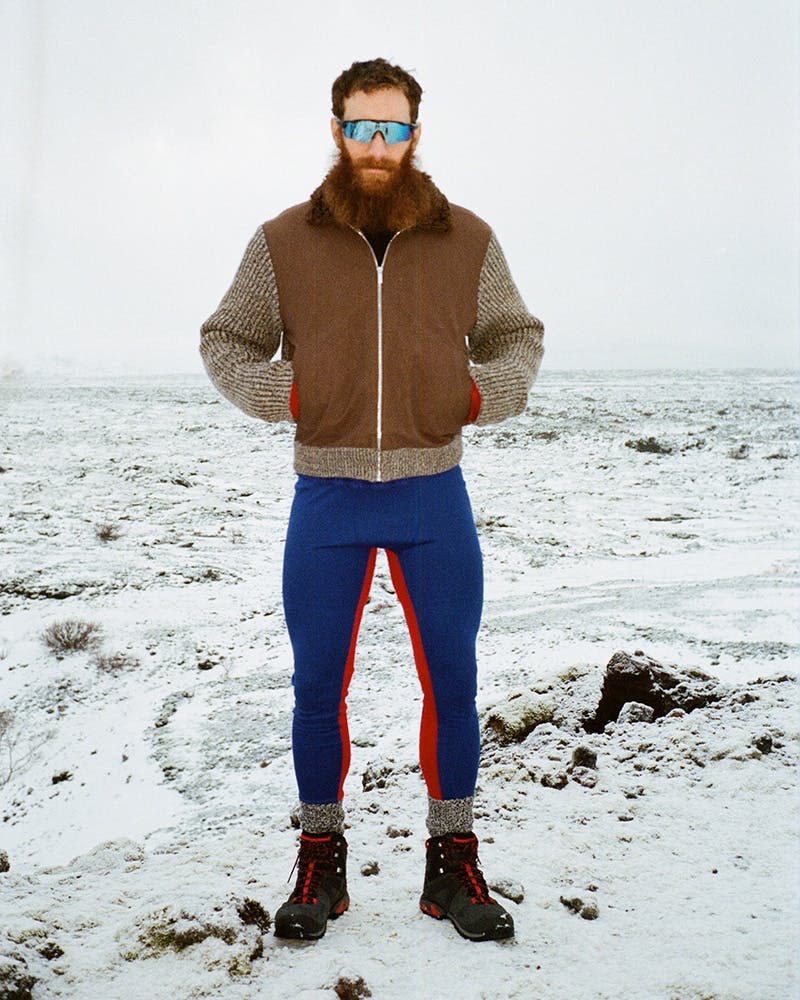 "We started to look into technical outdoor gear," says Phipps. "But to be perfectly transparent, it's the most complicated thing to do in a sustainable way, in terms of fabrics and factories. I'd rather take one category that we can manage to do in a sustainable way and perfect that."
Phipps has a defined vision, and it's paying off. But how did he get here? Well, at what could seem at odds with his personal style and that of his label, Phipps trained under both Marc Jacobs and Dries Van Noten before setting up his eponymous line.
"With Dries, ​​we had a nice relationship when I was there, but I did scare the shit out of him a lot," he laughs. "I was bringing in research things that were a little bit outside of his usual references. I was like 'look at this S&M harness' and he's like 'OK…"' I was really not the normal person in that office."
The PHIPPS Spring/Summer 2022 collection just landed at the Highsnobiety Shop. It blends the Americana references that Phipps has both grown up around (and has continued to adore and collect since) as well as the European influences that can be pinned to his impressive path of training in the fashion world.
Scroll to shop more of the PHIPPS SS22 collection.
Want to keep browsing? Head to the Highsnobiety Shop for more products that we love.