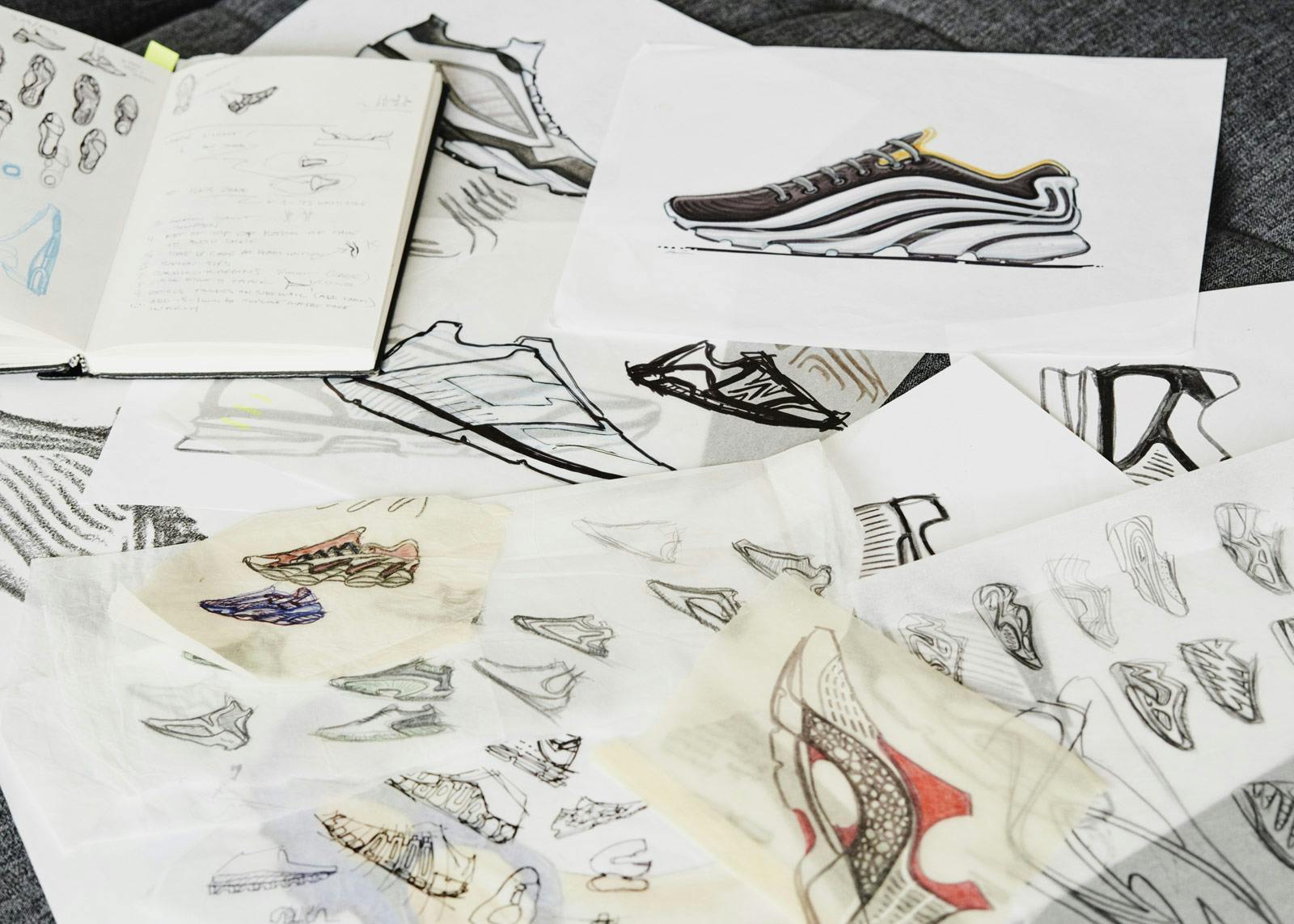 Highsnobiety / Clayton Cotterell
This story is taken from Issue 18 of Highsnobiety magazine. You can buy the new issue here.
Steven Smith has worked for nearly every major American sportswear brand and is the mind behind iconic sneakers such as the New Balance 1500 and Reebok InstaPump Fury. More recently, Kanye West revealed that he has enlisted Smith to work for YEEZY. We caught up with the designer, who explained that his idea of innovation is to disrupt — to "fuck shit up."
On the Thursday we speak on the phone, Steven Smith had just got back to Portland from Calabasas the previous night at 11 p.m. For some, needing to take a flight to get to work, especially on a weekly or bi-weekly basis, could become taxing, but Smith isn't phased, simply chalking it up as part of the gig.
His career in the footwear industry has been a journey in itself, taking him to and fro between the West Coast and the East Coast since he graduated with an industrial design degree from the Massachusetts College of Art and Design in 1986. Smith has been prolific in his work, contributing to the catalogs of the world's biggest footwear brands: adidas, Nike, New Balance, Reebok, FILA, and others. He also spent some time in the Portland office of offbeat, cool-in-Japan sandal brand KEEN. Among his creations are the Reebok InstaPump Fury and New Balance 1500, 574, and 997.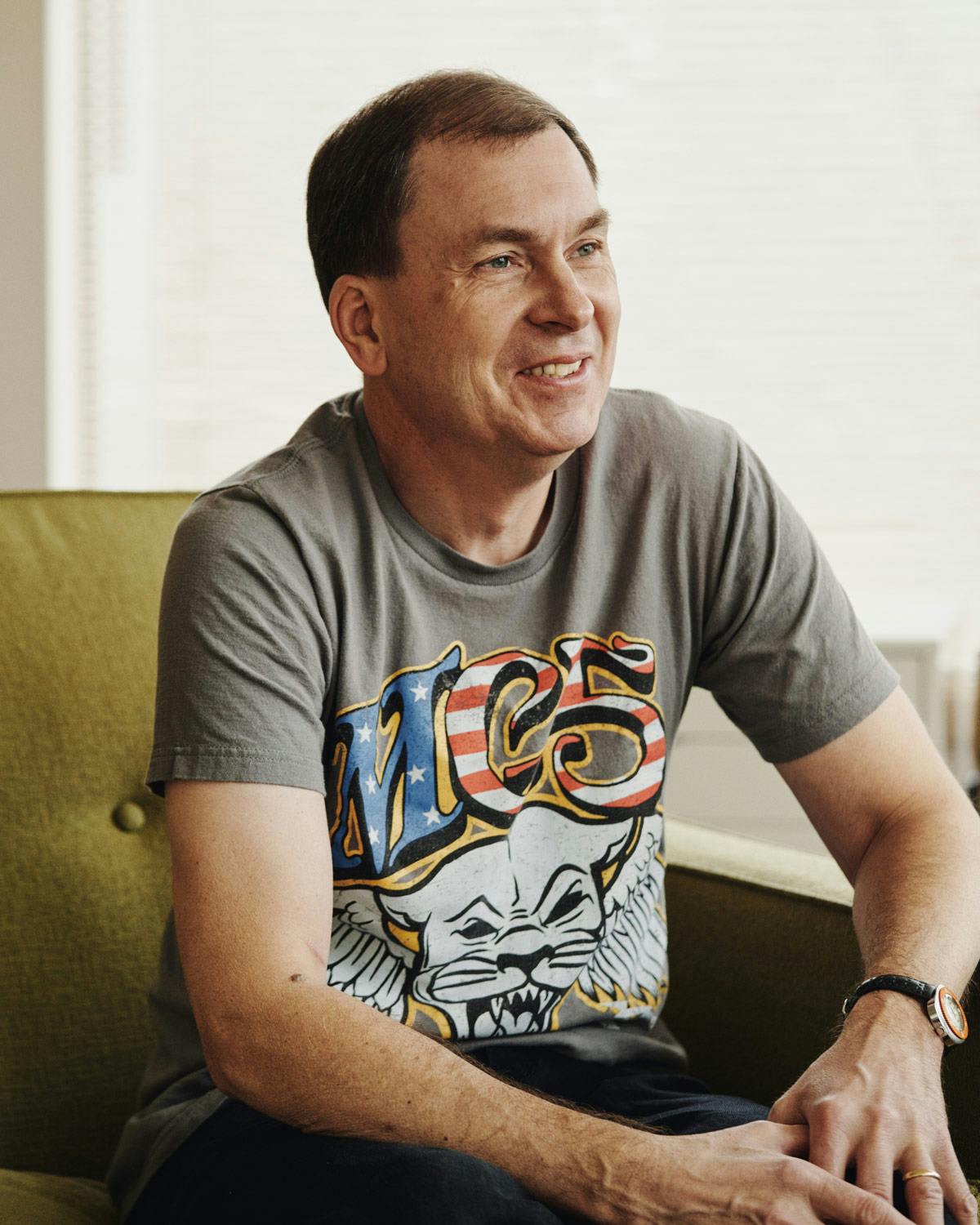 Today, he's recognized as one of the most experienced names in the business. And while footwear designer is the only sensible title that can succinctly explain Smith's profession, the man himself notes that he never specifically aspired to become a footwear designer, even if he did covet sneakers when he was younger. Among them was New Balance's sleek Super Comp, an eye-catching, predominantly orange and red shoe that was a stark departure from New Balance's cherished and reliable gray colorways — but that's exactly the reason he was drawn to it.
Later, while working at New Balance, Smith experienced resistance while attempting to push the brand's management away from gray, urging them to play with more colorful palettes.
Smith attributes his rise in the footwear industry to his non-stop sketching, and from our three conversations, I got the idea that his sketchbooks are filled with a plethora of unreleased or never-produced designs. According to Smith, his prolific sketching comes with an ability to foresee how a design might look physically even as he's drawing it on paper.
"I have this strange brain that's a hybridization of an engineer and artist," he says. "The two don't really normally get along; it's logic versus art. So I have a weird brain that thinks it through as I'm drawing. Like, 'How can I really make this? What can this be made of?' To me, that's all part of the recipe and formula of what you're doing. If you're a good designer, the answer should be there."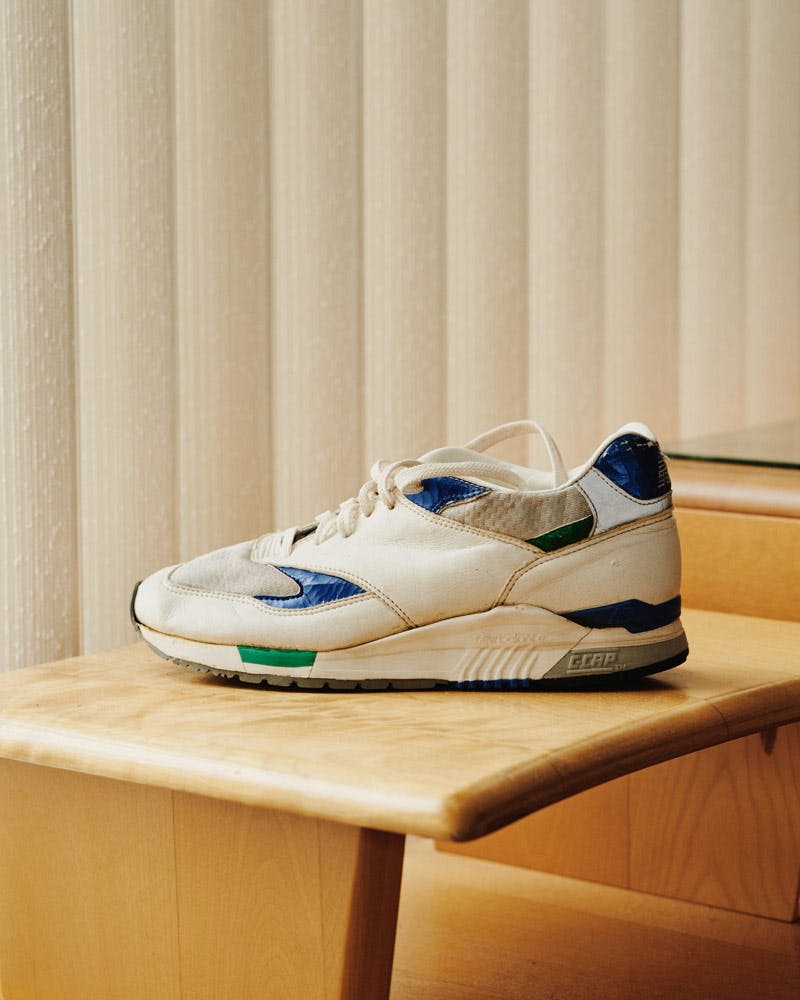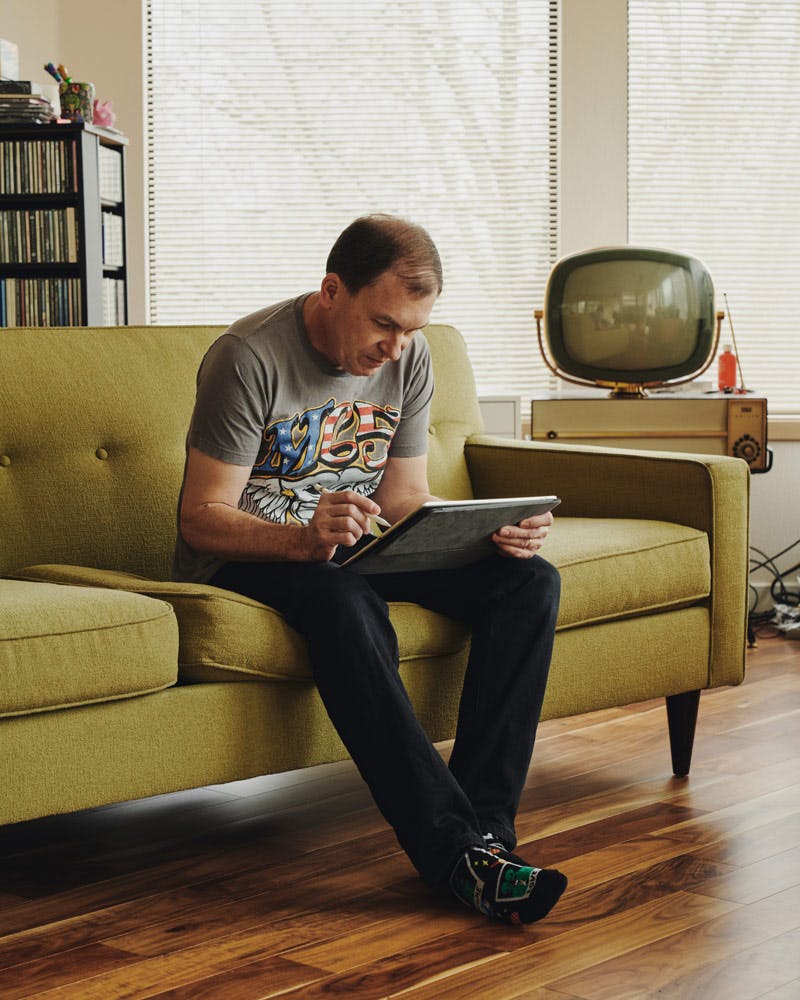 With the InstaPump Fury — objectively one of the least traditional-looking sneakers out there, even 25 years after its release — it all started with a rough sketch the size of a thumbnail. Smith notes that final designs will evolve over 40 or 50 different sketches. Some ideas even wake him in the middle of the night, striking him with the inspiration to put pen to paper while others sleep.
"Sometimes they're just a doodle, and then I blow it up big and detail it all out so that other people can understand," Smith explains. "Because the thumbnails in my sketchbook are usually intended just for me. If I see something that's interesting in there, and how it's laid out, then I'll draw it in a larger scale for other people to understand."
"I have this strange brain that's a hybridization of an engineer and artist... The two don't really normally get along; it's logic versus art."
Smith's appreciation for design isn't limited to footwear. His overarching interest in designed objects has led to a passion for trains, power tools, firearms, cars, motorcycles, and other machines, all of which end up informing how Smith's "strange brain" thinks about sneakers.
For most of his career, Smith's footwear designs have been based in performance, and in a sense, performance shoes have to work just like machines, especially for something as punishing as a marathon. As he reminds me, one of his designs, the Nike Air Streak Spectrum Plus, was the shoe of choice for legendary UK long-distance runner Paula Radcliffe as she broke the women's marathon and half-marathon world records in 2003.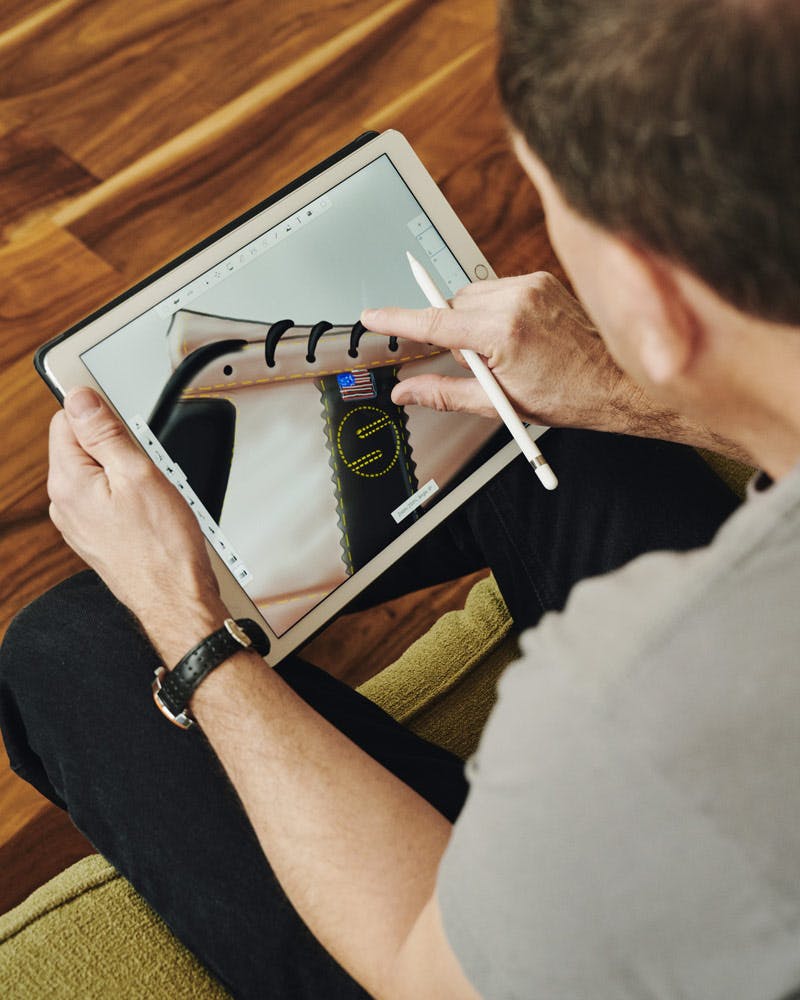 Much later, in 2018, Supreme collaborated with Nike to rework the sneaker. It had been designed by Smith specifically for runners in the Japanese market, but its recent reinvention as a lifestyle kick is a familiar trajectory that has been followed by numerous performance shoes, from the Nike Flyknit Trainer to the adidas Ultra Boost. In fact, the trend effectively describes a large portion of the sneakers Highsnobiety writes about — performance shoes that kids wear while hanging out because they're comfortable and look good.
Smith's Portland-Los Angeles trips are a byproduct of his new job. He's not exactly permitted to speak in detail about his current employer, but it's no secret who he's working for. A scroll through Smith's Instagram feed reveals shots of YEEZY sneakers — more often than not, the 700, a shoe Smith co-designed — standing on the somewhat gaudy carpet of Portland International Airport. It's no arduous task to locate his LinkedIn profile, either, which credits him as "Design Director Yeezy Lab."
In December, Smith's name became a more prominent blip on the radar when Kanye West tweeted a 'fit pic with the cryptic caption:
UNDRCVR JN TKHSH JKT VN CLF BRCLT YZY SSN 6 T CHRSTN TRSSR DSGND 700S STVN SMTH BTTM BRN DD SWTS FRM DVR ST MRKT JPN
Once you plug the vowels back in, "chrstn trssr dsgnd 700s stvn smth bttm" becomes a nod to Smith's work on an updated 700 alongside another legendary sneaker designer, Christian Tresser, who was responsible for the Nike Air Max 97, Reebok Aztrek, and Reebok Daytona DMX, among others. Tresser's is one of the only design resumes that could rival Smith's, not that there's any competitive animosity between the two.
If there were a sneaker design hall of fame, Smith and Tresser would certainly have their plaques on the wall, along with Tinker Hatfield (designer of the Nike Air Max 1 and Nike Air Jordan 3), Peter Moore (Nike Air Jordan 1, adidas Equipment logo), Sergio Lozano (Nike Air Max 95, Nike Air Max 98), and Eric Avar (Nike Air Shake Ndestrukt, Nike Air Foamposite One). Smith, Tresser, and the names above delineated the path followed by those working in footwear design today.
"We defined this is as a career," Smith summarizes.
Tresser and Smith's relationship goes back years. "We've been friends since he was at Reebok," says Smith. "We worked together at adidas in innovation. Tresser's a talented dude. He's a different vibe than what I represent, so it's kind of cool to have that mix. We're two old vets, you know? You've got to be friends."
In fact, Smith maintains ties with a number of the aforementioned designers. "I reach out to Tinker every now and then," he says. "He's also a car nut. He's got his funny Volkswagens. And Avar's got his Porsche and goes to the same church and everything, so I see him every now and then."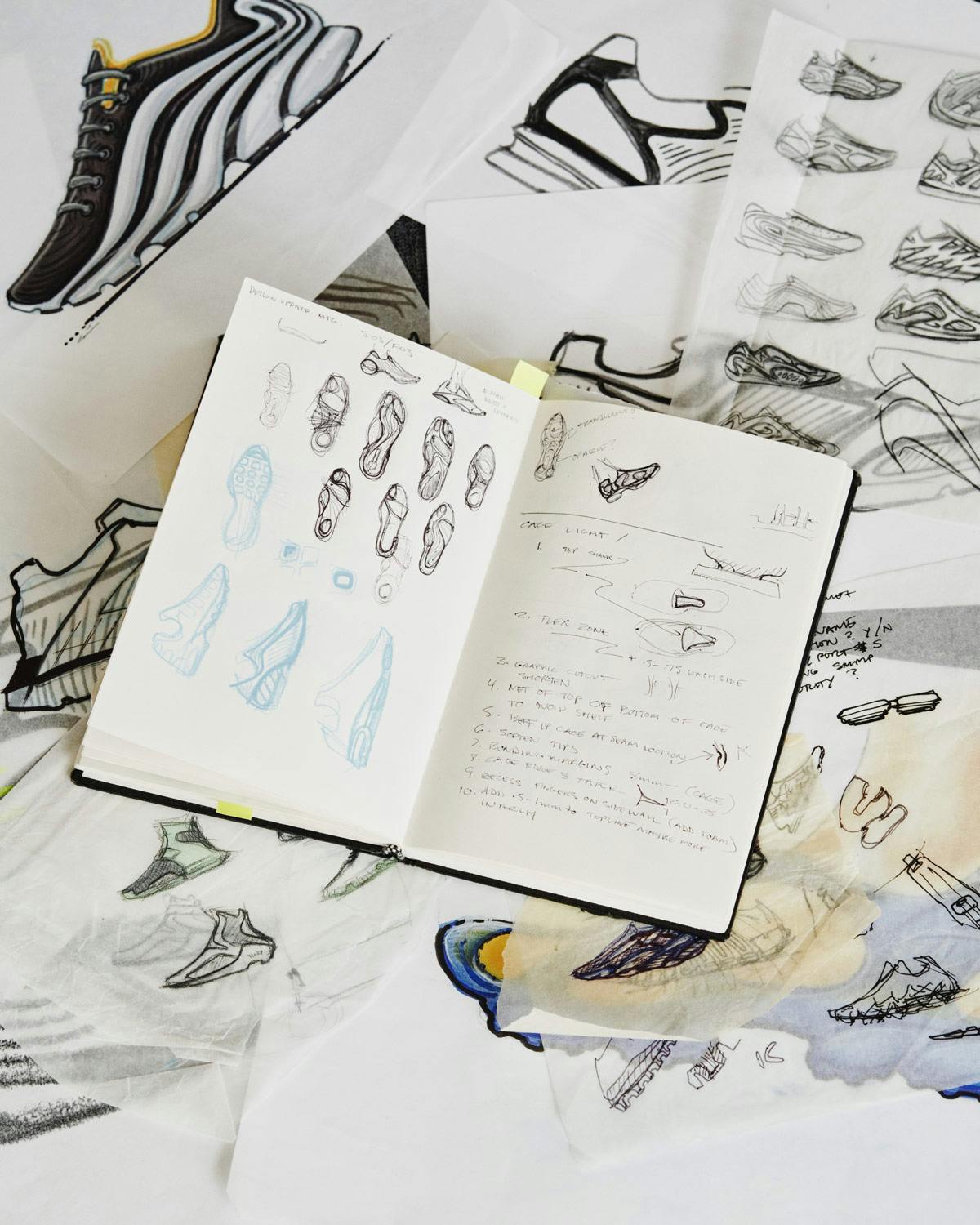 The shoes pictured in West's December tweet remain unreleased, although, as he indicates, they are some variation of the Boost 700 silhouette. Unpacking the tweet further, "stvn smth bttm" leads us to presume that Smith handled the design of the shoe's sole unit, while Tresser's contribution was on the upper. For the first time, West made clear that he has enlisted a truly Goliath team of design veterans, two men who have shaped the contemporary footwear landscape.
While speaking with Smith over the phone, he mentions that he has just returned home from the dentist. He's a family man and I think I can hear him washing dishes. I note the clutter of sneakers sitting by the front door of my apartment and I wonder aloud if Smith's house is the same.
"So, I've got my black InstaPump Furys," he starts. "I've got my black and red [YEEZY] 350 V2s. I've got a pair of navy [adidas] Gazelles — I love Gazelles, they were always my favorite. A pair of black [adidas] Dragons. A pair of green Dragons. 700 "Mauve"s. A new pair of light blue [New Balance] 574s. A pair of New Balance 247s — and they sent me those. A pair of boots for the rain. And then my YEEZY Season 4 combat boots. Those are my go-tos. One more pair: I've got some Bates motorcycle shoes."Looking outside the front door and beyond shoes, Smith continues, "The daily car I drive, I have an F-150 SuperCrew — a Ford, because I tow my race car with it. So it's utilitarian. And I haul my motorcycles with it. But my main car is my '58 Porsche 356 Super Coupé. That's what I drive when I'm not hauling shit. And then I have my vintage race car, which is my '65 [Volkswagen] Beetle Road Racer, which is a lot of fun, too. I love my Vespa. I like all my machines."
It's no surprise that Smith's sneaker rotation comprises a selection of models from most of the brands he has worked for during his career. But YEEZY surely presents a different working environment to any other sneaker company, with paparazzi likely lurking outside the Calabasas office and West's every movement scrutinised under a million microscopes.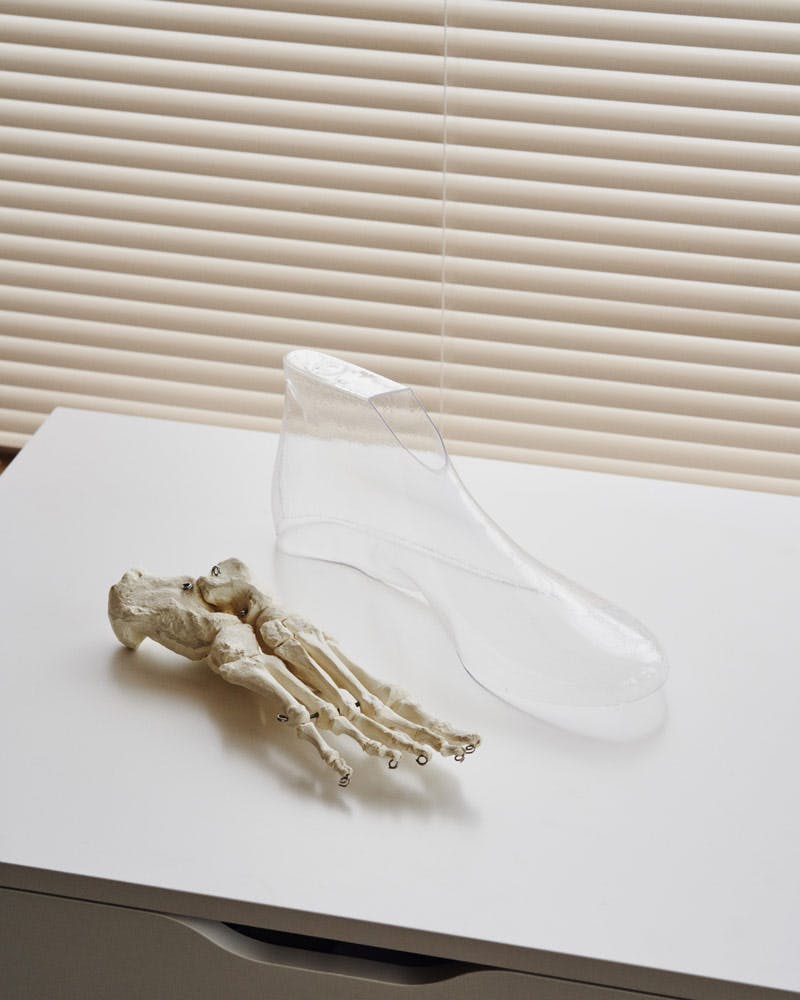 "There are always certain products that are met with craziness," Smith explains about how YEEZY compares with other sneaker brands. "It happened with [Reebok] Pump. It happened with Jordan. Now it's YEEZY. You can't control how people react to them. On the positive side of things, it's exciting to see people that are excited about product. That's part of the cool thing about creating stuff, is making something so desirable that people would risk so much for them and spend the money."
When it comes to coveted products in the current footwear climate, leaks and rumors have become a fact of life, something to be expected. Once a leak hits the internet, it's out there for everyone to see, often subverting months or years of work put in by people like Smith.
"I don't know where [leaks] come out from," Smith says. "I'm baffled. 'How did they find that?' I don't know. It's kind of good because it helps build the buzz. It's interesting because sometimes the rumors aren't true and the kids are like, 'Where'd this one go? What happened with that? Release that.' And it's like, 'I don't know. I didn't see that one out.' Where'd they get the picture?"
West is a disruptor, period, so it only makes sense for him to enlist fellow irreverent personalities, kindred spirits to help him subvert the norm. "Someone asked me if I want to fuck shit up," Smith notes subtly, "and I said, 'Well, you've got the right person for that.' What I worked on has kind of embodied that. Not intentionally. Things like the [InstaPump] Fury, it ended up being a technological tour de force."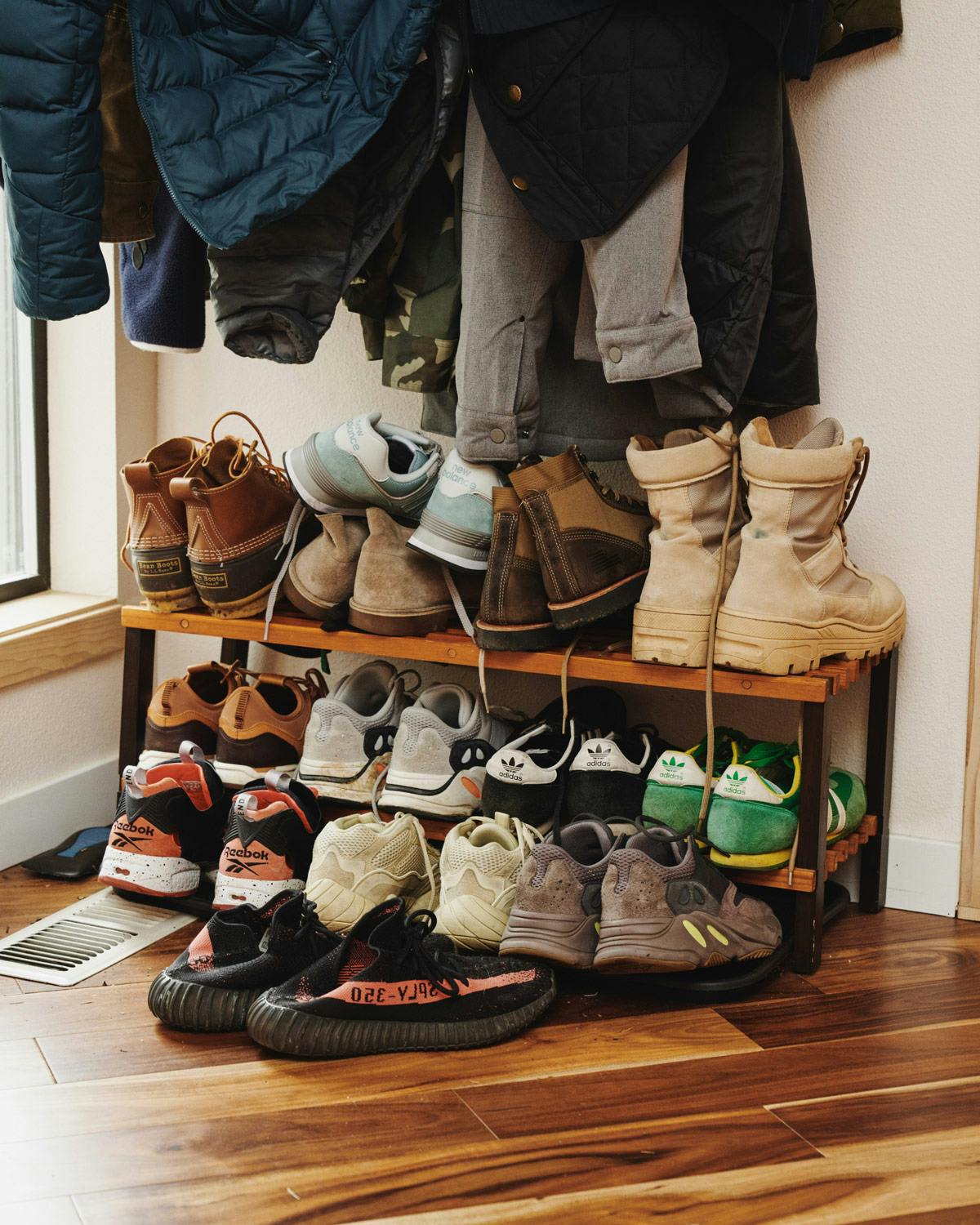 Smith says one of his proudest moments was seeing Aerosmith frontman Steven Tyler wearing the shoe while performing at the MTV Video Music Awards. So what is the equivalent moment with YEEZY? "There's a lot of cool people wearing them," Smith says. "It's always neat to see Chance the Rapper running around in the stuff, and Cudi."
Seeing famous people wear his designs might be a perk of the job, but for Smith, it's nothing new. He seems far more concerned about innovating in the truest sense of the word. "'Is this better? Did I make a running shoe lighter? Did I make this basketball shoe perform better? Regardless of how it looks, does it work better?'" he ponders. "That's always how I've done things. You look up innovation and it just means new and different. It doesn't mean new and better."
For years, West and Smith have been disrupting the creative ecosystems in which they operate. Kanye shook up the role of the entertainer and forged ahead without the approval of any established forces. Smith has challenged and pioneered at the biggest footwear brands in the world, not accepting the status quo or simply deferring to the established ways of doing things.
"'How can I make this better?'" Smith muses aloud again. "To truly be a disruptor and fuck shit up — that's how I charge into things."
"Someone asked me if I want to fuck shit up, and I said, 'Well, you've got the right person for that.'"
Highsnobiety magazine Issue 18 is available now from our online store and at select premium stockists and boutiques worldwide.