Is there anyone on the planet more ready for autumn than The Weeknd? Me, maybe. But, then again, I don't already have my costume, it certainly won't be made by Yohji Yamamoto, and no one's tongue can do what The Weeknd can do with his.
What does that last bit have to do with Halloween? Uh, I don't know. It's supernatural?
Anyways, The Weeknd has been hitting the road recently, taking North America on his After Hours Til Dawn Tour, which sees the musician born Abel Makkonen Tesfaye playing all the hits from recent album After Hours and more.
It's a spooky affair, with a moody set dressed to look like a city skyline lit by the glow of a full moon, back-up dancers cloaked in blood red shrouds to match After Hours' vampiric album cover.
Between the folks with whom he shares the stage, The Weeknd wears a bespoke Yohji Yamamoto outfit designed exclusively for his tour.
It's an interesting pairing, The Weeknd and Yamamoto, because I don't tend to associate the two.
In my head, The Weeknd seems best paired with the top-tier luxury labels of today: your Bottegas, your Givenchys. So to see him — or his stylist, at least — instead aligning with a designer who rarely does costume design anymore, is pretty refreshing.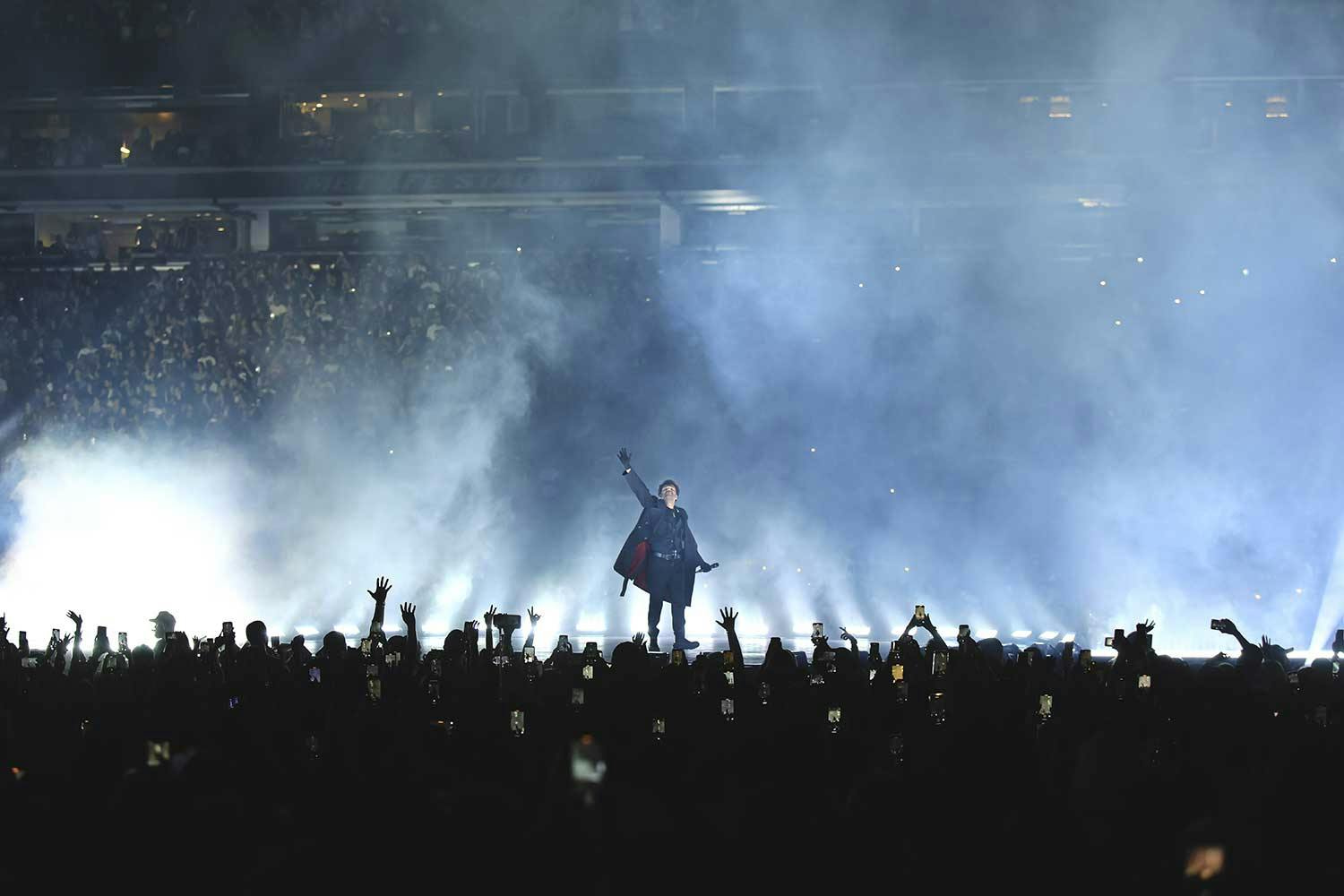 Admittedly, its not like Yamamoto's team reinvented the wheel to create The Weeknd's look.
His double-breasted, fully-lined coat and trim slacks are almost so conventionally slick as to not read as a Yamamoto design at all.
Perhaps it could even appear to be a designer toiling in the shadow of Yamamoto's immense legacy, given that the coat isn't as long and trousers aren't as wide as Yamamoto's usual fare (compare to Yohji Yamamoto Pour Homme SS23).
No complaints here, though, The Weeknd looks as good as ever.
And it's just cool to see the breadth of stuff that Yamamoto is working on these days.
From launching new brands and collaborating with random companies to designing baseball gear, the Poet of Black has kept especially busy.
But what's all this about Halloween, anyways? Well, in line with The Weeknd's recent semi-spooky aesthetic, the singer recently announced his role in the next edition of Halloween Horror Nights at Universal Studios Orlando.
Fans who suffer the ignominious heat and awful atmosphere of Florida may be blessed by The Weeknd himself, who's rumored to be putting in a personal appearance at the event.
Which brings us to his tongue.
On a recent After Hours Tour stop, The Weeknd set the crowd alight with a dazzling display of tongue mastery.
This is the thing fancams are made of, truly, and it's a perfect mood-setter for what's about to be prime Weeknd season.