Fashion is inherently aspirational — a medium through which we indulge our deepest desires. If we were drawing up a list of those desires right now, then I'd put money on a vacation being up there for pretty much everyone. Holding a mirror up to the world's current state of limbo, fashion is reflecting our longing to travel, loud and clear. And it's doing it through luggage.
Tyler, the Creator dropped his seventh album Call Me If You Get Lost last week. And while a new era of Tyler fits had us talking, it was the repeated appearance of the luggage trunk in the album's rollout that stood out for me. First, he stood atop a pile of mammoth trunks and carried a cute LV option in the video for its first single Lumberjack. Then, he dropped videos for WUSYANAME and the Brown Sugar Salmon skit — the luggage trunk playing a supporting cast role in both.
Serving up a real-world extension to the Wes Anderson-style videos of the Call Me If You Get Lost era, Tyler turned up at the BET Awards last night with two trunks in tow, alongside the animal print sweater and shorts ensemble he's been wearing pretty much non-stop recently.
Tyler's not the only one, either. Harry Styles had envy levels raging yet again after being spotted holidaying in Venice, Italy, with a Bode-centered fit and some fire luggage in tow. The luggage in question here was a Gucci holdall bag, accompanying the British artist on a trip to film the final scenes for the upcoming film My Policeman.
After months of almost totally forgetting what this ultra-functional accessory looked like, Styles has us all itching to get away, if only to invest in a new piece of carry-on.
Gucci isn't the only fashion house to have tapped travel to connect with, or perhaps manipulate, our sun-starved brains recently. For the Fall/Winter 2021 Louis Vuitton show in January this year, Virgil Abloh centered much of the collection on jet-setting; the airplane a recurring motif on the Saul Williams-soundtracked runway.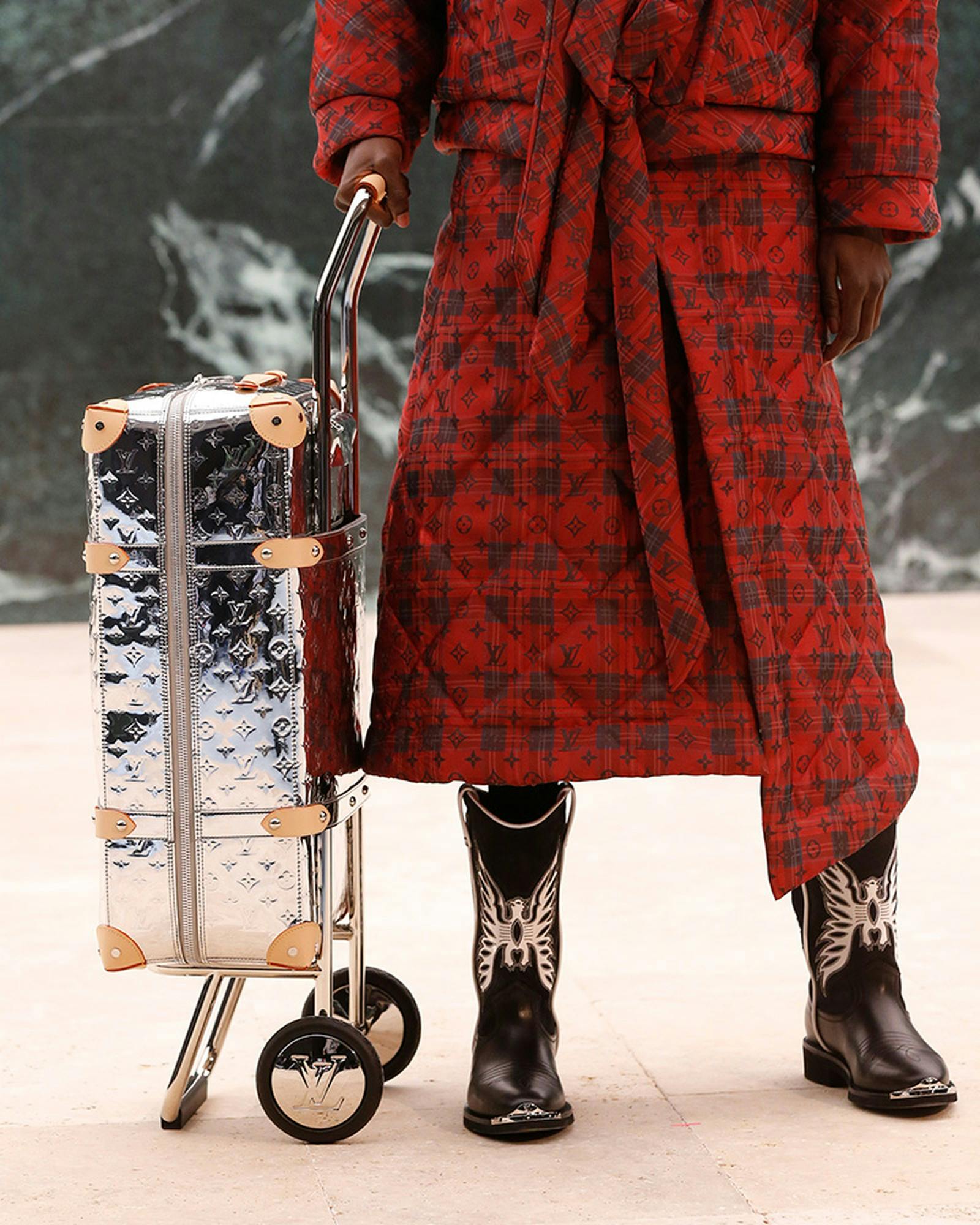 As well as plane-shaped fasteners fixed to coats and blazers, luggage was a huge part of the collection, a nod to LV's rich heritage in this accessory. With Virgil now piloting the house, new luggage landed in the form of shiny silver trunks on wheels and briefcases to match, weekend holdalls galore, and a certain winged bag. The trunks on show, styled superbly with garments by the exceptional Ib Kamara, were the standout and they were back for Virgil's SS22 LV show last week.
With Tyler, Harry, and Virgil all making big cases for the category,  it's safe to say that luggage is having a moment right now, and the numbers back it up, too. Data king Lyst told us that searches for luggage are up 120 percent this quarter. And it's no surprise — luggage is so intrinsically linked with good times. Better times. It's like smelling sunscreen. It opens the floodgates to our endorphins and makes us happy.
To help you get ahead of that re-granted freedom when it arrives, we visited the distant corners of the internet to bring you the best luggage around right now. From squared-out trunks similar to those seen on the LV runway and in the hands of Tyler to weekend holdalls, we've ensured that you don't miss when you trip.
Scroll for this summer's best luggage.
Trunks
Holdalls
Suitcases
Want to keep browsing? Head to the Highsnobiety Shop for more products that we love. Highsnobiety has affiliate marketing partnerships, which means we may receive a commission from your purchase.