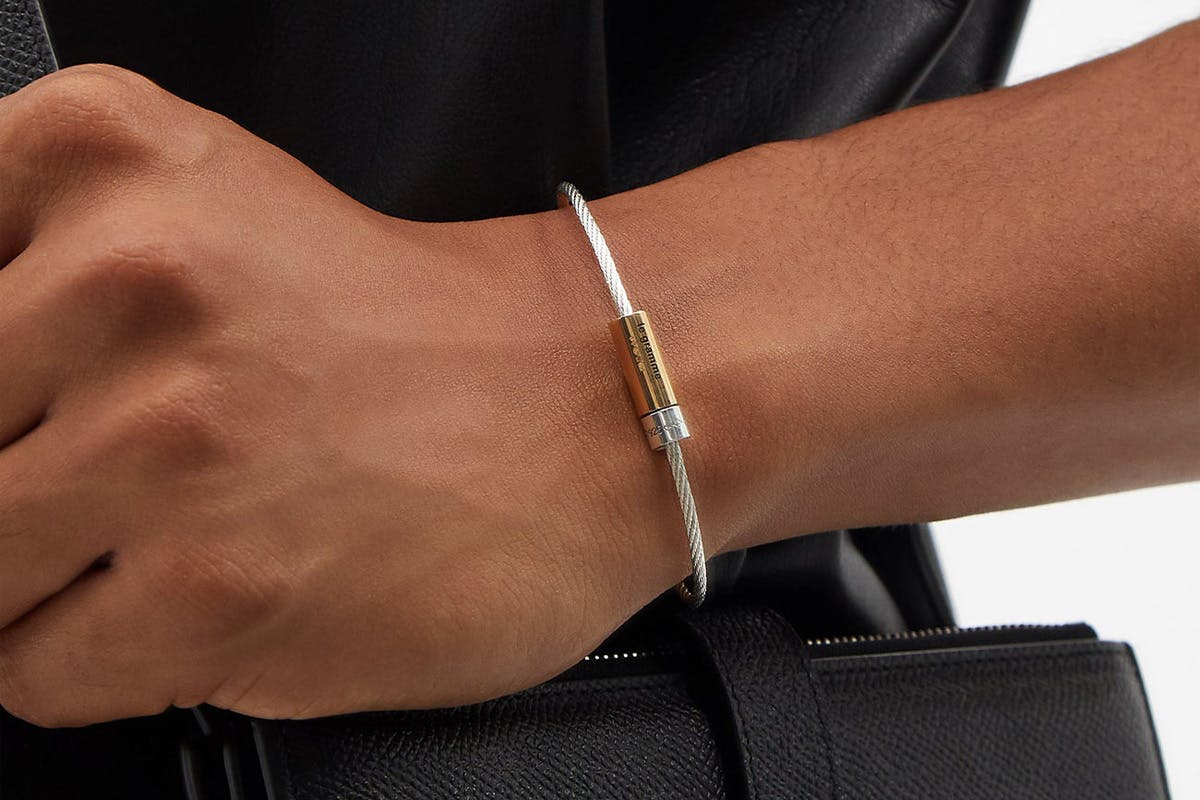 To say that the old adage that the only piece of jewelry a man should wear is a wedding ring or a watch is outdated is an understatement. In fact, jewelry is a central part of the modern wardrobe and if you're not on board then your fits are suffering. It can be a hard world to find your feet in, though, and opting for out-there bling from the jump has the potential to go very wrong. For rookies and experts alike, understated jewelry is the key to success.
With the help of MATCHESFASHION, we've rounded up 10 pieces of understated jewelry for men which won't impose on your fits but will upgrade the overall aesthetic. After all, it's the little, personal touches that make a good fit a great fit. Ranging from Le Gramme's precise, clean style to designer bits from Raf Simons, the world of understated jewelry stretches far and wide, so start exploring below.
Keep scrolling to shop ou favorite understated jewelry.
Maison Margiela Number-Engraved Necklace
Maison Margiela's signature sizing grid is translated to fit around the ring that sits at the end of a delicate silver chain.
Raf Simons Logo Charm Necklace
Hanging alongside a piece of quartz is Raf Simons' 'R' logo. The two embellishments work perfectly together, contrasting in their respective rawness and refinement.
Tom Wood Anchor-Chain Necklace
You can't go wrong with a thin chain. This anchor-link chain is a subtle twist on the usual curb chain, making for a nice distinction from the crowd.
Shaun Leane Hook Bracelet
Shaun Leane has created his fair share of out-there pieces for impact on the runway, but this simple leather bracelet proves that he can do minimal, too.
Saint Laurent Chain-Link Bracelet
Jewelry has a hard time during fall and winter. Often, pieces get drowned by the many layers of thick wools and scarves. Opting for a bracelet is a clever way to keep your jewels on full show during the many-layered months.
Le Gramme 7g Bracelet
French jeweler Le Gramme offers up a sense of radical simplicity with its collections which are defined by minimal detailing and clean lines. This industrial bracelet combines 18kt gold and sterling silver.
Pearls Before Swine Mod Earrings
Of course, earrings require an extra commitment in that you actually need a hole in your ear. If you've already made that leap, though, Pearl Before Swine knows how to make the most of it.
Spinelli Kilcollin Micro Hoop Earring
Less eye-catching than the Pearls Before Swine earrings, this single micro hoop by Spinelli Kilcollin hugs the earlobe rather than hanging. It's a simple change but makes for a refreshing take on the hoop earring.
Miansai Duo Ring
One of the eternal questions when it comes to jewelry is: am I a gold or silver person? Miansai makes that a very easy decision with the Duo Ring which looks to both precious metals at once.
Dominic Jones Open Ring
In understated jewelry, the lack of embellishment and detailing means that the focus is usually firmly on the organic shapes of the piece. This open ring by Dominic Jones shows that you don't need bright stones to make an impact.
Want to keep browsing? Head to the Highsnobiety Shop for more products that we love. Highsnobiety has affiliate marketing partnerships, which means we may receive a commission from your purchase.