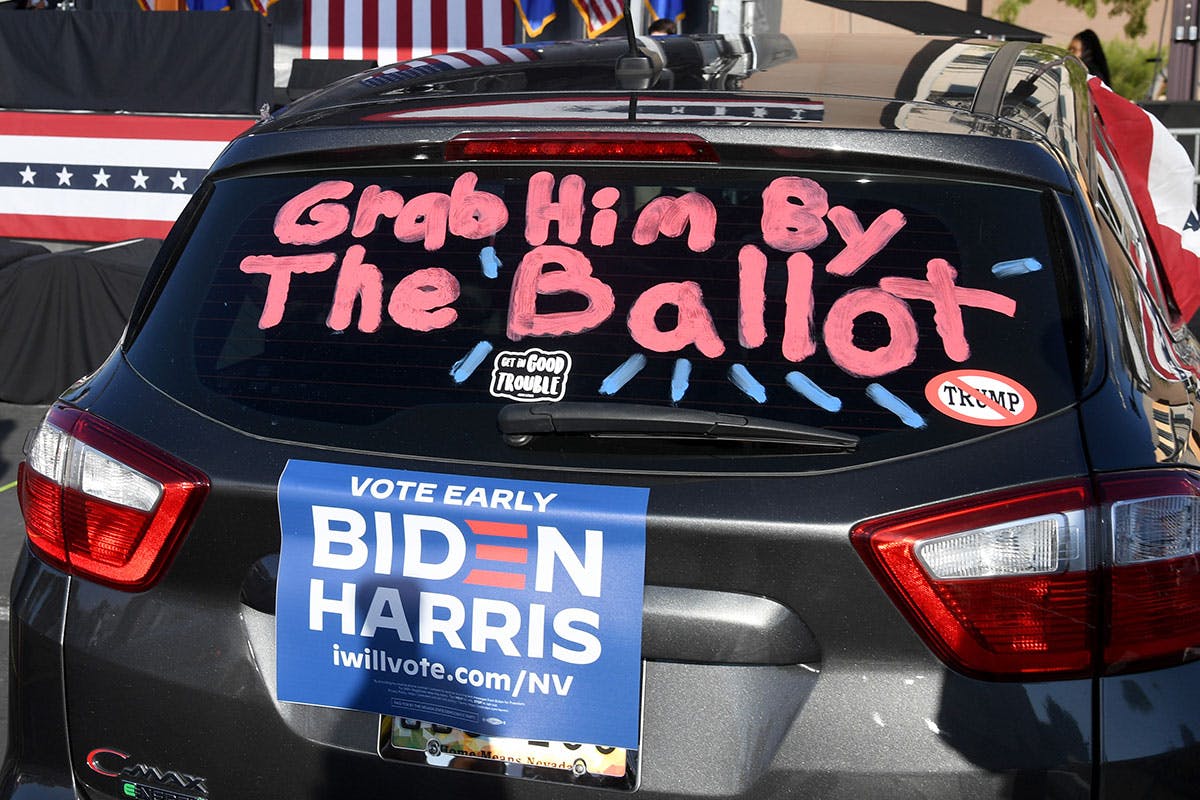 Mike Pence and Kamala Harris are set to go head-to-head today in the 2020 vice-presidential debate. If you thought last week's debate was intense, Donald Trump's infection with coronavirus has turned the pressure up a notch.
Although the list of debate topics has not yet been announced, it's safe to say that the VP debate will be dominated by the president's health, for numerous reasons. Firstly, because of his repeated refusal to wear a mask, the impact that has had on those around him, and the message it sends across the country. Secondly, because Pence is the head of the White House's pandemic task force and will have to explain how he allowed the virus to spread through Congress. And thirdly, because Trump is 74-years-old and his Democratic rival Joe Biden is 77, and with a potentially lethal virus circulating the globe as we speak, Trump's infection is a very real reminder that either Pence or Harris could become president themselves before 2024.
As Aaron Kall (University of Michigan's director of debate) asserted to the Guardian: "The stakes of the debate just got much higher. Typically, vice-presidential debates don't really make much of a difference and aren't very well viewed — the one in 2016 was only watched by 37 million people, a much smaller audience than the three presidential debates.
"But now, given what happened with President Trump, it really increases the stakes of this debate because of the health of the candidates. You have a 74-year-old [and] a 77-year-old, so these two have to be ready to step in at a moment's notice." If his diagnosis affects the next two presidential debates (dates below), Hall adds, "this may be the last debate of the cycle and another reason why it's extra important."
Find everything you need to know about tonight's vice-presidential debate below.
When is the Vice President debate & where is it being held? Wednesday, October 7 at 9:00 p.m. ET. It will last 90 minutes.
Where? The University of Utah in Salt Lake City.
Who is moderating? Susan Page, Washington Bureau Chief at USA Today. Over her 47-year career, Page has covered 10 presidential elections, six administrations, and interviewed nine American presidents. She has also worked for Newsday, wrote Barbara Bush's biography, and won awards for her presidential reporting.
Where can you watch the debate? The debate will be streamed across all major networks, including ABC, CBS, NBC, PBS, CNN, MSNBC, and more. It will also be streamed on YouTube.
What are the debate topics? Page has not released the list of 10 topics up for debate.
When are the next debates? October 15 and October 22.