This article was published on April 14 and updated May 2
MSCHF and Tyga's "Wavy Baby" shoe was already the subject of a potential lawsuit from Vans before it even dropped.
Revealed on April 6 before being released (and sold-out within ten minutes) on April 18 via MSCHF Sneakers' website and app, MSCHF Sneakers' "Wavy Baby" skate shoe was created with rapper Tyga, who premiered the shoes in his "Freaky Deaky" music video weeks ahead of the general announcement. Pals like J Balvin swiftly received their own pair to flex in public.
Currently, pairs of the limited edition sneakers (only 4,000 were made) are going for upwards of $300 on StockX, just a little over $100 above the $220 retail price.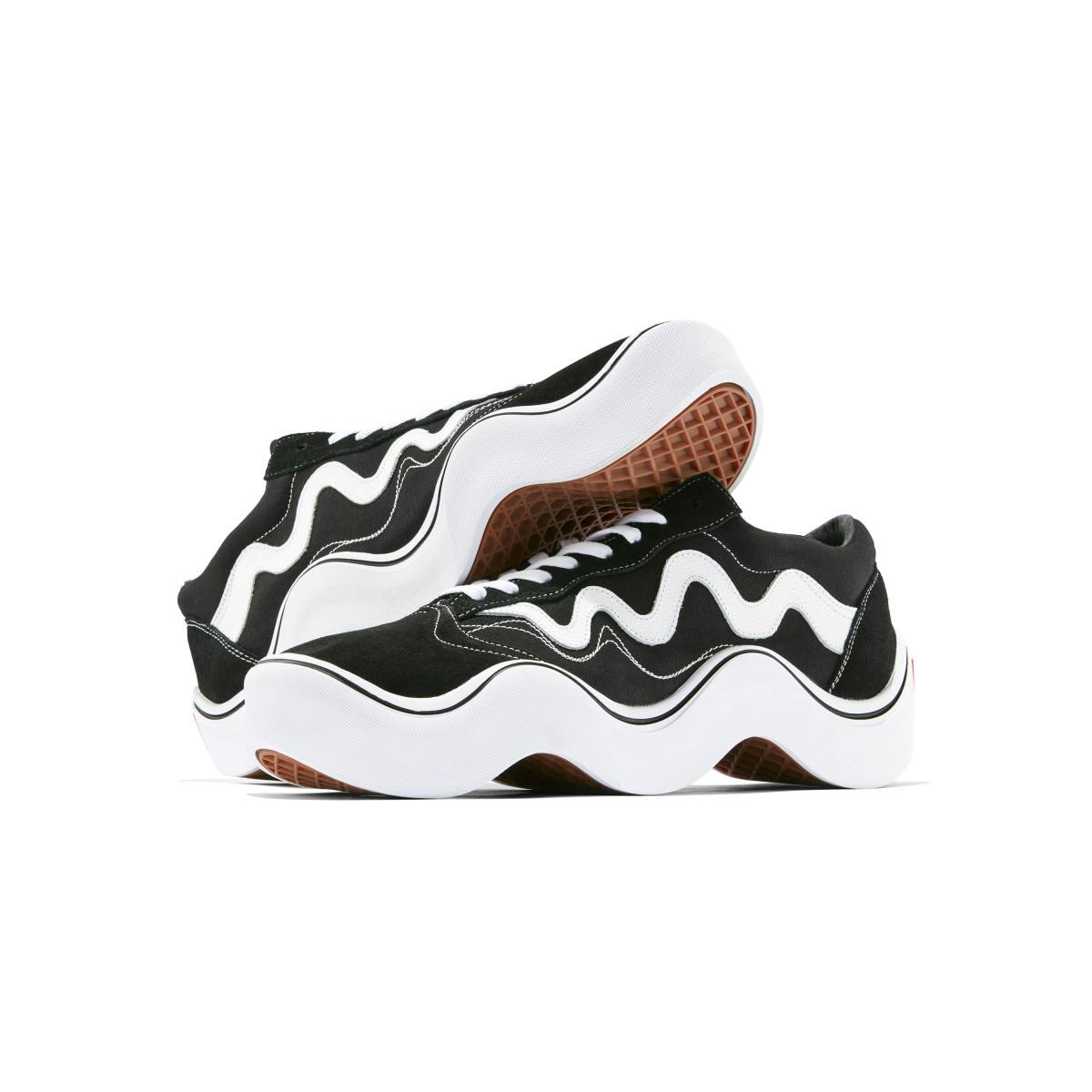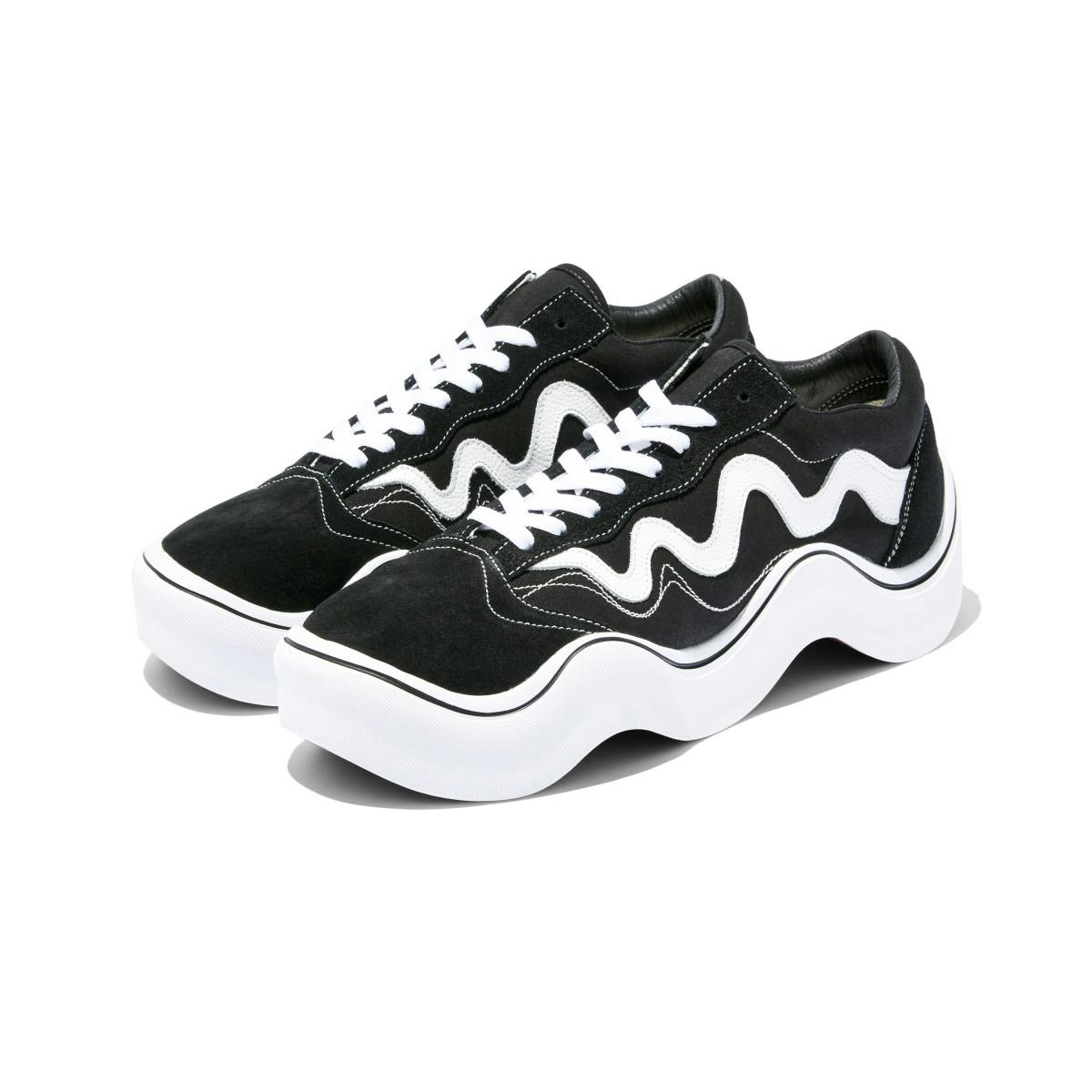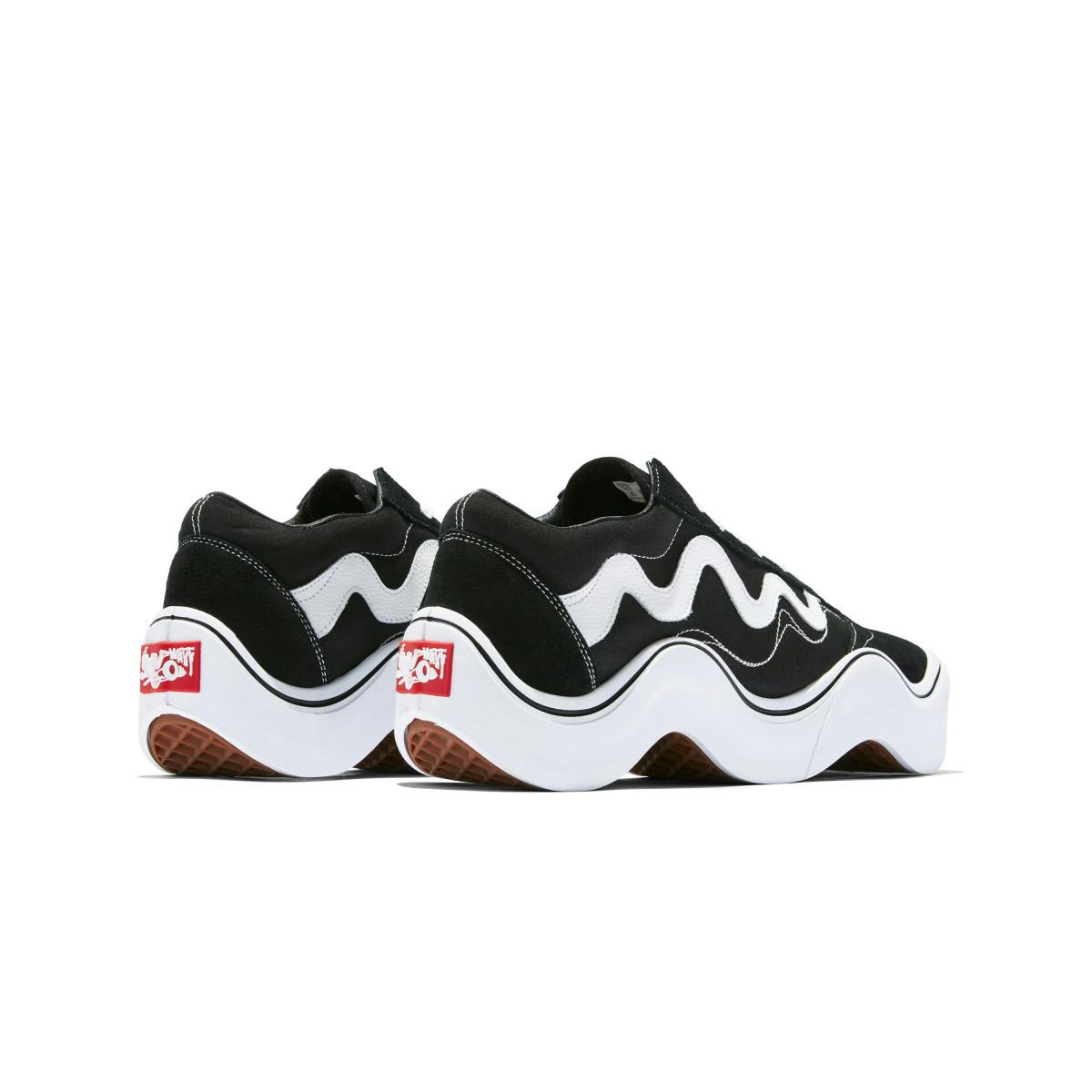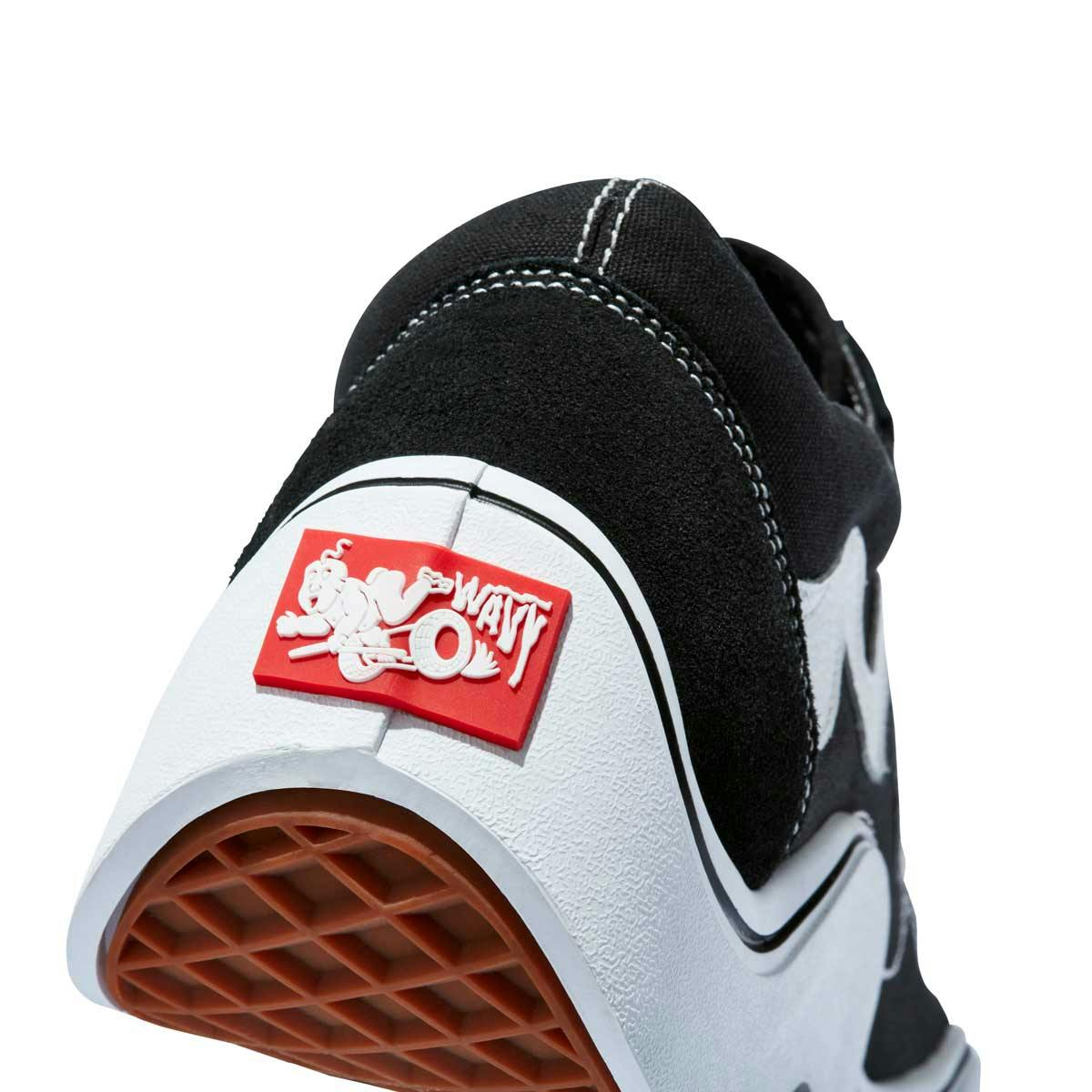 In case you haven't noticed, the Wavy Baby does smack of skate shoes that came before, what with that canvas upper, wiggly white stripe, and black-on-white foxing, but that's the point of what MSCHF Sneakers is doing — and what Vans is complaining about.
In Vans, Inc. v. MSCHF Product Studio, Inc., the VF Corp-owned lifestyle company alleges that MSCHF's shoe "blatantly and unmistakably incorporates Vans' iconic trademarks" as seen on Vans' Sk8 Hi and Lo shoes, in particular.
MSCHF and Tyga opted to "skip the significant investments required to develop original, authentic, and high-quality shoes, and instead chose to free-ride off Vans' reputation and popularity," Vans' complaint continued, though Tyga is not named a defendant in the suit.
But, to be clear: MSCHF's Wavy Baby is a wholly original design.
In late March, MSCHF told Highsnobiety about the painstaking production process necessary to create the MSCHF Sneakers line, explaining that every shoe that it releases is built from scratch.
With this in mind, you can better appreciate the typically sardonic tone that informs the statement that MSCHF published on April 14 about its Vans lawsuit.
"Vans reached out to settle with us proactively," MSCHF said. "Turns out that they were shaking our hand at the same time they were stabbing us in the back."
"To have the [Wavy Baby] drop go live [on April 18], they offered specific terms (as recently as 24 hours ago) asking for, among other things, half the profits and also four pairs of shoes for themselves. They also indicated they were willing to meet about future collaborations LMAO."
Suffice to say, MSCHF is feeling just a smidge jaded.
The first MSCHF Sneakers silhouette, the TAP3, was an obvious nod to the metaphorical red tape that obscured MSCHF and Lil Nas X's Satan Shoe back in 2021, making clear that MSCHF Sneakers is as anti-establishmentarian as anything else that MSCHF does.
MSCHF Sneakers is also rooted in a genuine love for footwear: MSCHF's creative team loves the medium and the possibility that it offers. Thus, MSCHF Sneakers was devised as a middle finger to the laziness of the footwear industry.
"The sneaker landscape is so incredibly stale," MSCHF told Highsnobiety back in March. "If we were going to collaborate with a sneaker brand, they'd have to break open a new mold: we're not just doing a MSCHF colorway."
Everything that's boring about the sneaker biz — slapdash collabs, boring colorways, copy-pasted logos — is what MSCHF Sneakers isn't. By riffing on familiar shapes from established sneaker giants, MSCHF Sneakers can make its point that much faster.
MSCHF would not offer further comment on its Vans court case beyond the initial statement but, really, the statement says plenty.
"Standard shoe industry practice is: steal a sole, steal an upper, change a symbol," MSCHF continued. What a boring use of cultural material. Wavy Baby is a complete distortion of an entire object that is itself a symbol."
"Vans is a hidebound institution hiding behind its past heritage as a 'creative youth brand.' In 50 years of sneaker releases, never have any of their shoes gotten this much attention pre-release. The Wavy Baby is transformational above and beyond anything Vans would ever attempt. "
In no uncertain terms, MSCHF's statement is a worthy manifesto for MSCHF Sneakers — and perhaps MSCHF — as a whole.
"Fundamentally, artists play with culture. Sampling is a core act of creative expression, and a constant iterative process across the entire fashion space."
Though the Wavy Baby drop went down without incident on April 18, Vans still sought a temporary restraining order against MSCHF, according to court filings reviewed by The Fashion Law. In April 15 filings, Vans asserted that the Wavy Baby shoes did not meet the requirements to be considered "a parodic or artistic expression."
Lawyers for MSCHF, meanwhile, felt quite the opposite. An April 19 retort from MSCHF's team contended that the Wavy Baby is not only objectively parodic but also "protected First Amendment expression."
The Wavy Baby shoes are criticize "consumer culture and Vans' outsized role" therein, MSCHF teams' filings argue. Functioning as a commentary on Vans, the Wavy Baby shoes are on the level of an artwork that recontextualizes a familiar shape and thus ought to legally be considered free speech.
MSCHF's team also argues that Vans' initial concessions (asking for a cut of the Wavy Baby profits, coaxing a potential collaboration) reveal falsehoods about "Vans' protestations" that the Wavy Baby's release would harm its own bottom line.
The court did not agree.
On April 29, Vans triumphed over MSCHF in court, with presiding Judge William Kuntz granting Vans' temporary restraining order request preventing MSCHF from "advertising, selling, offering to sell" the Wavy Baby shoes (they are, of course, already sold out).
More damning, however, is that Judge Kuntz also ordered MSCHF to "reverse and/or cancel" all orders for the Wavy Baby shoes (reportedly, all of the estimated 4,000 pairs were sold on April 18) and place all money made from the sneakers' sale into a third-party account for safekeeping until the court dictates what ought to be done with the funds.
Citing everything from a podcast interview with MSCHF CCO Lukas Bentel to the Wavy Baby drop on the MSCHF app, Judge Kuntz posited that the Wavy Baby sneakers could not be considered parodic as they lacked clear elements of "satire, ridicule, joking or amusement" and thus were not covered under the First Amendment (although MSCHF's accompanying Wavy Baby manifesto was deemed protected speech — small victory).
Finally, Judge Kuntz decision agreed with Vans that MSCHF's limited edition Wavy Baby created the risk of "irreparable harm to the consumer recognition and good will" of Vans (Note that Vans' parent company VF Corp notched nearly $14 billion in revenue in 2019).
MSCHF could appeal the court's inclination, if it so chooses, but this is the second time that one of its creative efforts has been blasted (legally) by a sneaker giant, which must be exhausting.
Though imagery of the Wavy Baby has been removed from social media per MSCHF's usual strategy of deleting old drops off of its platforms, the sneaker is still pictured in the MSCHF Sneakers App imagery on Apple's App Store.
Shop our favorite products