What seemed like a lifetime ago, Doja Cat attended Schiaparelli's Spring 2023 Couture show decked out in over 30,000 blood red crystals covering her head, chest, and arms. The sparkly yet sinister look, executed by makeup artist Pat McGrath, complimented Doja Cat's Schiaparelli outfit: a scarlet gown whose skirt was constructed from hundreds of pearl-like baubles.
It was a noteworthy dress, to be sure, but McGrath's feat of makeup mastery (which took nearly five hours to complete) is what catapulted Doja Cat's appearance at the show — and by extension, the show itself — to viral fame.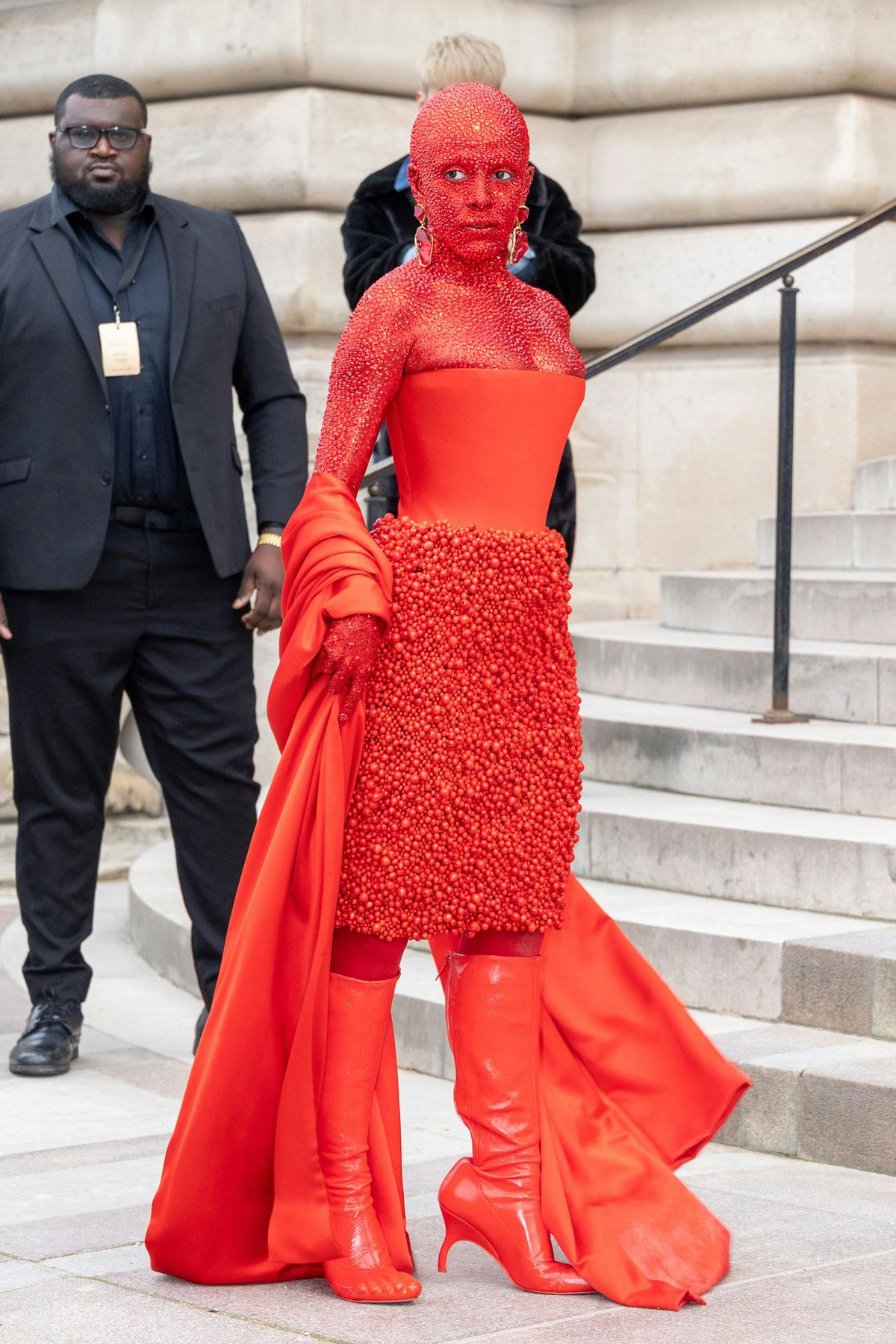 As fashion brands clamor to capture the internet's fleeting attention by engineering Instagram-able, TikTok-able moments (see: Harri's inflatable pants, worn by Sam Smith at the Brit Awards), they're beginning to use beauty as a means to boost their visibility.
Beauty's ability to push a fashion moment over the edge, broadening its impact from industry to mainstream, was best exemplified at Collina Strada's New York Fashion Week show, where models trotted, hopped, and crawled down the runway in animal prosthetics that transformed them into rabbits, dogs, and other creatures.
The elaborate prosthetics not only drove home the underlying message of creative director Hillary Taymour's collection — to appreciate the ecosystem that unites all creatures, big and small — but also resulted in a major PR moment for the brand. Taymour's intention or not, the show's transformative makeup spread across social media like wildfire, garnering coverage from The Daily Mail and The New York Post in addition to big-name fashion publications.
At Paris Fashion Week, brands seem to be replicating Collina Strada's approach. At Acne Studios, one model served as a walking canvas, his face, torso and arms painted with an idyllic nature scene in-line with the label's sartorial ode toe the forest. And on planet Off-White™, metal cogs adorned a catwalker's head, face, and ears.
Beauty renders the power of fashion twofold. Much like a dress can transform its wearer into someone (or something) else entirely, prosthetics, paint, and facial adornments can alter, even obscure, one's visual identity — and the more a brand rejects the recognizable, the expected, the more views, clicks, and "likes" it receives.
Thanks in part to Instagram, TikTok, and Twitter, it appears designers are finally embracing beauty beyond the conventionally beautiful. After all, it's not a red lip or clean skin that will capture a phone-scroller's attention. It's the creative, the transformative, and the bizarre that make people stop and stare.
On Tuesday, Business of Fashion questioned: What's the value of viral fashion? There's an insidiousness to the pressure designers are under to perform for our screens — but it's also helped usher in an age of fabulously fantastical beauty.