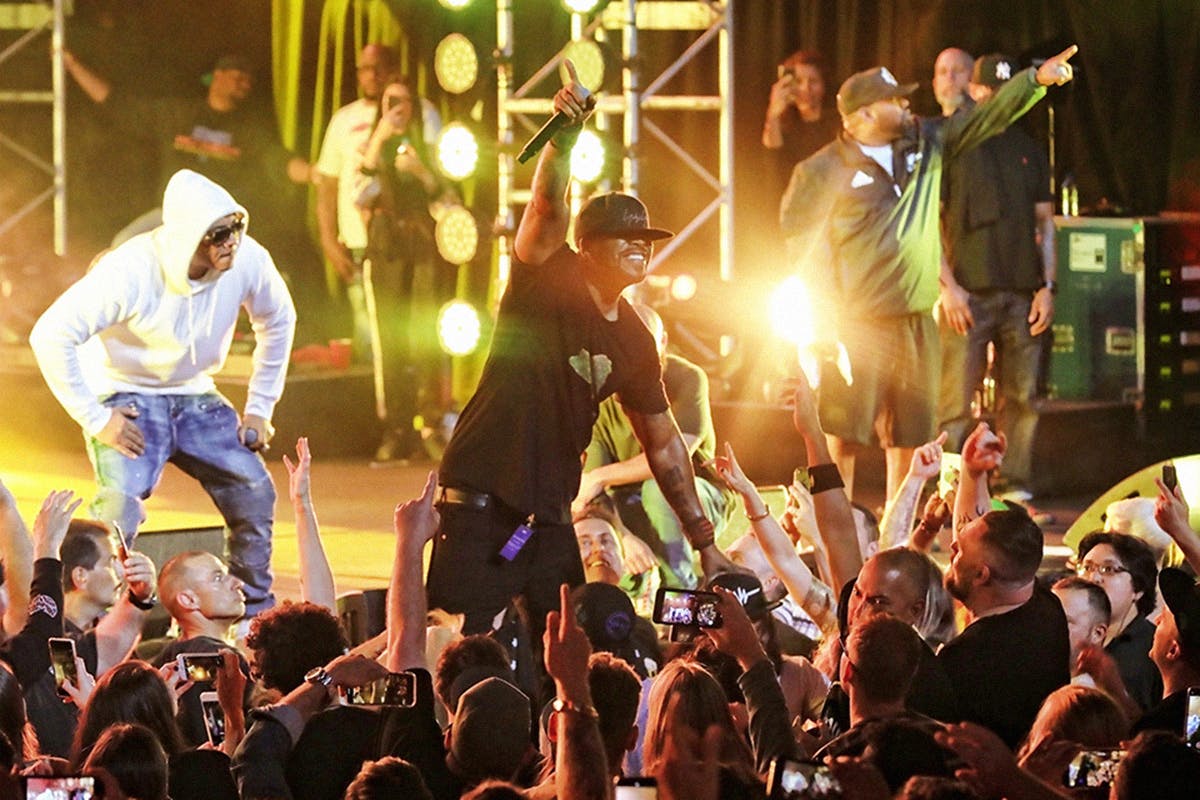 Everybody has a favorite Enter the Wu-Tang (36 Chambers) moment. RZA's brutal bark on the hook of "Bring Da Ruckus," the vile skit ("torture, motherfucker!") that opens "Method Man," the lingering piano loop on "C.R.E.A.M," the show-stopping Masta Killa verse that closes "Da Mystery of Chessboxin" - all classic moments that sparked Wu-Tang Clan's black-and-yellow takeover, spreading far beyond the slums of Shaolin and stamping a 'W' logo assertively on the rap game at large. 2018 marks the 25th anniversary of Wu-Tang's uncompromising debut album, and to celebrate, the entire collective is uniting for four consecutive shows at the Sydney Opera House in Australia.
Sydney Opera House is an opulent venue that usually plays host to a more formal, champagne-sipping crowd, with a Concert Hall comprised entirely of plush seating with a 360° stage. The building itself is an iconic fixture of Sydney's skyline and the city's most obvious tourist attraction since the world-famous sails opened in 1973. Still, the Sydney Opera House has been diversifying in recent times: Ice Cube headlined the Concert Hall back in May, and Skepta (alongside special guest A$AP Rocky) played to roaring applause in September. Now, it's Wu-Tang's turn.
Despite the Hall's long-standing reputation for hosting orchestra and symphony performances, Wu-Tang members U-God and Cappadonna are not-so-quietly confident leading into their four-show run at the unorthodox venue. "This is what we do and this is natural to us. We're from the Killah Hills and we're adventurous," U-God says. "We Indiana Jones, we've always been adventurous and that's why we're here. Australia's a part of the adventure."
"We went [to the Sydney Opera House] to check it out, it's amazing. They have crowds sitting on all four sides of us... We came up with a funky format to lay down like a doormat," Cappadonna adds. "Everybody is going to get to enjoy all of us at one time, and then experience our single work."
Wu-Tang's show pivots around a blistering performance of 36 Chambers with all members present - sans the late Ol' Dirty Bastard, who is replaced by his son, Young Dirty Bastard. It's an album that's been omnipresent in hip-hop consciousness since its release, with its influence also landing far outside the genre. Earlier this year, Wu-Tang performed 36 Chambers at the techno-heavy Monument Festival, with Noisey commenting that "their music - and in particular RZA's approach to production - has echoed through electronic music over the years." Elsewhere, fans have mashed together 36 Chambers verses with instrumentation from furious punks Fugazi, making the aptly-titled Wugazi project; and hardstyle producers Gunz For Hire sampled "Da Mystery of Chessboxin" on their blaring rave anthem "Bolivia." 36 Chambers wasn't just a rap release, it was a significant cultural moment.
"We really some hardcore motherfuckers. We really came from that shit and our story is real. You hear it in the lyrics, you can see it in our style, in our eyes. We on stage, you can feel it in our essence. That's just what we bring, and it resonates with people," U-God says of the album's diverse appeal. "People gravitate to that, and we created that magnetic force and people love it. Ain't nobody else on the planet like us. There will never be another Wu-Tang Clan."
"You hear Phil Collins - 'I can feel it, coming in the air tonight' - He wrote that shit twenty-fucking-four years ago, you be driving down the highway and you be like, 'Damn, I can feel it.' As a artist, that's what you're trying to do. You're trying to resonate in the soul of a person. Fuck all the rap shit, I'm trying to resonate to you," U-God continues.
And while much of 36 Chambers' appeal revolved around its gritty street narratives, Wu-Tang separated themselves from their rap colleagues by incorporating kung-fu samples and Eastern philosophy into their art. As a Chinese kid growing up in Australia - which was dominated by anti-immigrant rhetoric throughout the '90s - Wu-Tang were one of the few times I heard Asian culture being championed in such an extensive and unique way. "Every Saturday morning we used to watch the kung-fu movies," Cappadonna says. "Five Deadly Venoms, Coming to America, all of the Shaw Brothers classics."
With plots that often revolved around one man fighting against the state, kung-fu movies resonated with African-Americans and other oppressed minorities throughout the '70s and '80s. "We loved y'all for that - for the martial arts, for protecting yourselves. I had a pair of nunchucks, I busted myself on the head trying to figure that shit out when I was a baby," U-God says. "We absorbed that as babies and we grew up into that, and that's why we became Wu-Tang. We was taught by the Asians. We welcome y'all into our hearts and we wanted to be like y'all." Looking at recent kung-fu homages from Kendrick Lamar and Nicki Minaj, it seems like Wu-Tang's lengthy embrace of Asian culture is still spreading today.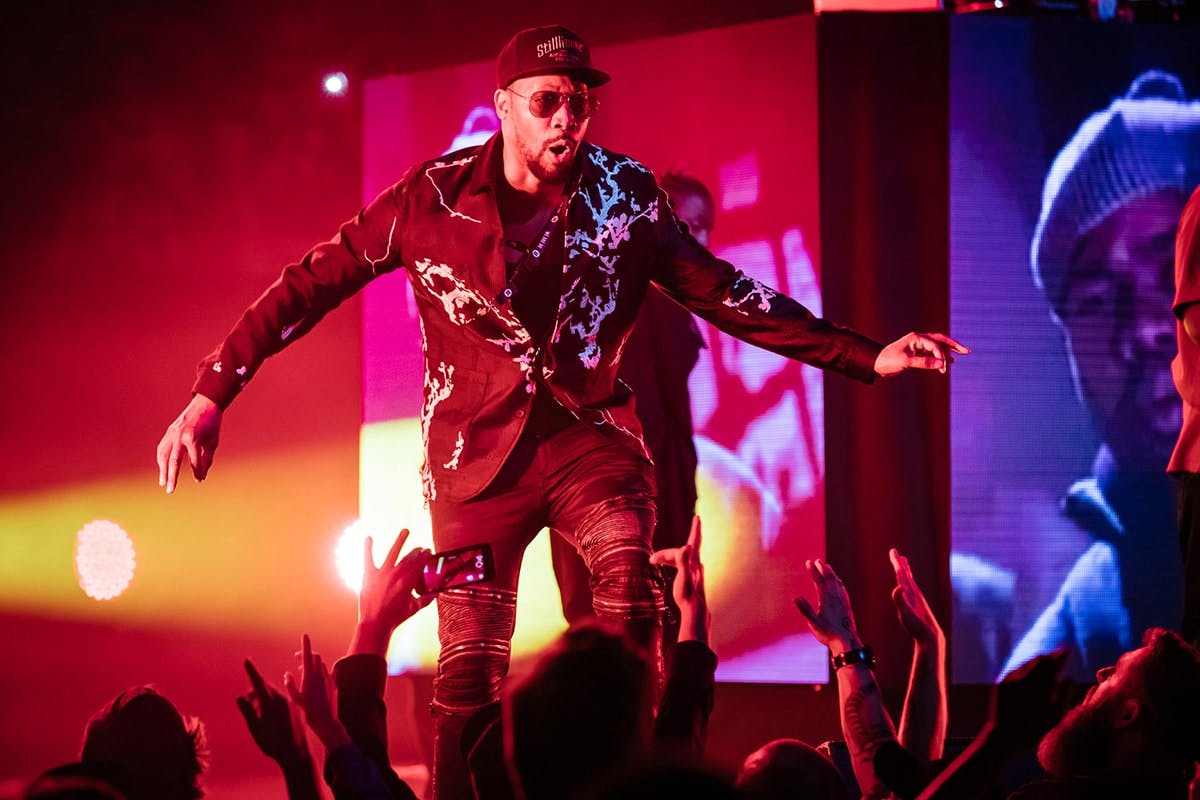 Still, it isn't just the sonic influence of Wu-Tang that's proved to be long lasting, but their approach to business, too. Following 36 Chambers, members went on to drop their own solo projects – like GZA's Liquid Swords and Raekwon's Only Built 4 Cuban Linx, which are often considered as essential as the group's collective debut. "We created the blueprint for a lot of other rappers that didn't know that they could come out as a group, and also go solo like that," Cappadonna says. "And then, from that we also do movies, comics, video games; you know, sky's the limit. Like Rae said, we're a brand now, we're not just a group." With Wu-branded cologne, a PlayStation game, an appearance on the "Racial Draft" skit on Chappelle's Show, and a Clarks Wallabee collaboration currently on the shelves, the groups' multi-pronged approach has given them a rare longevity.
That same longevity is evident with Wu-Tang's antics in Australia. With their logo projected boldly onto the ceiling of the Sydney Opera House, 10 members arrive onstage to play to a sold-out audience that's heaving from front to back. And while yelling 'Wu-Tang Clan Ain't Nuthing ta Fuck Wit' at the top of your lungs might be fun, you have to take a moment to sit back and admire one group's rollercoaster journey from Staten Island to the Sydney Opera House. With the 25-year anniversary now done and dusted, how does Wu-Tang hope to celebrate 50 years of 36 Chambers, in the year 2043?
"I wanna celebrate with champagne, hopefully in Hawaii on a big ass boat, titties droppin' on my face," U-God says. "We all suited up, looking like uniform. We all healthy, living, babies is fed."
For more like this, read how Beastie Boys brought skate culture to the masses here.