Just over five years ago, on the sort of muggy June evening that makes you glisten with sweat as soon as you step outside, I was standing in a crowd piled anxiously on a thin strip of sidewalk in the wastelands of Manhattan's Meatpacking District, the Hudson River lapping up behind us mere yards away. We had gathered on the exact coordinates provided by Kanye West's website, but a half hour had come and gone without a trace of the album teaser we were promised. When it did come, it was mechanical and lightning-fast. A black van with tinted windows pulled up, side door sliding open to beam a projection onto the side of the high-rise ahead of us. Kanye's visage appeared wraith-like and foreboding, venomously spewing words we couldn't quite understand, drowned out by the scuzz of a beat crashing out of tinny speakers. And in a flash it was gone, the van roaring off to its next stop before we registered it had even left.
The release of Yeezus was covert and audacious; covert in the sense that attaining it felt like contraband – a feeling enhanced by its stark album art (or lack thereof), audacious in the sense that its highly combative, politicized nature was a bold move, even by Kanye standards. In a world before the Black Lives Matter Movement and calls to reassess our complicated relationship with our Confederate past hit the mainstream, West was broadcasting his vengeful, proud face onto the walls of the American Civil War Museum in Richmond, Virginia.
Following his spectacular fall from moral grace in the past two years, it feels discordant to reckon with the insightful, unsparing Kanye of Yeezus with the Kanye we have today. Then again, Yeezus is a piece of art that at its very core aims to strike discord in the heart of the listener. It is beautiful in its ugliness and exacting in its mission. It is rage incarnate. It is also, indisputably, a masterpiece, but what stands out most in appraising it a half-decade later is the extent to which Kanye West has been in retreat ever since, moving further and further away from this towering pinnacle of achievement and everything it stood for. That he would revisit it now with the spiritual successor Yandhi, in the midst of the greatest crisis in identity of his career, is telling.
It is crucial to contextualize Yeezus in the wake of its predecessors. West's previous solo album, 2010's My Beautiful Dark Twisted Fantasy, was the richest release of his career, an album that found each of his sonic touch points teased out to the most maximal degree possible. It found him pulling in his largest host of collaborators yet, cobbling a record together from the numerous disparate parts presented by his guests. An immediate success, its release was soon followed by even more indulgent, extravagant projects: 2011's Watch the Throne, his joint album with JAY-Z, and 2012's Cruel Summer, a compilation tape for his label G.O.O.D. Music.
A move away from the decadent sprawl of these records is logical, but few could have anticipated the dramatic extent to which Yeezus rejected this aesthetic. At 10 tracks across 40 minutes, it was the slimmest West release by a huge margin (surpassed only by this year's seven-track effort ye). Where his previous albums were buoyed by lush instrumentation, Yeezus is cold and industrial. Where samples were previously stitched together within the fabric of Kanye's beats seamlessly, Yeezus turned this strategy on its head, inserting jarring samples without warning – such moments as the hymnal choir that interrupts the propulsive electronica of "On Sight" and the carnival funhouse warping of vocals on "Bound 2" are abrasive attacks on the ear by design.
West utilized the same collaborative structure of creation for Yeezus as he did for Dark Fantasy, though if the sessions for the latter could be thought of as a corporate retreat, the studio environment for the former was more of a strict assembly line. Decamping to Paris and making frequent trips to the Louvre where he found his "greatest inspiration" in the minimalism of a Le Corbusier lamp, West assembled producers as varied as Mike Dean, Daft Punk, Arca, Hudson Mohawke, and Travis Scott to bring his vision to life.
"It was a lot of coming up with design, like solving riddles," Arca would tell The FADER in an interview the following year. "If the song called for something aggressive, it was up to three or four people to design what in their head was the best solution for that aggression in that moment. Everyone would approach it in completely different ways, and ultimately, it would all be edited by Kanye himself. In a weird way, he kind of produced it. Not only did he select it, but he stylized it."
Daft Punk's Thomas Bangalter echoed similar sentiments on West's creative process to Rolling Stone: "It was very raw: he was rapping – kind of screaming primally, actually." Producer Rick Rubin (infamously brought on board to complete the album in a frantic 2-week stretch) would later tell the publication that his initial listen of Kanye's material may have induced nausea: "I remember I wasn't feeling that well that day, and I was thinking, 'Is the music making me sick? I don't feel good about this.'"
Aggressive, raw, primal, sick; all accurate descriptors of the Yeezus-sound. A common thread when assessing West's remarkable run of albums is that each release seems to pivot the direction of where hip-hop will head next. Yeezus, arguably, is the event horizon of this notion. It still sounds eerily ahead of its time, a peak of production innovation that has yet to be bettered. His successive full-lengths The Life of Pablo and ye seem to cement the fact that West has been in an artistic tailspin ever since, unable to match the razor-sharp focus and intensity that courses through each second of Yeezus. The key element that seems to be missing from his subsequent work is the passion, the totemic rage thrust at something larger than himself.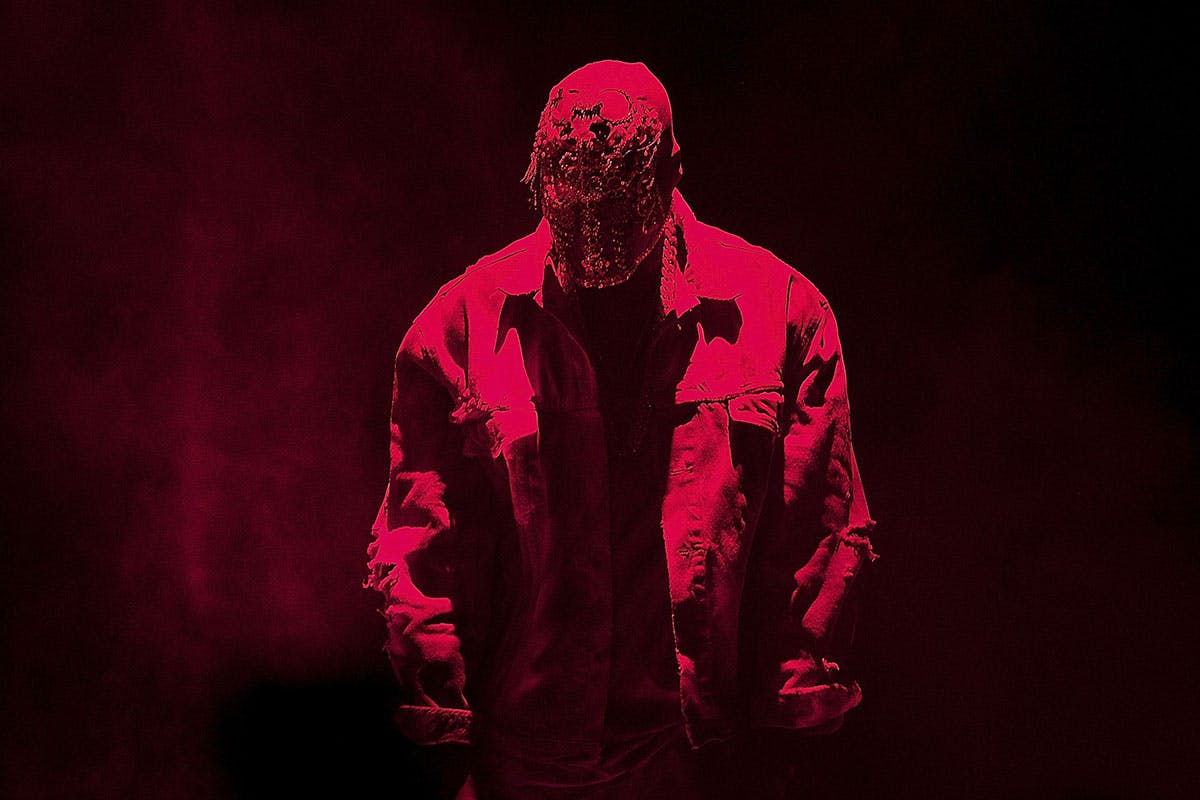 What, then, was Kanye so angry about? For one thing, the systemic and systematic disenfranchisement of people of color in the US. It was no coincidence that the first strains of music anyone heard from Yeezus during the clandestine projections that heralded its release were from "New Slaves," the album's thematic center and a disarmingly astute treatise on the state of race relations in America. Revisiting the track now, it is frankly startling to hear such bars as "Meanwhile the DEA/ Teamed up with the CCA/ They tryna lock niggas up/ They tryna make new slaves/ See, that's that privately owned prison/ Get your piece today." Not only has Kanye rarely evoked such real-world issues in such a pointed fashion, but few other rappers – or even artists, period – offer this level of direct, incisive social commentary. With subjects like these on the table, the only rational response is righteous anger.
Elsewhere, Kanye revisits his oft-frequented themes of the moral decay that accompanies the life of an ultra-celebrity. While this sort of self-analysis was told with a mythic air of reverence on Dark Fantasy, Yeezus depicts this lifestyle as a deep rot, corrosive to the soul and indicative of society at large. Kanye, with his position at the apex of fame, is an avatar of this corruption of the soul. The ribald sexual exploits on "I'm In It" feel less of a brag and more of a confession of depravity, the club depicted in "Send It Up" is filled with all manner of delights, yet West's delivery is painted with deep resentment – the sonic equivalent of spending a party sitting against a wall, fake smile plastered across his face. Even the supposedly happy ending of "Bound 2" is riddled with an overarching sense of anxiety, of empty platitudes stepping in for an emotional catharsis that is unattained.
A crucial source of inspiration for Yeezus and the enormous live show West mounted upon its release was the filmmaker Alejandro Jodorowsky, more specifically, his 1973 film The Holy Mountain. The crux of its knotty, avant-garde plot is a group of mystics aiming to reach the summit of the titular peak in order to gain immortality. In order to do so, they must shed their artifice – their sense of identity and their worldly attachments. It is only then that they transcend, going forth with the mantra that "real life awaits us."
In case a track like "I Am a God" didn't make it clear, West set his eyes on the same achievement with Yeezus. And in so doing he did indeed shed his artifice; the tools and skills that brought him to this point were sacrificed and inverted in service of this monolithic release. Each year that has passed since it arrived finds West floating further into the realm of real life, casting his art not as grand statements of purpose but as musings on the interior aspects of his life and wants. He may never again reach the heights of this album even if he wanted to; Kanye did not die for our sins on Yeezus, but it certainly seems he may have died for his own.
Now, take a look at our investigation of the curious case of Yeezus' album artwork here.