Following the initial white colorway of the Luna Rossa '21, Highsnobiety has teamed up with Prada and adidas to release just 200 pairs of a gray performance version that kicks things up a notch. Whereas the launch colorway featured slight differences to the official team-worn pair, the version Highsnobiety Shop will exclusively be carrying are the same shoes that Max Sirena and his Luna Rossa Prada Pirelli sailing team wear on their iconic boat. Think of it as a PE version of the adidas x Prada Luna Rossa '21.
The adidas x Prada collaboration has given the sneaker world a little of everything thus far. The first drop was a co-branded, Italian-made, incredibly high-quality take on the classic adidas Superstar. The A+P Luna Rossa '21 sneaker that followed was closer to what fans expected, as it was a coming together of both brands' aesthetics, merging adidas' sportswear know-how and technology with the distinct lines and shape of the Prada America's Cup sneaker.
The latest evolution of that partnership is the A+P Luna Rossa '21 Performance sneaker. Worn by Sirena and his team during the 36th America's Cup and limited to just 200 pairs, the sneaker is available exclusively at Highsnobiety Shop now.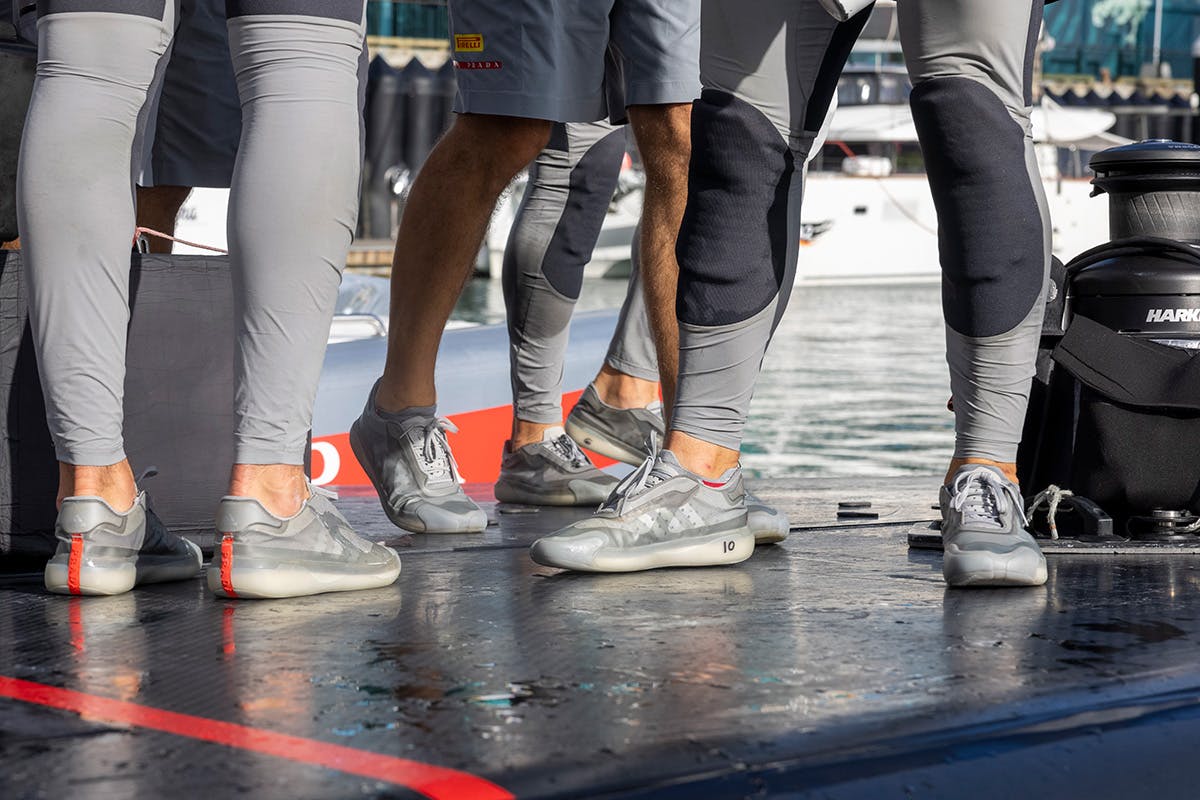 "Performance is key and priority number one. As sailors, we're really competitive, because we're at the top level of our sport," explains Sirena. "People underestimate the importance of footwear, but in reality, shoes are key, because you spend most of the time on your feet. When you're sailing this type of boat and you're going at 50 knots, to maneuver from one side to the other, you need good grip."
Fifty knots is the equivalent to around 60 mph, except for the fact that you're on the open ocean, on a boat that looks more like a high-tech spaceship and that can sometimes look like it's flying over the water instead of sailing through it. So yeah, performance is of the utmost importance. Sirena likens it to the gear Formula 1 drivers are outfitted with. If Lewis Hamilton is given shoes that slip off the pedals, it could end up having catastrophic results. The same applies to Sirena and his team.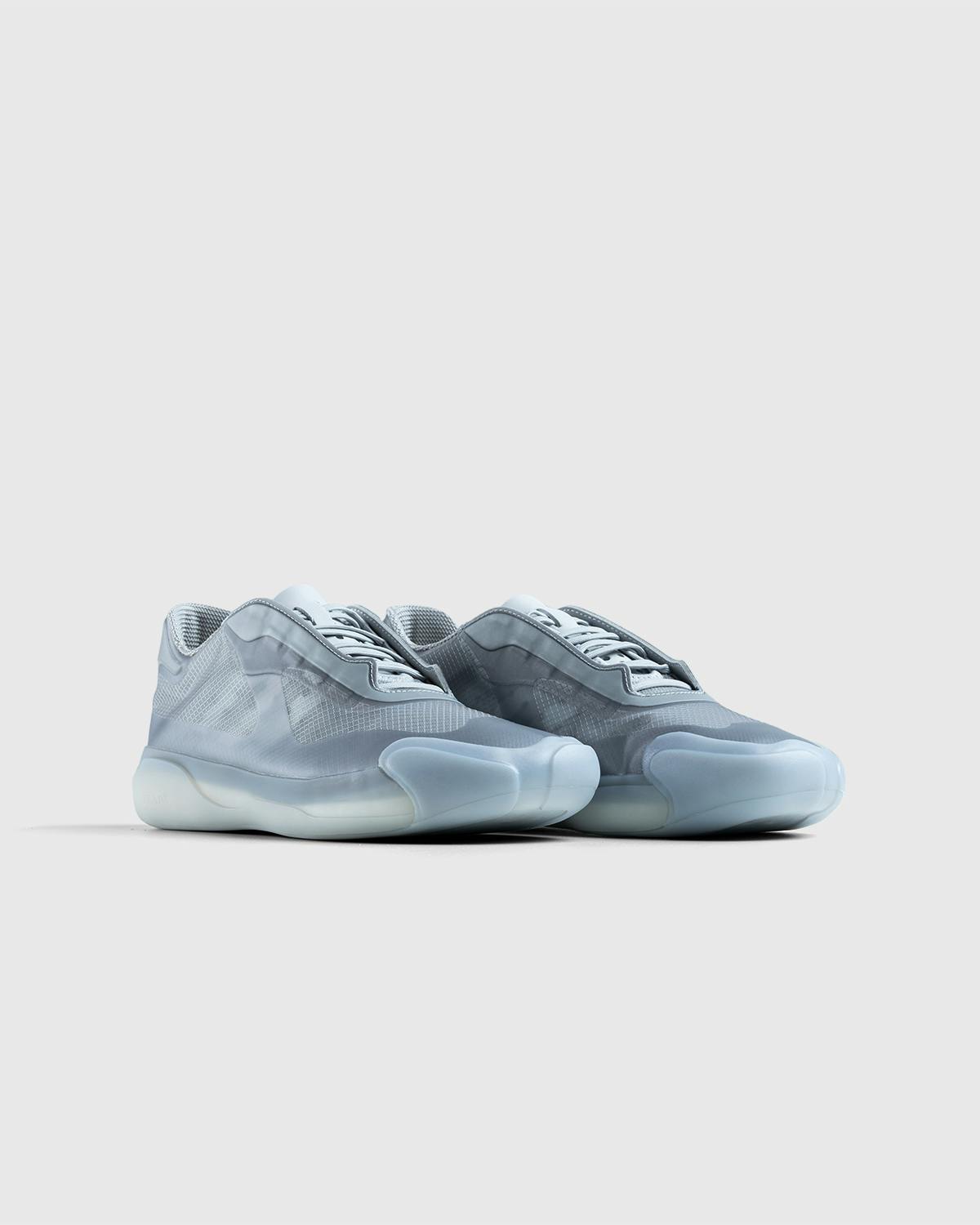 "The shoes need to be light, and they need to stay dry," continues Sirena. "We went through several sampling stages of the shoe. The most important part is the sole, for two reasons: for the grip, and because it needs to let water out. Our boats are like a washing machine."
The version Sirena and his team wear when competing in the Prada Cup and America's Cup features holes in the midsole and forgoes the insole, keeping weight down and allowing water to flow right through the bottom of the shoe, like a built-in drainage system. Sirena also mentions that the entirety of their gear needs to stay within a certain weight limit in order to push out every ounce of speed they can.
The upper of the shoe is similar to the retail version, which features a sole that wraps around the toe — again for performance reasons. Sirena and his team often lie or crouch down and often have their feet flat against the surface of the boat. To protect their toes and the durability of the shoes, the rubber outsole extends across the toe box.
Underlining just how important performance is to him and his crew, Sirena laughs, saying: "I can tell you that if the team is unhappy with the shoes, they're going to tell you. They're going to tell me and then I have to talk to adidas or Prada."
Luckily for everyone, Sirena and his team are incredibly happy with the final result. "This is probably one of the first times we perfectly reached what we were looking for in terms of performance gear. [A three-way collaboration] is not easy, because there is the fashion aspect, you need to sell the product, and for us, it's a tool — to combine all those things is not an easy process, but I think we really nailed it this time," Sirena muses.
Sirena reveals that he is also somewhat of a sneakerhead, though in his time away from the Luna Rossa Prada Pirelli sailing boat, running shoes are his go-to. "I need to be comfortable, because I don't like feeling pain when I walk. For 99.9 percent of my life, I wear running or performance shoes — even at my wedding!"
When asked what the future holds for Prada x adidas and his sailing team, and whether we can expect to see further iterations of the Prada x adidas Luna Rossa 21 Performance, Sirena remains coy: "It's going to be an ongoing process. We never stopped developing the shoe, so I think it will keep going."
Only 200 pairs of the Prada x adidas Luna Rossa '21 Performance drop at Highsnobiety Shop on July 13.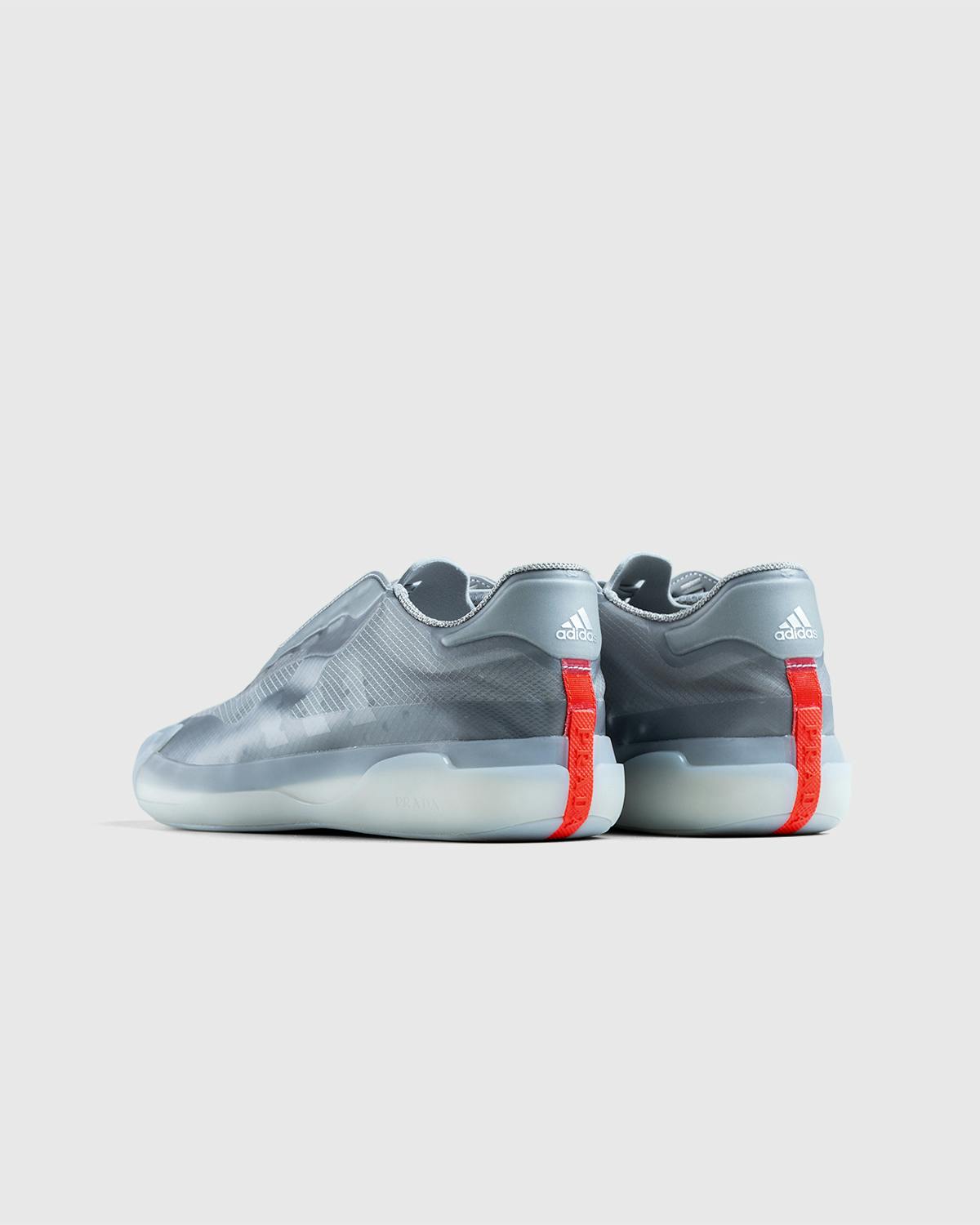 To stay updated on everything happening in the sneaker world, follow @highsnobietysneakers on Instagram, check out the best sneakers to add to your rotation this week, and sign up to our newsletter for the latest sneaker news sent straight to your inbox.
Want to keep browsing? Head to the Highsnobiety Shop for more products that we love. Highsnobiety has affiliate marketing partnerships, which means we may receive a commission from your purchase.