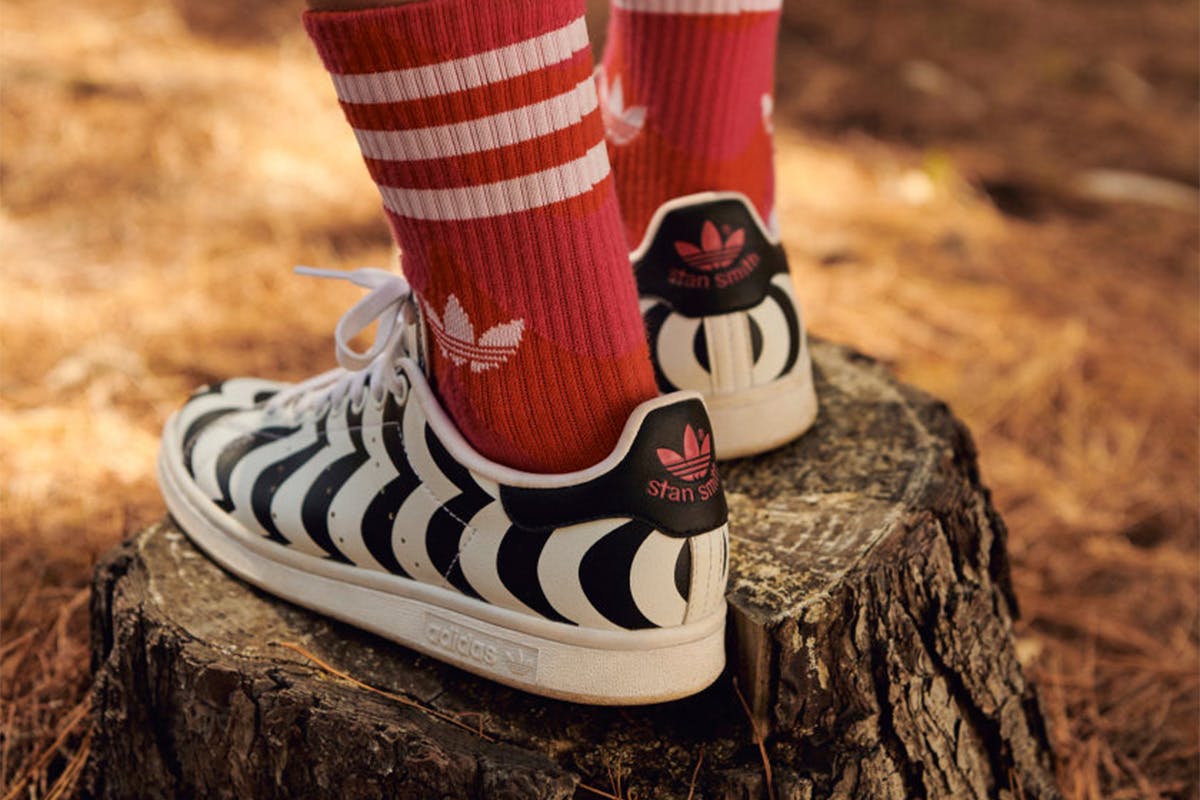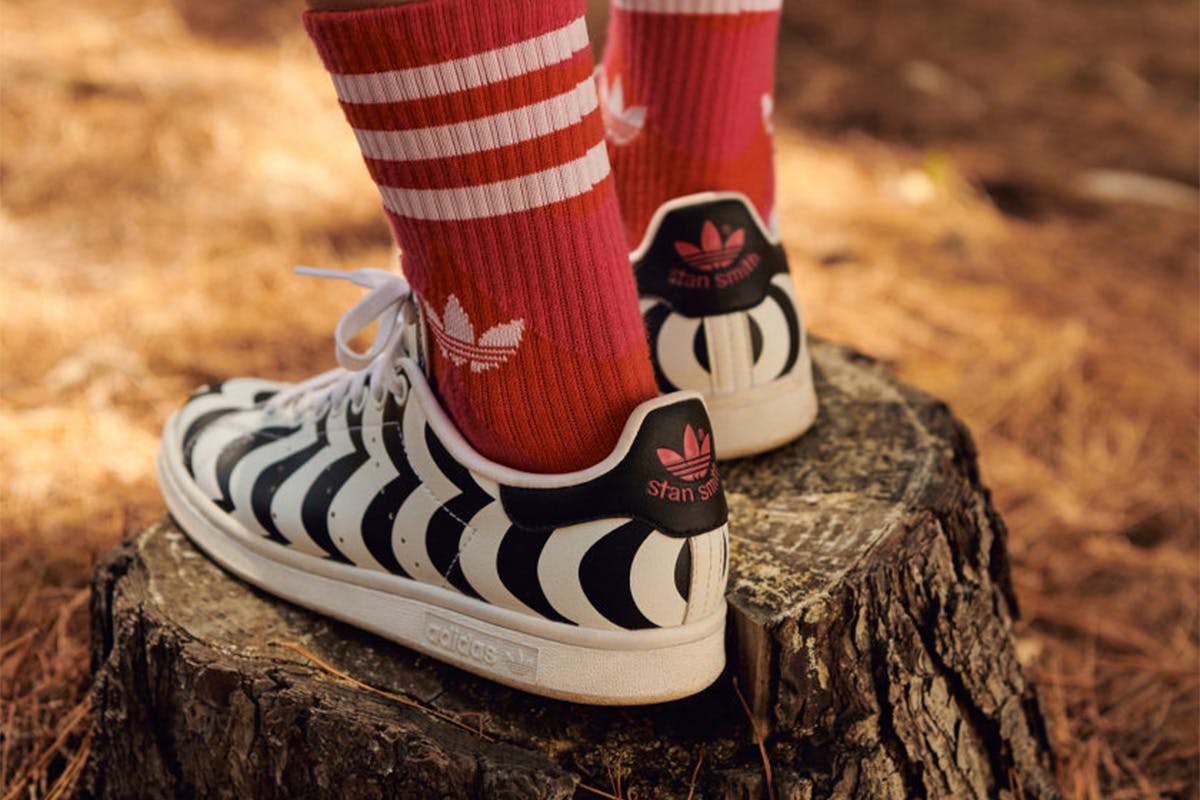 Sure, adidas does collaborations, but it's not that common. While long-term partnerships with the likes of Parley Ocean Plastic, Kanye, or Jerry Lorenzo spring to mind, they're no replacement for one-off collabs. There's something exciting about a one-time, probably-never-again collaboration and adidas x Marimekko perfectly encapsulates that.
Perhaps most interesting about the collaboration is the distance between the two labels. While adidas needs no introduction, Marimekko is a label you may not have heard about, but one with a history you should know about. Founded in 1951, the Finnish company ushered in a new era for women's clothing during its early years. Introducing bold, patterned fabrics to the daily wardrobe changed the face of women's style and the sense of freedom surrounding it.
In classic style, adidas x Marimekko features the brand's inimitable patterns. Simple and eye-catching, these motifs dress some of adidas' staple designs from sportswear to shorts, Stan Smiths, and a Forum Low. The playful collaboration lands just in time for summer and you can shop our top picks below.
Sign up for Creators Club and get 15% off – some exclusions apply.
Shop our top picks from adidas x Marimekko below.
Forum Low
The Forum Low is slowly edging into the spotlight again. After a long hiatus, the retro style is riding the wave of retro rereleases and a sure sign of its imminent return is its inclusion in collaboration lineups like this.
Swim Shorts
Holidays are (kinda) back on the cards. That means that the prospect of diving into the ocean may not be that far away. We've been waiting a long time, so why not make it a special occasion with this pair of adidas x Marimekko swim shorts?
Gender-Neutral Tee
Featuring one of Marimekko's signature patterns — Räsymatto, inspired by the rows of a community garden — this gender-neutral tee embodies much of what the Finnish label stands for.
Track Jacket
Track jackets were invented as purely utilitarian garments but throughout the ages we've seen them become staple, everyday pieces. It's updates like this bold Marimekko one that have positioned the track jacket as a style item.
Track Pants
Pair the jacket with the equally bold pants for a serious look.
Adilette Slides
Much like the swim shorts, you've had over a year to think up a fire holiday wardrobe, so standards need to be high. The adidas Adilette Slides are an all-time classic and they've just been spruced up with an attention-worthy monochrome print.
Swim Shorts
Marimekko fabrics aren't all bright. This pair of swim shorts features the Räsymatto print again but in a grey & black palette for a much more understated take on the pattern.
Cropped Trefoil Tee
Pink and red details the retro-style adidas Trefoil Logo to the chest of this cropped exercise top. It's not limited to exercise though, you can style it up or down easily during summer.
Aeroknit Bra
Woven using adidas' proprietary Aeroknit, this seamless bra is the comfortable, breathable, and stylish addition that your summer workout gear is waiting for.
Aeroknit Tights
Grey on black makes the undulating Marimekko pattern almost indistinguishable on this pair of seamless tights. Made using adidas Primegreen — a series of performance-based recycled materials.
Stan Smith
The Stan Smith is not only one of The Three Stripes' greatest successes, it's also the perfect blank canvas for any third party to work on. Exhibit A: this Marimekko collab.
Want to keep browsing? Head to the Highsnobiety Shop for more products that we love. Highsnobiety has affiliate marketing partnerships, which means we may receive a commission from your purchase.