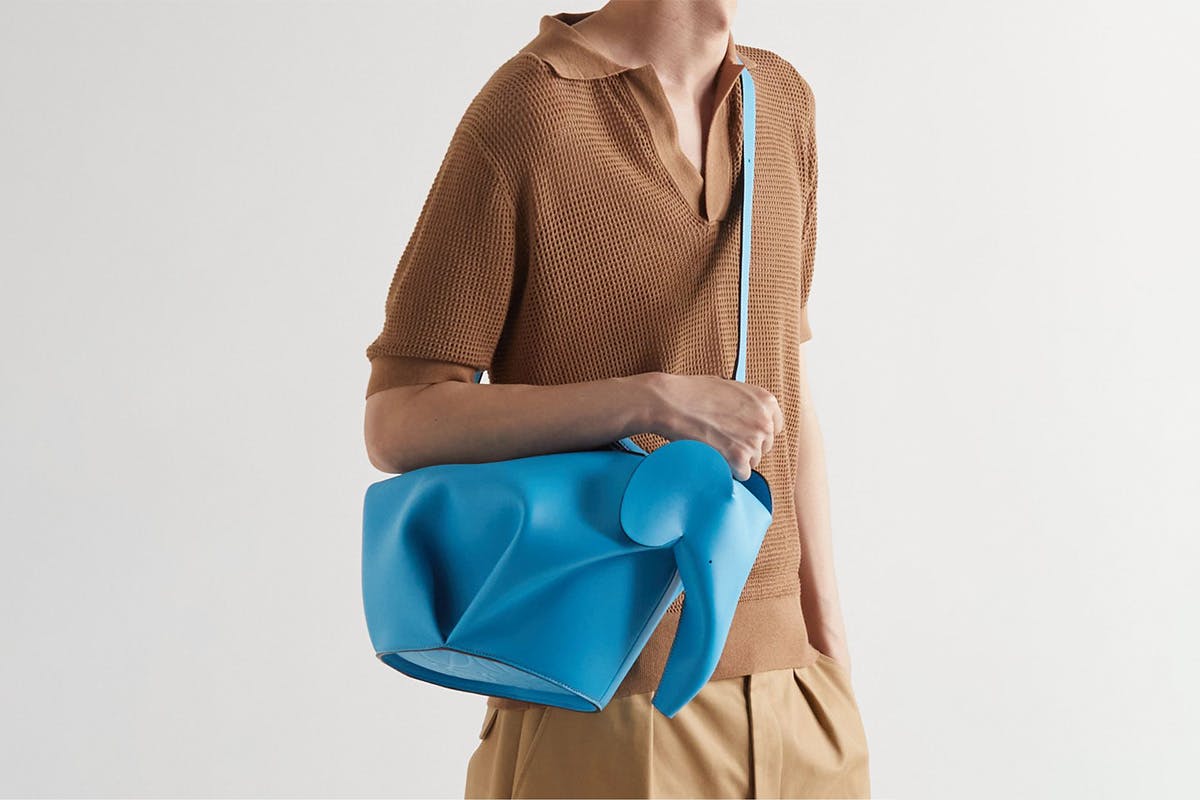 Remember those teddy backpacks you used to love when you were five? Well, it's time to introduce them again into your adulthood. Whether you're Sarah Jessica Parker rocking the iconic JW Anderson pigeon clutch or Julia Fox with her leather Thom Browne fox bag, animal-shaped bags are here to serve some looks.
Witty accessories are nothing new in the fashion world. Taking it back to its roots, the surrealism movement hit our closets in the '20s as Schiaparelli started gaining momentum with her Dada-inspired accessories. Today, contemporary fashion houses like LOEWE continue to alter the ethos of serious fashion by bringing playfulness into their collections.
Below, we've listed some of the most extravagant animal-shaped bags to awaken your spirit animal and carry it around all day.
Shop the best animal-shaped bags below.
Thom Browne Hector Pouch
Since Thom Browne shocked us all with his 30k dachshund replica back at PFW 2016, the Hector bag became an instant fan favorite. A highlight in the numerous Hector bag adaptations is this wool-felt pouch in green. The muted color blocking is perfect for more muted fits.
Loewe Elephant Messenger Bag
Pigeoncore, Frogcore, and… Elephantcore? Jonathan Andersson brings his love for animals to LOEWE with this elephant-shaped bag. Besides its unusual shape, it is large enough to shove all your essentials in. Carry it around easily with the detachable shoulder strap, or use the attached handles for a more elevated look.
JUDITH LEIBER Bunny Ava Clutch Bag
From shiny hamburger bags to lipstick clutches, Judith Leiber honors the 2023 lunar year of the rabbit with an eye-catching dime. Quirkiness and elegance define the brand, and its bedazzled accessories are proof. Embellished with crystals throughout, this cute bunny clutch is made to catch some sunlight and turn some heads.
Thom Browne Lobster Backpack
This lobster bag is a standout in the zoo of Thom Browne's animal-shaped bags. The full-grain leather gives some texture and a slight shine for elegance. The all-black color is ideal for mixing and matching any formal fit while keeping it playful with Mr. Krabs.
Anna Sui Doggy Backpack
Honoring her grungy subcultural aesthetic, a punkish build-a-bear backpack is another strike from Anna Sui. Even if this buddy is not made to carry your work essentials, it still has a small compartment for all your daily moves. Add a touch of goofiness to your fit with this cuddly dog backpack.
Charles Jeffrey Loverboy Gromlin Bag
If all brands had a mascot, we would be team Charles Jeffrey Loverboy. Whether you are a punk or not, the Gromlin Bag should accompany you everywhere. Take the colored adjustable strap for when you are on the go, or detach it if you want to show your new mascot off.
Want to keep browsing? Download the Highsnobiety app for all the hottest products and brands from the the Highsnobiety Shop. Highsnobiety has affiliate marketing partnerships, which means we may receive a commission from your purchase.