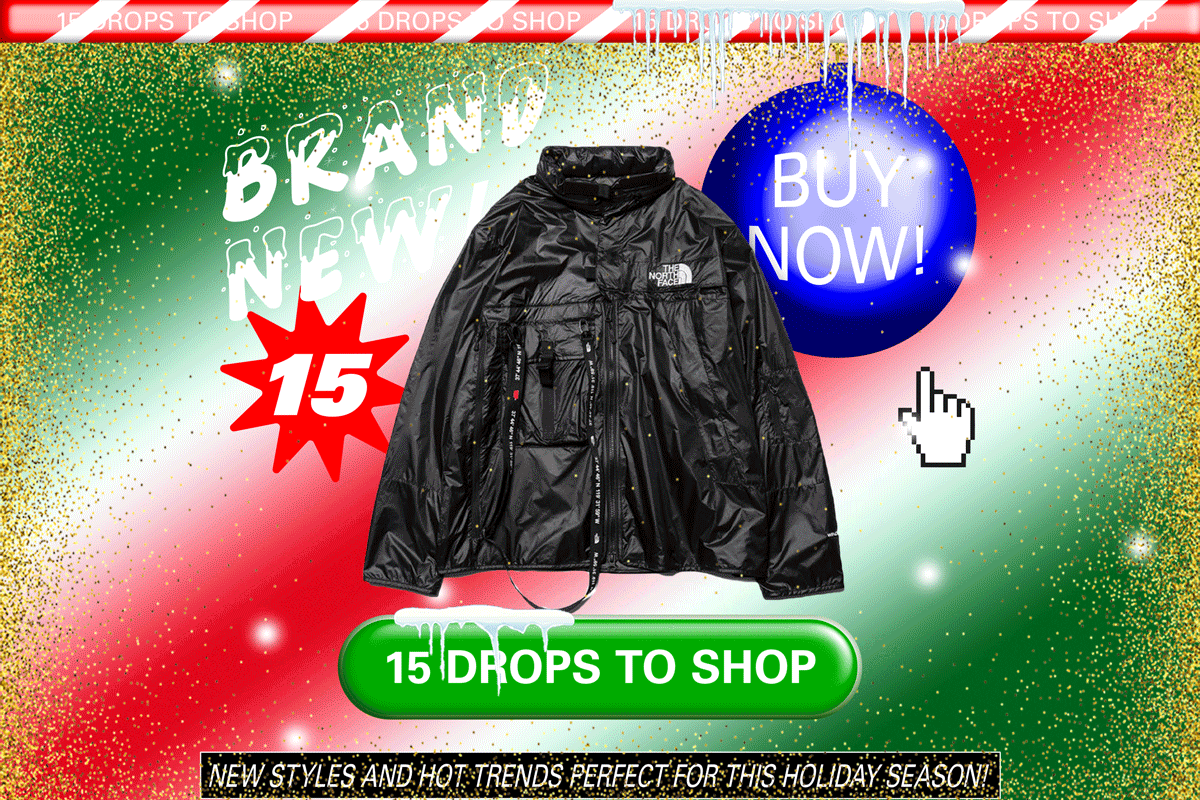 Highsnobiety's Holiday Gift Guides are updated weekly in order to take delivery times, new products, and quantities into account. Click here to explore the rest of our guides.
For years now, Highsnobiety's team of product curators has delivered a weekly roundup of the latest and best in streetwear, sneakers, fashion and lifestyle products. The now-illustrious 15 Drops series has however never taken on a festive tone... not a single ill-founded turkey pun, or talk of that bloke who delivers presents on a sleigh. So, in an attempt to buck this trend, Highsnobiety's shopping team is proud to present you with "The 15 Best Products to Drop This Holiday & Where to Buy Them."
Based around a cluster of rather stereotypical holiday themes, this week curator Rhianna Matthews takes the wheel to help prepare you for the dreaded, post-dinner walk, henceforth known as "The Holiday Hike." As you're probably embarking on this adventure begrudgingly, with no time allowed for adequate planning, you want to reach for silhouettes that are functional, easy-to-wear, and most importantly, allude to the fact that you were made for the outdoors.
So, to begin preparing yourself early, click through the list below to shop some of the best holiday drops now.
The North Face Black Series x Kazuki Kuraishi Bomber Jacket
"Start preparing for your holiday hike in the best way with this TNF Black Series x Kazuki Kuraishi Bomber Jacket. Functional, lightweight, packable, and windproof. Also, a lanyard strap makes it easy to take off and sling over your shoulder when things get more upbeat. Perfect for off-hike occasions too."
Raeburn x Timberland Zip-Up Sweatshirt
"A solid zip-up fleece will also come in very handy during the most trying of family commitments. Raeburn's collaboration with Timberland is perfect for times like this."
C.P. Company x One Block Down Vest
"Next up is a vest from C.P Company's recent collaboration with Italian multi-brand retailer, One Block Down. If you're likely to get roped into an unexpected outdoor activity to counteract the masses of food you just ate, then you need to reach for layers. All the better if these layers look as good as this so you can stunt on all your relatives."
Salomon XA-Alpine 2 ADV

(Available at 4 Merchants)
(Available at 4 Merchants)
"Appropriate footwear is a must, and Salomon is always a solid choice, especially when its silhouettes like the XA-Alpine 2 ADV. They promise to keep you toasty with a concealed padded tongue and collar."
The Imperial The Classic Duet
"For all pre-, during-, and after-dinner activities."
NEIGHBORHOOD. COMPRESSION / NP-CASE SET

COMPRESSION / NP-CASE SET
(Available at 2 Merchants)
(Available at 2 Merchants)
"Another pretty important piece are these NEIGHBORHOOD. compression bags. Ideal for storing snacks for the journey."
Apple AirPods Pro
"There is no two ways about it, Apple's AirPods are an absolute must for any walk with your relatives. Ideal for the times -- which occur more frequently during the holidays -- when you just need to shut off. These can also be hidden under the essential Flagstuff Bomber Hat shown below."
Flagstuff Bomber Cap
"Yep, this beauty!"
N.Hoolywood Fingerless Gloves
"The Fingerless Gloves from N.Hoolywood are like the butter to the bread of this week's theme. Delivering you practicality, warmth and unbeatable Japanese comfort. They are also snack and smoke friendly!"
Carhartt WIP Foldable Stool

(Available at 2 Merchants)
(Available at 2 Merchants)
"For more relaxing hikes, Carhartt WIP's Foldable Stool should be your go-to companion if you're planning to stop and take in the sights along the way."
Brain Dead Dog Logo Leash
"Keeping your furry friends fly over the holiday period is essential. Understanding this, Brain Dead has swooped in with a stand-out holiday drop for your canine companions."
C.P. Company Waist Bag
"No holiday outfit would be complete without a waist bag. This one from C.P. Company has multiple storage pockets, and is water resistant too. A solid cop, and a great gift for under $100."
Polo Ralph Lauren 3-Pack Crew Pony Player Socks

3-Pack Crew Pony Player Socks
(Available at 2 Merchants)
(Available at 2 Merchants)
"Socks are a holiday no-brainer, especially if they come in a Ralph Lauren 3-pack. As a staple gift, having a few extras spare can always come in handy... especially if you're the type to get wild during the festive season."
Phipps Water Bottle
"Rounding off my guide is a re-usable water bottle from Phipps. Perfect for both hot and cold beverages."
Carhartt WIP Protect Survive Whiskey Flask

Protect Survive Whiskey Flask
(Available at 4 Merchants)
(Available at 4 Merchants)
"If you however don't want to define your drink as hot or cold, but rather by how alcoholic it is, then you needn't look any further than this Protect Survive Whiskey Flask from Carhartt WIP."
Our designated Selects section features products that we love and want to share with you. Highsnobiety has affiliate marketing partnerships, which means we may receive a commission from your purchase.