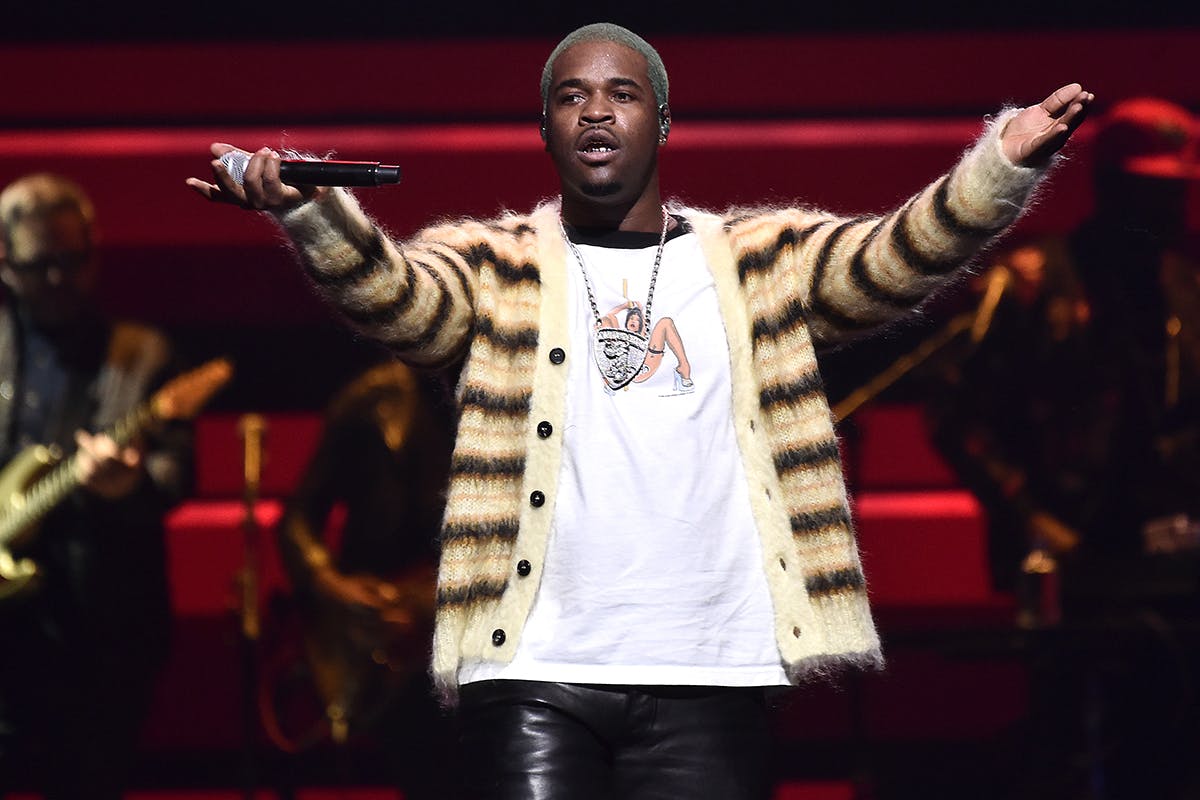 A$AP Ferg has just released his first single of the year, an energetic song produced by Razjah, titled "Value." The Harlem rapper stopped by Zane Lowe's Apple Music show earlier today to discuss the track, as well as making new music with Kanye West.
"I actually been in the, in a studio with Kanye for the last, the last three days," he said. "It's been good. It's been ... That's, that's, like, when I was going to Calabasas, that's who I was working with. It's been amazing. Like, to see his journey and, and to see this new person he's becoming, and just kind of being able to assist him with that."
"[We're]Just making music and just having, like, a lot of conversation. We talk most of the time. Sometimes we go to the studio and just talk, and talk - If it wasn't for Kanye and Pharrell being in Hip Hop, I would probably know how to do it, but they showed me how to just fully immerse in yourself and be yourself. Like, we never seen anybody do it in a different way besides those guys in my generation, so they inspired me. We just have conversations about that, and, you know, me going to his, uh, his studio where he creates, like, all his mock ups, and shoes, and He's working on his couture line. I'm immersed in his world, and That's what I wanna take it to. That's the level that I aspire to take it to, so ... It's crazy. Like, it's a amazing experience," he added.
Also talking with Lowe, Ferg reflected on the death of Kobe Bryant, as he was scheduled to fly to Los Angeles that day to work with Kanye in Calabasas.
"Rest in peace to Kobe Bryant. I can't continue the conversation without saying that," he began. "I was supposed to actually fly in to, um, L.A. the day he passed away, and actually go to Calabasas. And you know, he, he died in the area of the studio I was supposed to go to, so it just ... it was a damper."
"You know, some people, we just don't picture passing. I just didn't know he would go, or even go in that way, so, you know, uh, God bless him and his family. Like, you know, it was the Grammy's and everybody was excited to come out to the Grammy's, but it was just like- Everybody was trying to smile through it all, but it was a tough time. You could tell on everybody's face," he concluded.
Fans of A$AP Ferg can look forward to a new collaborative album on the way with one of the "biggest producers in the world." Ferg declined to call the producer by name, but he did insist that the project includes the best music he's ever made.
Press play underneath to listen to A$AP Ferg's new track, "Value," which is all about celebrating yourself. You can also find his interview with Zane Lowe just below.