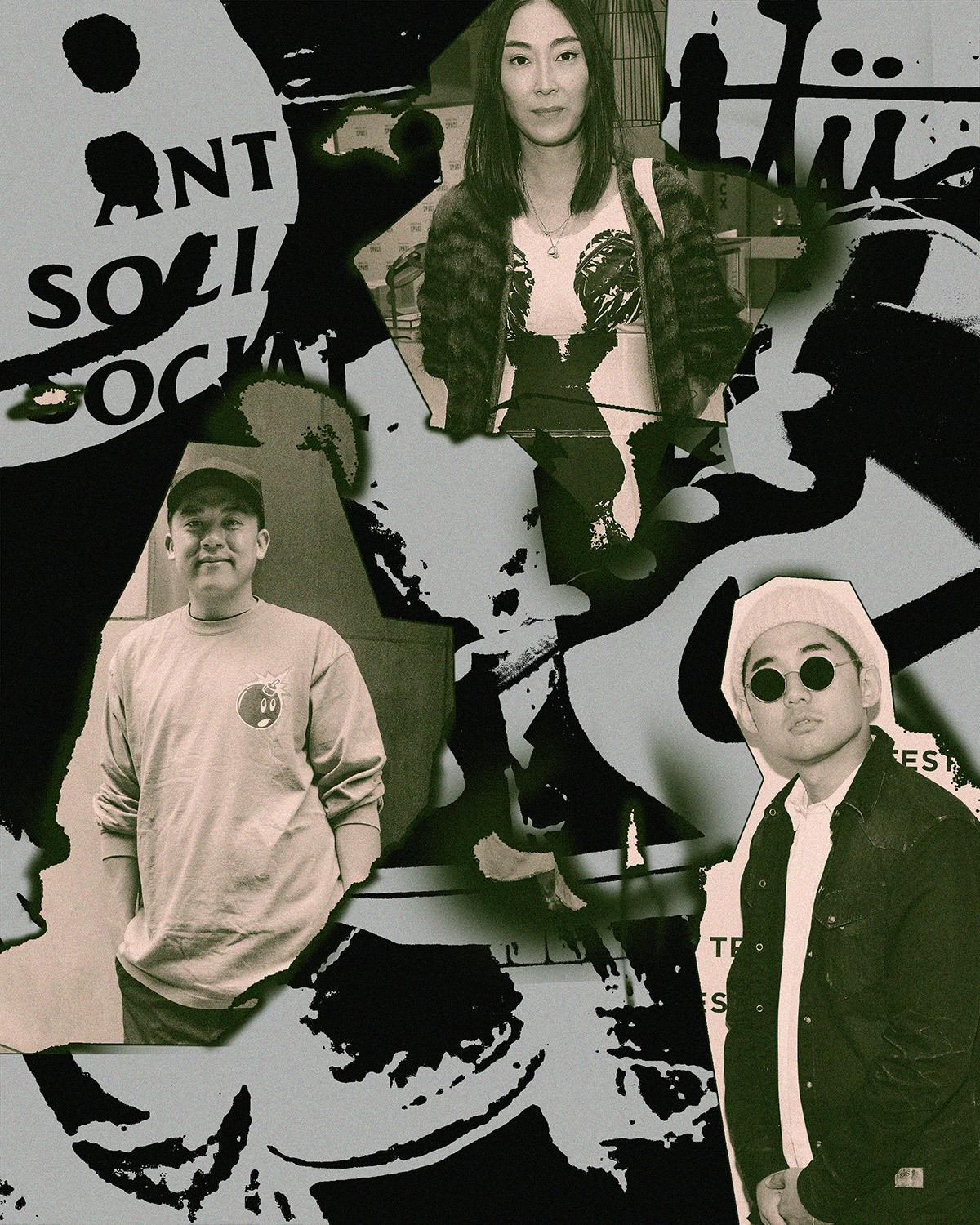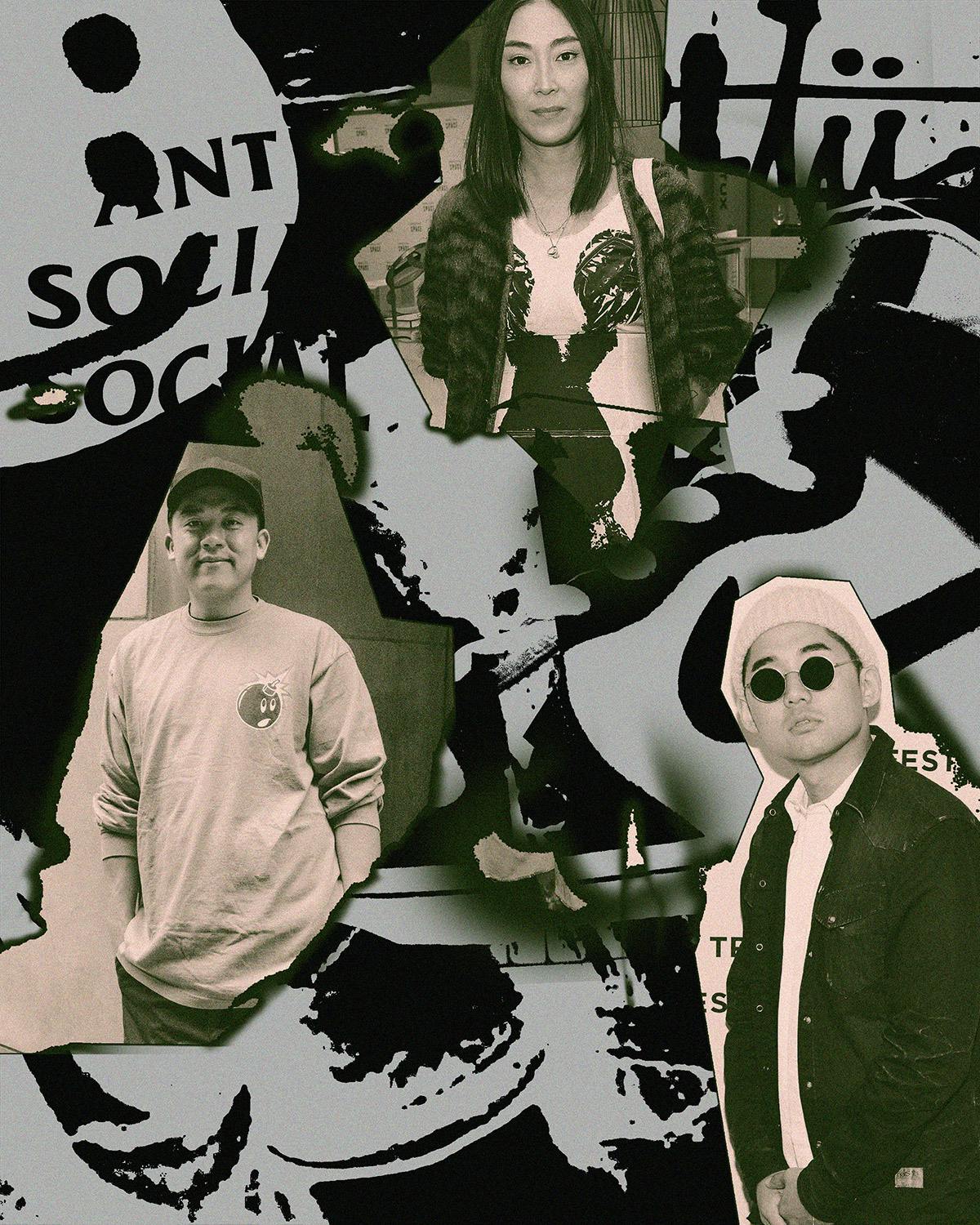 To commemorate Asian-Pacific Heritage Month, this week's FRONTPAGE finds our indelible editorial director Jian DeLeon reflecting on the extent to which streetwear and street culture has provided a means of expression and identity for the Asian-American community.
The term "Asian-American" is a recent construct. It's a preferable alternative to "Oriental," first used in 1968 by the Asian American Political Alliance, a short-lived organization that participated in the Third World Liberation Front's student strikes of 1968 in California. Before Fred Hampton's Rainbow Coalition, this multiracial group protested a Eurocentric curriculum and a lack of diversity on campus, leading to the establishment of ethnic studies programs at San Francisco State University and Berkeley, and an increase in faculty members of color.
Over 50 years later, Asian-Americans are still trying to find ourselves in the diaspora. Much of what it actually means to be "Asian-American" is still up in the air. For me, it boils down to moments that feel like Spider-Man pointing at himself when you see someone who looks like you killing it in a world you had no idea you were even allowed in. It's how I felt when I first saw a jegging-clad Rufio leading the Lost Boys in Hook, Willy Santos as a playable character in Grind Session, and Chad Hugo next to Pharrell on the cover of The Neptunes Present... Clones.
Jeff Ng — better known as Jeff Staple — had one of those moments when he first met John C. Jay, a former Wieden+Kennedy ad exec who oversaw some of Nike's best campaigns (like the "City Attack" spots) that continue to influence how the Swoosh thinks about cultural marketing. Jay is currently the president of global creative at Uniqlo.
Staple recalls being at the Wieden+Kennedy headquarters in Portland, watching a breakdance exhibition by the Rocksteady Crew, when an older Asian guy sat next to him and the two began talking. When they sussed out their respective identities, they reacted with an incredulous: "But you're Chinese!"
"It's so telling because there would not be the assumption that each of us would've been Asian," says Staple. "The assumption is that if they're in that position... they have to be white."
There's a high density of Asian faces in the area where sneakers, streetwear, and cult fashion brands meet in the middle. It's not hard to see that on the consumer side, as any shoppable city in the US is host to a number of well-heeled Asian tourists and Asian-Americans in neck-breaking jawns.
You could chalk it up to our spending power (estimated to reach $1.3 trillion by 2023, according to the Nielsen Company), or a median age of 35.4, (still young enough to adroitly pull off anything from ACRONYM to Supreme to Human Made). But more importantly, Asian-Americans have an inherently social purchase path — a Nielsen study points out 29% of Asian-Americans "prefer to buy things my friends and neighbors would approve of" (the average US consumer answered 15%), and 32% share their opinions by posting reviews and ratings online (sup, Yelp gang and Disqus). So categorically, it's a demographic of flexers and early adopters of everything from buzzy restaurants, first-gen smartphones, and yes — hyped brands.
It could be enough to explain how Neek Lurk went from lurking on forums like NikeTalk to running Stüssy's social media and becoming a millionaire off his self-aware streetwear brand Anti Social Social Club. According to Kyle Ng, founder of Brain Dead, ASSC is probably the most Asian-American streetwear brand around — but not just in the way Neek includes South Korea and Filipino flags on his gear, or flips stereotypes like import car culture and the kawaii Bratz-meets-Homies characters that were commonplace on fledgling internet communities like AsianAvenue.
"He speaks to the Asian condition," he says. "You're anti-social social! It's those kids on message boards wearing Supreme, but they're also very quiet and shy. How many nerdy Asian kids have you seen that rock the craziest fits?"
Like the fashion industry, street culture has welcomed Asian-American creatives and entrepreneurs for a while. There's been a decent amount of representation ranging from skateboarding (Shogo Kubo, Christian Hosoi, and Daewon Song), streetwear (Mighty Healthy's Ray Mate, Stüssy/Maiden Noir designer Nin Truong, Cactus Plant Flea Market's Cynthia Lu), retail (Commonwealth's Omar Quiambao, Extra Butter's Bernie Gross, and Eric Peng Cheng, the OG behind pickyourshoes.com, BAIT, and Undefeated), and sneakers (Nike exec David Creech, basketball design director Leo Chang, Jordan Brand energy guru Gemo Wong, ASICS brand manager Marc Marquez, and Reebok's collaboration king Leo Gamboa). The best part is there's always room for more.
"Asians have really been able to put a stamp on street culture in a really good way," says Staple, known for turning New York City pigeons into one of the most sought-after sneakers on the planet. "You think about brands like The Hundreds or Crooks and Castles — you know the owner, but you don't necessarily think of them as Asian brands."
Overseas, the NIGOs and Hiroshi Fujiwaras of the world operate in their own universe, and for all intents and purposes, aren't known for being dope and Asian, but as Staple puts it: "dope for being dope." Brands like CLOT and stores like JUICE that speak primarily to consumers in Asia carry the onus of mixing heritage and modernity. Consider Nike — which has only been in the Chinese market for less than 20 years despite manufacturing there for much longer. Edison Chen's "Terracotta Blush" Jordan 13s and silk-covered Air Forces are a Trojan horse, bringing in coveted Western sneaker silhouettes without the occidental ideals. Jeff Staple had a similar mindset when working on his "Panda Pigeon"Dunk SBs.
"This is their first gateway into the culture and they're adapting it from what they know historically," he says. "They know red envelopes and dragons. They're now applying that to street culture and sneaker culture."
Asian-Americans working and participating in the milieu of streetwear and sneakers have a unique advantage in that their customers aren't a reflection of a brand's vision, but a brand's community. It's easier for a white person, a black person, and an Asian person to connect over a sneaker Jordan wore, a tie-dye North Face jacket, or a graphic tee with an esoteric hip-hop reference. And for many Asians in the industry, they're more focused on preserving the monolith rather than carving out a piece for themselves.
That's certainly the case for one of Jeff Staple's mentors, Sung Choi, a Korean-American who immigrated to Queens in 1979 and got his first job working at a Harlem outfitter — the kind of clothing store that sold Sta-Prest Lees, Triple F.A.T. Goose jackets, and BVD briefs. He got into graffiti writing and co-founded PNB Nation in 1987 with a crew that included the bi-racial Roger "Brue" McHayle (now director of apparel at Jordan Brand), Kahlil "Zulu" Williams (who's half-Japanese), and James "Bluster" Alicea.
[Anti-Social Social Club] spoke upon the Asian condition; you're anti-social social! It's kids wearing Supreme, but they're quiet and shy. How many nerdy Asian kids have you seen that rock the craziest fits?

Kyle Ng
PNB was graffiti's answer to Stüssy's surf roots. And for nearly a decade it enjoyed success during streetwear's first wave, coinciding with the "urban wear" era that saw the rise of labels like FUBU, Karl Kani, and Ecko. But for Choi (who also designed the UNION logo and some stuff for Supreme), the experience was motivated by an appreciation for the culture and the music that informed it more than the notion that his very existence made him an Asian-American pioneer.
"Your work doesn't take a color. It's definitely societal prejudice that puts guard rails on certain cultures," says Choi, who's since moved to LA and found further success in the footwear industry, establishing Clae and designing for DC Shoes. The "Asian" thing is still something he doesn't dwell on too much, although he's served as a mentor to some of today's more outspoken figures: "As we make our mark in the United States as [children] of immigrants, you're no longer bogged down by a certain chip on your shoulder. You're free to redefine who you are."
Jaeki Cho, creative director of Flushing boutique Alumni, sees guys like Sung Choi as part of an era of heads who did great work, but have a self-effacing approach to their careers. He surmises part of the reason may be culturally ingrained.
"As a culture, we were kind of taught 'the nail that sticks out gets punched in,'" he says. "We were never taught: 'Yo, you are number one.' If anything, our parents told us: 'Nah, you're not number one. Who the fuck is you?'"
For every recognizable Asian-American face in street culture today, there are many more who have flourished — and continue to do so — behind the scenes. There's Peter Chung, a prolific designer who's worked for Supreme, Nike, and released a highly underrated lo-fi hip-hop album under the moniker Cool Calm Pete; the late Jonas Bevacqua, co-founder of LRG; Jayne Goheen, whose Céline skate decks launched a thousand mood boards, and now is the creative director of Stüssy Women's; and Chris Julian of FRUITION and UNKNWN.
"People that know, know," says Cho of these hidden figures, but they're also not the type to care about "being in the video," as he puts it. "I think when America sees an Asian face in front of the camera, it's still something that's hard for them to fully embrace. But when they're behind a camera, it's something they could tolerate."
It's a sentiment Bobby Kim — aka Bobby Hundreds — empathizes with, recalling his own father's experiences getting settled in America. During job interviews he'd sometimes get accosted and called racial epithets, but opted to shrug it off and mostly fly under the radar, hoping to assimilate, progress in a job, and simply survive.
"I don't blame the generations before if they felt like race was an ancillary thing that they didn't really want to highlight," he says. "But for my generation, I do really expect and hope that people of color make it an issue and a focal point of their brand, work, and their daily identity."
Hundreds' recent book This Is Not a T-Shirt is part-autobiography, part-primer on West Coast streetwear, and an extension of what made his brand blow up in the first place — its outspoken voice on social justice and dedication to being an unwavering platform for youth empowerment and inclusivity, no matter how cringey it veers sometimes. And for all his awareness of the Asian-American struggle, he knows it's nothing compared to the plight of black Americans — but that doesn't mean we can't educate ourselves to become better allies.
Asians have really put a stamp in street culture. You think about brands like The Hundreds, you know the owner, but you don't think of them as Asian brands.

Jeff Staple
In his 1903 book The Souls of Black Folk, W. E. B. Du Bois describes double consciousness as "this sense of always looking at one's self through the eyes of others, of measuring one's soul by the tape of a world that looks on in amused contempt and pity." It's an internal duality that stems from having to exist in two separate worlds at once. Du Bois places it in the context of America's black-and-white racial binary, but it's definitely something I felt growing up Asian-American without realizing such a term encapsulated it so succinctly.
There are plenty of examples where this has happened with food. Eddie Huang's written extensively about how an Asian school lunch can instantly turn a kid into a cafeteria outcast. Carol Lim, who co-founded Opening Ceremony with Humberto Leon in 2002, can relate. But as high-profile Asian chefs and neighborhood restaurants normalized different cuisines around the country, it didn't just become tolerable, it became highly palatable.
"There's a proudness to being Asian. Our food is becoming more part of the cultural dialogue," says Lim. "Growing up, you just wanted to fit in. You didn't want the weird lunch, you wanted what everyone else was eating. Now you want the weird lunch because it's good — and everyone else wants to eat it, too."
But for people like Kyle Ng, that alienation also happened with style and interests. He began idolizing skater Daniel Shimizu after seeing his parts in Foundation's That's Life video, putting him onto slimmer pants and Nike SB Dunks, which were finally beginning to break through in the skating community.
Shortly after, Ng remembers copping the Bison Dunk Low SBs, an all-suede upper with a mostly brown colorway and a bright red rand. "All my friends called them 'poop shoes,'" he recalls. When Shimizu dropped his Dunk High SBs in 2004, with a white, yellow, and gray colorway that took its cues from one of the transforming jets from the Robotech anime, it blew Ng's mind. The very things that made his identity had become a sneaker by a major sportswear company, as if they had a 3D printer connected into his brain.
"Asian-American culture is inherently about researching things and this idea that we need to build our own world," he says. "I didn't fit in with the Asians; I didn't fit in with the whites or blacks... I don't really care, Brain Dead doesn't have to fit with this world."
As a culture, we were never taught: 'You are number one.' Our parents told us: 'Nah, you're not number one. Who the f*ck is you?

Jaeki Cho
Double consciousness is about reconciliation. Du Bois writes that in merging the "two-ness" of one's self, there's a wish that neither half is lost, but the end result is "better and truer." For Kyle Ng, that led him on a path to discover artists like Barry McGee and Geoff McFetridge, labels like Mike Park's Asian Man Records, and Japanese noise rock groups like Melt-Banana. It revealed a world of outsider art that continues to shape him and his brand today.
After last year, 2020 was really shaping up to be a banner year for Asian-American culture. Andrew Yang's presidential candidacy wasn't immediately written off and gained a lot of traction. Comedians like Ronny Chieng, Jo Koy, Hasan Minhaj, and Ali Wong broke new ground with streaming specials, shows like Patriot Act, and films like Always Be My Maybe, and the juggernaut that is Crazy Rich Asians featuring a predominantly Asian-American cast. Authors like Mary H.K. Choi and Jenny Han continued to translate best-selling novels into Hollywood deals — and we'll go ahead and claim Parasite's Oscars sweep as a "W."
All that progress wasn't just halted, but pushed back significantly in the wake of Covid-19. Hate crimes against Asian-Americans in New York City have gone up by 227 percent — ranging from a woman getting punched in the face in K-Town for not wearing a mask to a Brooklyn woman who had caustic fluid poured on her as she took out the trash. In Texas, a 2-year-old and 6-year-old were stabbed along with their father because the teenage suspect thought they were Chinese. Last month, Lululemon fired its art director for promoting a graphic tee that depicted a dish called "Bat Fried Rice" in a stereotypical Chinese takeout box.
"This is really our moment to be able to stand up and represent ourselves because there is an attack happening on us, both physically and metaphorically speaking," says Jeff Staple. He recalls several incidents where he's been on Instagram Live and commenters don't hesitate to say things like "Why'd you eat that bat?"
It's a reckoning that has reminded many Asian-Americans of how fleeting acceptance can be. Echoing WWII-era Japanese-American internment and the anti-Chinese sentiment that rose during the Red Scare of the 1950s, even the most assimilated Asian is more cognizant that we wear our race on our face. But out of that heightened awareness comes a newfound sense of pride and collectivism.
When Dao-Yi Chow (co-founder of Public School and current creative director at Sergio Tacchini) first entered the music industry during its '90s New York heyday, he didn't think too much about being an Asian-American role model. Like many of his contemporaries, it was about the culture and the work. He's since realized the quiet power of his existence, taking Public School's "We Need Leaders" mantra to heart. He sits on the board of Apex For Youth, a nonprofit organization that provides aid to underserved Asian communities. In a stark contrast to the "model minority," 27 percent of the Asian-American population in NYC lives below the poverty line — the most out of any ethnic group.
"You might not think about it as much, but you would be ignorant not to think your work impacts other people," says Chow. "If you relate to me 'cause I'm Chinese or 'cause we like the same music, that's a responsibility that I'm proud of and can hopefully use to do good."
As the Asian-American identity continues to evolve and define itself through the various bodies politic it touches, the "I'm just here to work" attitude of our ancestors is giving way to a more vocal movement. Street culture's tenets of subversion, self-expression, and community helped many of us lay the blueprint. By no means is it perfect, but at least it's something we Asians got.