Balenciaga's luxury footwear dominance looks to continue unabated with the introduction of its Track.3 sneaker, the third main entry into the Track footwear series.
Fitted with a mind-bogglingly complex layered upper, Balenciaga's Track sneakers have been endlessly remixed since they first dropped a few years back.
Besides the endless rollout of new colorways, updates range from LED light accents to fur lining — the original Track sneaker was even cut up into not one but two different sandal styles.
The second main Balenciaga Track sneaker — the aptly-named Track 2 — featured a similarly dynamic upper design fitted with over 170 different parts and proved so successful that Balenciaga honored it with a $5,750 silver sculpture as one of its first Objects.
This leads us to Balenciaga's Track.3, the third main Track sneaker, rolling out as part of Balenciaga's Spring/Summer 2022 collection.
Retailing for $895, the Balenciaga Track.3 is one of the house's more low-key silhouettes, free from much of the high-tech frippery that graces Balenciaga's Phantom sneaker and other retro-inspired runners.
Instead, Balenciaga's Track.3 sports a mesh and nylon upper — it's vegan, like all the other Balenciaga Track shoes — with the European shoe size sketched on the toe.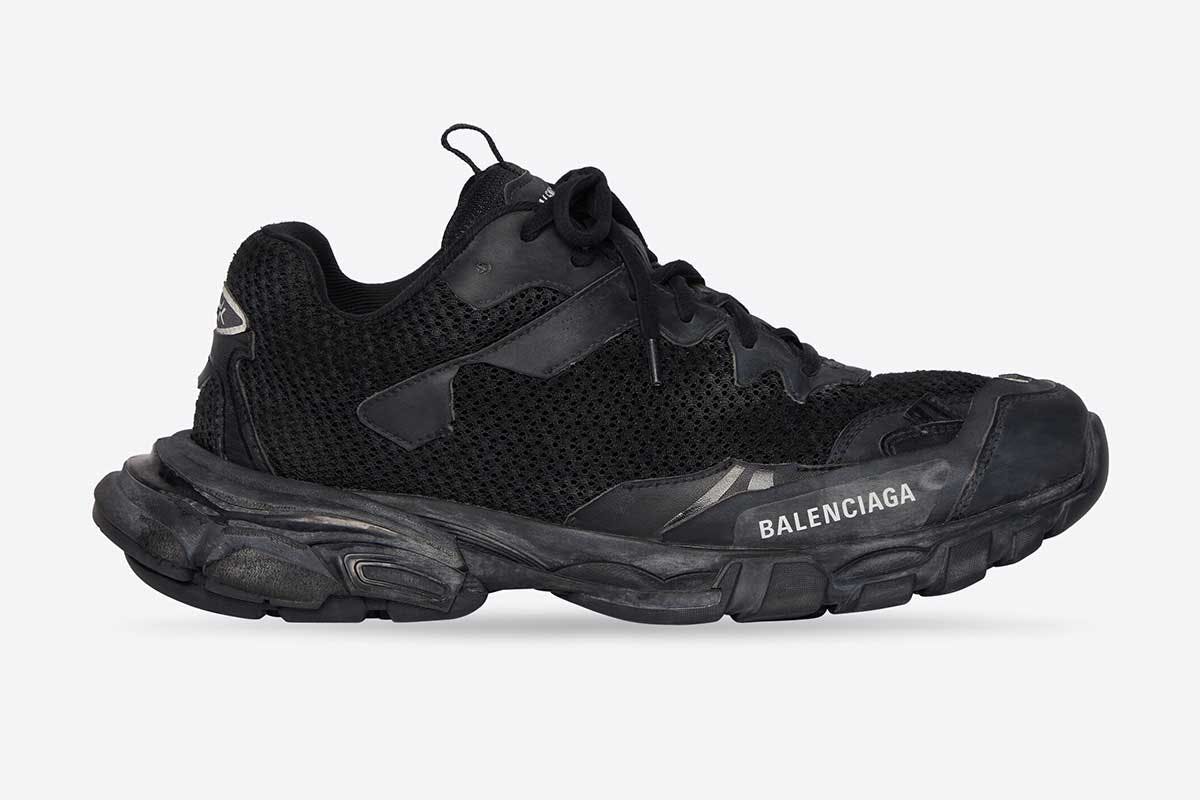 The more minimalist paneling atop the Balenciaga Track.3 belies the new bit of detailing: faux deconstruction.
Mirroring the FW22 distressing trend, Balenciaga's new shoe comes pre-scuffed, with rips, tears, and midsole wear already applied to the shoe before it even gets on-feet.
Balenciaga hasn't reached Margiela Fusion levels of deconstruction just yet but the Track.3 certainly isn't for the faint of heart, with all the chunks missing in its heel and upper.
The Track.3 probably is somewhat lighter than its predecessors, though, thanks to that less detailed upper.
Though it's available in classic black, the Track.3 looks best — in my humble opinion — in shades of flashy blue, pink, and beige, the shoe's debut colorways.