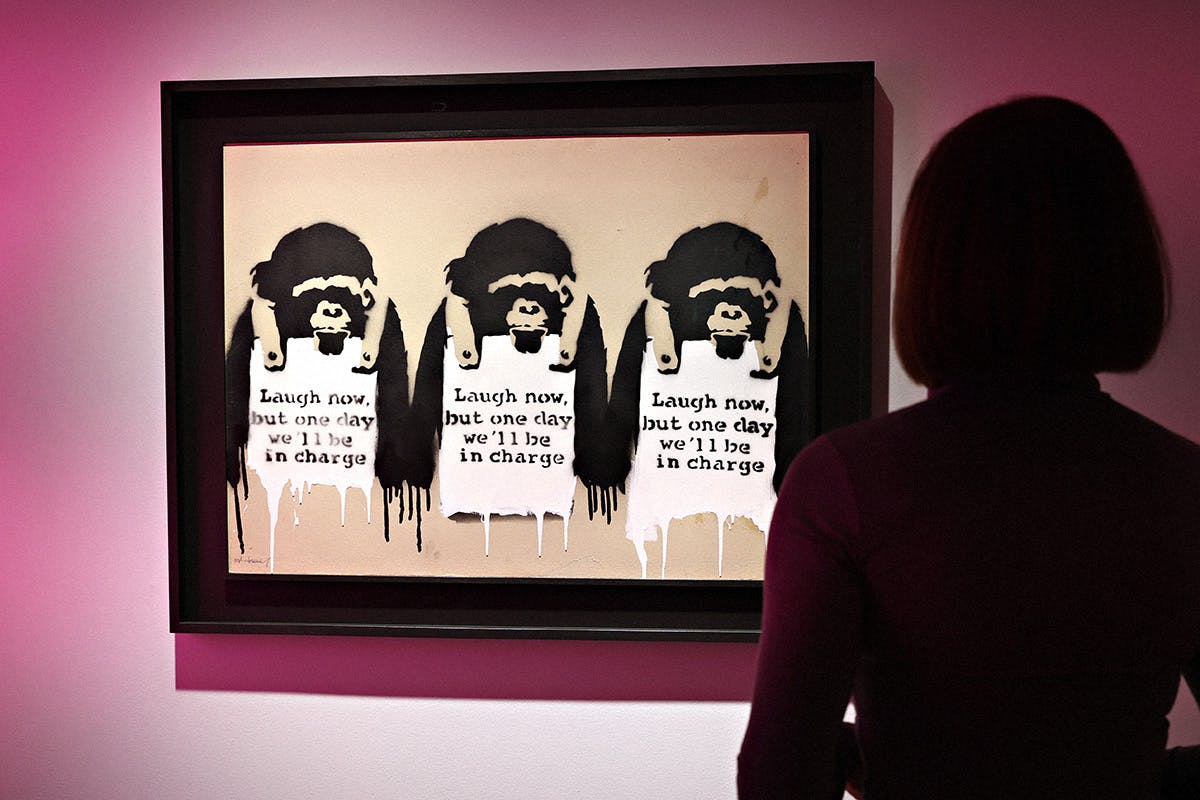 Enigmatic street artist Banksy once proclaimed that "copyright is for losers." Now that statement has come back to bite him.
On Wednesday, the European Union Intellectual Property Office (EUIPO) ruled against Banksy in a trademark dispute with a greeting card company, Artnet reports. According to the decision, the mysterious artist himself is to blame.
The dispute concerned a greeting card company Full Colour Black Limited, that released and was selling greeting cards that depicted Banksy's famous Laugh Now artwork of a monkey wearing a sandwich board. Pest Control, the body that has authenticated Banksy's primary market works since 2008, went head to head with Full Colour Black over a trademark violation of Banksy's "monkey sign" work. But this week, the EUIPO declared that trademark invalid.
The "real nail in the coffin," attorney Aaron Wood told the World Trademark Review was the "public comments of Banksy and his lawyer." Notably, in his 2007 book Wall and Piece, Banksy famously said that "copyright is for losers." The ruling notes that the street artist explicitly stated that the public is morally and legally free to reproduce, amend, and otherwise use any copyright works.
Following Banksy's own MO, Full Colour Black claimed that the art is a work of graffiti sprayed in a public place—and EUIPO agreed. "It was free to be photographed by the general public and has been disseminated widely," the ruling states. "Banksy permitted parties to disseminate his work and even provided high-resolution versions of his work on his website and invited the public to download them and produce their own items."
Another factor that came to haunt Banksy in this ruling, is the issue of his anonymity. By choosing to be anonymous, the court found that he would be unable to protect this piece of art under copyright laws without identifying himself. In effect, this decision by the EU could have serious ramifications for the artist, because if he chooses to remain anonymous, his other trademarks could be voided too.