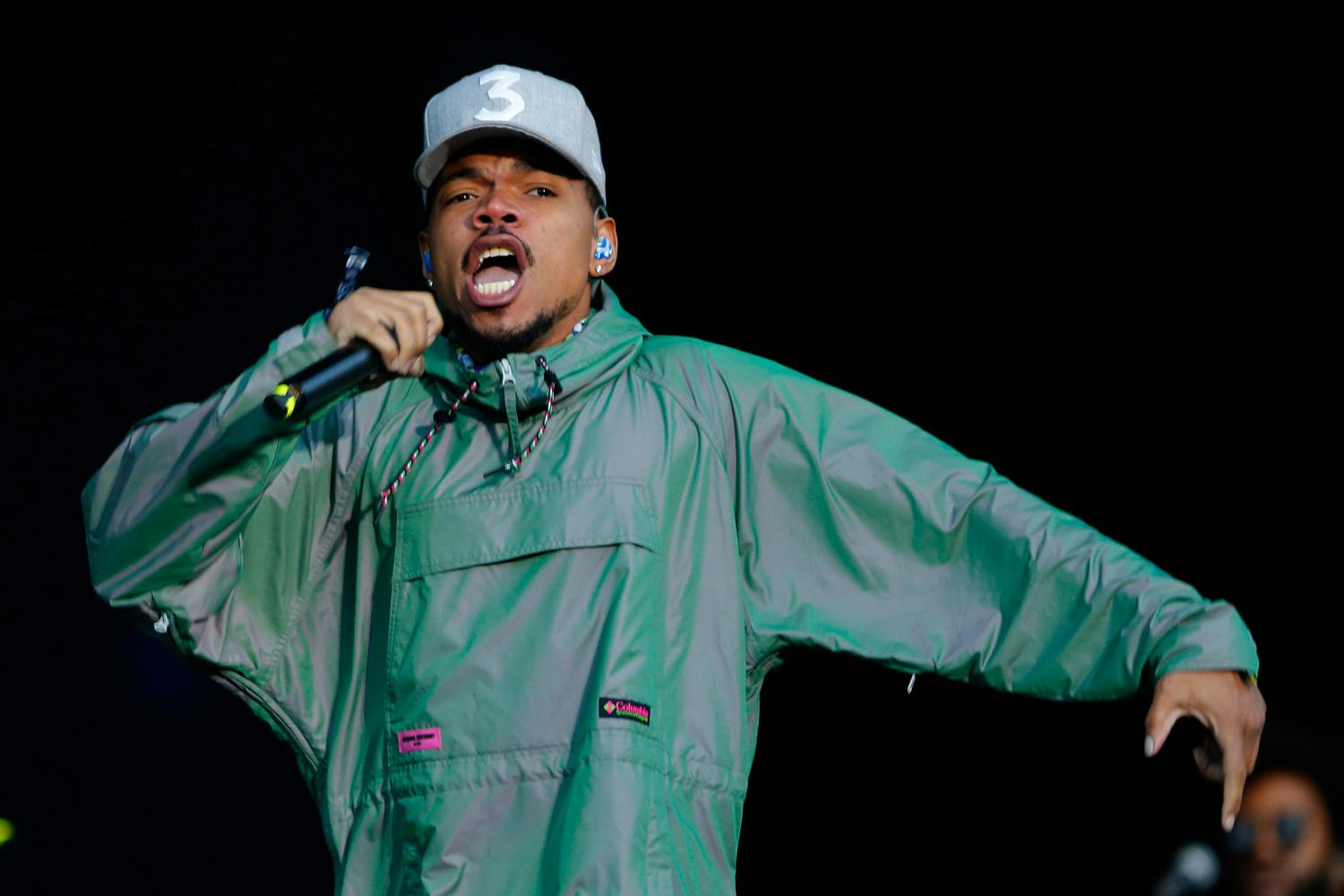 Chance the Rapper is one of hip-hop's greatest gifts. To date, the 25-year-old from Chicago has bypassed the formalities of signing a record deal while maintaining strong streaming numbers, all without having released an official album.
From his incredible lyrical skills to his ever-popular collaborations, it's no wonder the likes of Kanye West, Childish Gambino, and Twista have all clambered to work with the man born Chancelor Jonathan Bennett.
Despite the lack of an official LP, Chance's Coloring Book mixtape still won a Grammy in 2017 for Best Rap Album, showing that independently released music can still win big. The honor made him the first rapper to win a Grammy with a streaming-only record.
With three solo mixtapes (10 Day, Acid Rap, Coloring Book) and a number of collabs already in the bag, we have no doubts that Chance the Rapper will only go on to new musical heights in the years ahead. But for now, these are the 20 best Chance the Rapper songs to date.
20. "Smoke Break"
Chance once claimed in an interview that "Smoke Break" was one of his favorite songs on Coloring Book and it's not hard to see why. Garren Langford's warped reverb synths provide a solid base for the rapper's poignant reflections on his life pre-fame. If that's not enough, Future delivers two fire verses of his own. This quirky yet catchy song is perfect for stoners and lovers alike.
19. "Hey Ma"
Every great rapper has a song dedicated to their mother (see 2Pac, Snoop Dogg, and Kanye West) and this ditty by Chance is a welcome addition to the canon. It's soulful, bouncy, and above all, family friendly, so you can even play for it for your mom, too. While unconfirmed, the track was likely penned during Chance's infamous high school suspension, in which his 10 Day mixtape was born.
18. "Windows"
This song is a contemporary classic. Initially shared via SoundCloud (now removed for legal reasons, sadly), the track has lingered in the hearts and ears of listeners, and we like to think it's down to the Lonnie Liston Smith "Bridge Through Time" sample mixed by Apollo Brown (it's also the source of those legal issues). And of course, Chance's well-scripted Chi-town bars contribute to the track's overall excellence. In his verses, he sends several salutes to some of the city's underground artists who helped shape his sound.
17. "Lost"
This track sees fellow Chi-town poet-slash-rapper Noname deliver a verse detailing her experiences with various people and substances. In response, Chance recalls his own experiences, firing up words just as sharp. If their admissions don't cut you deep, then Nate Fox's underlying piano riff ought to jerk a few tears.
16. "Blessings"
Chicago's talent pool is apparently endless, and city native Jamila Woods grounds this warm, gospel track with her sunny vocals on the hook. Revamping the refrain "When the praises go up, the blessings come down," Chance chimes in with his spiritual reflections, exploring life as a father, his work with the Black Lives Matter movement, and, of course, his relationship with God.
15. "Israel (Sparring)"
Cam O'bi brings a cool, lo-fi beat production to this joint. The producer — also responsible for SZA's "Doves in the Wind" — gives Chance the platform to effortlessly roll out his stream-of-conscious flow. The track not only features a carefully constructed verse by Noname, but sees the pair recontextualize references from the Old Testament. It's smart and we're obviously here for it.
14. "Same Drugs"
Chance once tweeted, "'Same Drugs' isn't about drugs," which is important to note when listening. While the rapper has rapped about recreational drug use in the past, this song takes on a solemn tone as he reflects on the growing distance between him and a loved one. The song delivers a harmonious blend of strings, keys, and vocals, not to mention the opportunity to hear Chance sing.
13. "All Night"
Every artist needs a party anthem, and with Kaytranada behind this particular beat, there was no way this track would be anything other than a hit. The song brings back old-school Chicago house vibes, which is apt given the song's nightlife theme. While women, drugs, and partying are all certified rap clichés, Chance uses these subjects as the backdrop to discuss his apprehension about fame and fortune.
12. "No Problem"
This joint song saw Lil Wayne bolster a rap flow previously heard on Tha Carter III, as he echoes Chance's statements about the dangers of record labels. With 2 Chainz also in the mix, this feel-good jam is equal parts humor and sincerity.
11. "Favorite Song"
Chance's wordplay is killer here, and you can probably thank a certain psychedelic for that. Here, his acid-induced rambles barter back and forth with Childish Gambino's contributions, which, if you ask us, is as solid a recipe for a summertime jam as there is. The song taps into the '90s flavor that we all know and love and certainly lives up to its title for many fans.
10. "Juice"
This song is swaggy, braggadocious, and above all, quick-witted. Not one to shy away from a sharp jab, Chance answers all those who dare question his writing abilities with "God give me one sentence more / Maybe I just gotta get suspended more." Let's face it, after one 10-day suspension and three consecutively great mixtapes, the man has the right to flex.
9. "Mixtape"
While this song might not be an obvious choice for some, it's sure to creep up on you when you least expect it. Peers Young Thug and Lil Yatchy bring their explosive Atlanta energy, as the trio explore the future of the free mixtape in their verses. If you're not here for Thugger's tuned-up vocals, at least hang around for then-newcomer Lil Boat, who didn't look out of place next to his more senior contemporaries.
8. "Pusha Man/Paranoia"
You can't argue when you get two for the price of one. The first half of this double-track returns to the '70s, when Curtis Mayfield's "Pusherman" soundtracked the Blaxploitation era. Here, Chance and Nate Fox whip out old street slang on "Pusha Man" before Nosaj Thing works his magic on the ethereal production of "Paranoia," with Chance getting real about the aftereffects of drugs and hedonism.
7. "Summer Friends"
Yup, you guessed it, it's another Chicago-based collab. Jeremih and Chance team up to discuss their respective upbringings in the city's South Side. While summertime is often associated with blossoming relationships, sunshine, and all-around fun, here the duo talk about a reality in which gun violence, drugs, and death invaded their vacation dreams.
6. "Angels"
This song is enough to make any thug cry. Why? Well, it's not every day that a rapper openly confesses to wrongdoings and produces a hit in the process (the comparison that springs to mind is JAY-Z's 4:44). Call us corny, but we're a sucker for a good redemption story, and nothing is likely to make a confession more compelling than an up-tempo bounce track accompanied by an effects-filled music video.
5. "22 Offs"
Flying Lotus didn't hold back when he sent this track Chance's way. The song samples The Whatnauts' "Try Me" and pays homage to the track "22 Twos" from JAY-Z's iconic Reasonable Doubt. While Chance's mentions of the word "off" don't quite hit 22 (at least not as a standalone word), the rapper still uses it in a variety of ways. We're sure Hov would be proud.
4. "Brain Cells"
"Light a joint, or spliff it if you classy," as Chance tells us. Sure, it's another smoking song, but to Chance's credit, the track's production kind of called for it. With producer Peter Cottontale conjuring up the ultimate "study time/jazz/anime channel" beat, what else was Chance to do?
3. "Chain Smoker"
"Chain Smoker" is the last full song on Acid Rap and what a way to go out. Chance himself compares its vibes to a Prince song, and we can see where he's coming from. Its bright energy allows Chance to take the song wherever he pleases, lyrically, letting us know he's "still a chain-smoking, name-dropping, good-looking, muh'-fucking…"
2. "All We Got"
Cranking up "All We Got" to 10 is a sure-fire way to lift your spirits. The song, which serves as the intro to Coloring Book, echoes the gospel sounds we heard Chance rhyming over on Kanye West's "Ultralight Beam," a song that's referenced with the line, "It was a dream / You could not mess with the Beam." As if that weren't enough of a mirror, we're treated to West's guest vocal on the hook and overall production genius.
1. "Cocoa Butter Kisses"
According to co-producer Cam O'bi, Chance and Vic Mensa penned this song under the influence of 'shrooms with a working title of "Babies and Gun Shots (Fuck Hawaii)." While there's probably an interesting backstory there, we're more enthralled with the fact that rap OG Twista makes an appearance, not missing a beat with his hard-hitting, head-spinning bars. Or, as he puts it, "When it comes to rapping fast, I'm the Higgs Boson." That alone is worth a second play.
Next, check out the the 20 best Travis Scott songs.