Etched somewhere in the playbook for how to keep your brand fresh is a chapter about the power of collaboration. The possibility of repositioning your brand — emphasizing a side to it that your customers rarely get to see — should not be underestimated. And, since we live in a time where collaboration's boundaries are all but dissolved, with labels connecting the dots between disparate disciplines, we've seen countless examples of labels revived by collaboration in the past year alone. But, for every newcomer to the collab club, there's a label that's been honing the art of collaboration for years. Exhibit A: Havaianas.
From collaborations to special initiatives, the Brazilian brand is essentially a case study in how to keep things exciting. Take the Pride line, for example. Launched in June 2020, the year-round line functions in partnership with All Out, the NGO fighting for LGBTQIA+ rights. Each year, seven percent of proceeds go to aid All Out to build a more inclusive and safe society around the world.
On the heels of its most recent partnership with streetwear icon A Bathing Ape, we got to thinking about Havaianas' bountiful history of collaboration. The Brazilian footwear legend has partnered up with a host of names spanning Mastermind to Manolo Blahnik via Naomi Campbell, Saint Laurent, and many more. Using the classic Havaianas flip flops as a base, these designers have proven time and time again the versatility of the style and the possibilities that accompany that.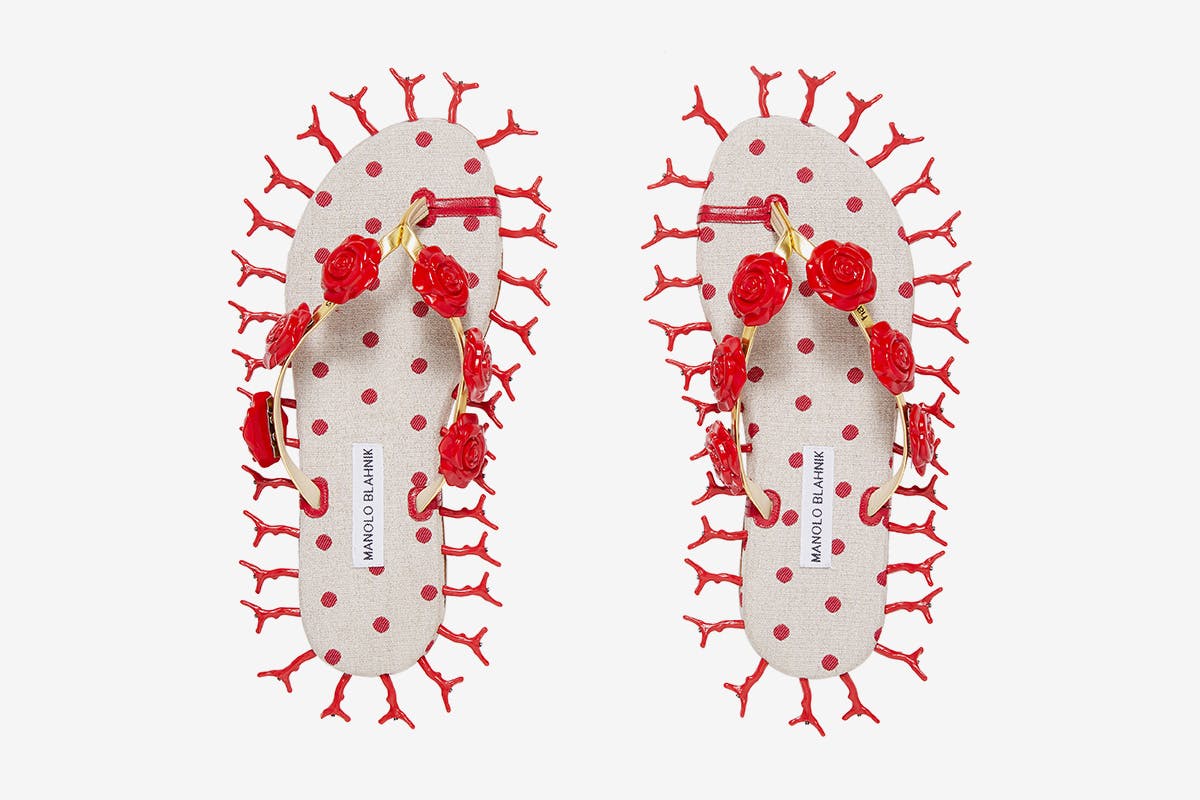 While many of these designs are difficult or impossible to get your hands on, there's a bunch of Havaianas collaborations that you can still cop. We hit the net to round up the best Havaianas collaborations to wear this summer and you can shop the lot below.
Keep scrolling to shop the best Havaianas collaborations.
Havaianas' latest collaboration pits the iconic A Bathing Ape camouflage against the unmistakable silhouette of a Havaianas flip flop. The Top Sandal, Havaianas' no-nonsense basic model, is available in classic khaki, blue, and pink while the bulkier Tradi Zori hits shelves in understated grey and white.
Released in 2020, Havaianas x Mastermind introduced a new look for the Brazilian brand. The Japanese label's understated designs revolved around its unmistakable Jolly Roger logo, a stalwart in the world of streetwear.
Californian artist Joshua Vides' creative studio Reality to Idea is one of Havaianas' most recent collaborations. Characterized by the cartoon-style outlining that we associate with Vides, the flip-flops get a simple yet bold update.
Farm Rio's style is a natural fit for Havaianas. The two brands take inspiration from their home country of Brazil, and the beautiful bright colors that typified this collaboration are the proof.