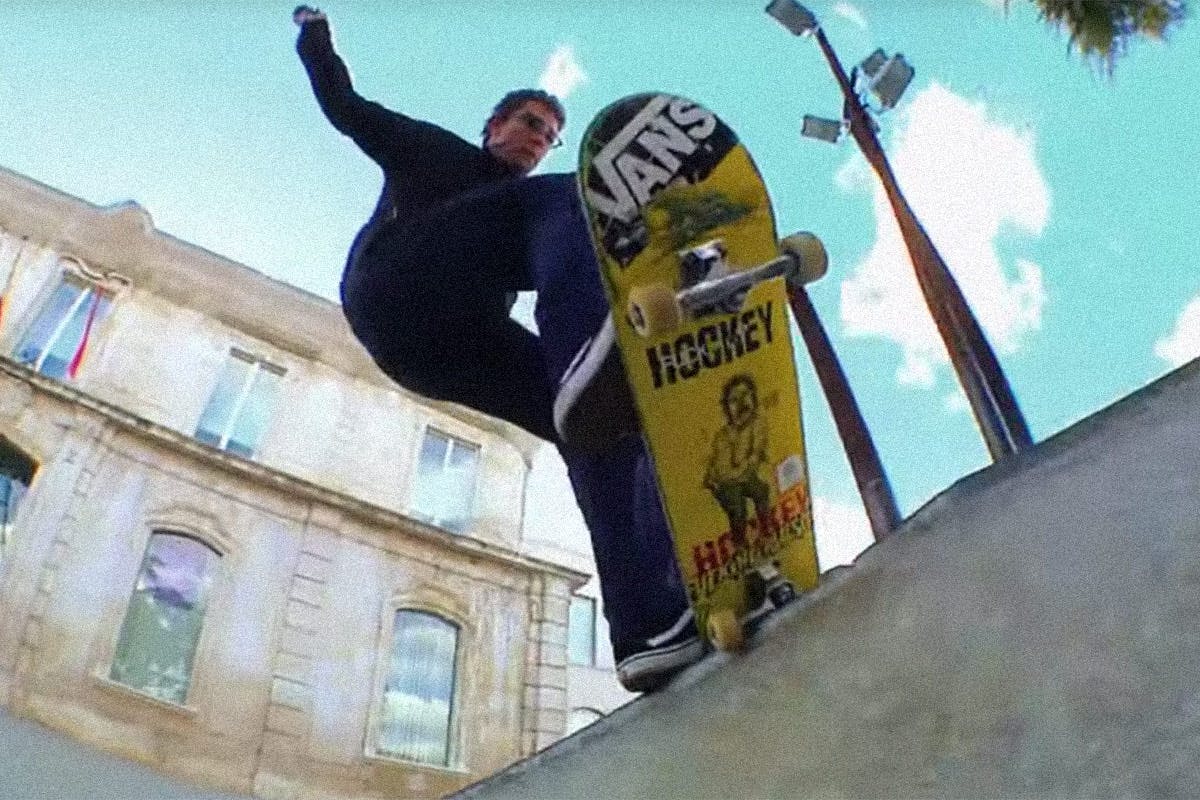 Regardless of platform, the brand video in skateboarding is the gold standard statement of purpose. While almost anything qualifies as a brand these days – from bolts companies with merch on the side to full-blown fashion companies with corporate collaborations – the power of the brand video is undeniable. They show off your team riders, establish your point of view, and create a world around your product.
Whether they're crews that became brands or brands that are crews, each of the subjects of this primer make things that provoke as much as they promote. Their video work is part of modern skateboarding canon, best viewed uninterrupted and in their entirety.
Below, we've rounded up all the videos you need to know from major players in skateboarding right now – from Highsnobiety favorites like Supreme, Palace, and Fucking Awesome, to slightly more under-the-radar brands like Quasi, Sour, and GX1000.
Fucking Awesome / Hockey 'Industrial Light and Magic'
Director: George Pulas Year: 2019
Every FA and Hockey project is distinct and pointed, regardless of the chaos they encapsulate. Industrial Light and Magic is a throwback to raw '90s footage, tracked only to the sounds of skating and its environment. Starting with founders Anthony Van Engelen and Jason Dill, the video rifles through spots, tricks, and lines for 10 minutes, pounding with personality. Additionally, the pointed edit provides an introduction to long-rumored addition Louie Lopez, reframing and refining his long-known skill.
Supreme 'Candyland'
Director: William Strobeck Year: 2019
Released in tandem with the launch of Supreme's San Francisco outpost, Candyland is a continuation of the saturated, zoomed-in malaise of the brand's work with William Strobeck. Filmed mostly in San Francisco, Strobeck curates as much as he documents the Supreme Squad, through historic spots and patches of dirt that hardly qualify as skateable. For 27 minutes a pacing and narrative builds, alternating between action, malaise, and homage.
GX1000 'Roll Up'
Director: Ryan Garshell Year: 2018
For a good portion of the '90s, San Francisco was driving the progression of street skating. Most of that innovation took place in the plazas and marble ledges of its northern waterfront district. Led by Ryan Garshell's lens, the GX1000 crew has completely redefined how to skate the city, pushing speed as progression. Staring with their self-titled effort in 2016, GX1000's deep crew have mastered the art of grinding, sliding, and flipping through the city's streets and avenues, with most tricks ending in hill bombs rife with tension. Roll Up was a milestone for GX1000 and a lasting homage to Pablo "P-Spliff" Ramirez, who passed away navigating those very streets in April 2019.
Call Me 917 '2-2'
Director: Logan Lara Year: 2019
The brand's second full-length is also its first to not feature its founder, Alex Olson. Despite the omission of his surfy pop and power and the loss of Aidan Mackey to Fucking Awesome, Call Me 917's 2-2 hits. With the editing, music supervision, and spot-variety diverse and locked in, 2-2 provides a deeper dive into Aaron Loreth, Hugo Boserup, Vincent Touzery, John Francomacaro, and the crew's creative takes on skateboarding. Brand stalwarts Cyrus Bennett and Max Palmer build on and leap past their prior output, reinventing spots and tricks throughout their collective sections.
Dime 'Knowing Mixtape Vol. 2'
Director: Phil Lavoie Year: 2019
More than an instantly iconic logo, Dime is an irreverent take on skating that's unique to the Montreal-based brand's inner circle. The latest Dime video showcases the lesser-known and unbelievably odd. What truly makes Knowing Mixtape Vol. 2 eclectic is that the skating oscillates between serious, stylish, weird, heavy, and often a blend of all of the aforementioned at once – having Tiago Lemos and Jake Johnson stomp tricks just adds to the allure. Traversing seldom seen spots of the City of Saints and beyond, Dime and company proves there's an art to seriously not giving a shit, by mixing top-shelf hammers with low-culture originality.
Palace 'Palasonic'
Director: Lev Tanju Year: 2017
For years, Palasonic was skating's white whale: a full-length video filmed entirely in London on VHS. In 2017, Palace dropped the video with animated gifs of Blondey McCoy being struck by a moving vehicle immediately following its release. With a constant flurry of product in the feeds, Palace's equalizer has always been its video output. Palasonic is a washed out, hazy, singular vision, dedicated to documenting the skating of its eclectic crew and eulogizing their low-fi era.
Bronze Hardware 'Trust'
Director: Peter Sidlauskas Year: 2015
If Vektroid's Floral Shoppe (2011) is the template for vaporwave, Trust (2015) is its swirling, surreal skateboarding parallel. As with all of Bronze Hardware's video projects, each edit is a flash drive composite of Peter Sidlauskas' dial-up take on skateboarding. Trust is of its time and place (mostly filmed in NYC), featuring a blend of locals and guests, splicing style, and genre, with a mixtape-feel cast against a first-person-gamer landscape that invokes Windows 95 psychedelia.
Polar Skate Co. 'I Like It Here Inside My Mind, Don't Wake Me This Time'
Director: Pontus Alv Year: 2016
What Pontus Alv does so effectively with Polar is creating a mood informed by a deeply personal connection to skateboarding without feeling nostalgic, and leveraging an evergreen feeling that transcends era. Forty-six high-energy minutes float by with a mix of devoted parts and montage, bouncing around crust, plazas, and DIY parks across the globe. With a "pick-up-your-board-and-do-it urgency" and pulsing soundtrack that relies heavily on obscure electronic music, Alv is able to make the relatable trance-inducing and aspirational.
Quasi Skateboards 'Mother'
Director: Chad Bowers Year: 2018
When Alien Workshop fractured briefly in 2014 before rebooting in 2016, a large portion of their roster filtered into Fucking Awesome and a new company called Mother. Due to legal issues, a name change was forced and Mother became Quasi, yet never lost any buzz or intensity. While the Workshop's mystique was built on conspiracy, Quasi's was driven by anonymity, as they pumped out product and vaguely teased a full-length. Then it dropped Mother, an HD uppercut breaking through the VX milieu, positioning its former-Alien core feeding off the new blood of Justin Henry, Dick Rizzo, and Josh Wilson, furthering their abstract energy.
Sour Skateboards 'The Sour Solution II'
Director: Gustav Tønnesen Year: 2019
Not to be overshadowed by Simon Isaksson's dizzying street loop, the entire Sour crew converges to make their second full-length an unmistakable mark on Scandinavian skateboarding. Filmed and concepted by Gustav Tønnnesen – who also contributes a deep solo section – The Sour Solution II is spirited and seamless, depicting a collective who creates on the edges, cracks, and overlooked, requiring repeated views at full-volume and full-screen.