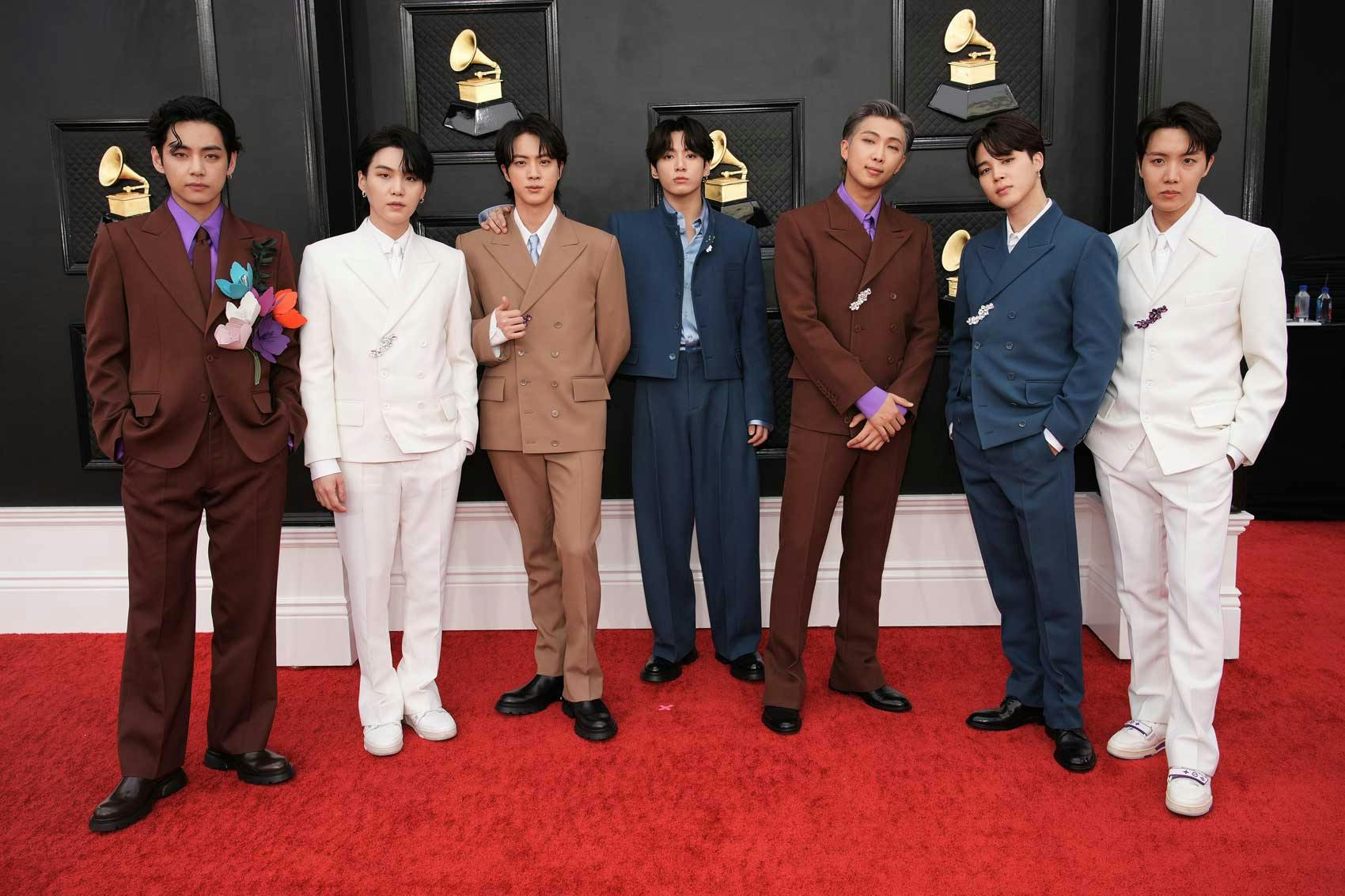 Of all the major moments and major-er outfits at 2022's Grammys, nothing made a bigger splash across the internet than BTS. Objectively the world's biggest boy band, BTS won the Grammys without even taking home a single trophy.
Yep, Doja Cat and SZA took home the honors for Best Pop Duo/Group Performance for "Kiss Me More," the sole prize that BTS was up for during the Grammys ceremony on April 3.
It's not unlike the 2021 Grammy awards, wherein BTS was nominated for "Dynamite" but Lady Gaga & Ariana Grande picked up the prize for "Rain On Me."
No hard feelings between BTS and Gaga, for what it's worth.
That's just fine by BTS, because its seven members were the night's big winners from the moment they took the red carpet. Fans had some different takes, however, but more on that later.
Jungkook, RM, Jimin, Suga, Jin, J-Hope, and V all arrived at the Grammys wearing custom Louis Vuitton, an extension of the styling partnership that began under the purview of Virgil Abloh.
Fitted in their tonal peak-lapel suits (mostly, but not all, double-breasted) and silk/cotton shirts, BTS' 'fits were elevated by embroidered jewelry buttons and personality-driven tweaks, like white LV Trainers swapped in for black leather derbies.
Though the vast collective of diehard BTS stans — the BTS Army — were elated to see Jungkook fully recovered from COVID, his big slacks and headline-worthy piercings (seriously) had to contend with a truly standout look from bandmate V (real name Kim Taehyung).
Taehyung's suit was stitched with a nifty 3D faux floral bouquet that makes staid pocket squares look like a relic of the unstylish past.
Hard to pick a winner from seven standouts but the extra accent atop Taehyung's otherwise serenely straightforward chocolate brown suit puts in extra work.
Later, BTS continued their Grammys domination with a performance of "Butter," their 2021 smash that earned them the Grammy nom.
After Taehyung whispered... something in Olivia Rodrigo's ear to kick off the set, BTS glided across the stage like super-spies in their all-black suits, a demonstration of choreographed perfection.
Even a slight stumble was handled with consummate grace, as if there was ever any doubt that these guys are pros.
Nothing took over Twitter faster or harder than the "Butter" performance. The Rodrigo cameo in the beginning of "Butter" probably helped but, really, it was all BTS.
Safe to say that, in the words of another famous boy band member, BTS is verifiably "more popular than Jesus" (hell, by now BTS is probably also bigger than The Beatles).
Though BTS was perfectly content to rule the red carpet and stage without a shared prize to take home — very much winners in their book — loads of Army members were furious enough about the perceived snub (that is, Doja Cat taking home the prize over BTS) that #Scammys began trending on Twitter shortly after Doja was announced as the winner.
It's not a meritless charge: the Grammys, yet another American award ceremony — cough, Oscars, cough — with declining viewership amidst the streaming takeover, gets much more of a boost from BTS than the other way around.
Sure, Taehyung's massive Instagram follower bump post-ceremony didn't hurt but these guys are A-list stars with or without a Grammy win.
And they'll pick one up eventually. Given BTS' world-conquering, chart-topping popularity, it's inevitable.
The Grammys don't usually confer additional success to artists, after all; generally speaking, the awards just an acknowledgement of established talent.
'til they get the nod, though, BTS fans will have to be content that their idols are merely the biggest pop stars on the planet without a meaningless piece of brass.
Shop our favorite products