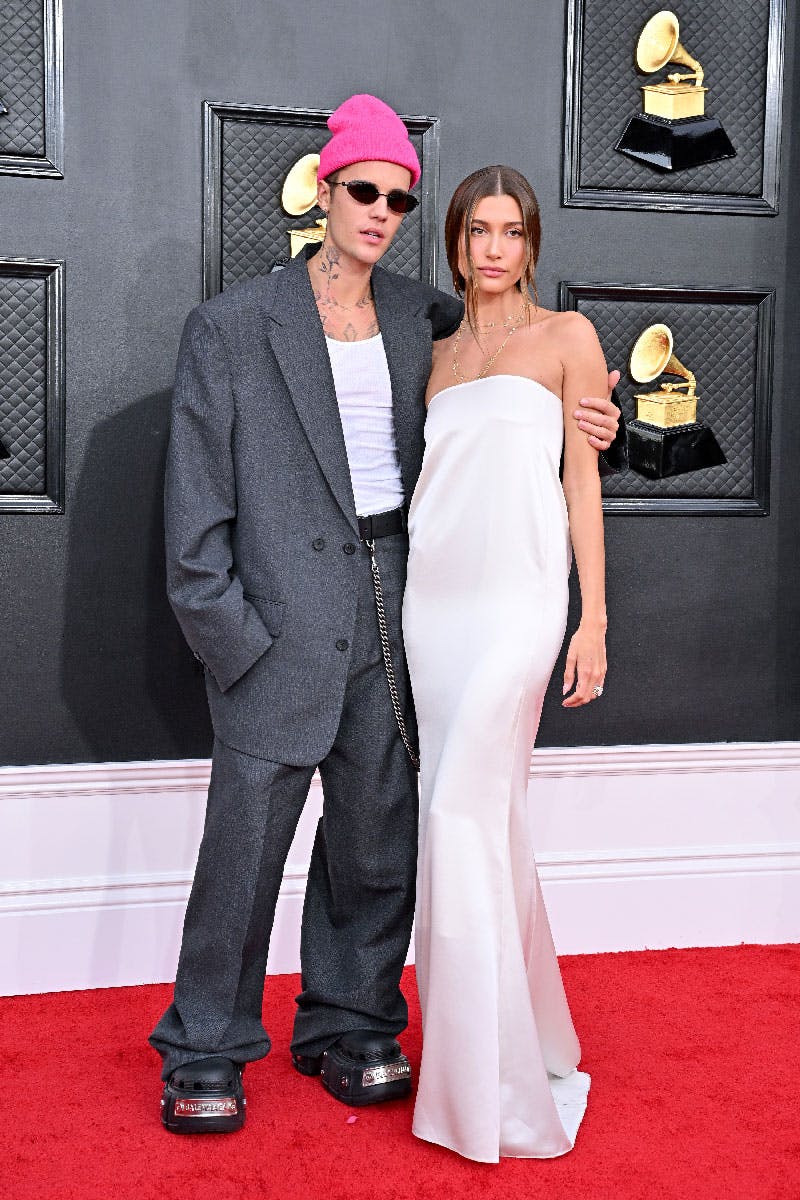 I feel as if I've woken up from a fever dream after looking at the red carpet outfits from the Grammy Awards.
With awards season, we always know there will be plenty of outfits – both good and bad – and as demonstrated by the Oscars last week, it can get pretty wild.
The Grammys was something different entirely. It felt as if everyone turned up dressed in a completely different theme, from beautiful ballgowns to the most casual outfit, literally consisting of a pair of jeans and a T-shirt.
I've attempted to round up some of the chaos, to try to find the red thread between each of the 'fits that graced the red carpet. So far, it's a massive failure, but I can't help but absolutely love it.
Justin Bieber & Hailey Bieber
I'm not joking when I say I love Justin Bieber's style so much. From his hotel slipper era to being the face of Balenciaga, Biebs is consistently serving a look – even though plenty of people would probably disagree. The neon pink beanie, the oversized suit, and of course, Balenciaga's polarizing platform Crocs are *chef's kiss* to me.
Chrissy Teigen & John Legend
I feel like this gown deserved a much bigger moment, and would have maybe worked at the Oscars? Or if you were nominated? Looking at this picture, I almost forgot EGOT-winner John Legend was there.
Tayla Parx and Kaine
Is this Bowser-core?
Omer Fedi and Addison Rae
My girl Addison Rae looks absolutely stunning, she's doing the most. Her boyfriend Omer Fedi, however, is wearing a jacket that I'm pretty sure I Am Gia sold a few years ago. Regardless, something about them makes sense. They're like a younger, more TikTok friendly, version of Kravis!
J Balvin
Somehow, dyed hair was the winner of the night. The Kid Laroi showed up with a new pink hairdo, Omer Fedi in bright red, and J Balvin and Diplo both opted for blue. However, there J Balvin paid homage to KAWS, by literally dying his hair in the shape of a heart with the artist's signature "X" eyes. Very random.
Dillon Francis & Diplo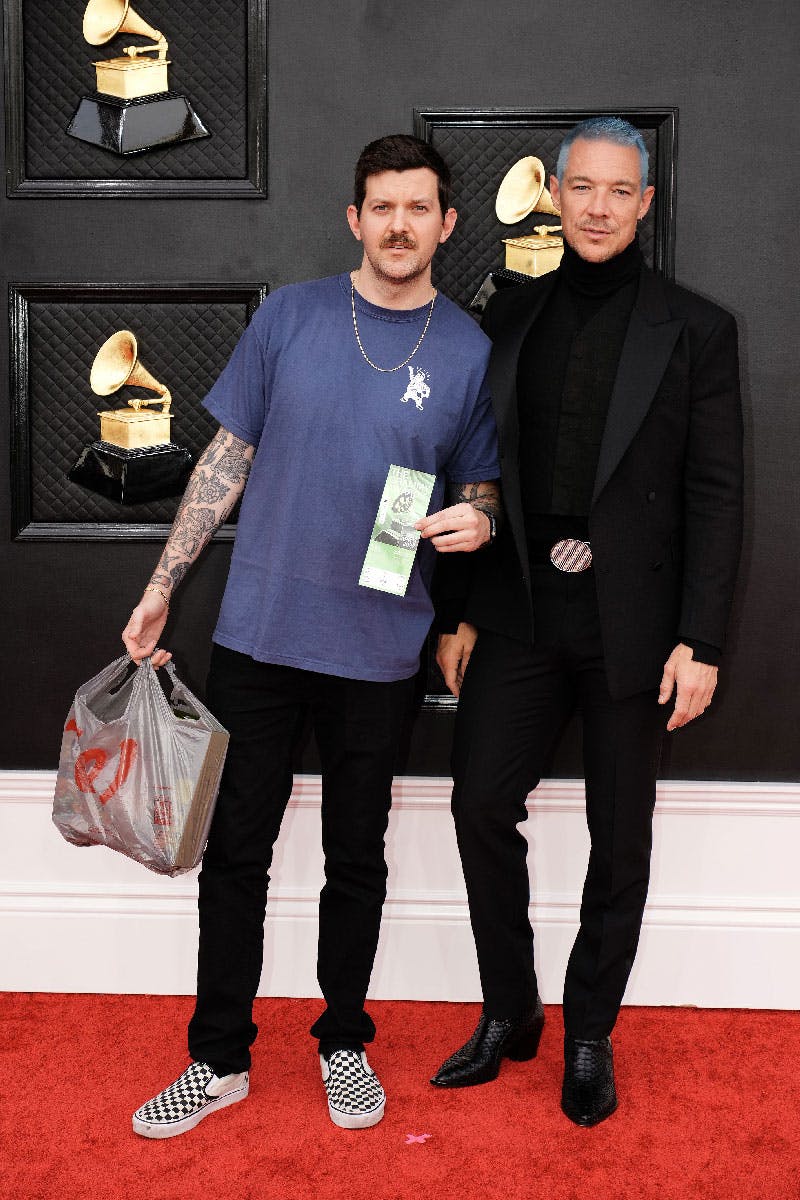 Okay, I have absolutely no idea what's going on here. Dillon Francis tried to do something funny by showing up to the red carpet in a less than exciting outfit featuring checkered Vans, a Walgreen's plastic bag, and his ticket on display, whereas Diplo is still rocking his cowboy aesthetic. Sorry, but we're going to need more than this to be entertained.
Lil Nas X & Jack Harlow
Despite not taking home any Grammy awards, Lil Nas X went home happy knowing that he really served a look. His beaded Balmain look was a serve, and is obviously a version of Kim Kardashian's iconic bachelorette party dress. Its so extra, and its perfect.
Jack Harlow wore a Givenchy suit by Matthew Williams, and the two ended up being my favorite pairing of the night. Plus, their performance slapped.
Jared Leto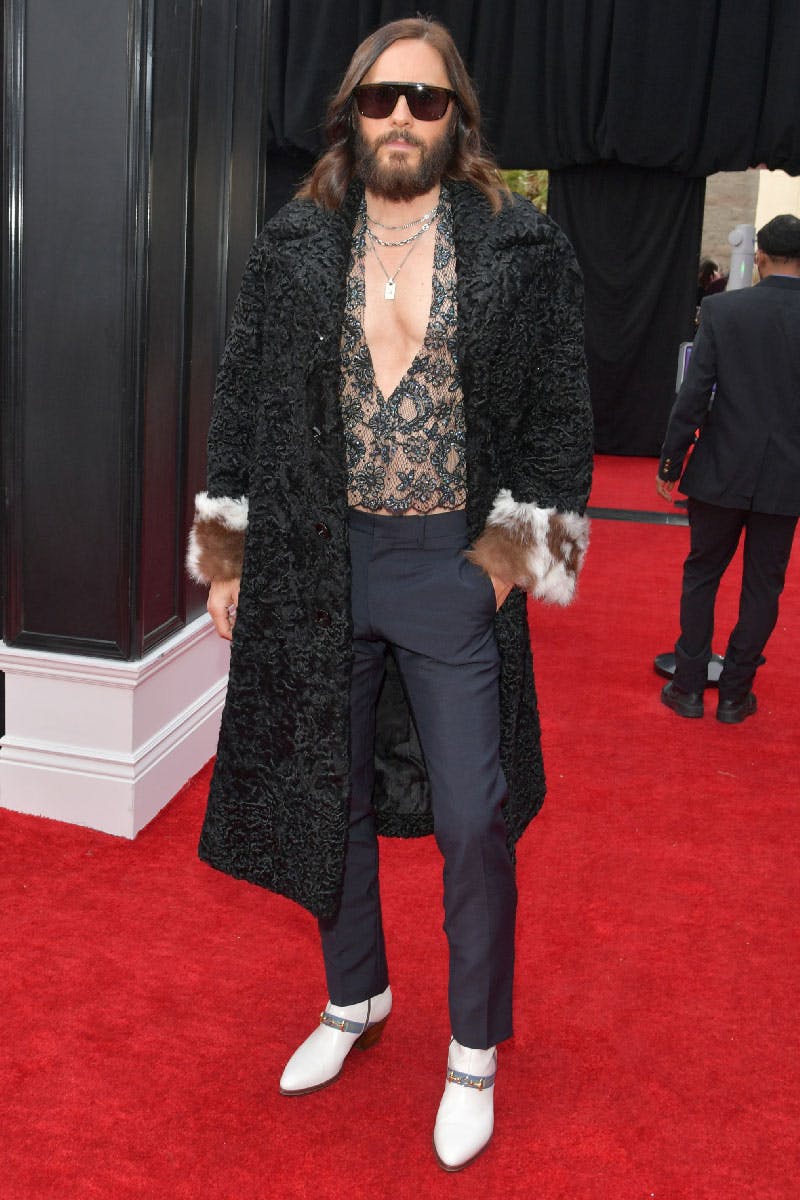 Morbius got a 17% on Rotten Tomatoes, and I'd give this outfit about the same rating. Sorry.