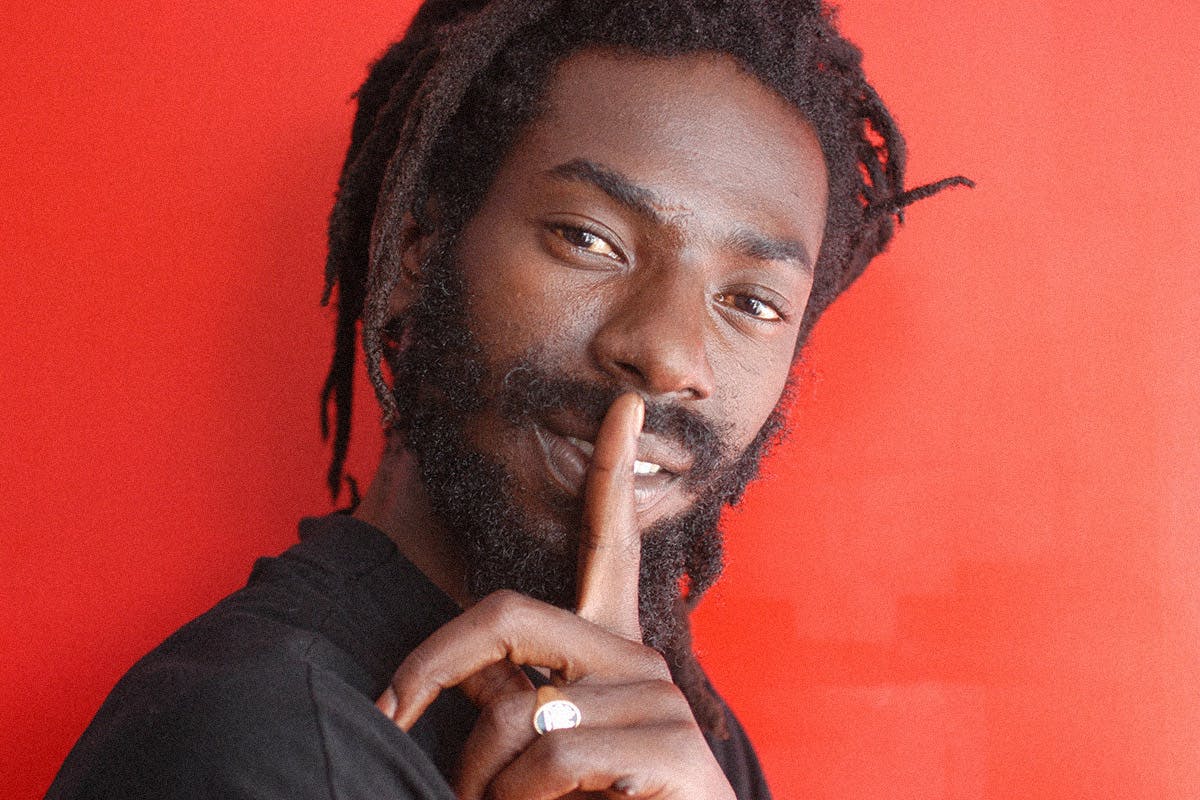 This past Sunday, Supreme shared a very special video with its 12.9 million IG followers. The clip features Buju Banton toasting over King Tubby's dub version of the classic "Love I Can Feel" riddim. Capturing a spontaneous moment of celebration, the video was shot just after the legendary reggae artist wrapped up a Supreme photo shoot at his Gargamel Music headquarters in Kingston, Jamaica. The voice you hear in the background throwing out ad-libs—"Oh Gosh!" … "Really & truly!"—is my own. Something magical happened in that moment, as it often does on this magical island. Right place, right people, right time.
I've known Buju since 1993, before he started letting his dreadlocks grow. At the time I was a senior editor at a new magazine called VIBE and Buju was the biggest dancehall artist on the planet. Fresh off the success of his classic album Mr. Mention, Buju had so many #1 tunes in Jamaica that people were comparing him to Bob Marley. Descended from Jamaica's Maroon freedom fighters, the youth born Mark Myrie was the youngest of 15 children raised in a humble abode on Salt Lane, a desolate stretch of road in the slums of western Kingston. As a teenager he began deejaying (Jamaican slang for rapping) on local sound systems, using the microphone to transform his life, speak truth to power, and give voice to the voiceless.
When we first met he'd recently signed a deal with a major American label that would result in two more landmark albums: Voice of Jamaica and Til Shiloh. I will never forget hearing Til Shiloh for the first time inside my office at VIBE. Buju brought a cassette and we closed the door and turned up the sounds. "I'm living while I'm living to the Father I will pray," he sang on "Untold Stories," one of the album's most haunting tracks. "Only H.I.M. know how we get through every day…"
Oddly enough, there was no elaborate plan to make this historic collab happen. It started as a casual conversation with an old friend from VIBE days who recently joined the Supreme team. "Are you going to the Buju show?" I texted him, referring to Buju's triumphant homecoming concert at Jamaica's National Stadium.
Performing before a crowd of more than 30,000, Buju became the first artist to headline that prestigious arena since—you guessed it—Bob Marley. The emotionally charged stage show kicked off Buju's ongoing Long Walk to Freedom Tour (named after Nelson Mandela's autobiography), a well-deserved victory lap following nearly a decade behind bars. The artist had been set up by a paid government informant and convicted on questionable charges following not one but two problematic trials. Refusing a plea deal on principle, Mark Myrie did his time and finally returned home last December.
After spending time reconnecting with his family, he released his first recordings—the blazing sociopolitical critique "Country For Sale" as well as "Holy Mountain" and "Holy Ground," which open and close DJ Khaled's Father of Asahd album—leaving no doubt that Buju's lyrical sword is sharper than ever. Aside from a brief statement to Boomshots, the media platform I founded in the 2000s, Buju has not given any interviews. Rest assured that the Banton has nuff things to talk about when he is good and ready. In a way, this collab is part of that conversation.
The Supreme squad didn't make it to that first show, but a seed was planted. Boomshots was soon setting up conference calls with Buju's management team and the iconic skate brand's creative director. Before we knew it the date was set. I flew down with Reshma B a reggae journalist and filmmaker who's been a key Boomshots contributor, to meet up with Supreme's production crew for the shoot. Reshma wrote the first major piece about Buju's homecoming for Billboard and she's had a great vibe with him since they met. Our main priority was to make sure Buju felt comfortable and that everything flowed smoothly. It was good to see Buju's father at Gargamel HQ that day, as well as Buju's sons Markeem (who helps with his dad's social media), and Jahazeil (who's following his father's footsteps into the music business). They seemed more excited than anybody over what was about to happen.
Supreme couldn't have asked for a greater Photo Tee to celebrate its 25th anniversary. Buju joins an eclectic pop culture pantheon that includes Raekwon, Kate Moss, and Kermit the Frog. Judging by the initial IG comments, public reaction has been divided between ecstatic jubilation and too-cool-for-school remarks like "What do these hypebeasts know about Buju?" My hope is that the collaboration will introduce a world-renowned, GRAMMY-winning artist's music and message to a new generation.
Of course, this whole thing is about so much more than a T-shirt. "Forward Ever," Buju wrote on one of the box logo tees with a Sharpie. "Stand Firm." I was happy to see this handwritten inscription included on the final shirt design. Name-checking classic songs by Jacob Miller and Peter Tosh, Buju made clear that he is determined to use every available platform to advance his lifelong mission of upliftment. The Long Walk to Freedom continues.
Rob Kenner is a founding editor of VIBE magazine and has written extensively on reggae and hip-hop. He's held posts at Complex, BET, and Mass Appeal. In 2008, he founded Boomshots, one of the internet's most comprehensive sites about reggae culture and its most prolific artists.