We don't need to tell you that the hype around Supreme is crazy these days. We also don't need to tell you that the Box Logo hoodie, aka the "Bogo" hoodie, is pretty much the Holy Grail of Supreme pieces. With the brand's beyond-iconic logo embroidered on the front, and cut with an extra-cozy, high-quality Canadian fleece, it's an absolute no-brainer for those who want to show their allegiance to the 'Preme.
The hoodie tends to drop toward the end of Supreme's fall/winter season and has been a staple of Supreme collections for decades — although sometimes they'll switch it up for a crewneck — and there's tons of them on the resell market. Unsurprisingly, they cost a lot from resellers— the average price for a bogo hoodie on Grailed is around $450-500. That's a big, big markup from its $148 retail price.
Supreme's fanbase is huge now, and the brand hasn't changed its less-is-more business model, so copping stuff online is really, really tough these days. According to Comscore, Supreme's website has an average of 660,000 unique visitors per month. Six hundred and sixty thousand. That's roughly the population of Boston. Naturally, the hoodie sold out in a matter of seconds on both EU and North American webstores when it dropped back in December.
@splay, Supreme's head of all things internet, reported that the brand's server had a staggering 1.9 billion requests on the day the hoodie dropped last year. "That's a lot" according to Highsnobiety's in-house tech squad.
It's not easy from a retail location either. Lines stretch on for miles, and last season Supreme NY attempted to introduce order into proceedings via a ticket system, but that seems to have failed miserably, as hundreds of kids looking to buy a Supreme Box Logo hoodie swarmed security.
Basically, you're going to find it really, really hard to get your hands on a hoodie unless you know exactly what you're doing — and have a lot of luck.
Here's a guide on how to buy a Supreme Box Logo hoodie when it drops later in the year. You can also use this as a rough guide on how to buy a Supreme hoodie of any style online — or any of the brand's other hysteria-inducing pieces, for that matter.
Be warned, though, you'll be up against a lot of competition, so success is by no means guaranteed.
Know What You Want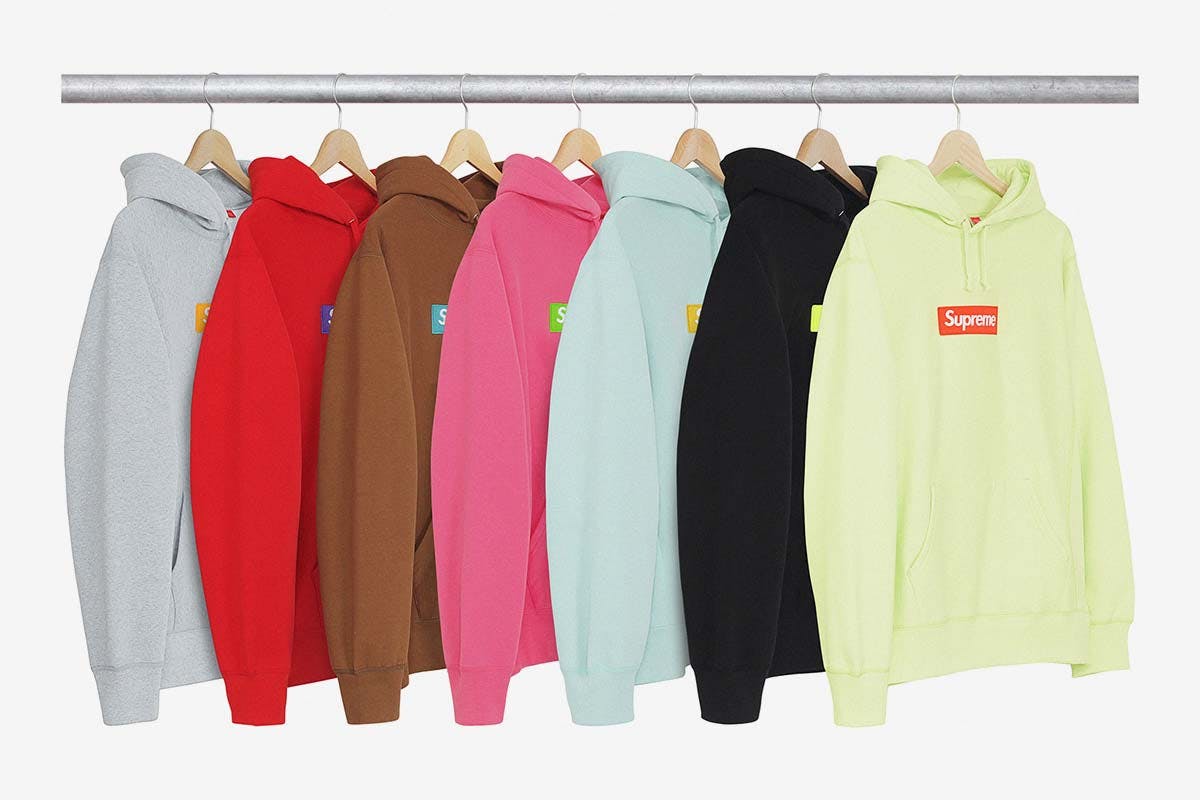 Make sure you know what size and colorway you're after. As a rule, size smalls sell out quickest — "most of that stock goes to Japan" according to Reddit user @_tonight. Special colorways — last season's was peach — will fly out, too, and black and grey are popular options as well.
Preparation Is Key
Supreme's North American online store is updated at 11am EST, while the UK and EU stores go live at 11am GMT.
Make sure you've got your card details and delivery address to hand. Your card's billing address needs to match your delivery address, and Supreme's North American store only allows for credit and debit card payments. If you're accessing the UK and EU stores, though, you can use PayPal.
Keep your eye on the clock, and hit up the Supreme online store a minute or so before 11am. You're best off hitting the sweatshirts category directly, to save time navigating the annoying main page. Reload the page every now and then until it's updated with new stock. You don't want to refresh the page too many times, though, otherwise the website might mistake you for a bot and ban your IP address.
Before you get tempted, don't try copping more than one hoodie. Supreme's online store only allows one of each item per customer. If you really must, you could try doing two separate orders with different shipping addresses, but there's a chance Supreme will cancel them both. It's gonna be hard enough copping one bogo hoodie, let alone two, so don't get greedy!
Autofill Is Your Friend
Once the store's updated, it's basically a mad rush to see who can check out with their gear the fastest. A lot of Supreme heads have taken to using Google Chrome's handy Autofill extension to shave valuable seconds off their checkout time. Autofill is pretty much standard practice for hardcore Supreme fans these days, so unless you've got lightning-fast fingers (and even if you do), you've basically got zero chance of success without it.
Here, YouTube user Chop Suey gives you a step-by-step guide on how to use the Autofill extension to cop a product from Supreme's webshop in around five seconds. Not bad.
Even with Autofill and the fastest hands in the world, success isn't guaranteed. Once you've got the product in your cart and have checked out, you might still get "cartjacked," which basically means the product has sold out before your payment has been processed. If that happens, you can always go back and try another color or size.
If your payment goes through, you'll have to just sit back and wait for your order confirmation email to come through. It usually takes minutes, but it can be a few hours in extra-busy periods — which the hoodie's drop will definitely be.
There's Always Underhand Methods (but We Don't Approve of Them)
If regular methods haven't worked, and you want to know how to buy a Supreme hoodie by playing dirty, then you could always try a bot.
If you've been living under a rock for the past year or so, "bots" are a colloquialism for a script that will automatically buy a product for you. It will enter an online store at a specified time, and instantly add a product to your shopping cart, enter your shipping and payment details and check out, in a fraction of the time it'd take you to do it with your own hands.
See here for a complete low-down on how bots work, as well as what prominent sneaker retailers think of them.
Pretty much everyone hates them, but they're inevitable when brands insist on keeping supply way under demand.
By the way, we don't approve of them, and neither does Supreme. The brand will — quite rightly — ban you if their website thinks you've been using a bot to buy a Supreme hoodie, so don't say we didn't warn you.
Splash Out on Resell
As we said before, prices on resell platforms like Grailed are really high, but you might find something more reasonable price-wise if you skip out the middle man and go somewhere like the SupTalk UK/EU Facebook group. Every Thursday, you'll see tons of users hoping to make some quick resell cash by putting the gear they copped in the morning up for sale. Your best bet though is to wait a few weeks for the hype to die down (slightly), as prices will tend to decrease a in the days following a coveted drop.
Obviously, if they've purchased something through the online store, then they haven't even received their orders yet, so you might want to wait until they actually have the goods in their hands before you commit to a purchase.
Please, for the love of god, don't send your money to anyone as a gift unless you 100 percent trust them, and don't get duped into sending money to a seller's friend or relative — you won't be covered by PayPal if you get stung. You'll want to see a receipt too, to make sure you're not buying a fake.
If you're still not successful in your quest to buy a Supreme box logo hoodie, then relax! It's just a hoodie. There's tons of dope sweaters out there (we've got hundreds on What Drops Now, our shopping channel), and there's tons of other dope streetwear brands to splash your cash on (check out some in our Under the Radar feature!).