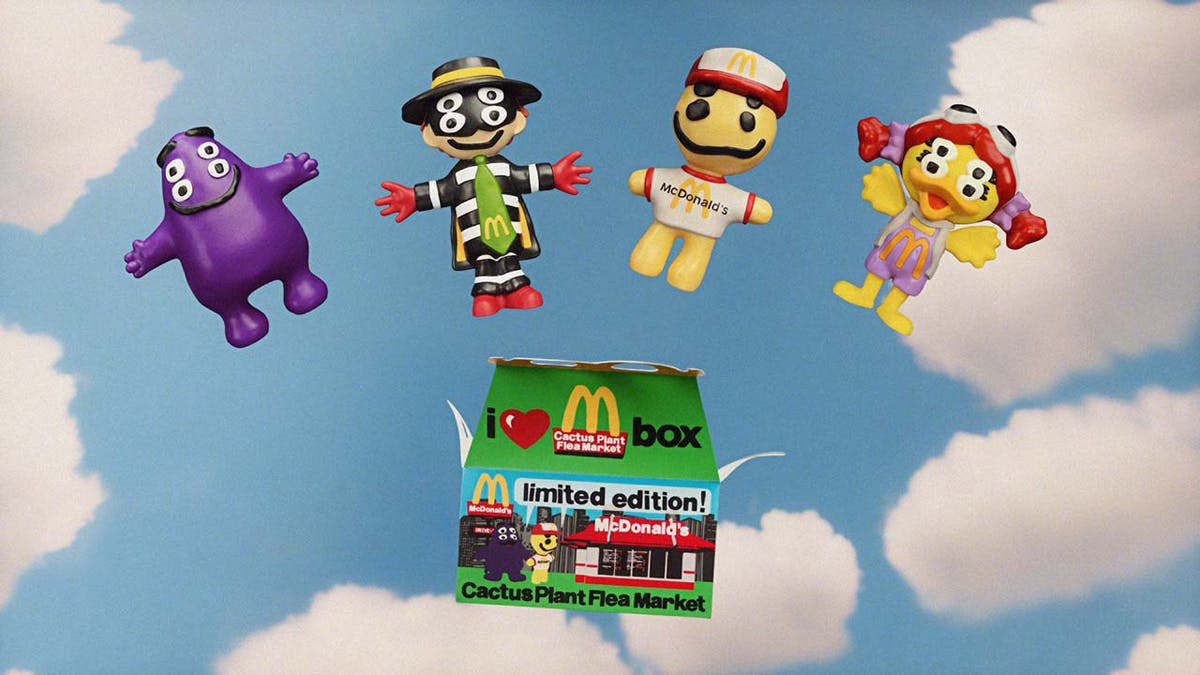 Just when we thought fast food's big-name partnerships reached their peak, Mickey D's entered the chat with it latest collaborator: Cynthia Lu's Cactus Plant Flea Market brand.
For their linkup, McDonald's looks to bring back that excitement Happy Meals gave us as kids during those rare occasions where our parents treated us to the famed kid's meal, instead of reminding us that there's food at home as they rode past the restaurant.
And thus, the Cactus Plant Flea Market x McDonald's Happy Meal was born.
Fit for all ages — technically making this the first-ever adult-oriented Happy Meal — CPFM's special McDonald's menu includes the choice of a Big Mac or 10-piece chicken nuggets meal, which comes with a drink and those hit-or-miss fries — all packaged inside a limited edition collaborative box (expect even the empty boxes to be flipped for resale online).
Like any kid-friendly Happy Meal, CPFM's adult version naturally comes with one of four collectible toys. Customers may be greeted by one of the three double-eyed versions of McDonald's longtime characters or CPFM's own smiley figure. By the way, did you know its name is Buddy? The more you know.
Sure, it's cool to see McDonald's mascots turned into otherworldly creatures at the hands of Lu. But, nothing will beat those days when Beanie Toys, Hot Wheels, and My Little Pony collectibles were waiting inside the golden arched box.
Now for Cactus Plant Flea Market lovers who could care less about a heaping burger and salty fries, there will indeed be calorie-free merch up for grabs, which will release in tandem with the meal box.
The collection — some collaborative tees and hoodies — will only be available during a particular time slot on the CPFM x McDonald website from October 3 at 11 a.m.
However, Mickey D's fans who purchase the CPFM box through the restaurant's app will also get the chance to win weekly merch drops and grand prizes like a two-eyed chair inspired by McDonald's Grimace figure.
Did we really need a Cactus Plant Flea Market x McDonald collab? No, probably not. It's not even the biggest collaboration coming from CPFM in the near future, really.
Some of us would much rather see those muddy puddle Nike sneakers or Grinch Dunks finally be released.
But, the CPFM x McD collab is indeed happening so better get prepared.
If nothing else, the Cactus Plant co-sign is a notable boost to McDonald's star-studded roster of hyped collabs, which already includes names like Off-White™, BTS, J Balvin, Travis Scott and, most recently, Kanye West (excuse me, Ye).
Speaking of, where's that Yeezy Meal?