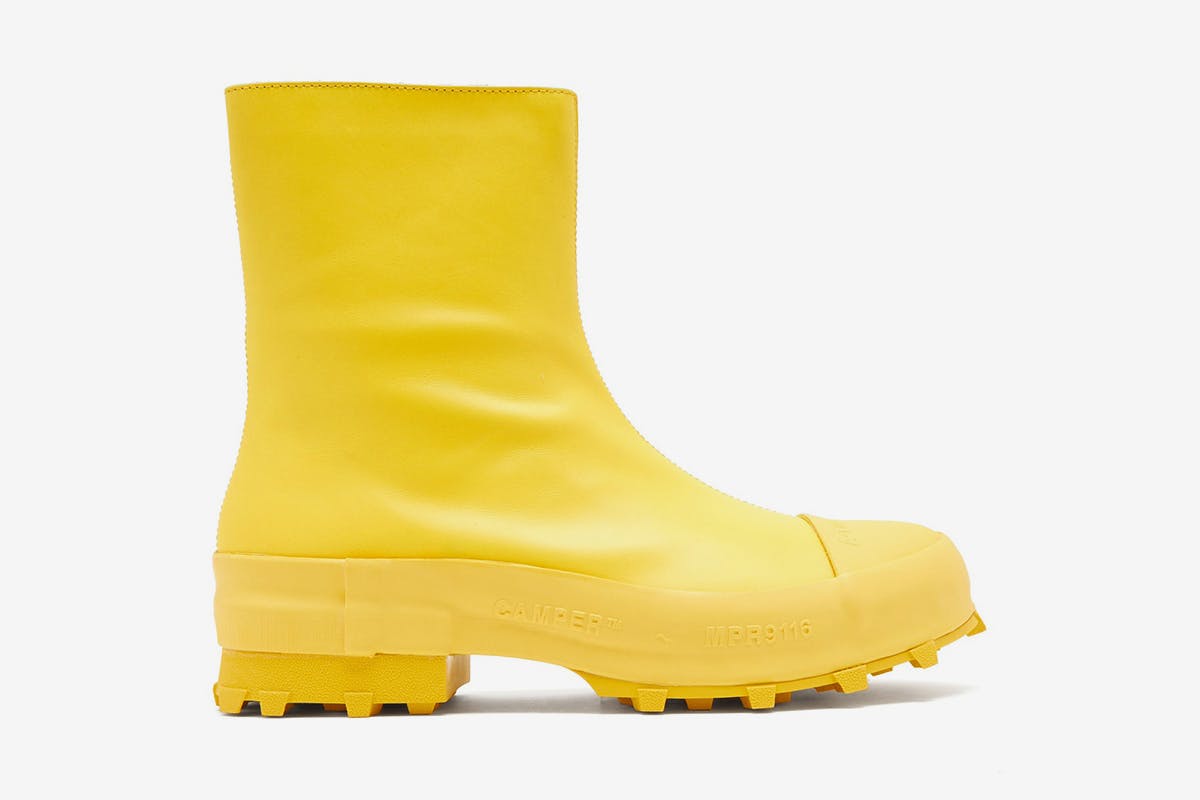 Fall and winter are coming whether we like it or not, and that means a drop in temperature and less-than-favorable conditions. Not only does the change in seasons calls for a revamp of your wardrobe from a style perspective, but it also means taking a new look at your clothing and footwear in terms of effectiveness. We're excited to dive into the world of boots this season. With new creative director Achilles Ion Gabriel at the helm and taking things in bold directions, Camperlab is very hard to ignore this season.
Camperlab's new footwear has a distinctive industrial edge, to the point that you can almost imagine dystopian factory workers treading through a desolate warehouse in the stompers. That's the beauty of Camperlab's most recent collection. Whether you're looking for something utilitarian to keep your feet dry over fall and winter, or an avant-garde showstopper to go with your new-season wardrobe, the selection of Camperlab boots has a style with your name on it. Our attention was piqued by a new arrival to the collection — The Traktori Boot is hard to take your eyes off, and even harder to forget about so we rounded up our favorite iterations of the new style.
Shop the best bits from Camperlab's new season footwear below.
Camperlab Traktori Leather Boots
Resplendent in yellow, the Traktori Boot takes on a whole new life. It no longer looks like the highly effective, military-inspired boot that it did in khaki. In bright yellow, it's much more playful but it might take a bit more confidence to style.
Camperlab Traktori Studded Combat Boots
The Traktori Boot takes inspiration from army styles with a studded sole unit and a definitive military color palette. This is the only pair of lace-up boots in today's roundup.
Camperlab Traktori Zipped Ankle Boots
Sticking with the khaki palette, but removing the laces, this pair of leather boots may well mark a new age for wellington boots.
Camperlab Traktori Zipped Ankle Boots
This pair of Traktori Boots is outfitted with immaculate white leather uppers and the classic vulcanized rubber sole unit. In all-white, this pair feels like something from a very stylish lab sent back from the future.
Camperlab Traktori Zipped Ankle Boots
And, one the other end of the scale, this all-black pair feels as stern and militaristic as boots come. They'll add a rugged edge to your fall/winter looks.
Our designated Selects section features products that we love and want to share with you. Highsnobiety has affiliate marketing partnerships, which means we may receive a commission from your purchase.