The 4ème édition of Not In Paris is finally here. With over 20 brand collaborations and exclusive content, it's our biggest one yet. Explore the series here and shop the collection here.
Caviar Kaspia is your favorite celebrity's, favorite restaurant. Found in Paris's eighth arrondissement on the Place de la Madeleine, for almost a hundred years famous faces have succumbed to the elegance of the restaurant and its famously first-class caviar.
Opened in 1927 by Russian immigrant Arcady Fixon, it joined Paris at the height of the roaring twenties and its decadence. Since then, the fine-dining restaurant has continued to embody the excess and prosperity that was prevalent when it first opened, and can count Jay-Z and Beyoncé, Raf Simons, Yves Saint Laurent, John Galliano, and Tom Ford, among others as its patrons.
The restaurant's distinctive blue table cloths and a glass case holding the seal of Nicolas II have set the scene for many a conversation that you would kill to be a fly on the wall for — a role that it plays most frequently during fashion week.
The Haussmann-style building spends the week filled wall to wall with the industry's upper echelons. On any given day during fashion week, you could find A$AP Rocky at a dinner hosted by Dior, Kanye West partying in a diamond-encrusted Jacob & Co. chain, or Rihanna being interviewed for a profile in Vogue. Last season, Off-White™ debuted a two-week takeover of the space, in honor of what the brand called Virgil Abloh's favorite spot.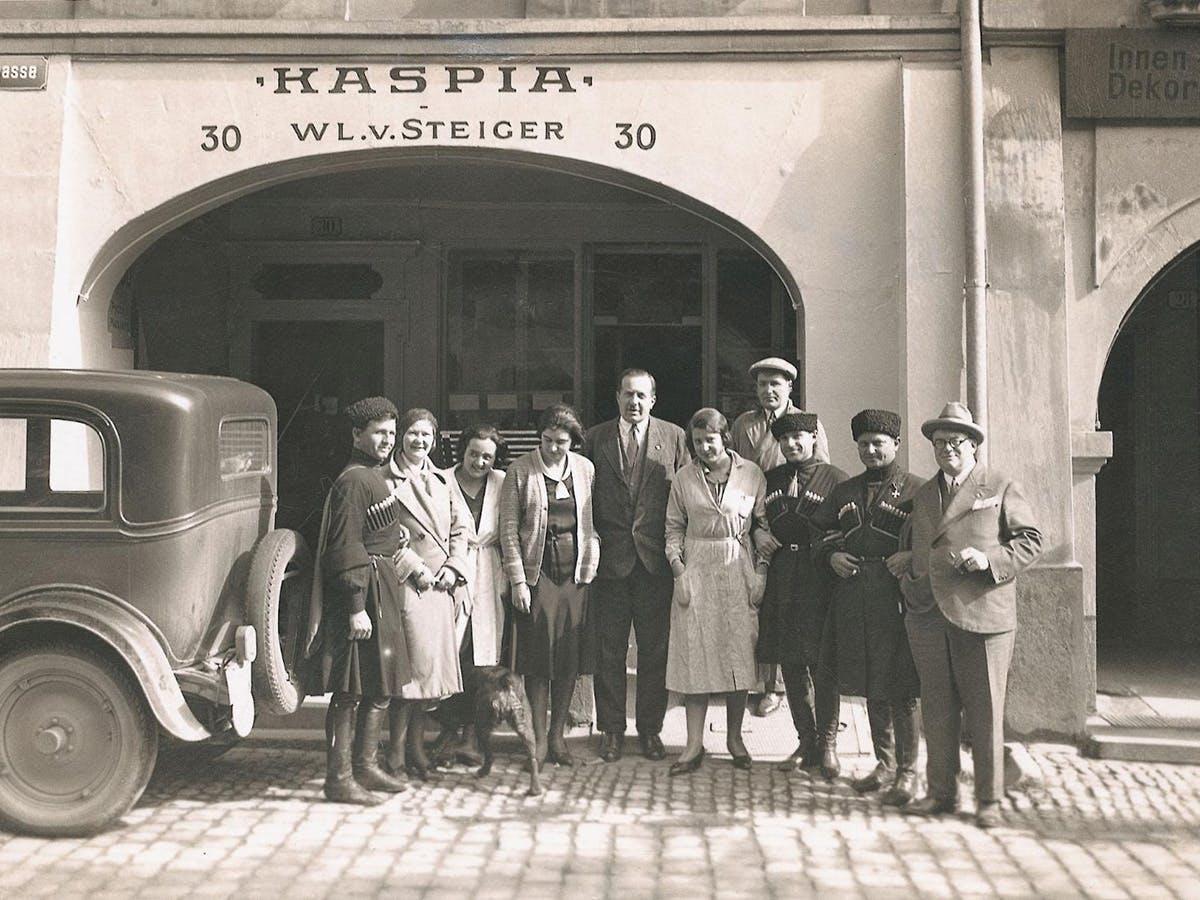 Staying a family-owned business, its old-school opulence has remained and is central to its charm. Fixon's vision of creating a high-end institution serving delicacies from yesteryear has stayed alive. However, that has not stopped it from continuing to expand and spread the word about its finest Caviar — and the best way to eat it.
It's safe to say that almost everyone has eaten a baked potato, whether it be served in a school canteen or by their grandma. An unglamorous and simple meal, it might come as a surprise that it's the signature dish at Caviar Kaspia. However, this is not your average baked potato. The twice-baked Samba potato from Brittany is topped with heaps of the finest (you guessed it) caviar and served with fresh cream, a sprinkling of chives, and a shot of its finest vodka — if you're that way inclined, of course.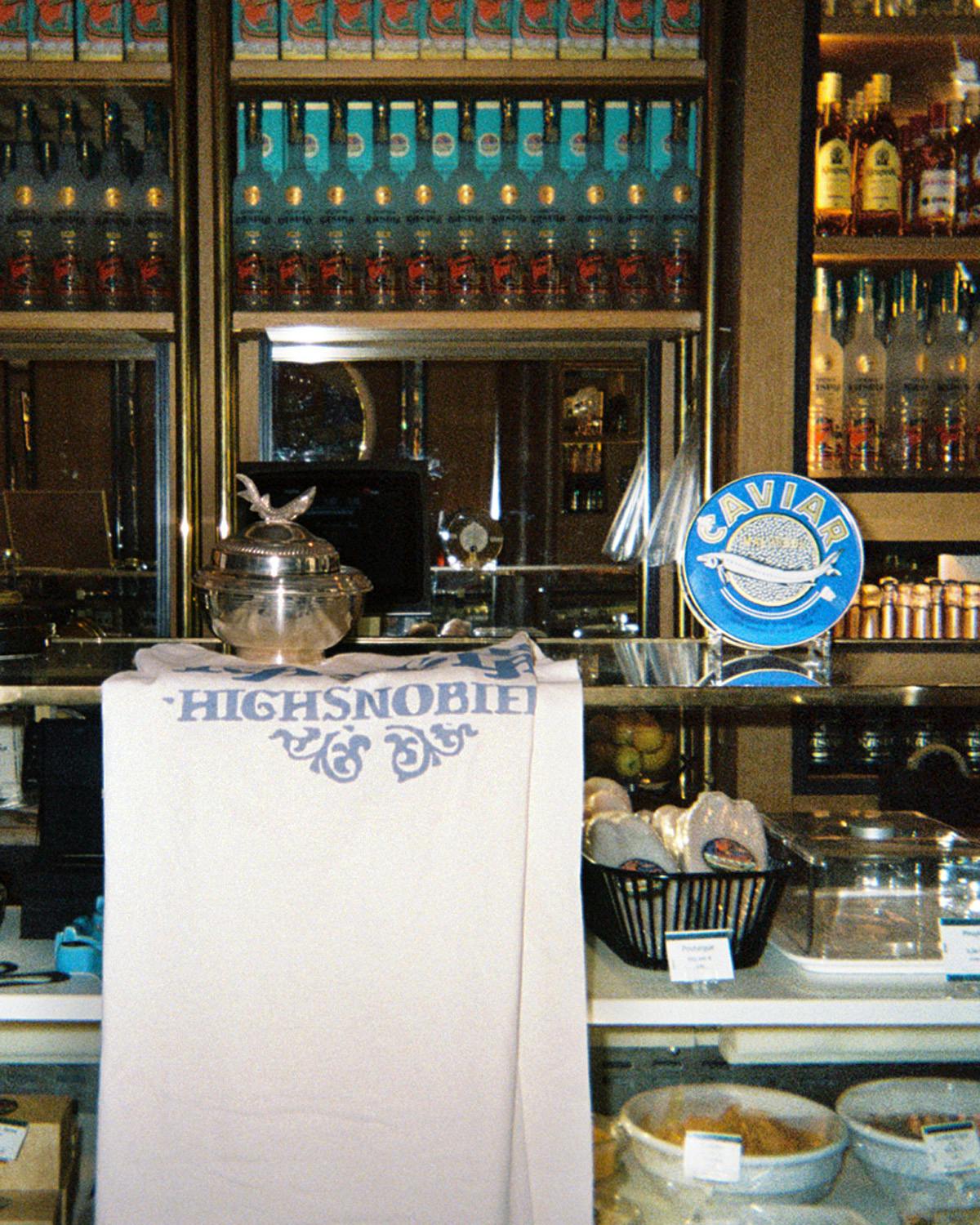 Beyond its hometown of Paris, Caviar Kaspia also frequently opens pop-up boutiques and has outposts in Dubai and Sao Paulo, and is opening a Saint Tropez location on July 1. Set to join these are two upcoming locations in America opening in New York and Los Angeles, as well as one in London arriving right in time for fashion week this September.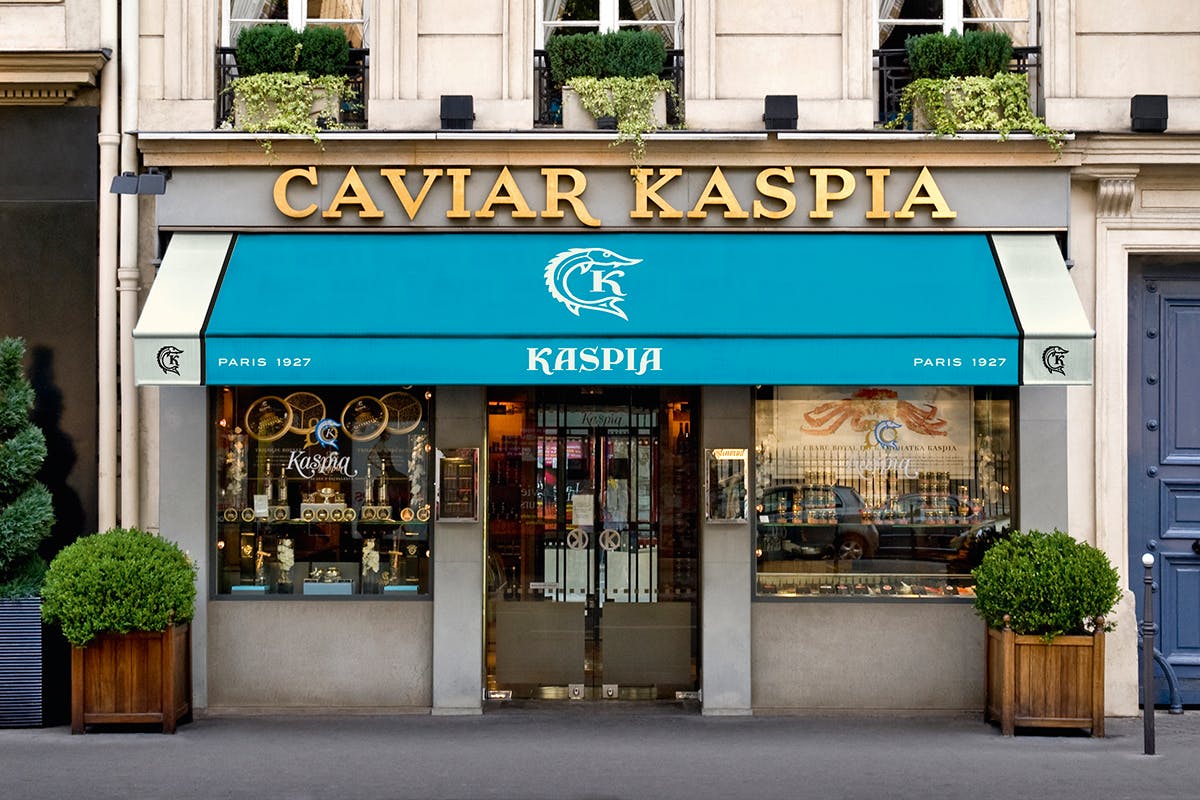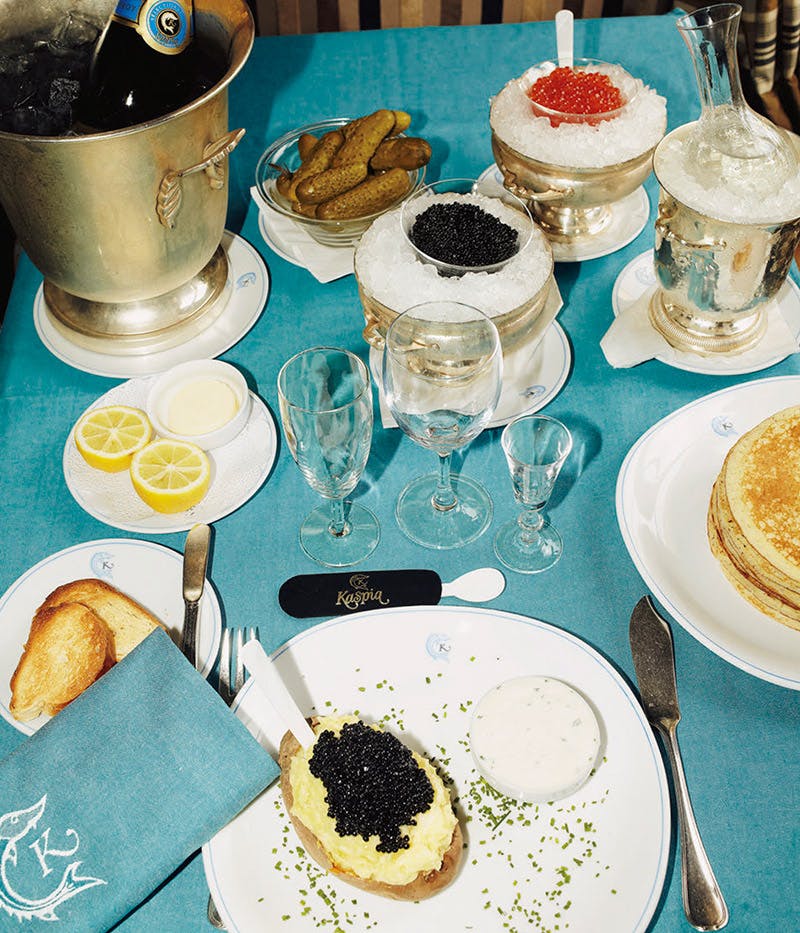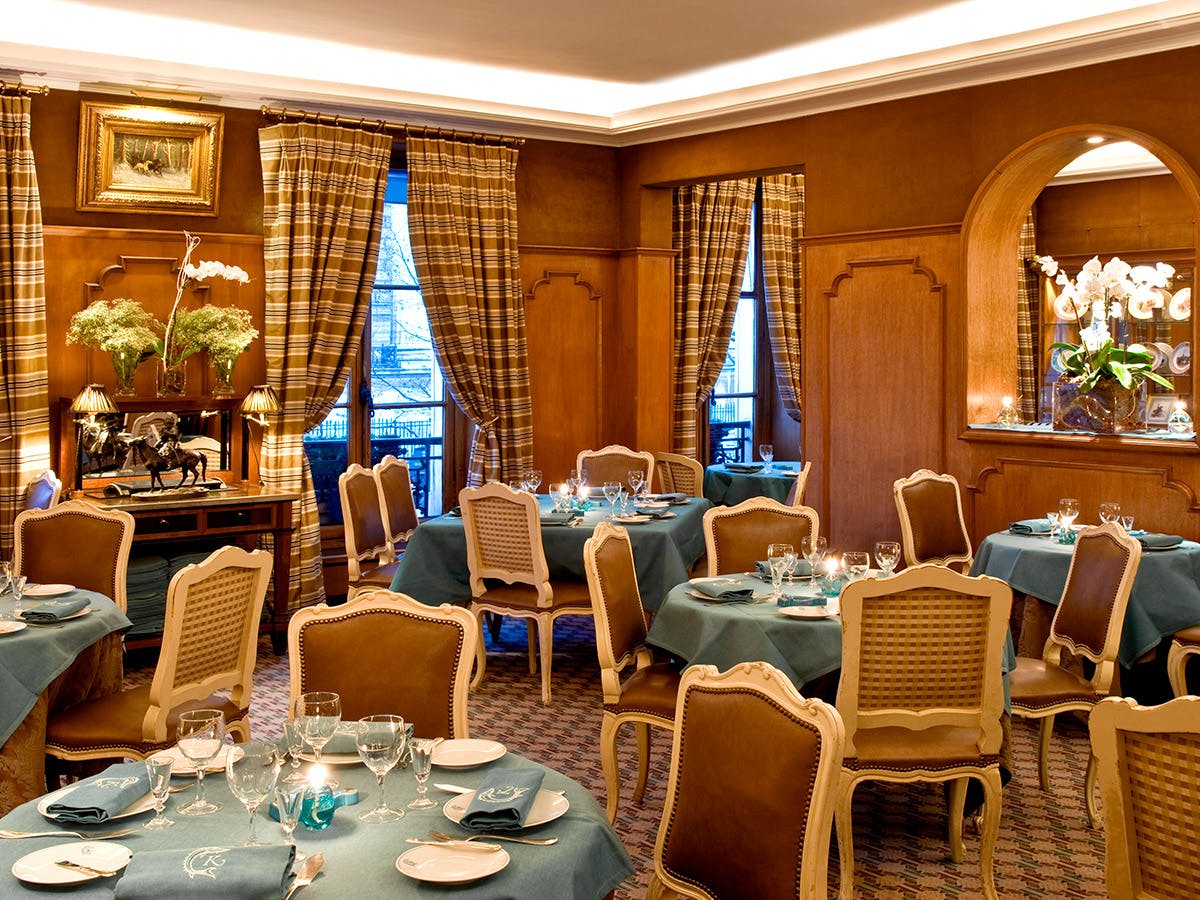 To celebrate its role as the French fashion canteen, we've launched a capsule collection celebrating the restaurant as part of our Not In Paris flagship. It's a taste of the Parisian institution, without the vodka shots and decadent seafood (and the resulting bill).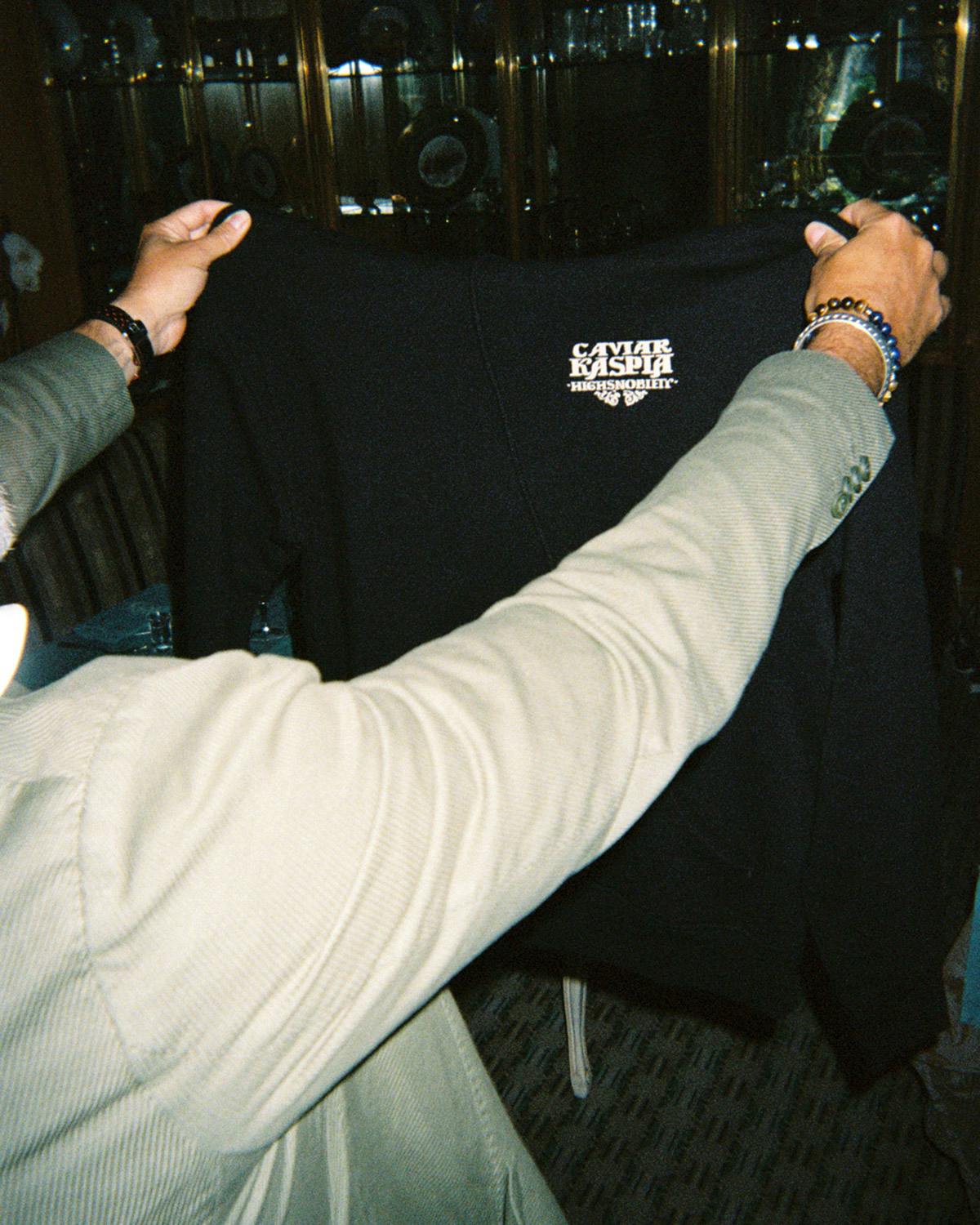 Featured in the drop are a graphic hoodie and a t-shirt that transport the typeface from the gold sign above its front door onto its left chest. The latter also includes the design that can be found on tins of its signature fine caviar — a sturgeon swimming in the water while an old wooden ship sails above it.
The release is available now, online at the Highsnobiety Shop and in-person at our Paris pop-up, at 35-37 Rue des Francs-Bourgeois, 75004.