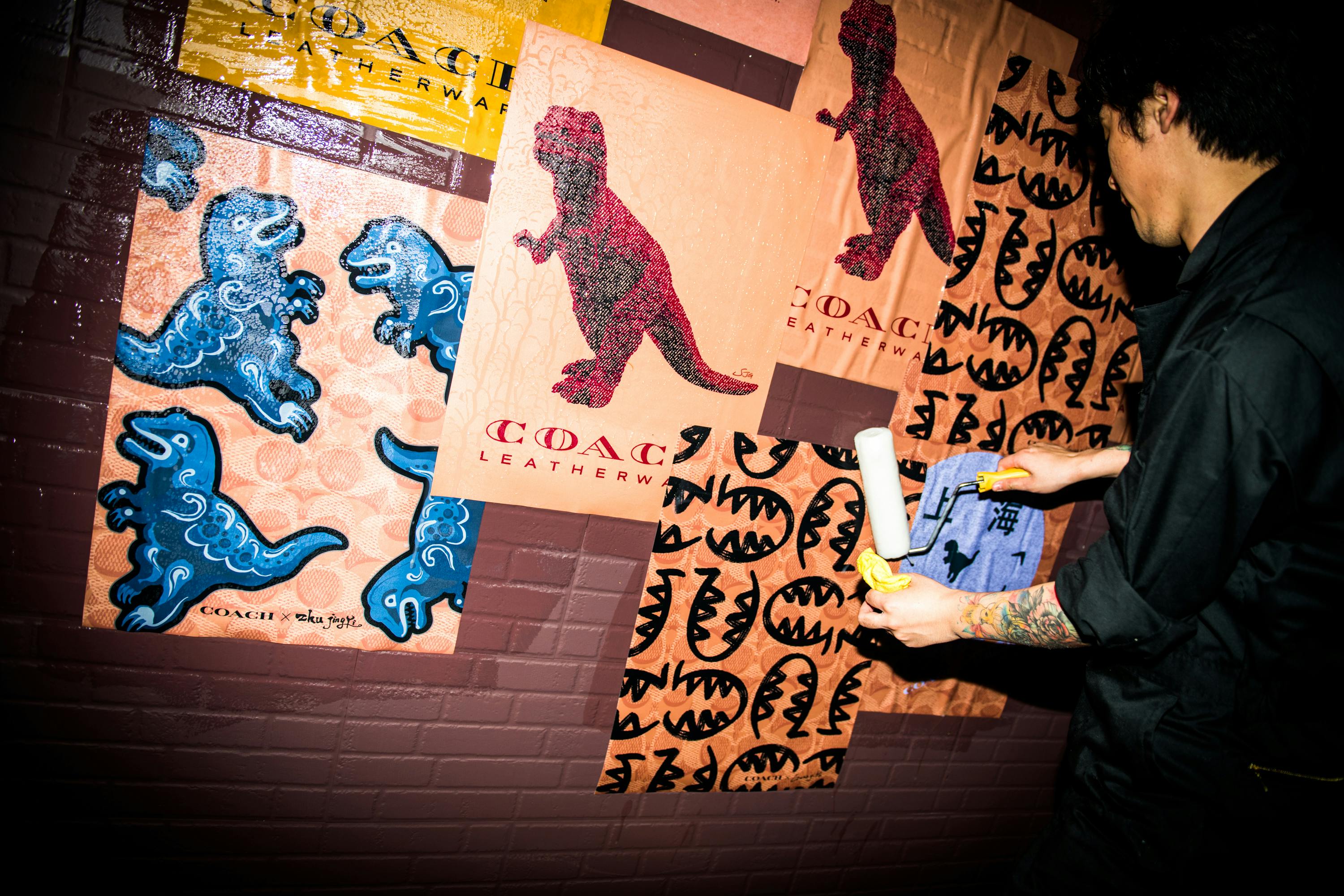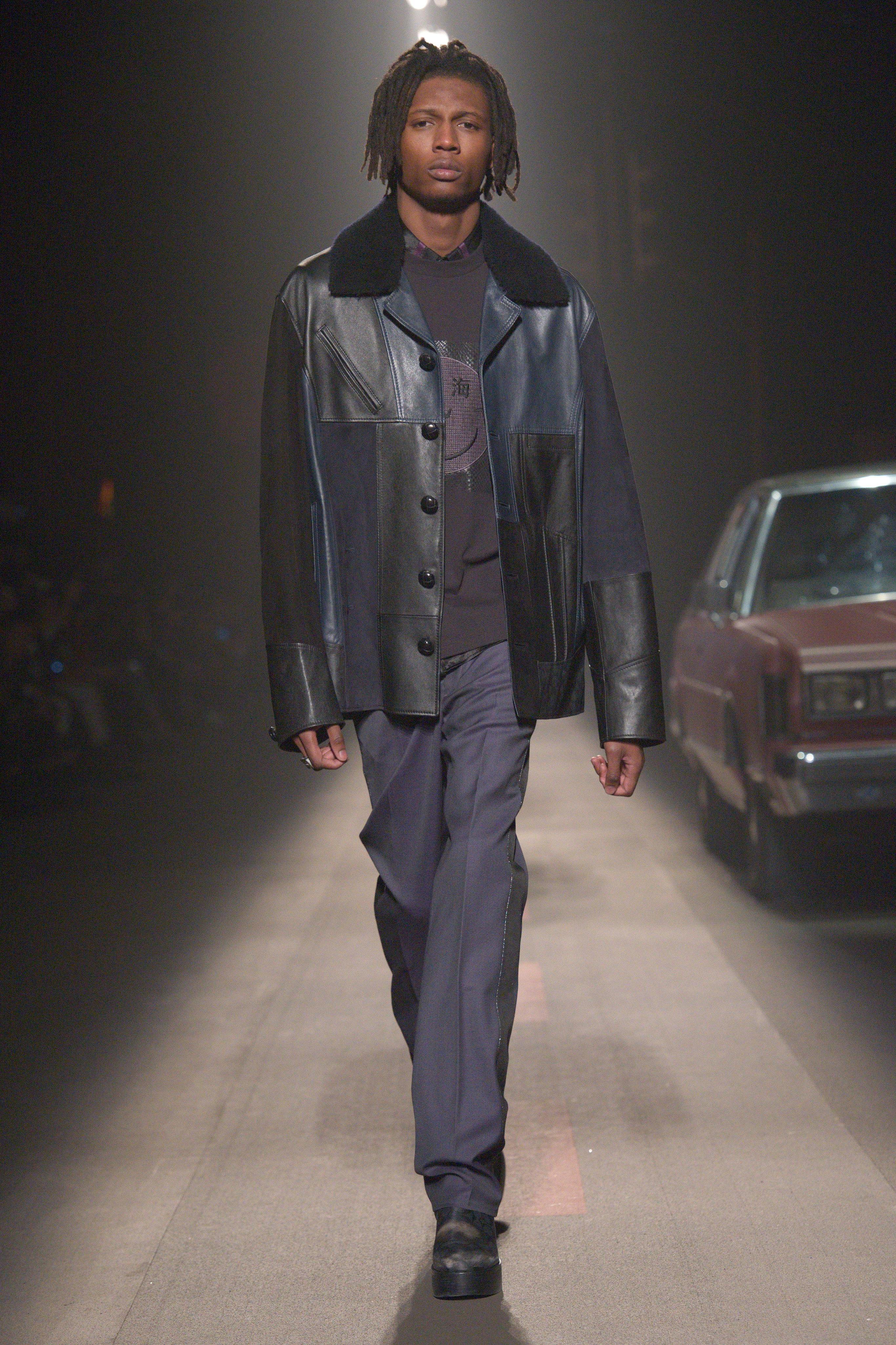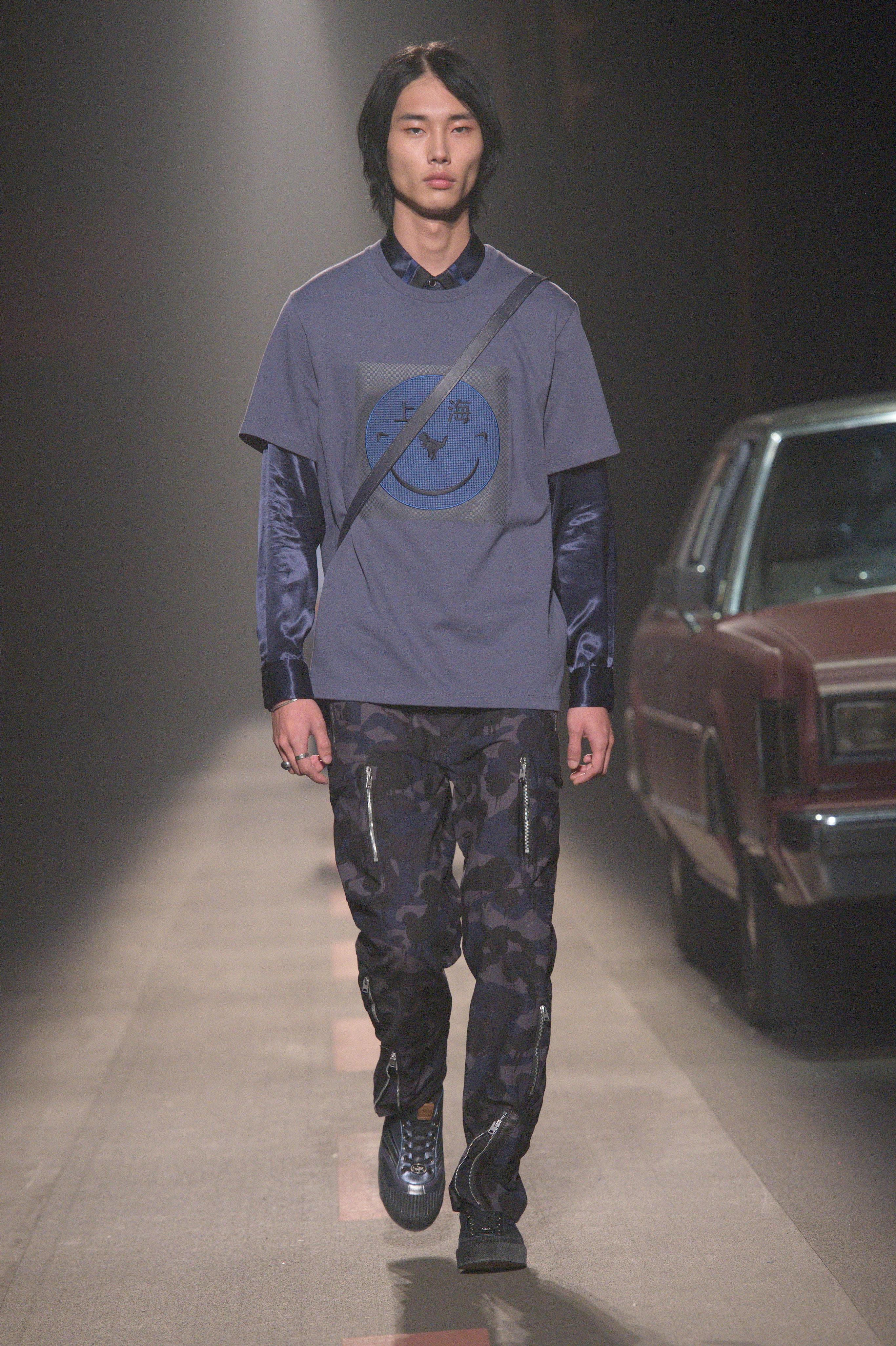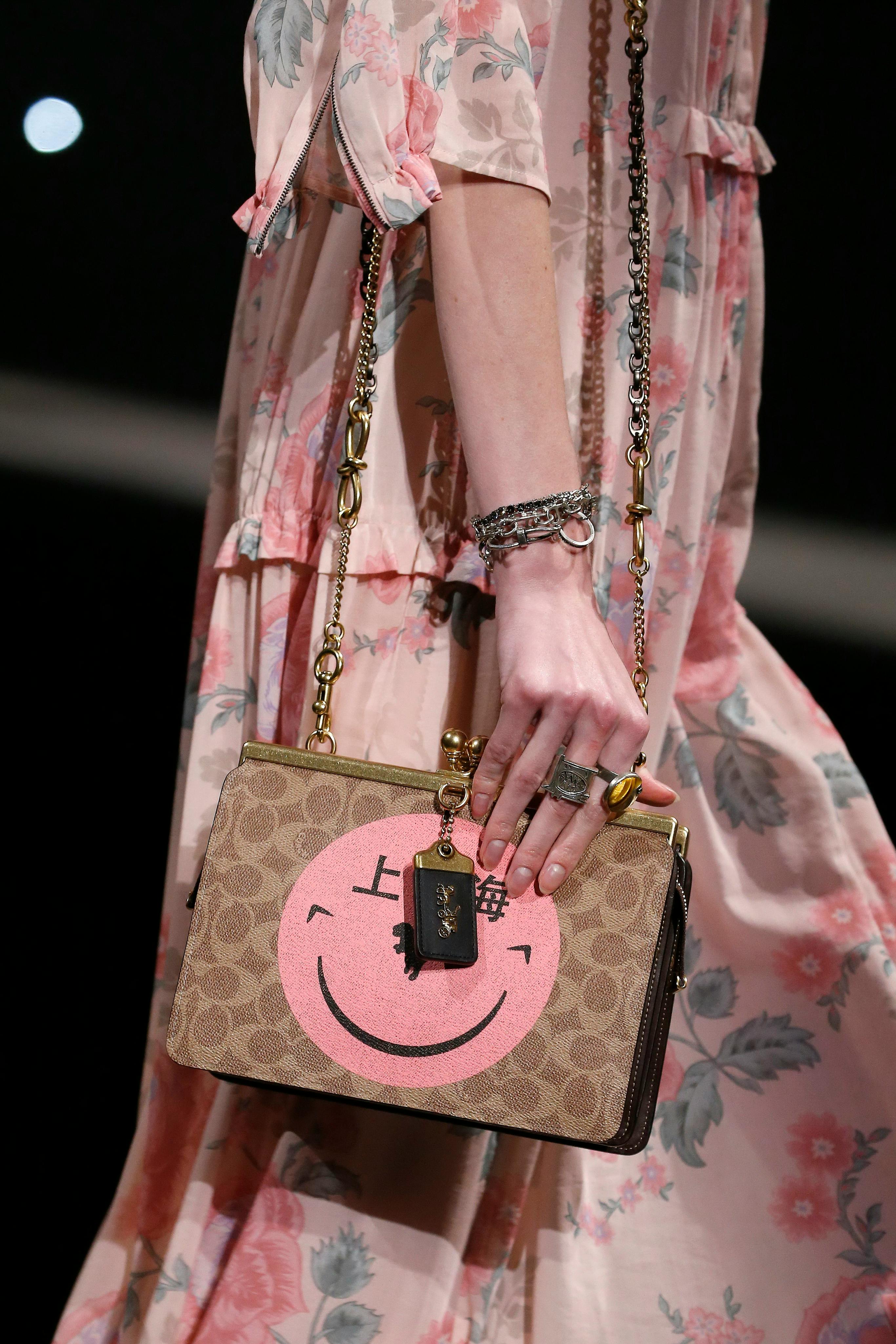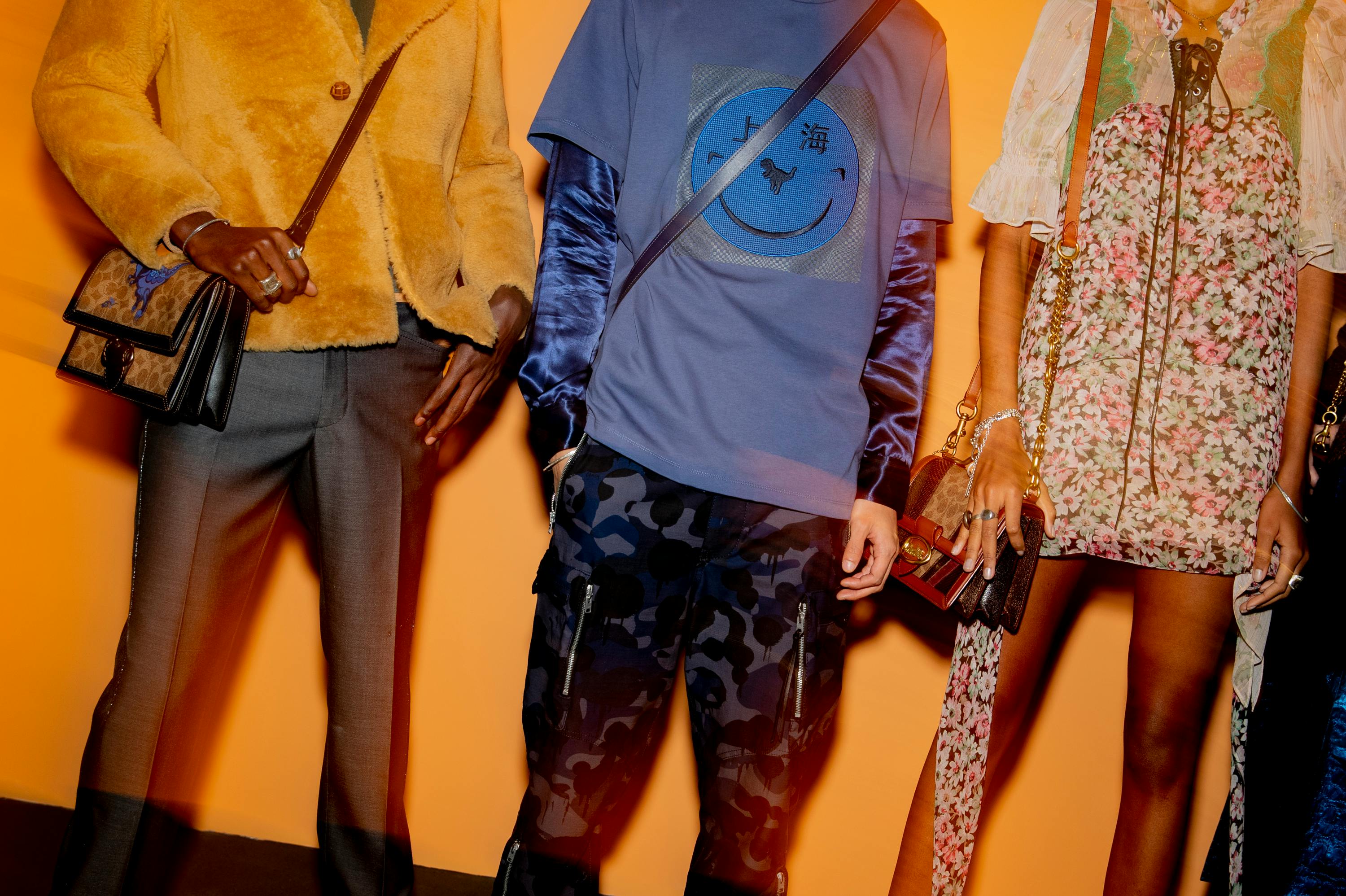 Coach presented its Pre-Fall 2019 collection in Shanghai this weekend. The event, dubbed "Coach Lights Up Shanghai," marked the American fashion label's first fashion show in China, and fused their American roots with some of the city's most promising creatives.
Set against the backdrop of a 1970s-era New York City street, the runway facade included several neon lights for bars, butchers, and even a movie theater with a marquee. Partly inspired by the era's rockers like Alice Cooper, the glam-rock aesthetic trickled down into creative director Stuart Vever's vibrant clothing and accessories.
To show the brand's appreciation for Shanghai's bustling subcultural scene, they tapped several locals to reinterpret Coach's dinosaur icon, Rexy. That included sculptor Sui Jianguo, illustrator Zhu Jinyi, and street artist Guang Yu, all of whom reinterpreted Rexy in mediums ranging from ink drawings to graffiti prints.
Coach also tapped music collective and nascent apparel line YETI OUT, consisting of twin brothers Thomas and Arthur Bray and Eri Ali, on a graphic inspired by acid house and their youth in Manchester, the British city with a rich musical heritage that Coach's Stuart Vevers is very familiar with himself.
"He's from just outside Manchester, a northern city just outside Manchester," says Thomas Bray. "He used to catch a train into Manchester just to go to Hacienda."
The smiley face graphic from YETI OUT incorporates Rexy as the nose. It's inspired by the heyday of Factory Records, which was a bit before Bray's time spent going out at Manchester clubs, but nonetheless helped influence his musical preferences now.
"I spent my university years in Manchester and was exposed to all kinds of different music," adds Bray. He remembers frequenting a club called Paradise Factory—which was actually housed in the former office of Factory Records.
The Bray twins met Vevers through a mutual friend in Shanghai, and the collaboration came together in the span of a month. During the same week, YETI OUT also released a collaboration with Boston-based streetwear boutique Bodega and Los Angeles streetwear brand PLEASURES.
Coach's show occurred the same time as INNERSECT, the Edison Chen-founded convention where releases like the CLOT x Jordan Brand "Terracota" 13s dropped as well as Bodega's Shanghai-inspired Reebok collaborations. For Thomas Bray to go from spinning at the Bodega booth to spinning the Coach afterparty really exhibits how the line between streetwear and luxury fashion has blurred on a global level. He also feels that Coach choosing to work with him and other Shanghai-based artists is a strategy that makes perfect sense.
"It's definitely good to work with local culture and local creators," he says. "I think it's a very sensible move because you've got to respect the culture and what's happening locally in order to speak to the audience."
Now check out the Highsnobiety Japan x YETI OUT Tokyo-exclusive collab.