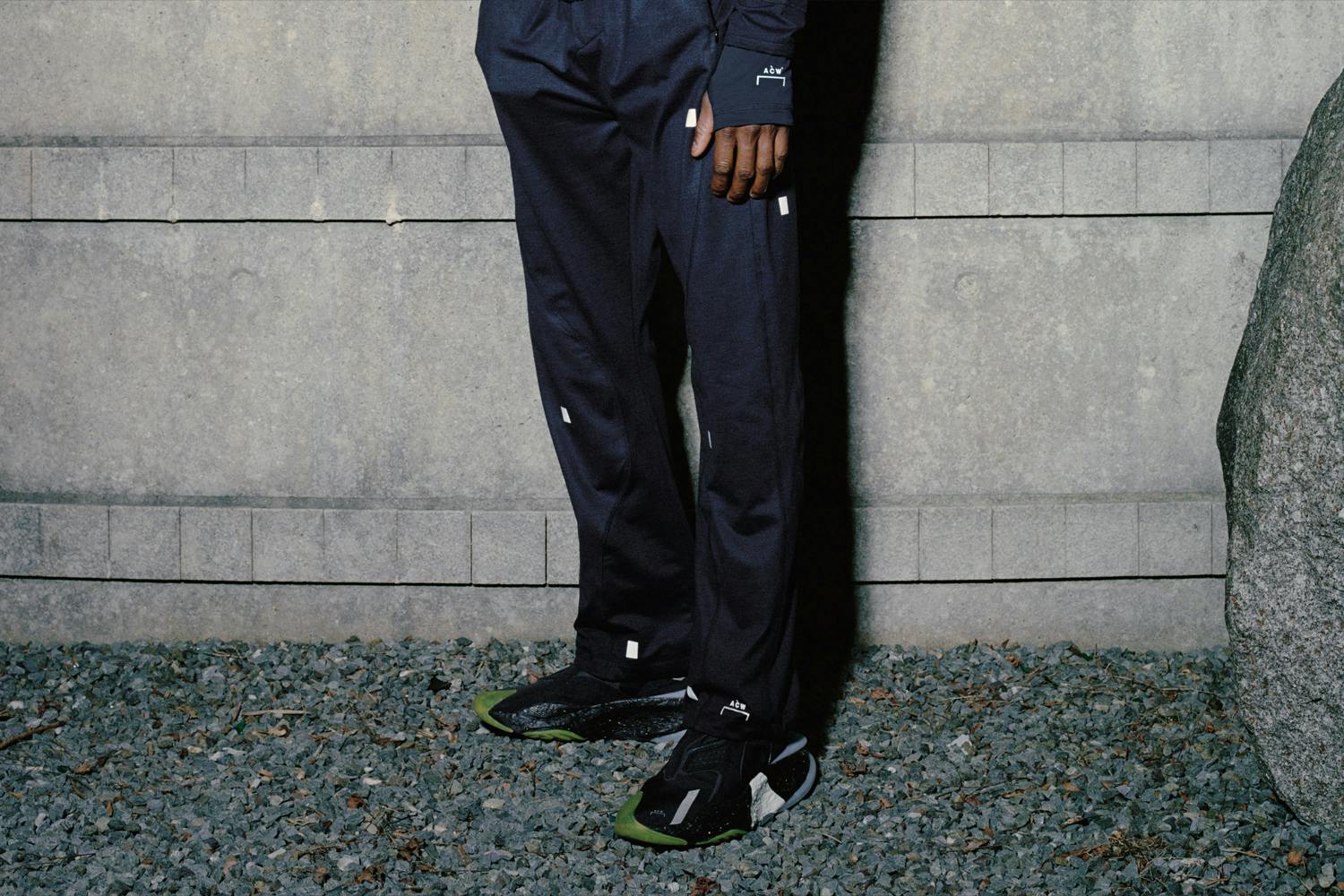 Converse has provided us with a glimpse into the future of sneakers and it's chunky, laceless, and lightweight.
Since the shoe was first teased by its collaborator A-COLD-WALL* on Instagram in June of last year, the Aeon Active CX has piqued our interest due to its unorthodox design. It only takes a quick glance to see that it is a shoe that breaks convention in favor of a space-age aesthetic. A layered material upper is a nod to Converse's archive of performance footwear, however, that's where the nostalgia ends.
This shoe might not fit seamlessly into the American label's iconic range of sneakers, but Converse's aim was to innovate.
A-COLD-WALL*'s founder and creative director Samuel Ross tells us that "change comes from disruption," something that Converse knows only too well. When the Chuck Taylor became the first-ever celebrity-endorsed athletics shoe in 1922 it didn't fit the mold and the Aeon Active CX isn't trying to fit in either.
The shoe is the latest in a string of collaborations between the two which started with the rugged Chuck Taylor All-Star Lugged in 2020. Two years after that release the British label collaborates again on an entirely new silhouette that embodies its vision of luxury sportswear more strongly than ever. Created together with Converse's CX comfort technology, a toolkit of innovative materials first introduced in 2020, this shoe not only looks futuristic but has the technology to back it up.
The Aeon Active's bulky sole unit features CX foam on the underfoot and Crater foam in its midsole to ensure maximum cushioning. These combine to create what the brand is claiming is its most responsive and lightweight foam to date. The EVA foam midsole expands under the wearer's feet so that each step generates energy focused at the center of the shoe.
Converse has been a footwear staple for over 100 years, and in partnership with Samuel Ross, it's clear that the company has its sights set on creating a new generation of sneaker models.
We spoke with the A-COLD-WALL* founder via email to discuss his latest footwear design with Converse, which has seen its second colorway release via the Highsnobiety Shop. Throughout our conversation, we spoke about the future of sneakers, his relationship with Converse, and his innovative approach to collaboration.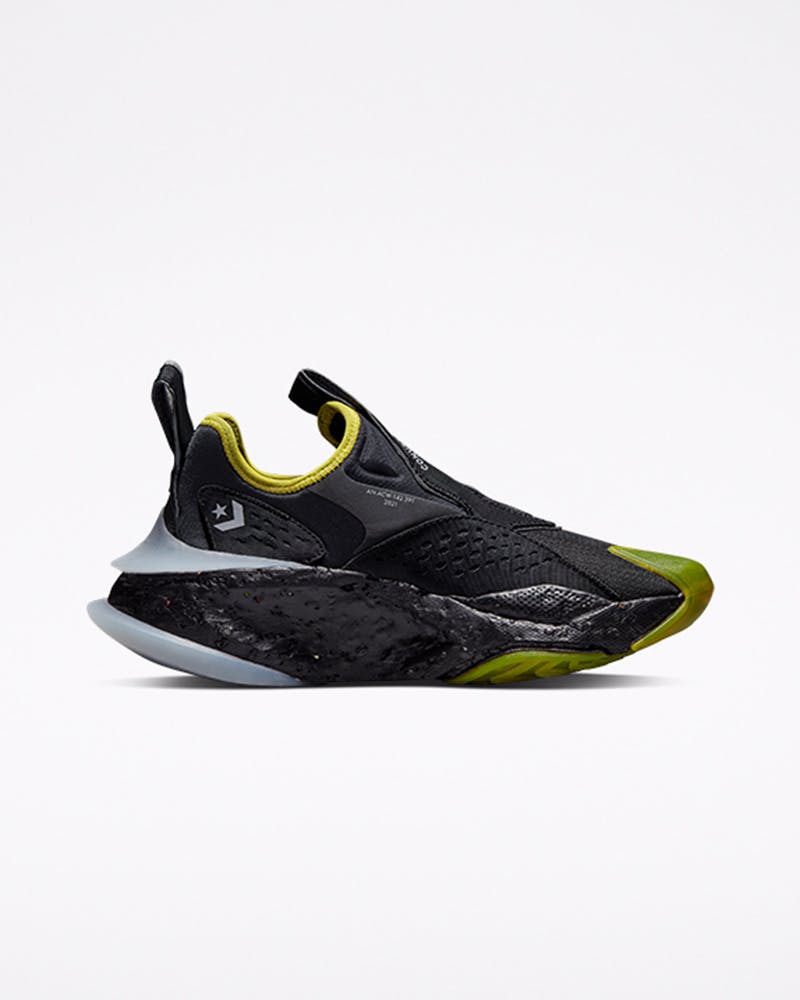 You have worked with Converse previously, how has that relationship developed since your first release in 2020?
Our joint products have become far more radical. A focus on technology, form, and design leadership remains at the center of our dynamic. We are balancing the fringes of bleeding-edge design whilst deepening our focus on function.
Converse has a long history in sneaker design but this shoe does feel like a departure from its past. Were there a lot of conversations about its future design language when developing these?
Legacy product is not going anywhere though change comes from disruption and prioritizing creativity. It's not one route or another, both heritage and innovation work in tandem — in fact, they accentuate the stronger ligaments of each track.
When you released the Chuck Taylor All-Star Lugged with Converse you told us that it "supports this idea of less consumption." Does the same idea apply to this sneaker? In what way?
This is a principle rooted in good design and technology and I believe it is segmented into two silos. One is durability, wearability, and cost — how frequently can the product be used within a 24-hour cycle? How does the product slot into modern life? And how do we reach those who understand design history, and know that we design for the future? Emotional and artistic understanding together with technical academic understanding — the future is a pairing of both disciplines.
The second is innovation, thought leadership, and expression: what does the product do to sit away from trends? What technology is justifying its creation? And how does the product integrate art with design? Within our studios, we focus on the early adopters, the thought leaders, and the more conscious viewers of fashion, they tend to be those who appreciate good industrial design. Good design equates to a longer use time, and this supports the principle of less consumption.
Having spoken about how the shoe is bringing a new era to Converse, how does the shoe fit into the world you've created with A-COLD-WALL* and its future?
It fits immediately by aesthetic but the essence is the intriguing part: the rules of engagement and the full body of work. Great products should be used extensively and this is built into our aesthetic, Converse as a technology partner enables this aesthetic to meet technology and democratic luxury on a constant basis when considering the footwear category.
I feel as though your collaborations never take the easy or obvious route and that's what makes them so exciting. How do you approach working with a collaborator?
I think about the moment in time which we have now to define the future. I think about this a lot. This means respecting the great design of the past and understanding the level of development and radical opinion required to leave an impact. This goes far beyond a vibe and it isn't taken lightly. It is a constant tension between service-based design and thought leadership, the type of leadership that impacts centuries of design.
As A-COLD-WALL* has grown there's an increased focus on footwear both in-house and through collaborations. Is your process different when creating shoes as opposed to clothing? Does one come more naturally to you?
Our perspective on garment design is system design, it is industrial design. Since COVID began, this idea of the 24-hour wardrobe developed which means uniforms, layering systems, and appropriate materials for an assured, stable and resilient individual. Some of these materials are linked to leisure, light sporting activities, and training while others are linked to commuting and responding to weather through garments — protection, durability, and resistance. Our garments are for people who enjoy leisure and momentum, both of which link to exploration. We are people who enjoy problem-solving, doing difficult things, or contemplating forward movement.
Compressed, we use these four words within our studio: luxury sportswear and industrial design. These are the two foundations of our garments and footwear that define the silhouette and garment types.
This is a very big question but what are three big developments you think we will see in the future of sneaker design?
Sustainable materials, living Materials, and orthopedic technology.
To stay updated on everything happening in the sneaker world, follow @highsnobietysneakers on Instagram, check our sneaker release date calendar, and subscribe to our sneaker chatbot on Facebook to receive lightning-quick updates to your inbox.