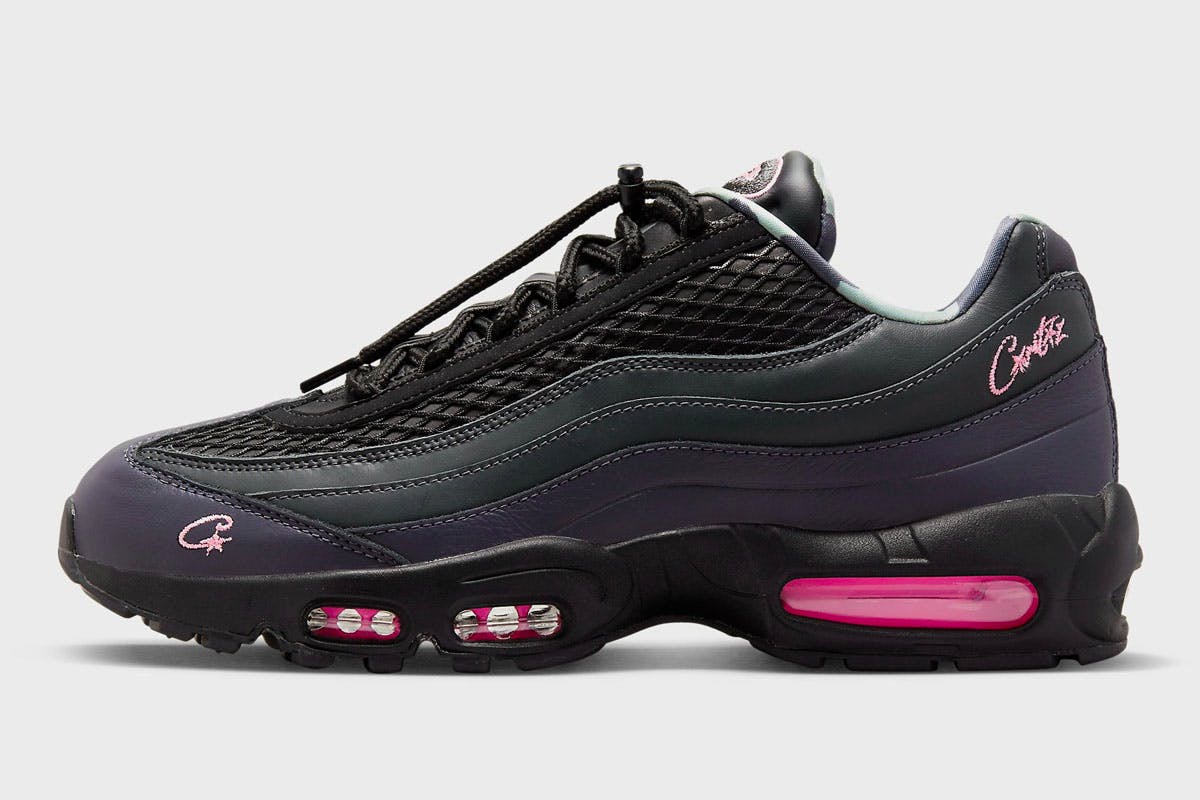 This article was originally published on March 3, and updated on March 24
You know what time it is, right? March. Yeah, sure. More importantly, it's CORTEZ drop month. More specifically, it's the countdown to the release of the CORTEIZ x Nike Air Max 95. As if that wasn't enough to keep your pulse up, the collaboration's ad dropped last night, showing not one but three pairs. Oof.
In the UK, certain things are written. Bank holidays for royal proceedings, a cuppa tea and a full English breakfast, Greggs, calling McDonald's Maccies, and above all, the youth losing their heads over the latest Cortiez drop.
Who else in London can claim to have the city and its surrounding areas at its back? Honestly, no one. That's the CORTEIZ effect – having countless kids running around the block for a chance to grab a new tee, trading in their NOCTA and The North Face jackets for a branded puffer, or showing up for a punt at a crossbar challenge to finesse a pair of 95s.
It's no surprise that Nike realized it was time to tap in for a piece of the pie and see what the madness has been all about. The reception to the announcement of the first colorway of the upcoming Air Max 95 – a staple silhouette of the UK – was unsurprisingly heavy with hype and praise, and with a look at additional pairs...well, it writes itself.
In an advert that features a call back to the UK comedy show Fonejacker, Phil Foden recreating Ronaldinho's R10 Tiempo Nike commercial (the one that broke the internet way before Kim did), and a cameo from Slawn and Jorja Smith, the hype for the drop is hitting a fever pitch.
Following a huge sell-out event for the first pair, Clint419 has officially announced the release of the second. Unveiled in a series of official images, drop two, dubbed "Pink Beam," follows the blocking of the first, switching out green tones for purple, grey, and black, with vibrant pops of pink throughout.
Once again, toggle lacing and heavy-duty mesh offers finer details, while a camouflage print fills the outsole cutout and insoles, with a classic 2000s Air Max box to finish.
Unsurprisingly, securing a pair won't be an easy feat, as the pair will release via a pop-up in NYC on West 34th St & 7th Ave.
Following the pop-up release event earlier this week, which drew an enormous crowd, the "Pink Beam" Air Max 95 arrives online at 7PM (GMT).
Shop our favorite products