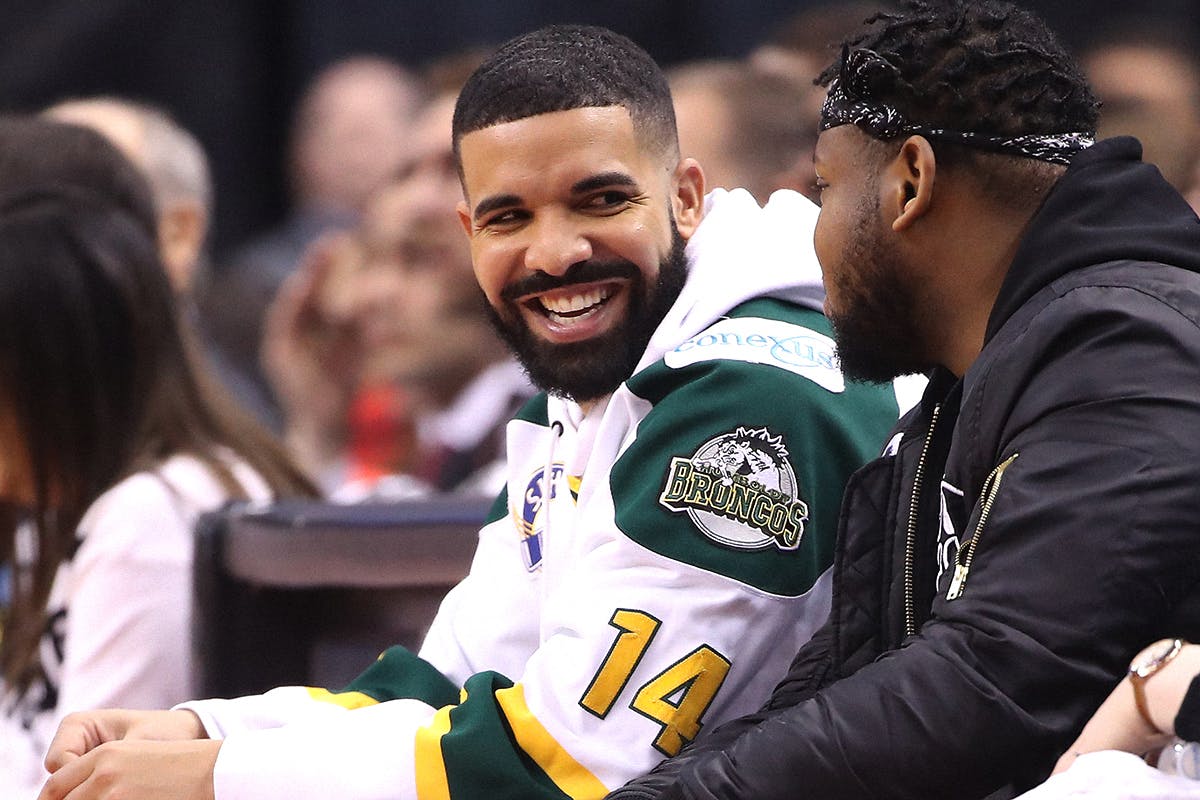 What do Drake and tennis legend Rafael Nadal have in common? Probably not much, aside from wrist toys built for billionaires.
Earlier this week, Drizzy was spotted at Nobu, Malibu attending a 4th of July party with the likes of French Montana and Conway the Machine. Wearing a (somewhat creased) Chrome Hearts silk shirt, the rapper took fastidious care in making sure his sleeve was carefully rolled up, bringing attention to the expensive timepiece he was wearing. In normal circumstances, I'd say that's a rich guy move worthy of submission to Watch Wankers of the Web, but let's get it straight — this thing is not your average Rolex or Tudor. Rather, it is Nadal's Richard Mille RM 27-04 sports watch, of which only 50 were made, priced at $1,050,000.
As I discussed previously, this outrageous creation is all but a supercar for the wrist. The tennis racquet-inspired dial helps stabilize a movement that can withstand a gravitational force of 12,000 Gs, which is just slightly higher than the highest G-force recorded on a rollercoaster of 6.3. Drake is no doubt a guy who likes to rage on the dancefloor after a few drinks, but if this thing can survive regular on-court Nadal brutalization, I'm pretty confident it would remain intact following a rendition of the Toosie Slide. He opts for the same baby-blue strap (so light it floats in water) worn by Nadal at the French Open, which is the traditional choice after the Spaniard switched out his for a white version later in the tour.
It's not the first time Drake has given Richard Mille some love, having worn the erotic and, in my opinion, utterly mortifying RM 69 a few years back. But the RM 27-04 is different in that it has been specifically engineered for top-level endurance. Unlike its competitors (if you can even call them that), Richard Mille doesn't want his athlete ambassadors to only highlight their sports watches during the trophy press shot at the end of play. Rather, these technical masterpieces are meant to be crash-tested during elite performance. That might be the temperature, shock, and vibrations of an F1 car (Felipe Massa/Romain Grosjean), the velocity of a golf swing (Bubba Watson), or the sheer force of a pulverizing forehand (Nadal). In Drake's case, it's popping bottles at a party like it's no big deal.
It's always funny when there's overlap between unlikely pairings in the watch world — I don't think LeBron James and Roger Federer have many other style cues in common, nor The Pope and Tyler, The Creator, for that matter. In this instance, it's Drake being Drake, wearing something so mindbogglingly extra purely because, really, that's his personal brand. It's why he continually fascinates, and why his decision to wear Nadal's signature RM somehow feels right. There is not another person on the planet who could get away with it; it's just Drake doing Drake shit, and for that I applaud him.