When we think of this year in music, it's marred by canceled festivals, postponed tours, and struggling fans and artists alike. Most people would agree that this unprecedented pandemic has pushed the industry to the brink. But let Dua lipa convince you otherwise. The singer's latest venture proves the opposite: Covid might have just made the music industry more creative.
Despite Covid-19 putting everything on pause, artists have continued to think up ingenious DIY ways to keep fans entertained, from Verzuz battles to TikTok challenges. But it's just not the same. We can't lie, we miss concerts. It's at the intersection of intimate virtual experiences and refreshingly raw live concerts that we find Dua Lipa's Studio 2054.
Unfolding this Friday, November 27, Studio 2054 is a multi-dimensional live performance — a virtual showcase that feels like an actual concert. The singer who dropped an album and a deluxe version during lockdown came up with Studio 2054 in lieu of touring. "My tour has been postponed twice now," Dua Lipa tells Highsnobiety, "And I've been dying to get on the road and finally perform the songs from Future Nostalgia. Because I can't go on tour, I wanted to put on a live stream show, something that I feel is more like a TV show or a long music video with lots of guest performers and guest appearances where I can really create a world for these songs.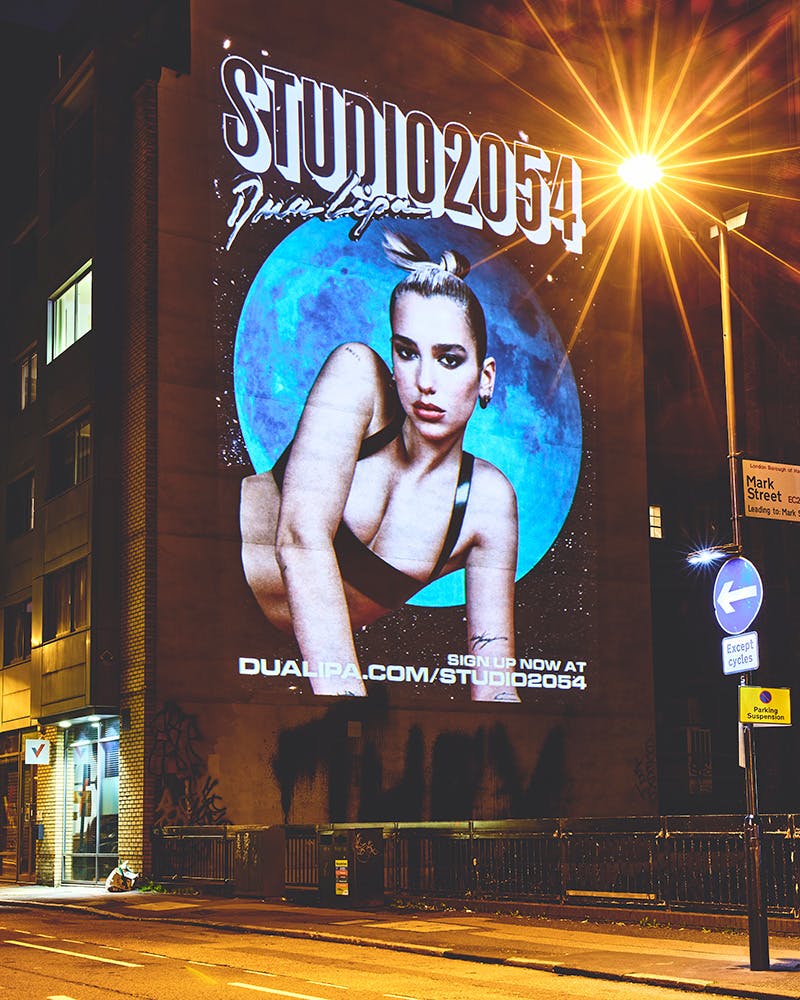 "I've definitely grown and matured as an artist and as a performer, especially with this record. Because I didn't have the chance to go on tour, I haven't felt like I've really fulfilled myself as a performer yet. I know I can sing and I can write these songs, but I want to be able to put them out into the world and really create a moment around them."
While many artists have tried, few have nailed the promise of "a new type of concert experience." However, by all indications, Lipa's performance is pulling out all of the stops of the traditional concert. Shot live in a massive warehouse location, Studio 2054 will see Dua move through glamorous custom-built sets accompanied by dancers, skaters, aerialists, and acrobats. And like a true arena tour, the pop star is teaming up with stellar guests such as FKA Twigs, Angèle, Miley Cyrus, Elton John, and her idol Kylie Minogue. It's precisely this allure of star power that served as the kaleidoscopic inspiration for Studio 2054.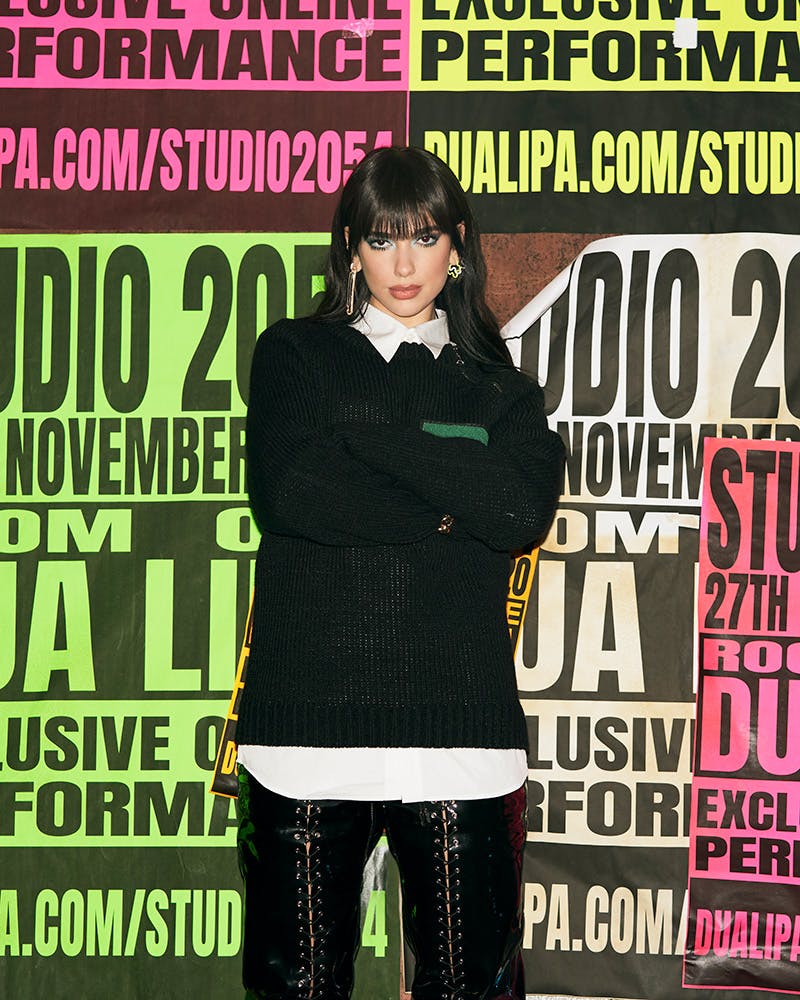 "It's bringing a more modern take to Studio 54. I've always had such a fascination with Studio 54, although I've only seen it through pictures and documentaries. I feel like, it's always struck me as such a pivotal moment in pop culture. It was such a versatile mix of different people and personalities and energies, you have Grace Jones, Elton John, and Liza Minnelli and everyone's just there hanging out together. I wanted to recreate that in a modern way," Lipa explains.
The experience offers a glimpse at how the Covid-era could revolutionize live music for the better. "I never expected to put my album out during this time, then do promo from my sofa, and put a green screen in my living room and try to do performances. At least for me, it was trying to think outside the box, trying to adapt to these new circumstances, this new normal, trying to come up with interesting ideas."
However, these challenges, Dua Lipa tells us, pushed her to create a more substantial body of work around the album. "There's a lot of silver linings that came about. I think for me it was one thing of like, how do I keep this album interesting? Trying to find different ways to create a new world around it for the fans and everybody, listening to the music."
Until now, virtual performances have been presented as an alternative for concertgoers, but not a replacement. Studio 2054 makes us think this could be a trend worth keeping.
Wherever you are, you can tune in to Dua Lipa's Studio 2054 performance today. You can purchase tickets via Dua Lipa's website and LiveNOW, where you can also find the different viewing times across global territories.