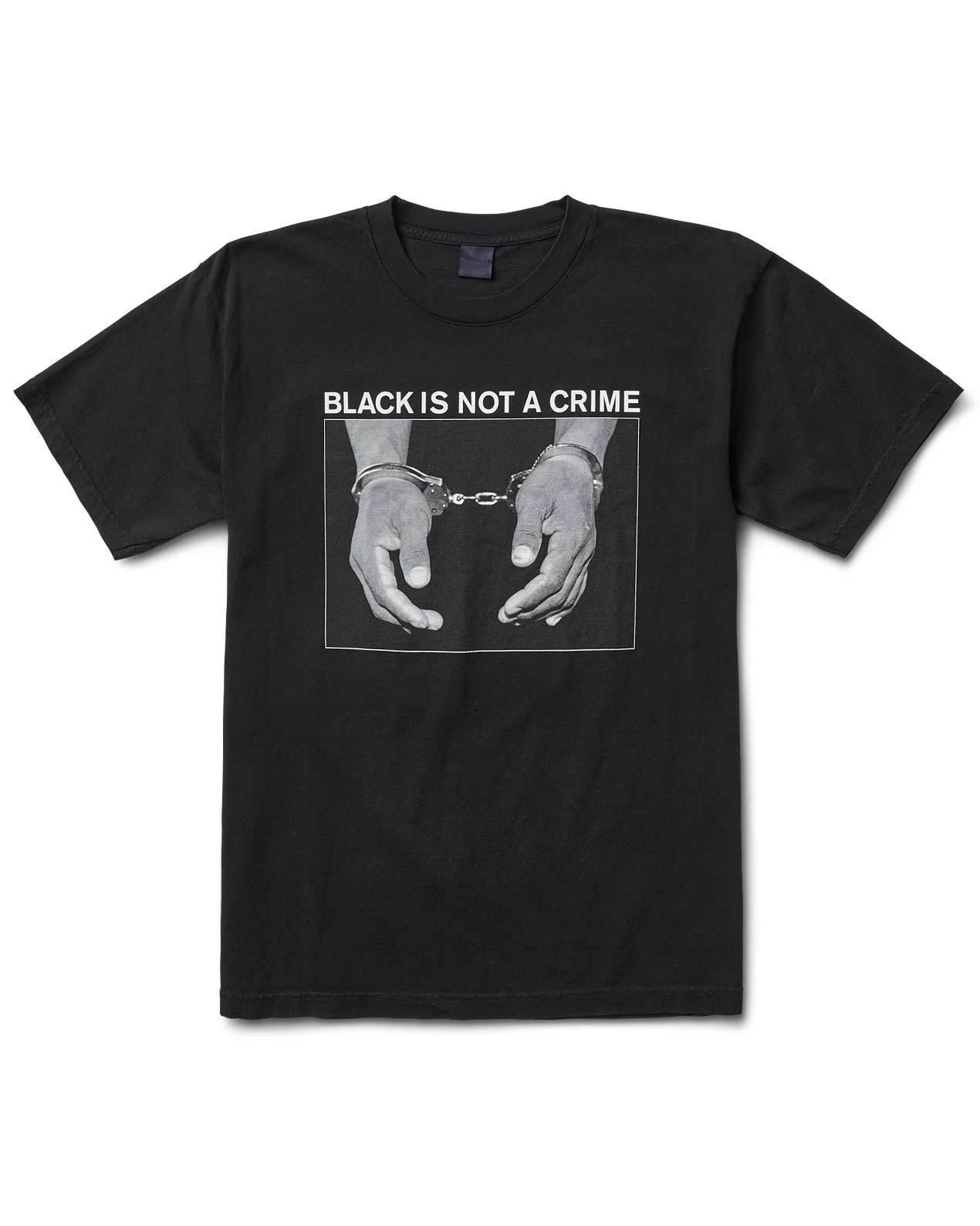 Freshjive founder and streetwear industry legend Rick Klotz is no stranger to speaking his mind and wearing his values on his sleeve. The outspoken advocate and designer is worth an IG follow for the social commentary alone, though getting an in-depth look at his upcoming projects is a welcome plus.
One of his most used hashtags is #WTFIRGO, an acronym that also appears on many of his clothes. It stands for "What The Fuck Is Really Going On?" and it's more than an appropriate question to ask considering the current sociopolitical climate in America. As a true OG who remembers when streetwear stood more for political values than resale value, his latest T-shirt communicates an important reminder in these fucked-up times while supporting another legend in a wholly different industry.
Klotz's "Black Is Not a Crime" T-shirt was actually supposed to drop two years ago. 100% of the proceeds will benefit the Equal Justice Initiative, a nonprofit organization founded by lawyer and author Bryan Stevenson, whose book Just Mercy was turned into a film last year, where he was portrayed by Michael B. Jordan. The organization actively works towards ending mass incarceration and excessive punishment, two issues that disproportionately affect people of color.
"I've been a huge admirer of Bryan Stevenson from EJI and his lifelong commitment to justice for people illegally convicted, unfairly sentenced, or abused in state jails and prisons," says Klotz in a recent Instagram post. The decision to contribute the proceeds was made long ago, but the struggles of reviving Freshjive (made even more difficult with Covid-19) caused a delay.
With racial injustice continuing to claim black lives in Minnesota and beyond, Klotz laments that the release of this tee has to occur in the wake of yet another tragedy. But true to his ideals, he points out that the unnecessary deaths of people like George Floyd, Breonna Taylor, and Ahmaud Arbery happen far too often.
"Unfortunately any date of release isn't far from coinciding with a death at the hands of the law, a riotous injustice, or the constant ongoing unequal treatment people of color endure in this country's legal system."
Freshjive's "Black Is Not A Crime" tee is available now on freshjive.com for $40.
While a charitable T-shirt is certainly a great start and way to build awareness, the Minnesota Freedom Fund is also accepting donations to bail out protestors currently in prison.
Sign the petition to demand justice for George Floyd and join us in taking a stance against institutionalized racism.