This piece appears as part of our initiative on Identity & Representation, a six-month-long project highlighting different facets of identity and how they shape the practices, conventions, and conversations happening in the Highsnobiety world. Head here for the full series.
Kanye West once famously said, "Being fresh is more important than having money," but the definition of fresh changes every day. And today, it's clear that gender fluidity has come to play a huge role in what the fashion industry considers fresh. Forward-thinking labels are releasing more genderless collections than ever, and even fast-fashion retailers such as H&M and ZARA have begun to experiment with these boundaries like never before.
According to a Williams Institute study from 2016, 1.4 million adults in the US don't identify with their birth gender, offering further evidence that many people – particularly those belonging to Gen Z – no longer feel constrained by binary notions of gender. Such changes are influencing fashion's evolution, but not everyone welcomes the idea of gender fluidity, particularly within the hip-hop community.
Although artists such as Kid Cudi and Kendrick Lamar have started to dismantle the hyper-masculinity that once defined hip-hop, there is still pressure to act tough in rap, and fashion is a flashpoint in this respect.
When Anderson .Paak camped things up at the 2019 Met Gala, ScHoolboy Q told him "U look terrible" on social media, which became one of the post's most popular comments. Given the two are friends, ScHoolboy Q was probably trolling, but the popularity of the comment might not have come from such a lighthearted place.
As hip-hop becomes more intertwined with high fashion, it has become common to see young artists subvert the conventional streetwear looks fans expect of their idols. But unfortunately, detractors within the community still exist and are prepared to mock anyone who deviates from rigid masculine stereotypes. To understand why, and to better understand how hip-hop fashion evolved in a more gender-fluid direction regardless, we must look back to the origins of hip-hop itself.
It's more acceptable than ever for rappers such as Young Thug or Jaden Smith to challenge conventional gender roles through their clothes, and their bravery in doing so should be commended. But they weren't the first musicians changing the game. Designer Rick Owens pointed this out a couple of years ago, telling Refinery29, "I don't understand why this generation thinks they invented gender fluidity. They did it harder, stronger, and louder in the '70s."
He's not wrong. In fact, much of the genderless fashion that has come to the fore in modern hip-hop is rooted in this "harder, stronger, and louder" decade. Before rap took hold as an art form, precursors of the genre including The Isley Brothers dressed with an androgynous flair. Cult disco icon Sylvester took things further, creating art that incorporated the drag queen aesthetic of his youth.
Most influential of all, though, was Prince, who, like David Bowie before him, ignited a whole new conversation about gender in music and fashion.
Prince's genius wasn't always recognized as such. When he opened for The Rolling Stones in LA in 1981, the crowd didn't react well to the sight of a man wearing black bikini briefs and thigh-high stockings on stage, and it wasn't long before they started slinging racist and homophobic slurs his way, along with bottles, cans, food, and anything else they could find.
A few years later, writing in Ebony magazine, psychiatrist Alvin Poussaint described Prince as a "controversial role model for our youth," one who potentially "steers them in a shallow misguided, and potentially destructive direction."
Little did Poussaint know, Prince's legacy turned out to be anything but destructive. Here was a successful black artist who unapologetically wore eyeliner and lace gloves. Not only would Prince go on to influence designers such as Tommy Hilfiger and Donatella Versace, he inspired the aesthetics of many contemporary musicians, too.
Anderson .Paak's Met Gala look is just one of many ensembles that can be traced back to the Purple One. Frank Ocean discussed Prince's impact in his tribute to the late musician, writing, "He made me feel more comfortable with how I identify sexually simply by his display of freedom from an irreverence for obviously archaic ideas like gender conformity."
Still, even as Prince's career reached new heights, by the time rap music as we know it had taken shape in the late '80s, The Isley Brothers' big sleeves and shiny fabrics were long gone. In their place came the baggy pants and baseball caps that would dominate hip-hop style for the better part of two decades.
As well as a general sense of machismo, key to this shift was a perceived need for authenticity. Hip-hop was born from struggle, and who would believe that an artist had really dealt with the issues they tackled in their songs if they were wearing makeup and androgynous clothing? Not everyone in N.W.A was a gangsta, but they and artists such as Public Enemy and Run-DMC had to make it seem like they genuinely lived the lifestyle to connect with audiences.
At a time when politicians were denigrating rap as something "less than," hip-hop artists represented a reality faced by many African Americans, even as the mainstream tried to belittle or brush their experiences aside. Fashion cues taken from gang and prison culture became the norm, bombarding fans with just one hyper-masculine version of what "real" men should look like.
By the time rap went mainstream in the mid '90s, streetwear labels such as FUBU had been created to tap into the hip-hop market, and it wasn't long before they inspired artist-owned ventures such as Diddy's Sean John. These clothes reinforced traditional notions of masculinity for the most part. However, they did inspire one element of gender fluidity in fashion, with plenty of women adopting the look as well.
Despite being marketed toward men, the oversized T-shirts and baggy pants prevalent in hip-hop started appearing in music videos by Salt-N-Pepa and later TLC and Aaliyah. Not only did it help set them apart aesthetically, but in the patriarchal world of '90s hip-hop, it also sent out the message that these artists wanted to be taken as seriously as the men. By shifting the focus away from the artists' bodies, streetwear helped female artists gain recognition for their music alone in a systemically sexist and misogynous industry.
By the early '00s, this heyday of tomboy chic started to fade, as artists like Lil' Kim and Foxy Brown began to own their femininity with more sexually provocative clothes, but its influence never disappeared completely.
In 2007, Ciara famously switched up gender roles in the song "Like a Boy" and its accompanying video. Like Aaliyah and Da Brat before her, the Princess of Crunk-N-B leaned hard into masculine traits. And while the single was one of her most successful, it also kickstarted rumors about Ciara's gender, proving how unusual it was for someone to challenge gender norms even 12 short years ago.
Fast forward to 2019 and Ciara's former rival Rihanna has become a style icon thanks to her ever-evolving look, channeling both masculine and feminine traits into her Bad Gal Riri persona. Rihanna's Fenty brand has released streetwear, sneakers, makeup, lingerie, and now high fashion through her new LVMH house, while her personal style recalls the game-changing artists of the '90s with an upscale slant — and this is something her male counterparts have started to embrace, too.
Over time, the need for authenticity was replaced by a need to demonstrate wealth. For most rappers who rose up from the streets, status became everything, as rivals began competing to see who could rock the biggest, most expensive jewelry. Streetwear still played a role, one that continues today, but by the early '00s, brands like FUBU had started to be associated with a cheaper "ghetto" lifestyle that didn't correlate with the kind of money rap's biggest stars could flout.
The new gold standard became luxury brands such as Givenchy and Louis Vuitton. By buying into larger-than-life fashion, the biggest rappers could set themselves even further apart, which in turn opened the floodgates for more radical forms of expression. Artists like CeeLo Green and André 3000 were among the first to experiment, blurring gender lines with gowns on the red carpet and, in the latter's case, on the artwork for OutKast's hit single "Ms. Jackson."
However, it was Pharrell Williams' take on fashion that had the biggest impact on hip-hop up to this point, incorporating Japanese brands that breathed technicolor life into the scene. As Highsnobiety editorial director Jian DeLeon once pointed out, Pharrell's style encouraged "this shift from a hive mind mentality of style toward a championing of individuality. That's what actually helped propel a lot of the fashion and style paradigm forward."
But probably the biggest shift of all came in 2011, when Kanye West started sporting a leather Givenchy kilt on the Watch the Throne tour. At the time, naysayers laughed it off on social media, and in 2013, Lord Jamar even wrote a homophobic diss track called "Lift Up Your Skirt," mocking West with lines like "I can't pretend that this shit ain't deplorable," among other, nastier jibes.
That year, West tried to ban photos of the kilt from Getty Images, but since then, the style icon seems to have realized that this was the moment he truly crossed over into high fashion. Writing for Paper magazine in 2015, West explained why he agreed to wear such a divisive piece: "There are warriors that have killed people in kilts in the past. Who gets to decide what's hard and what's not hard?"
And despite the initial pushback, West's openness subsequently inspired a number of hip-hop up-and-comers to express themselves authentically and without reserve. While the likes of Kid Cudi and Lil Uzi Vert have since worn everything from crop tops to boatnecks, another significant shift toward gender-fluid fashion in hip-hop arrived when Young Thug released his 2016 mixtape JEFFERY.
Young Thug had already toyed with gender in fashion before, most notably when he wore a Gucci lace top and a Molly Goddard dress for Dazed in 2015, but the ruffled lilac dress sported on the cover of the mixtape took things to a new level. In 2015, he told GQ that "90 percent" of his clothes are women's, but in all honesty, it's hard to imagine anyone, man or woman, pulling off this particular outfit better than him.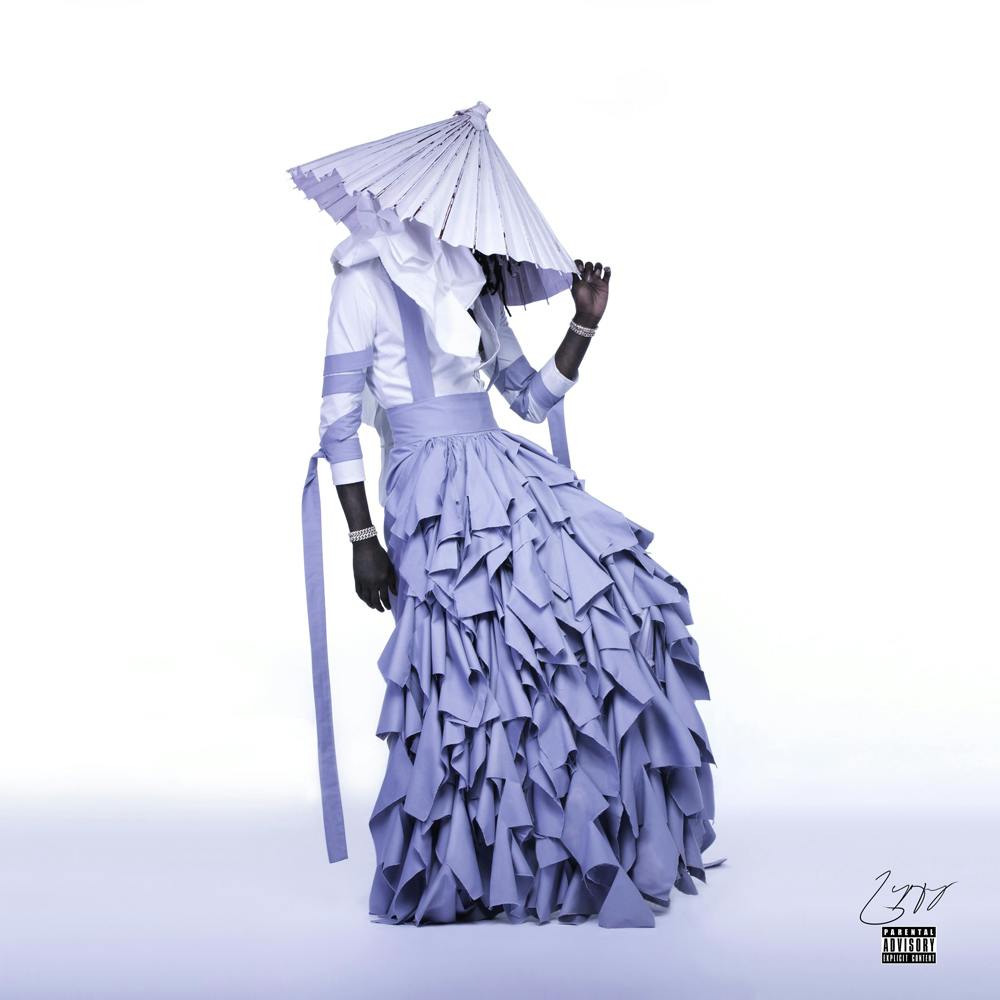 Album artwork in general had already started veering away from the machismo of '90s and '00s rap, but when JEFFERY was released, that dress still took the industry by surprise. In Calvin Klein's Fall 2016 campaign, Young Thug famously said, "I feel like there's no such thing as gender," and while his admittedly impressive raps follow fairly standard tropes, his ability to mix masculine and feminine traits sets him apart and forces the hip-hop world to re-evaluate its stance toward femininity among male artists. Dresses or boat shoes — it's all the same to Thugger.
This willingness to play fast and loose with societal norms is shared by other artists, including Jaden Smith, who modeled womenswear for Louis Vuitton's Spring/Summer 2016 campaign. It isn't always easy, however. Speaking to Nylon, Smith said of the negative responses to his style, "I'm taking the brunt of it so that later on, my kids and the next generations of kids will all think that certain things are normal that weren't expected before my time."
Of course, it's easier for major stars, even rappers, to challenge gender tropes than it is for most people. By comparison, openly queer artists such as Big Freedia and Linn da Quebrada still work on the fringes, but when it comes to gender fluidity, they're very much on the frontline. There's no doubt mainstream artists like Young Thug and Jaden Smith are inspiring people to express themselves through fashion, but most of their sartorial choices are second nature to those from the queer underground who don't get the credit they deserve.
Whether wearing a blond wig and diamanté jewels on their nipples or experimenting with grocery bags from New York's Metropolitan Museum of Art, queer artists like Mykki Blanco are redefining gender expectations in ways that few mainstream artists can match. In many ways, they represent the vanguard of fluidity in hip-hop fashion.
One can assume homophobia is part of the reason some are still resistant to genderless clothing, the presumption that fashion of this nature inherently makes people "gay." Such ignorant assumptions about the link between gender fluidity and queerness might threaten the hyper-masculine old school, but Gen Z as a whole doesn't appear to feel the same way. There's still plenty of progress to be made, but it's encouraging to see that many of the artists mentioned here no longer promote just one idea of masculinity or femininity to their fans, breaking down the boundaries of gender day by day.
What remains to be seen is whether hip-hop will ever fully embrace genderless style. The machismo of old still permeates the genre, so it's likely there will always be at least a few detractors when it comes to androgynous fashion. But it's still heartening to see that authenticity in all forms of expression has never been more fashionable in hip-hop. Kanye West prioritized "being fresh" above all things, and what that means today and in future is more inclusive than ever, regardless of how you identify.