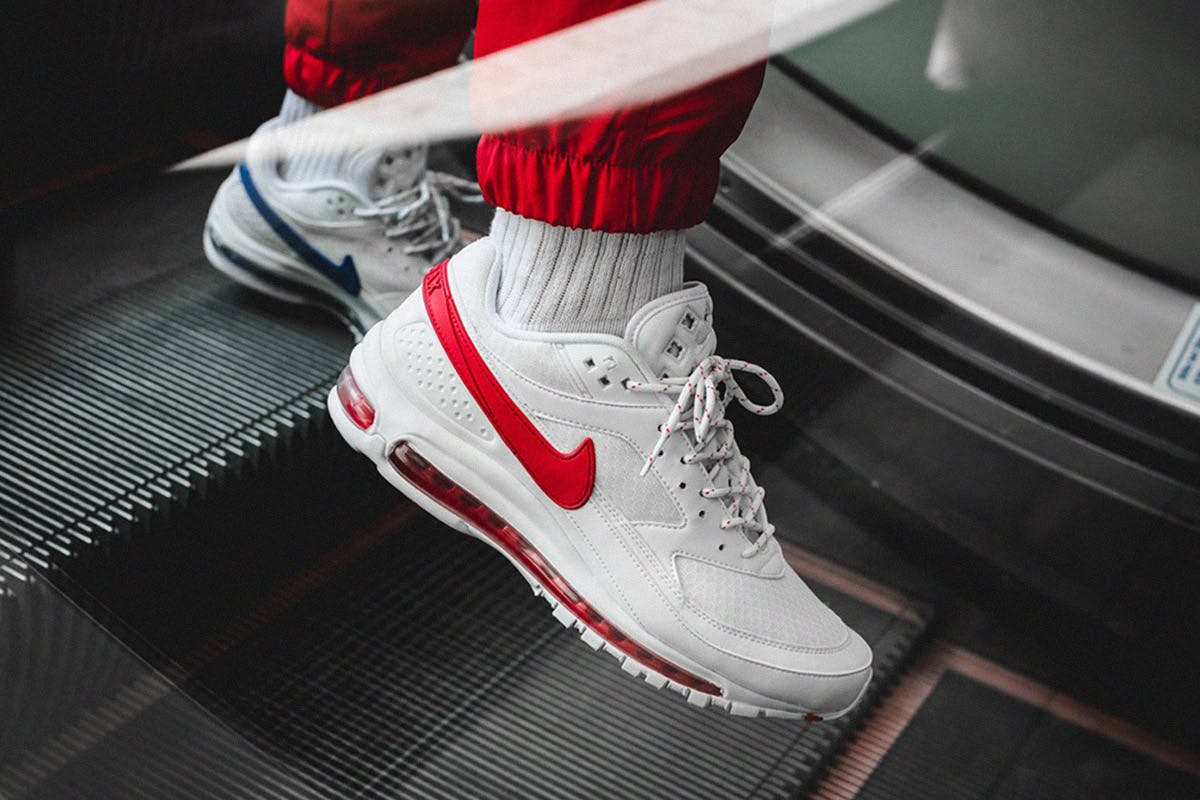 In April 2004, Wiley released debut single "Wot Do U Call It?" While the song wasn't the artist's first — "Eskimo," "Ice Rink," and "Igloo" predate it — it was arguably the clearest introduction to a brand new genre, the song's rhymes a rejection of similarities with UK garage and 2-step by an MC who would later become known as the godfather of grime.
The argument that grime and hip-hop are related is long and well-trodden, but in April 2004 the biggest tunes from both genres couldn't have been more different. While Wiley was releasing "Wot Do U Call It?" the Billboard Hot 100 was topped by Usher's "Yeah!" featuring Lil Jon and Ludacris. Grime was a break from US hip-hop's increasingly unrelatable world of bling, its distinctly London sound coming from some of the city's most deprived areas, such as Tower Hamlets and Hackney, where it had been incubated in battles like Lord of the Mics and at speed garage raves.
American hip-hop was, at the top level at least, polished and palatable, with an aspirational millionaire aesthetic. Grime, by contrast, had the irreverent, raw "fuck you" energy of '70s punk and was by design harsh on the ears of those who didn't get the attitude or the scene. Finally, British youth had something they could recognize.
Even the clothes were different. While you would see the same Yankees caps from time to time, there was nothing to match early '00s US hip-hop's embrace of Baller jewelry and designer gear. On the other side of the Atlantic, Wiley's London videos showed kids with their hoods up, riding scooters, and hanging out in record shops, all shot on a budget that might afford you a portion of fish and chips.
More than a decade on and not much has changed. New grime artists have emerged over the years, and some have gained fame beyond British borders, but the look has remained largely the same: sneakers (usually Nike), sportswear and technical wear, casual brands, and anything else that's comfortable and able to withstand the UK's notoriously terrible weather.
As rapper Stormzy told The Guardian in 2015, "The Americans have their way of talking, their way of dressing, their way of doing things, and we have ours. That's why this whole UK underground thing has become sick, because everyone has finally said, 'Yeah, yeah, Drake is sick — but hang on, we are too.'"
With sneakers the major constant in what we might loosely describe as "grime fashion," we asked those in the scene to name their top models. Check out the results below.
Nike Air Max 95
While Sergio Lozano's wild Air Max 95 design took a while to catch on, it soon became a British street style staple. What made the "110" — so-called due to its high price point of £110 (approximately $143 when converted today) — so popular among the grime scene, says Manchester rapper Bugzy Malone, was its adaptability, ranging from OG pop-culture neon and suede to triple-black leather chunky enough to take on the worst of British weather. "The 95s to me are all about the colorways," says Bugzy, whose debut album B. Inspired dropped in August. "It's just a classic trainer within the collection. I love the way you got the different colored stripes on them."
Nike Air Max 1
East London rapper Devlin says the Air Max 1 was his sneaker of choice when he was making his name in the early 2010s. "The Nike Air Max 95s were always popular, but I always liked the look of the Air Max 1s," he says. "They were quite neat and tidy, so by the time I could finally get my hands on a pair, I was over the moon. I love them because of how comfortable they are as well."
The Air Max 1 might have been overshadowed by flashier Nike offerings in recent years, but the 1987 silhouette has been a constant staple, mixing things up with later iterations such as the Ultra Flyknit and Ultra Moire. Skepta can be spotted wearing a pair of triple-black Air Max 1s in Devlin's "50 Grand" video, while the Air Max 1 Ultra Flyknit has been repped by South London rapper Dave and grime DJ Alia Loren.
Elsewhere, photographer Vicky Grout captured MC Shizz McNaughty wearing the red/navy/white Air Max 1 from the Spring 2012 pack in a shot with Jammer and Blakie. Bru-C even made a track called "Air Max 1" in 2014. "Might see me in the rave with my Air Max 1… Air Max crew, this is your song," the Nottingham-based MC rapped.
"Air Max played a huge part in grime culture and the dress code of those involved," says Aneesha Dewshi, sneaker and sportswear editor of all-female style blog Big Eyes, Little Soles. "Typically, the more expensive pairs like the 95s and TNs were the go-to pairs, as they were at the top end of the price spectrum and showed street status and style. Although the Air Max 1 was not the most prevalent sneaker of choice, it was more obtainable for the mainstream culture and an easier lifestyle sneaker to wear."
Reebok Classic
Since the '90s jungle scene, a rave wouldn't be a rave without a pair of Reebok Classics in the room. The shoe was famously shouted out by Mike Skinner of The Streets on "Let's Push Things Forward" ("So let's put on our Classics and we'll have a little dance, shall we?") from 2002's highly influential proto-grime album Original Pirate Material.
In typically British style, the Classics are more businesslike, less flashy than Nikes, and as such have been rocked by some of the OG spitters, including Boy Better Know (BBK) member and Lord of the Mics co-founder Jammer. "Reebok Classics started on the terraces with football fans, then house and garage pioneers were bussing them in raves," says producer and MPC guru Y-ETizm, "then the start of underground garage, with So Solid [Crew] and Pay As U Go [Cartel], and into the grime scene as well."
Nike Air Max BW
Dropping the year before "Wot Do U Call It?" Boy in da Corner by Wiley's former protégé Dizzee Rascal is arguably grime's most influential touchstone. The record's artwork is also possibly UK rap's most lasting image, with the album breaking into the UK mainstream and picking up the prestigious Mercury Prize honoring the best album of the year by a British or Irish artist.
With the release of Boy in da Corner, the East London teenager paved the way for a brand new look and sound. "The music was powerful, and so was the sight of an 18-year-old lad sat in an all-black tracksuit with matching pair of Nike Air Max BWs against such a bright backdrop," says Deezer's UK and Ireland music editor Adam Read. "It showcased Dizzee's style and resulted in everyone wanting to emulate it."
adidas Superstar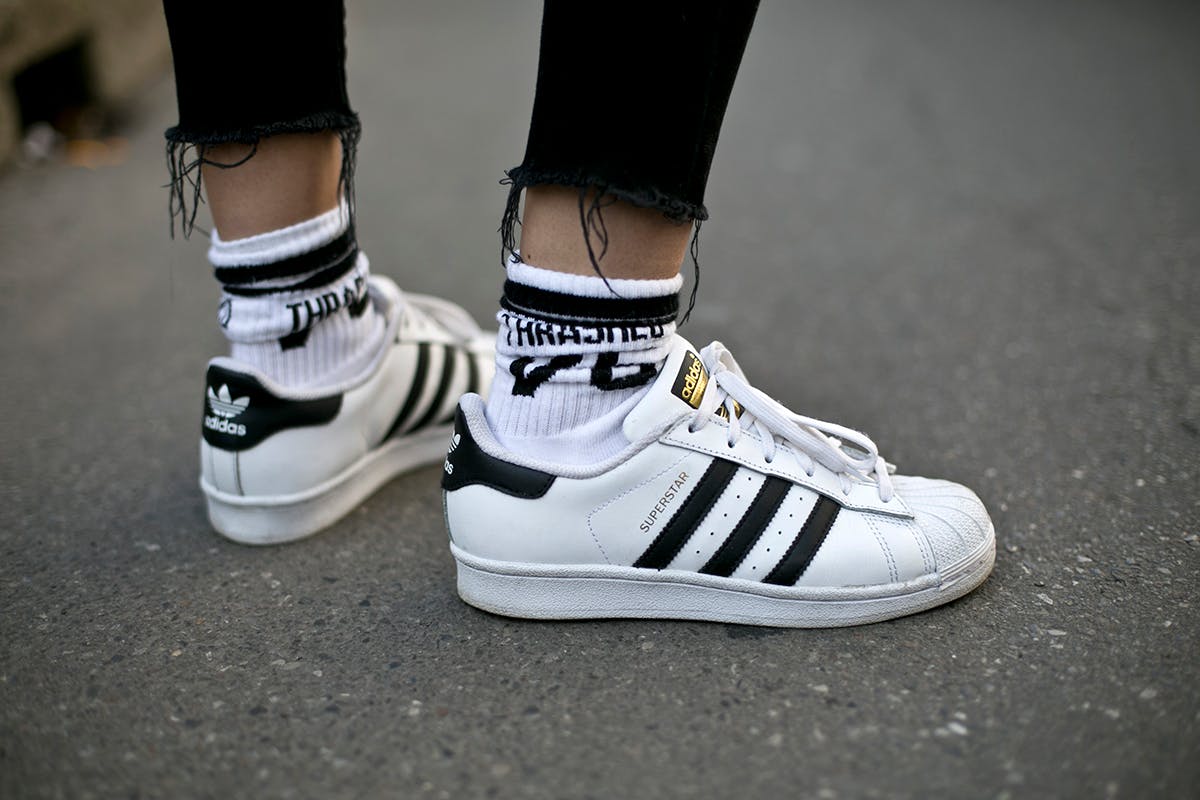 With nearly 50 years under its belt, adidas' Superstar is a survivor. While grime might have taken Air Max to its heart, back in the early days, the shell toes were a popular choice among MCs, matched with more of an American sportswear look.
"adidas has a vested interest in grime and their most notable brand ambassador from the scene is Stormzy," says Joe Pidgeon, publisher of urban music magazine Touch from 1992 to 2001. "His video for 'Shut Up,' where he was head-to-toe in a red adidas tracksuit, garnered more than 80 million views on YouTube, and Stormzy has worn the original adidas shell toes.'
Nike Air Max 90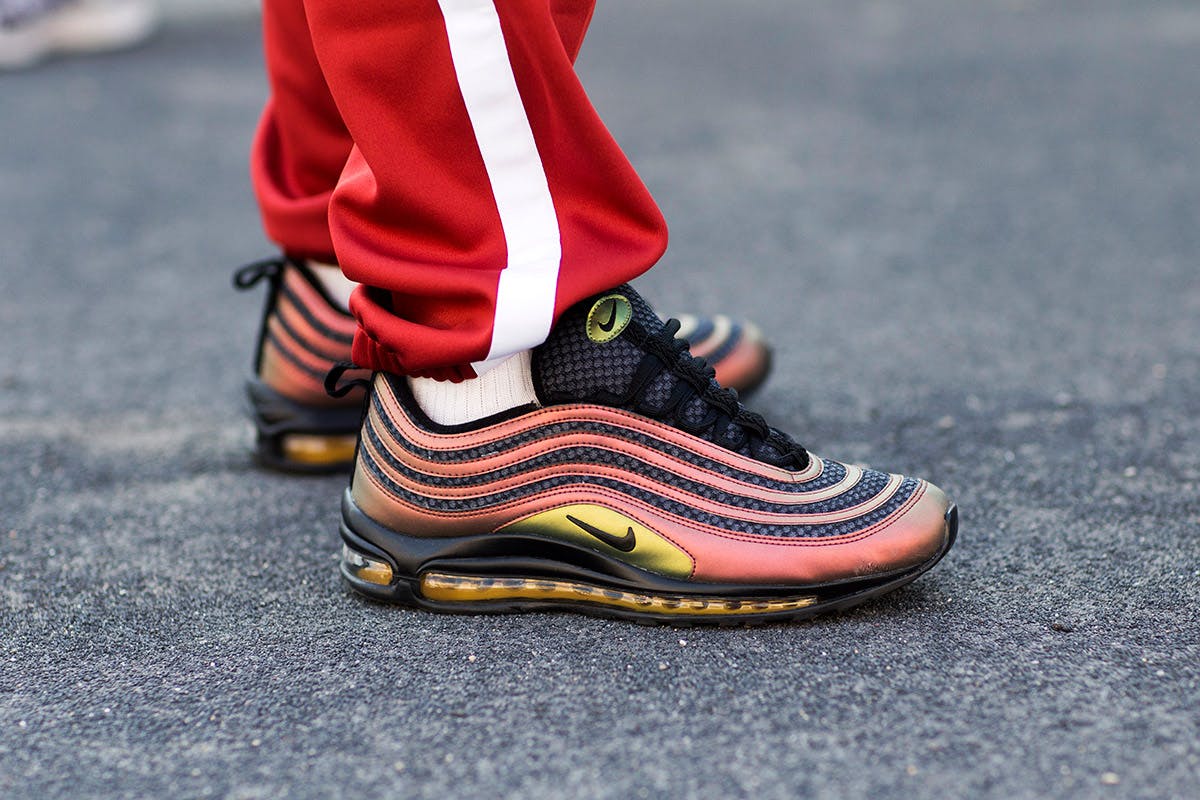 If any shoe personifies public housing block culture up and down the UK, it's the Air Max 90, making the Tinker Hatfield-designed chunk of rugged goodness a natural addition to the grime look.
Hotly tipped MC Skatta from the city of Coventry in central England recently dropped "Style and Trend," a track celebrating his love of sneakers and sneaker culture. We asked him about the ubiquity of the Air Max 90 within the scene. "The style and different colorways of the 90 represent the inner-city feeling and the vibe you get in the grime raves," Skatta says. "It's the cultural consensus of the music and lifestyle. Anyone who was born or grew up in the '90s can relate to the effect it had on their life growing up, so it's a sign that you are part of a certain look. Personally, my favorite model is Air Max 95, but the Air Max 90s just looked way harder and so they were more popular within the grime scene."
Nike Air Max 97
When Skepta raps about going to fashion week in a tracksuit on "Shutdown," he is making a statement about grime's uncompromising nature when it comes to its urban aesthetic, despite the MC's own dalliances with high-end designer gear. "You tryna show me your Fendi / I told you before, this shit don't impress me" is the North Londoner throwing disdain on a world his success has given him access to.
Keeping things street-level, Skepta has now collaborated with Nike on three silhouettes, the most recent being this year's Paris-inspired Air Max 97/BW SK and the "That's Not Me"-referencing Air Max Deluxe SK. The first collab, marking Skepta and grime's ascendence beyond the UK music scene, was last year's Nike Air Max 97 SK (above), whose colorway was inspired by both Morocco and the 1999 Air Tuned Max.
"Skepta himself continued to take not just his music to the next level, winning the 2016 Mercury Prize for Konnichiwa, but also elevating his image for a fashion audience," Deezer's Read explains. "Catching the eyes of Karl Lagerfeld, Christopher Bailey, and other big names in the fashion industry brought great opportunities for Skepta. The most important, though, has probably been the Air Max collaboration with Nike. It has shown the huge part Skepta plays in British culture today that high fashion took an interest in grime music in a way it's never done before. You cannot underestimate how significant that moment was."
Nike Air Max Plus
If the Air Max 95 is the "110," you can probably guess why the Air Max Plus is known as the "125." The Air Max Plus was the most sought-after kick because it was the priciest Air Max you could cop and thus had the most kudos. Flashy and futuristic, the Air Max Plus TN remains the peak of the Max line-up for many.
"For me, it's all about the Nike Air Max Plus TNs," says Matt Haynes of label and management company RU Listening and promoter Grime Live. "When I think about grime music in the early 2000s, these were worn by Wiley, BBK, and the More Fire Crew. They really personified grime at that time and everyone wanted to rush to the shops to buy a pair. Everyone thought they were expensive for trainers back then, but everyone had a pair."
Nike Air Force 1
The Air Force 1 will forever be associated with the old-school New York hip-hop scene, but this tough 1982 sneaker is still a staple among grime stars, although more so in the early days when it was still searching for its own identity.
Londoner Jess Gavigan, aka Juice Gee, of online store Small Feet Big Kicks was raised on a diet of grime and reflects on this iconic shoe's place in the scene's history. "Gaining popularity in the '90s, Air Force 1s are the go-to shoe for many people, from fashion to mentions in lyrics. Dizzee Rascal cemented the Air Force 1 within music and streetwear." Indeed, Dizzee's breakthrough 2003 hit "Fix Up, Look Sharp" featured the immortal line, "It's an Air Force 1 / Trainers by the truckload, trainers by the ton."
adidas Ultra Boost
While Nike dominates through decades-old designs, forward-thinking spitters have moved on to more up-to-date creps. East London rapper Kano has been championing adidas Ultra Boosts and YEEZYs, having grown up with Stan Smiths. Stormzy, meanwhile, has been pushing the German brand's EQT line. Speaking at the launch of a new EQT campaign he fronted last year, Stormzy said, "I'm all about being original, authentic, and I feel that EQT stands for just that."
To stay updated on everything happening in the sneaker world, follow @Highsnobietysneakers on Instagram, check our sneaker release date calendar, and subscribe to our sneaker chatbot on Facebook to receive lightning quick updates to your inbox.