DONDA dropped but Mr. West's wild ride continues forever. Now that he's done with Chicago, Kanye has jet-set to Berlin for some sightseeing.
According to local reports (in German, of course), the rapper spontaneously showed up in Berlin, jumped in a nearby taxi, and scooted off to a few touristy locales to soak in some culture, seemingly apropos of nothing.
First up, the KW Institute for Contemporary Art. There, Kanye beheld some of Michael Stevenson's latest work.
"Kanye seems to have chimed into Michael's ability to see systems and major institutions of power," Anna Gritz, one of the Stevenson exhibit curators, said to The Art Newspaper. Certainly sounds up Kanye's alley.
Kanye also swapped the black hoodie he showed up in for a new black hoodie, appropriately printed with "KW." Sure, it stands for "Kunst-Werke," the museum's name, but why not "Kanye West?"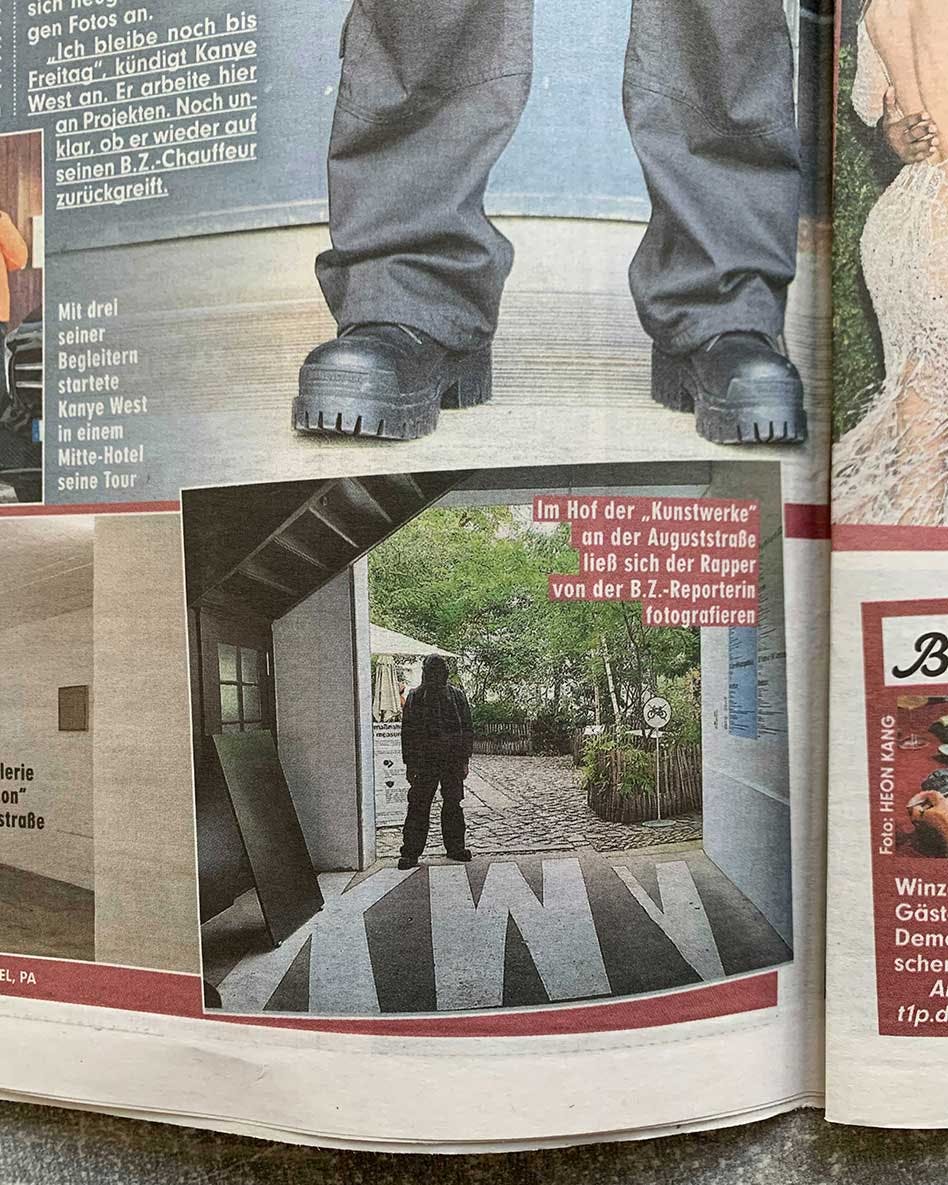 Enterprising fans have already looked, but the black pullover isn't currently available on the KW Institute's web shop. There are a few tees on hand but this could be some one-off merch just for Kanye, who apparently didn't get his fill from that Balenciaga merch.
Still wearing his facemask — now with two tiny eye slits — Apple headphones, Balenciaga pants and boots, Kanye moved on to the Julia Stoschek Collection, the Boros Collection, the Pergamon Museum, and, finally, Berghain.
It's a little early to get to clubbin', but perhaps Kanye just wanted to recreate the recent (and controversial) event that Bottega Veneta held there earlier this year. Maybe he just wanted to take in the sights.
What's up next for our man about town? Well, he's still on that petty tip with Drake.
The same day that his video for "Come to Life" dropped, September 1, Kanye also bought billboards in Toronto to compete with his arch-rival's own self-promotion. His giant DONDA signs elbowed Certified Lover Boy branding to the side, though Drake had a reply ready.