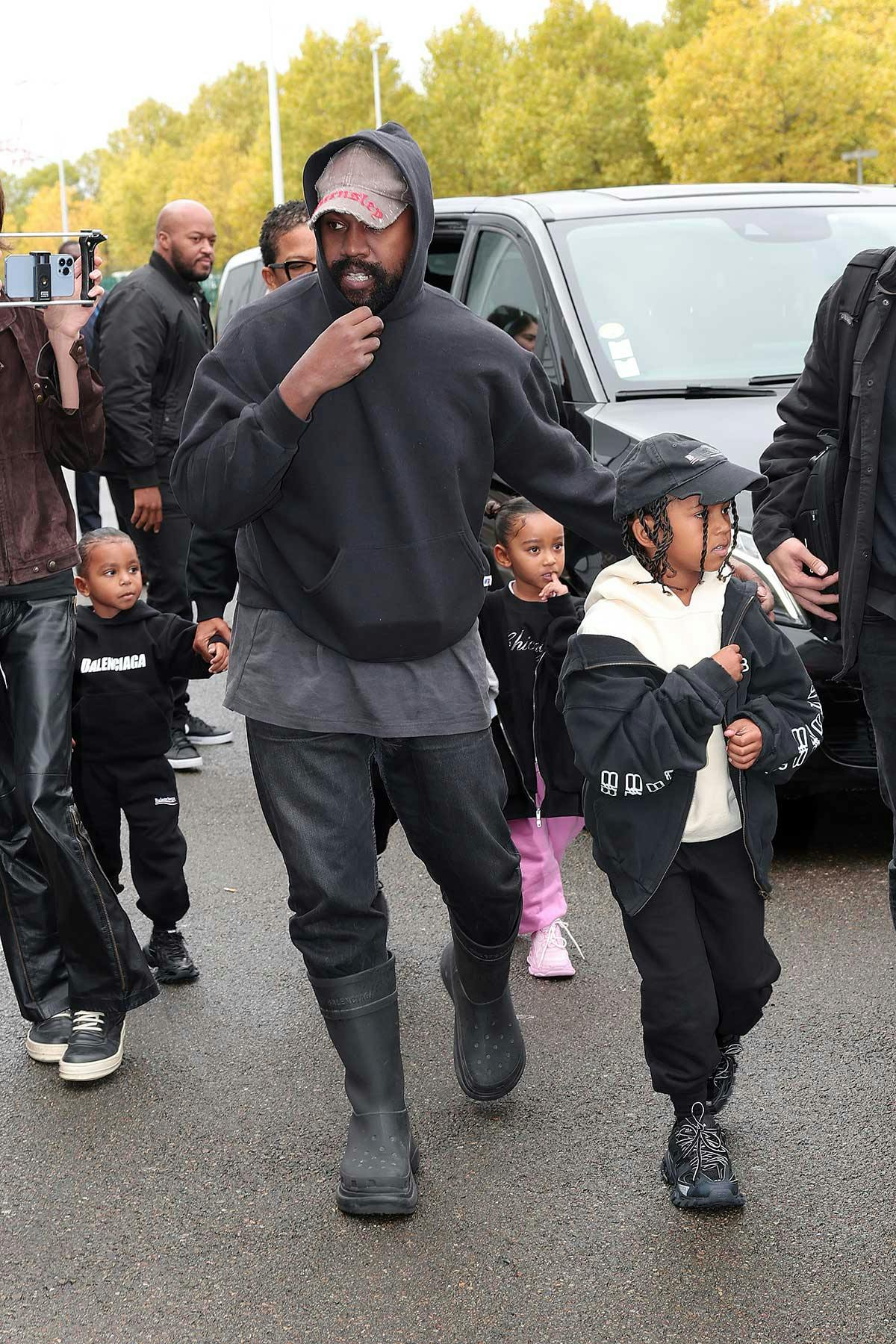 After months of laying low following disturbing anti-Semitic rhetoric and vocal admiration for Hitler, Kanye "Ye" West has emerged from the shadows with a secret wife. Ye's new bride is Australian architectural designer Bianca Censori and — get this — she's a YEEZY employee.
Ye and Censori were first spotted in rare photos taken at LA's Waldorf Astoria hotel, as TMZ reported in early January 2023. In the candid shots, Ye and Censori quietly dined together, he in trademark oversized jacket and jeans, she with short hair dyed blonde.
Especially from a distance, Bianca Censori more than a little resembles Ye's former flame, Kim Kardashian. Remember that Ye and Kardashian's divorce was only just finalized in November 2022 (and then realize that Ye's apparently already married again).
This has been a consistent pattern for Ye, who dated voluptuous model Chaney Jones, herself a dead-ringer for Kardashian, for a few months in the middle of 2022 leading up to his anti-Semitic breakdown.
Afterwards, Ye hung around with Monica Corgan and was even rumored to be linked to Candice Swanepoel, a model who appeared in a YZY SHDZ campaign.
In the intervening months since Ye burned bridges with former business partners adidas, GAP, and his agency, he's aligned with white supremacists and far-right cronies like Milo Yiannopoulos and Nic Fuentes, who rode Ye's coattails to a swell of media coverage.
As his outbursts grew more despicable, Ye was eventually booted off Instagram and Twitter — former friend and failing Twitter CEO Elon Musk reinstated Ye but suspended Ye's account after the rapper tweeted out an image of a stylized Star of David that held a Swastika within (Ye also made fun of Musk's physique).
It all led to a disastrous appearance on Infowars, the despicable conspiracy-drenched program hosted by Alex Jones, perhaps best known as the man who was recently prosecuted for nearly $2 billion over his lies about the 2012 Sandy Hook Elementary massacre.
Ostensibly a promo for Ye 2024 — Kanye's second soon-to-be-failed attempt at running for President of the United States — the Infowars episode instead platformed Ye's deeply troubling anti-Semitic conspiracies, sympathy for Hitler, and similar outbursts.
The whole thing felt like a desperate final bid for attention from a guy swiftly losing every ounce of goodwill he used to rely on.
Afterwards, Ye disappeared; his new friends vanished, his public figure is forever tarnished, his support base has dwindled to only the deepest devotees, and his finances remain in deep decline.
Ye's $53 million Malibu beach house remains empty, for instance, and it looks like Ye is camping out at hotels instead, hence why he and Bianca Censori have been out in public at the Waldorf rather than sequestered at home.
The only tangible hint that Ye and Censori, the YEEZY employee, got married came from a January 13 TMZ report, seemingly based on both insider info and the new wedding ring spotted on Ye's hand in a recent paparazzi photo.
Otherwise, both Ye and Censori are keeping mum.
However, Ye's latest song, released during the anti-Semitism blowback, contains an apparent reference to Biaca Censori. Thing is, the wink was lost amidst all the self-pitying lines and woe-is-me messaging that Ye indulged in, as if platforming hate speech is somehow brave.
Fans believed that Ye's song was titled "Someday We'll All Be Free," but TMZ reports that the song was actually named "Censori Overload," an obvious reference to Ye's new bride.
Choice lyric: "And the Bible said I can't have any more sex 'til marriage."
The couple was spotted again on January 21, when Ye and Bianca brought Ye's eldest daughter North West and a friend out for dinner.
Reportedly, Ye's security was so aggressive with other patrons that it wouldn't allow the nearby family celebrating their child's birthday to take out their phones at all, even to film the birthday girl.
It's especially strange because Ye, Bianca, and North were all photographed quite well by paparazzi waiting outside the building.
It's always questionable when an employer begins a relationship with someone under his employ, let alone actually marries them. Extra questionable when the employee isn't put off by their employee's blatant adoration of Hitler and the Nazis.
But, for Ye and Bianca Censori, it's apparently just another questionable day in the life.
Shop our favorite products