As with practically all things Ye (previously known as Kanye West), his love life has been in the headlines. Especially his last three relationships: there were the public spats with Amber Rose, then starting a family with Kim Kardashian before a very public divorce, and now his relationship with Julia Fox continues to cause a media circus. But one thing has stayed consistent: his relationship with the Canadian tuxedo.
A master at re-inventing himself and his look, throughout the entire of Ye's time in the limelight there have been notable phases and uniforms to match them. From the preppy College Dropout days to the masked Yeezus era, and we thought we had his latest uniform worked out to a tee: All black with vintage redwing boots, lots of Balenciaga, and a fair share of leather. But there is one anomaly in his recent all-black outfits, the artist keeps wearing double denim.
First, we had his look for the Free Larry Hoover concert with Drake (see above), then he and Julia Fox wore matching double denim to the latest Kenzo show, and now this week he's gone with the style again while out for dinner with Antonio Brown (see below).
Sure, the rest of these fits include the large muck boots, balaclavas, and black gloves we have to expect, but the top and bottoms are a departure from his outfits over the past few months.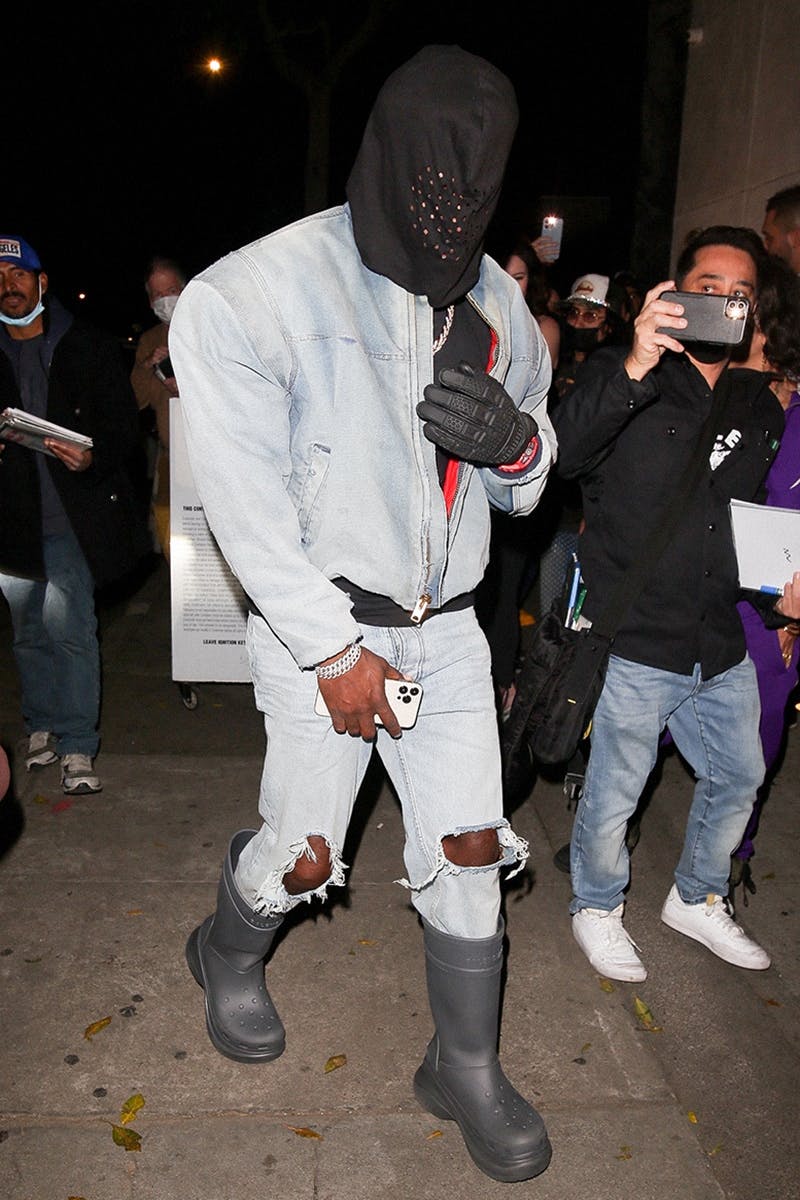 Pairing your favorite pair of jeans with a denim jacket is a blue-hued fashion faux-pas in most people's books, but the American musician and designer is not one to follow the rules and it's something he has been doing for over a decade.
Matching up his best double denim fits along with the past relationships they coincide with, check out Ye's guide to styling a Canadian tuxedo from over the years, below. Also, shop the different ways to rock double denim for each of his style eras.
Scroll down for a short history of Ye wearing a Canadian tuxedo (and his relationships)
Britney and Justin Timberlake Cosplay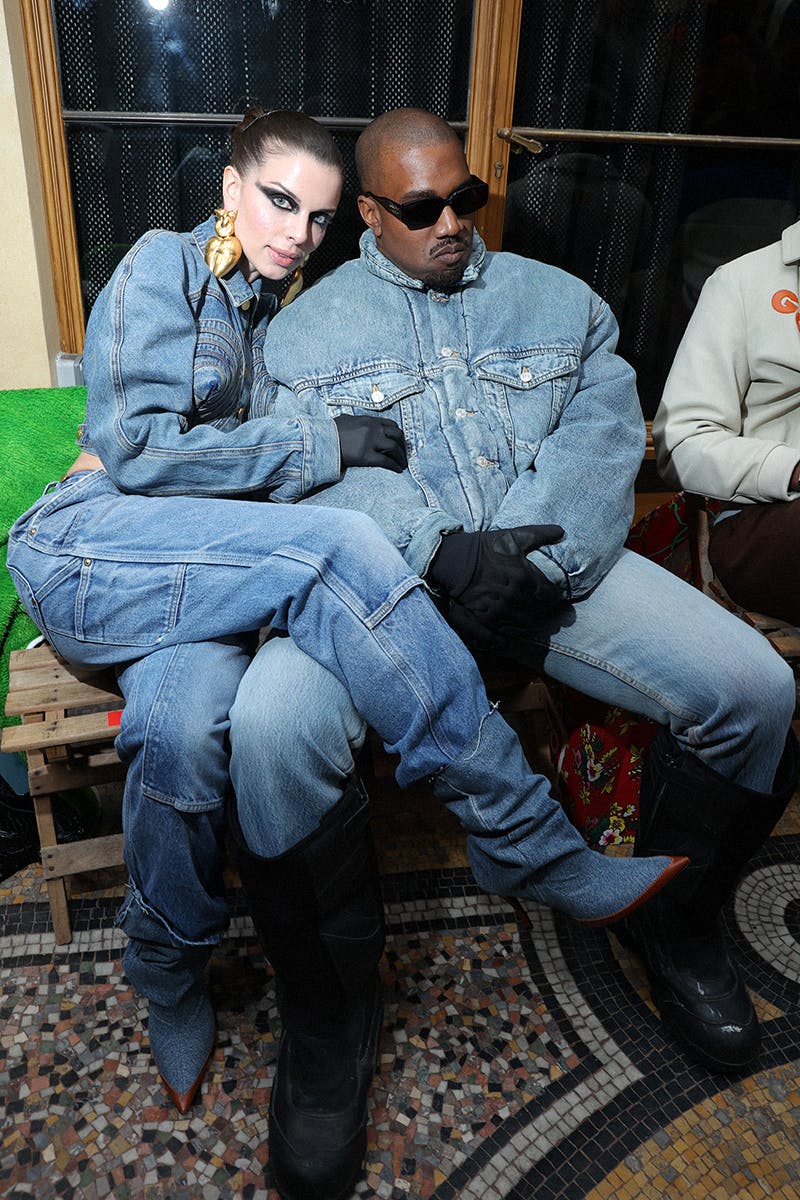 Honestly, it's been difficult to get this far into an article about double denim without mentioning Justin Timberlake and Britney Spears' iconic matching denim looks from 2001. A fashion moment that has gone down in the history books (and continues to be mocked to this day), Ye and Julia Fox were channeling the same energy with their matching fits for NIGO's first show as the creative director of Kenzo.
While Ye's fit is very similar to the ones mentioned above, it's worth noting that Fox was wearing Daniel Roseberry's jeans which the designer confirmed he took off and lent to Uncut Gems actress at the Schiaparelli showroom just before the show.
A dark denim combo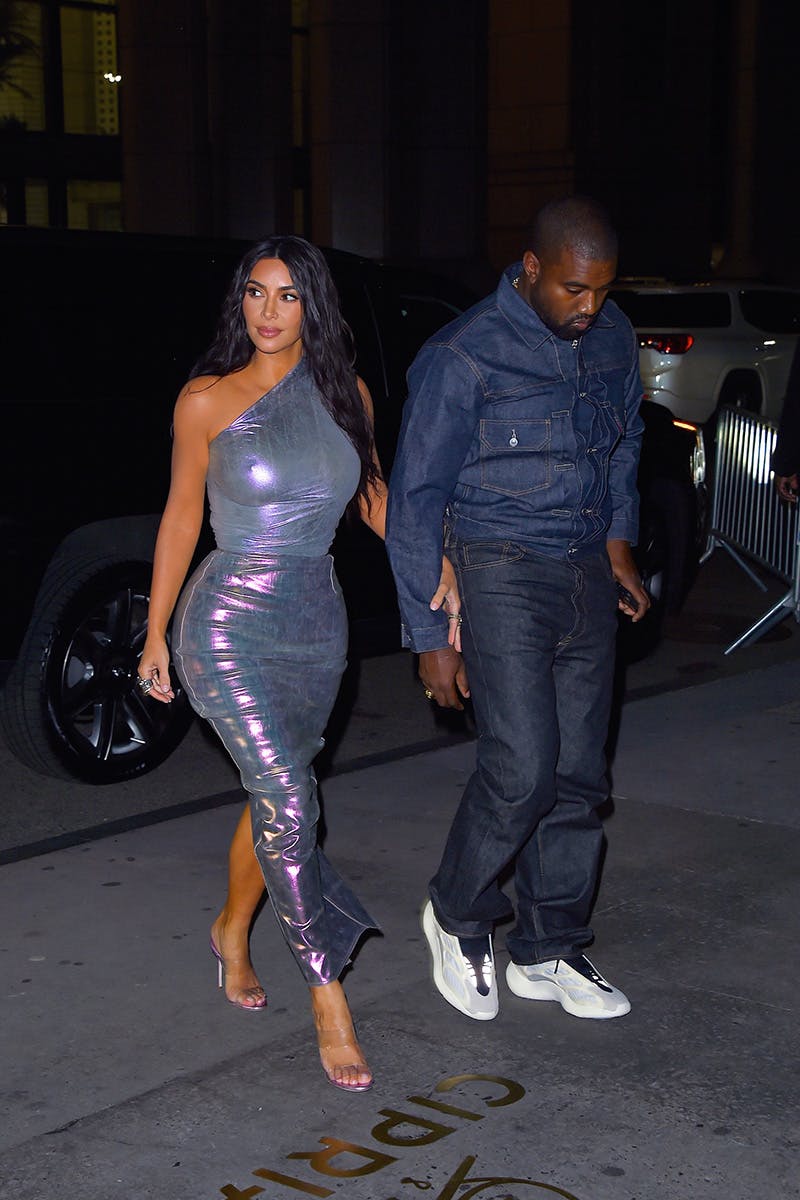 At a time when Ye was known for wearing mostly slouchy YEEZY gear, this look was a change of pace. Not quite matching in color, the artist attended the 2019 FGI Night Of Stars Gala in a Levis' trucker jacket and jeans paired with one of his own sneaker designs.
The old Kanye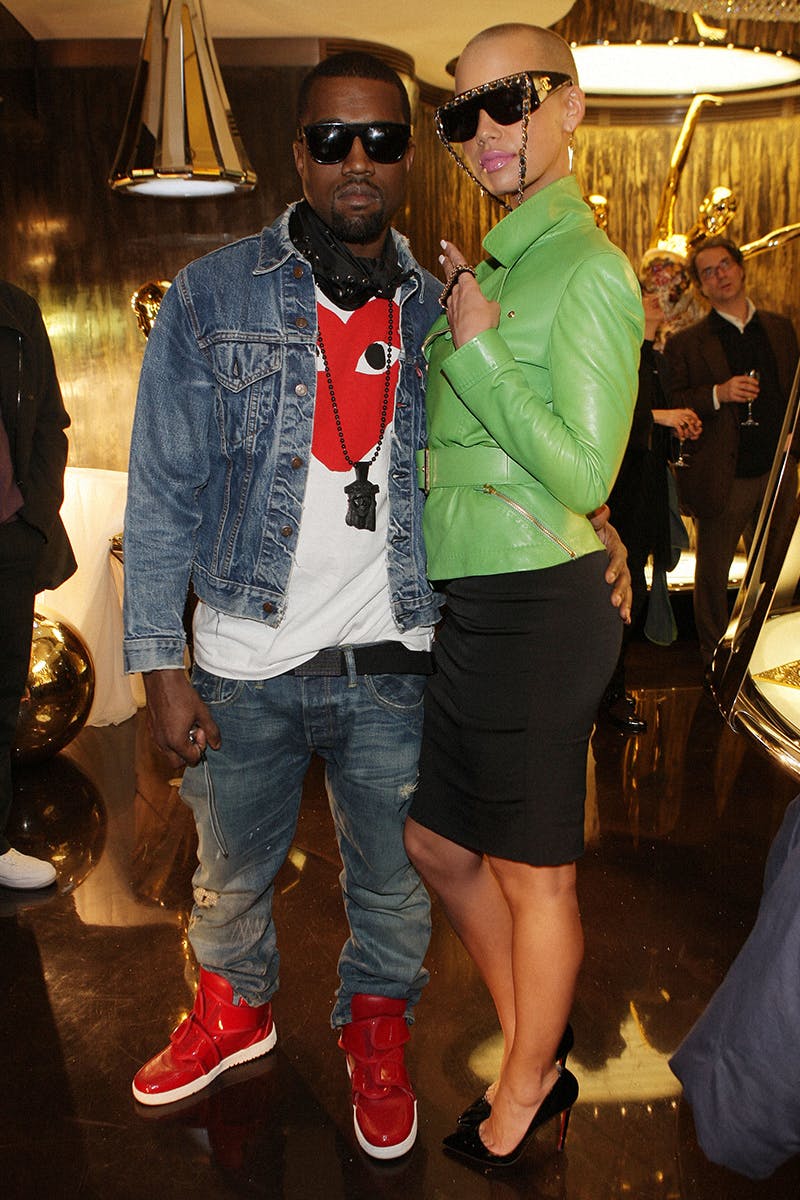 Over a decade ago, while together with Amber Rose, Ye was still rocking double denim with a pair of thick black shades. However, there are a few pointers as to the year this was from, we couldn't imagine the DONDA rapper wearing this CdG Play t-shirt and red hi-top sneakers anymore.
Shop Our Selection of Jeans
Want to keep browsing? Head to the Highsnobiety Shop for more products that we love. Highsnobiety has affiliate marketing partnerships, which means we may receive a commission from your purchase.