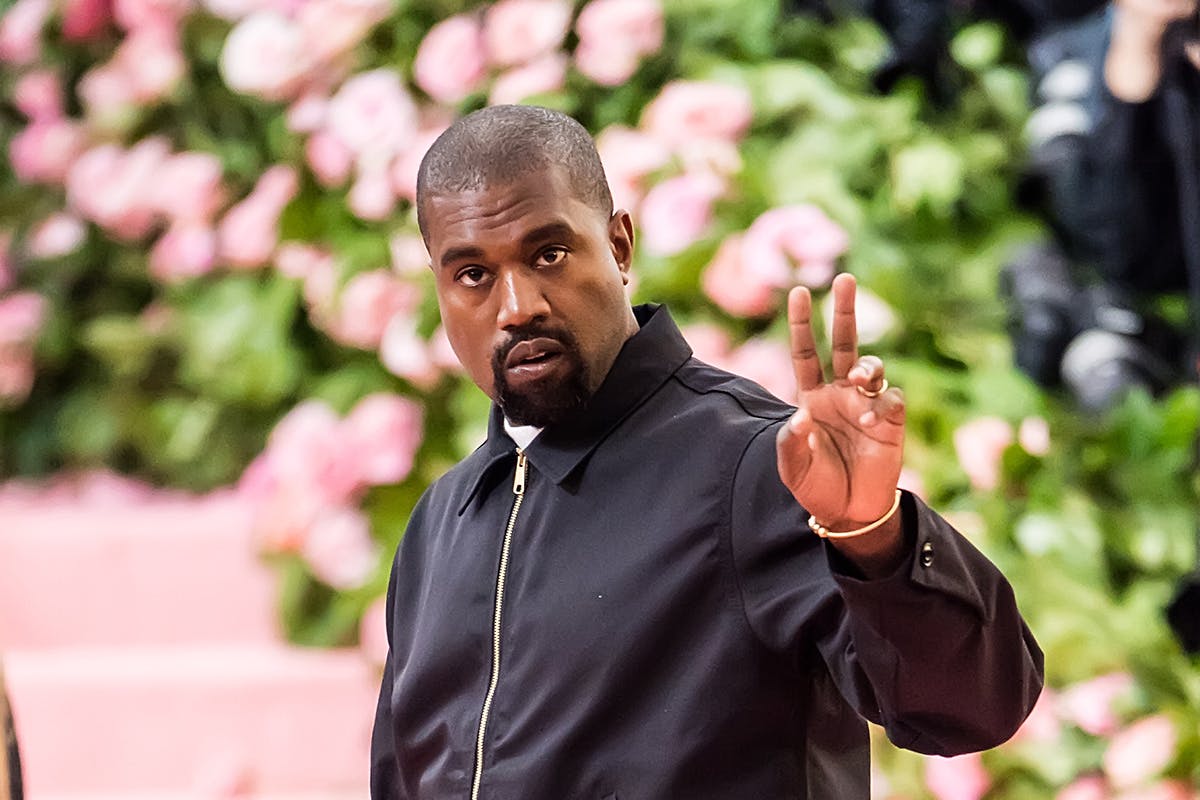 Though Kanye West is best known for his music and growing portfolio of YEEZY sneakers, 'Ye has been making footwear-related news recently for very different reasons: his adidas YEEZY slides and the reaction to them online. As with most things Kanye West, the slides, which were originally shared on Kim Kardashian West's Instagram in October and have now seen product images leak online, divided opinion, with many championing West's ambition to push the envelope and others clowning his latest efforts.
It's not the first time "Kanye West" and "slides" have been used in the same sentence, as the multihyphenate has an on-again, off-again relationship with the open-toed footwear style. Not only has Kanye West's own brand dropped YEEZY slides as part of past collections, West himself put on a clinic on how to properly wear them in August 2018, blowing our collective minds in the process.
His latest YEEZY slides designs also caused Twitter meltdowns. Most recently the kids YEEZY slides sent Twitter into a frenzy and earlier a Croc Clog-esque version of his YEEZY Boost 700 received mixed reviews.
To help you keep up with Kanye West and his history of internet-breaking YEEZY slides moments, we've put together a roundup of the best moments below. Scroll on for Kanye West's best YEEZY slide moments.
March 2018 — Kanye West officially drops YEEZY slides
In late March 2018, Kanye West's YEEZY label dropped its first set of in-house slides, which is also the first recorded news-worthy connection between West and slides. The YEEZY slides were characteristically plain, draped in the same earthy tones seen on YEEZY apparel. They were also slightly oversized, playing into the chunky sneaker trend that was prevalent at the time.
April 2018 — Kanye West unveils all-new YEEZY slide prototype Shortly after dropping the YEEZY slides, Kanye West took to Twitter to share several images of YEEZY prototypes. This included a clog-like blue slide with a jagged sole. West followed up the initial tweet with one that said these were a "rough draft," making it clear that what we were seeing likely wouldn't see a release in its current form. Like most things YEEZY, these prompted strong responses. Check out some of the best reactions here.
August 2018 — Kanye West provides a styling masterclass, pairing a Louis Vuitton suit with YEEZY slides
Once the dust had settled following the blue YEEZY slide reveal, Kanye West pulled off the fit of the summer by pairing a Louis Vuitton suit with YEEZY slides. Wearing slides with a suit would have drawn attention regardless, but 'Ye was wearing slides that looked to be a few sizes too small. Twitter had a field day, roasting Kanye West for his ill-fitting slides.
Turns out, though, that the joke was on us. 'Ye tweeted a infographic on how to wear slides "the Japanese way," with the heel hanging over the back of the slides. Exactly how he had worn them. The outfit caused such a media storm that even Virgil Abloh commented on the story.
September 2018 — Kanye West roasts himself
Don't let it be said that Kanye West can't make a joke at his own expense. The rapper, who was hauled over the Twitter-coals for wearing tiny YEEZY slides to 2 Chainz' wedding, corrected his sizing faux pas — and then some — by tweeting a picture of himself wearing a comically oversized version of the YEEZY slides. It was later revealed that the oversized slides were part of a costume for his "I Love It" music video with Lil Pump.
September 2019 — The YEEZY Foam Runner is officially unveiled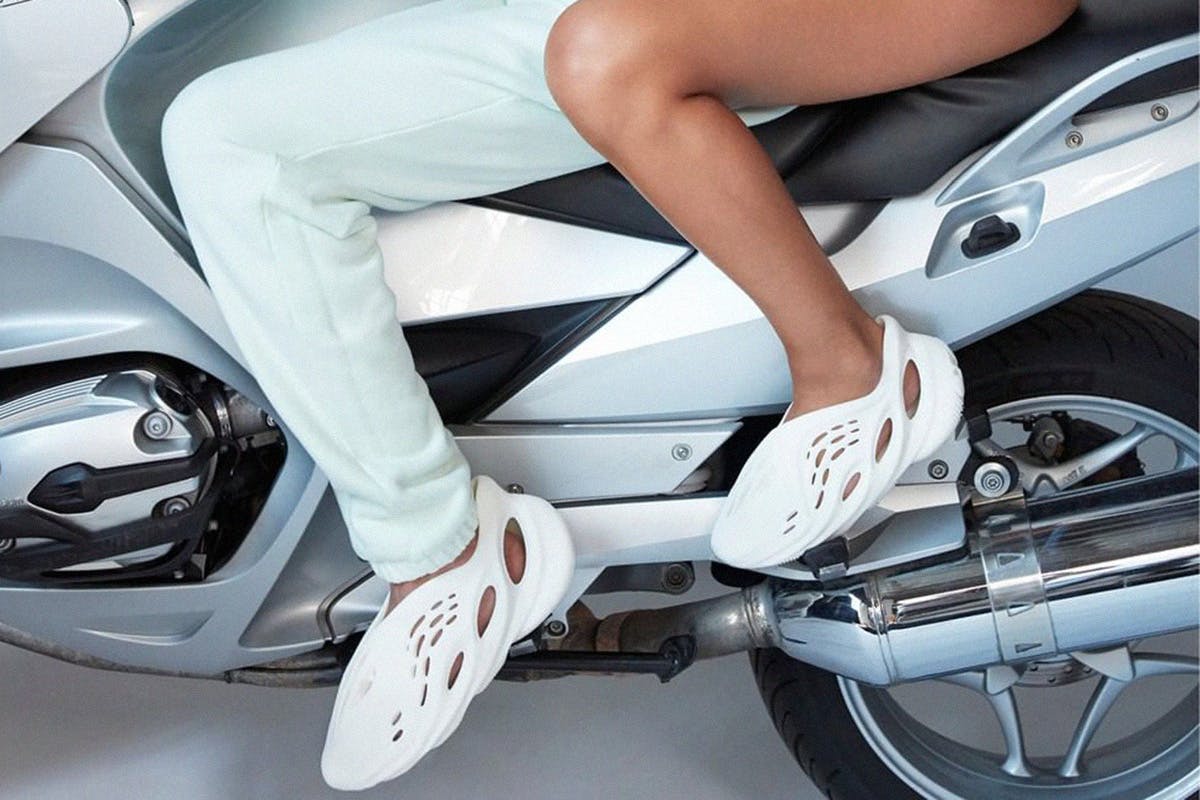 More recently, images of what was called the YEEZY Foam Runner were leaked online. The images were part of the The Face magazine's latest issue and gave us our best look yet at a silhouette that was first spotted on Kanye West's daughter, North West, earlier this summer. As the name suggests, these YEEZYs, set to be released in 2020, are entirely constructed of foam and take on a performance-style aesthetic reminiscent of the YEEZY Boost 700, albeit in foam clog form. Twitter, again, was divided.
October 2019 — Kim Kardashian West shares YEEZY slides for kids on Instagram
Yet another chapter in the ongoing Kanye West YEEZY slides saga saw his wife, Kim Kardashian West, tease YEEZY slides for kids on her Instagram story. The slides (above) look to be made out of the same rubber that the clogs are made of and come in a selection of signature YEEZY colorways. No word yet on a release date.
December 2019 — Product images of the above YEEZY slide prototype leak online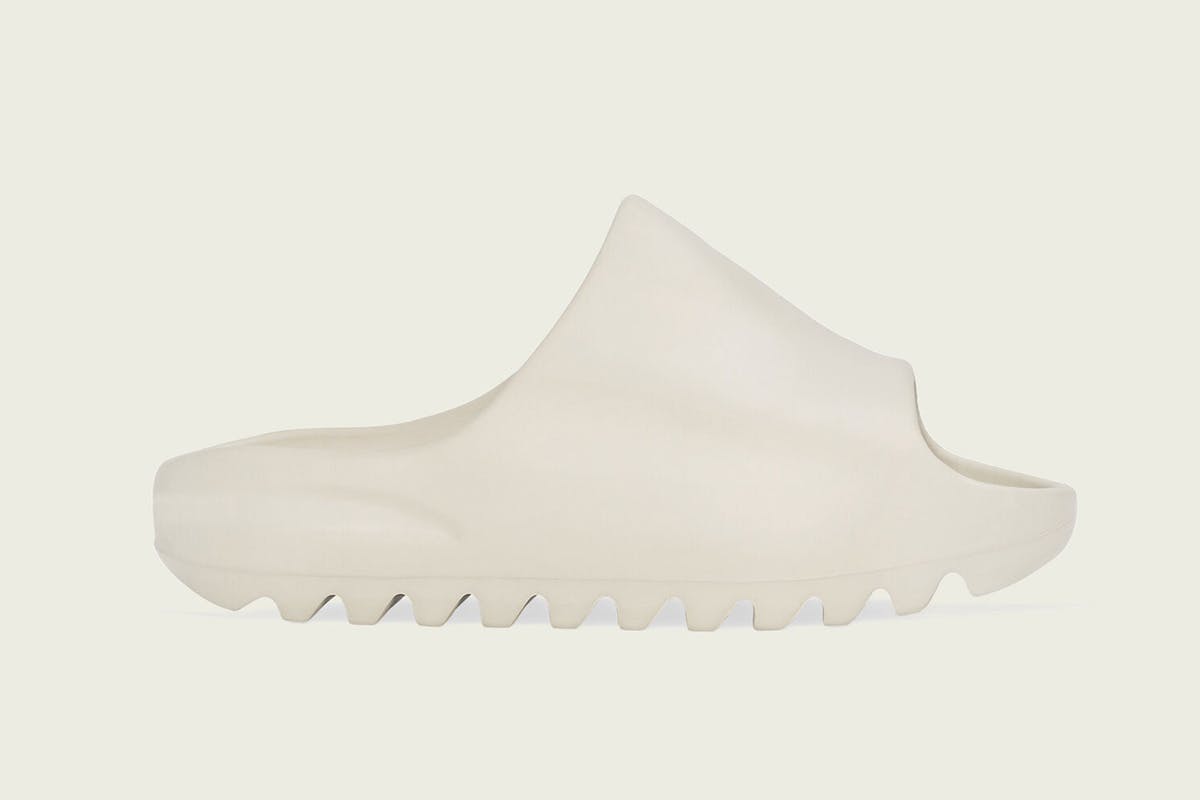 In December, what are assumed to be official adidas product images of the YEEZY slides leaked online. They give us our best look at the aforementioned prototypes and the children's versions teased in Kim Kardashian West's Instagram. The YEEZY slides look to be constructed of a seamless piece of rubber with a serrated sole and come in family sizing (adult, kid, toddler).
To stay updated on everything happening in the sneaker world, follow @Highsnobietysneakers on Instagram, check our sneaker release date calendar and subscribe to our sneaker chatbot on Facebook to receive lightning quick updates to your inbox.