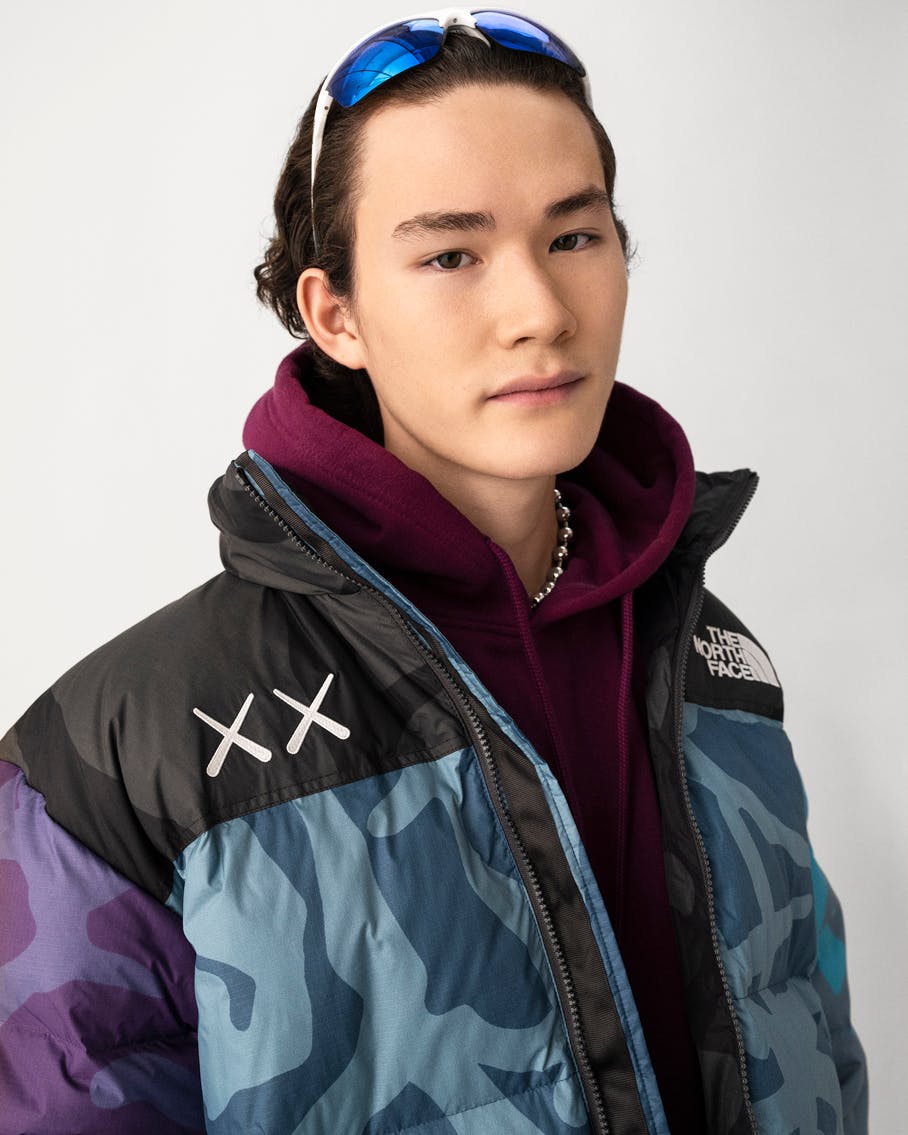 What's in a collab? Well, lots of back-and-forth between design teams, some samples, and, if you're an artist as well-known as KAWS, probably a bit of baggage.
Though KAWS and fellow New York-based artist Futura share a background in street art — that is to say, they both got started by spraying graffiti in the Big Apple rather than immediately attempting to break into the realm of so-called fine art — their careers have pretty clearly diverted along the way.
KAWS is a marketing machine, for instance, inspiring record-smashing auctions, hosting traveling installations designed with selfies and merch in mind, and launching collaborative drops with everyone from Reese's Puffs to Fortnite to Supreme.
Meanwhile, Futura remains an artist's artist.
Nearly 20 years KAWS' senior, Futura's been in the game a good while longer than KAWS and only recently really delved deep into streetwear via his reborn Futura Laboratories label — though Futura's got plenty of collectibles to his name, his legacy remains quietly impactful enough to necessitate zines that trace past work.
Despite Futura's growing interest in consumer goods, KAWS is far and away more commercial. Seriously, hardly a week goes by without the artist issuing a new collaboration or two.
Hence, this week's reveal of KAWS x The North Face.
The partnership is interesting, not so much because of the clothing (though the lurid colors and blown-up abstract swirls are definitely , uh, eye-catching).
No, the most intriguing part of KAWS' TNF collection is how it relates — or doesn't — to Futura and TNF's ongoing clash.
See, Futura is currently in a legal tussle with The North Face over a copyright lawsuit that turned ugly last summer.
One would think that with a peer currently combatting The North Face in court, KAWS would've been hesitant to align with the outdoor company.
Of course, it's not entirely fair to paint all street artists with a single brush.
KAWS and Futura come from different eras, different communities and, given KAWS' mass market appeal, different takes on commercialism.
Perhaps KAWS isn't friendly with Futura or unfamiliar with the court case. Perhaps KAWS does know about it but doesn't care — no ill intent here, just spit-balling.
Given how much community means to street art and its proprietors, though, it's at least marginally surprising to see KAWS essentially forsaking Futura for the sake of putting another collaborative feather in his five-panel Supreme cap.
Remember the way that supporters rallied behind street artists challenged by auto companies — Futura attracted similar communal support when he made his statement about the TNF lawsuit last year.
In fact, some fans have returned to that post, tagging KAWS as if to draw his attention to the sentiment.
This'd be quite different if an emerging artist collaborated with The North Face, of course. Hard to deny a young creative their big break.
With all the money and clout in KAWS' coffers, though, the artist is plenty capable of refusing any potential partnership if he so deigns.
No, KAWS' decision to work with The North Face is very much a choice, one with overarching implications that KAWS admittedly may not have intended.
For instance, an uncharitable interpretation could view the TNF collab as KAWS quietly but purposely distancing himself from Futura and street art culture at large.
Critics could certainly argue that KAWS has long since ceded his cred in favor of blue chip status.
Still, how else should one respond when a successful artist from "the culture" elects to align with a company at odds with someone as steeped in said culture as Futura?
When the community comes calling, actions speak louder than words.
Futura's camp offered no comment when reached by Highsnobiety — representatives for KAWS have yet to respond.