German rapper Kontra K started kickboxing during his teenage years and is now an avid martial artist and all-around fitness enthusiast. His disciplined attitude and strict regime are closely tied to his on-stage performance abilities and even his lyrical content. Training and maintaining his physical and mental health are not just hobbies, they're fundamental parts of his life.
Recently, running became another essential element and tool that Kontra K has used to push himself to the next level and challenge his physical and mental abilities. As they say, that which doesn't kill us can only make us stronger.
This weekend, Kontra K will be running his first half marathon in Berlin with the help of Nike's new Nike Epic React Flyknit. The brand's latest running shoe is an ergonomic design featuring the Nike React cushioning technology previously used in Virgil Abloh's Hyperdunk from "The Ten" series. Nike describes the silhouette as 5% lighter and 11% softer than its predecessor the Lunar Epic 2, with 10% greater energy return. This marks the first time the cushioning system has been used in a running shoe.
To get to know what makes the musician tick in and out of the gym, we sat down with him for a brief conversation before his approaching half marathon.
Are you ready for the half marathon?
Can you ever be completely ready for a challenge? I don't think so. But I'm confident my willpower can carry me the distance.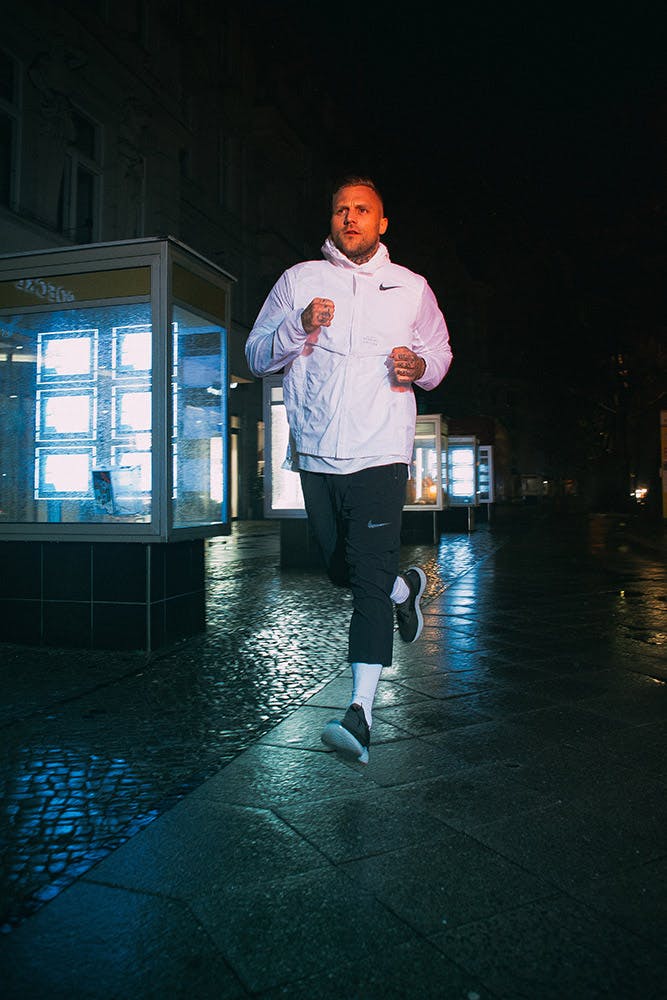 What time are you aiming to finish it in?
Two hours and thirty minutes.
Why did you decide to run it?
I love challenges and trying new things. If new challenges that push my limits arise, I mostly take them on. As is the case with the half marathon. I'm running for Nike, which is a big honor.
How have you trained for the Berlin half marathon? What was most effective in getting you ready?
I kept doing my usual boxing training and went jogging on a regular basis.
If someone wanted to get started with mixed martial arts but knew nothing about the sport what would you tell them? And what about running a half marathon?
Just do it! Don't think about it too much or hesitate, just do it. The rest will take care of itself.
How is preparing for an MMA fight or half marathon similar to preparing for a concert performance?
For both, you have to work hard in order to perform your best. Be motivated and keep trying. Don't just train your body, but rather, and more importantly, work on your willpower and on having the right attitude.
Who or what is on your marathon training playlist? Do you listen to your own songs while working out?
I don't listen to music very often during my workout. But when I do, I listen to music that motivates me. I don't listen to Kontra K while working out!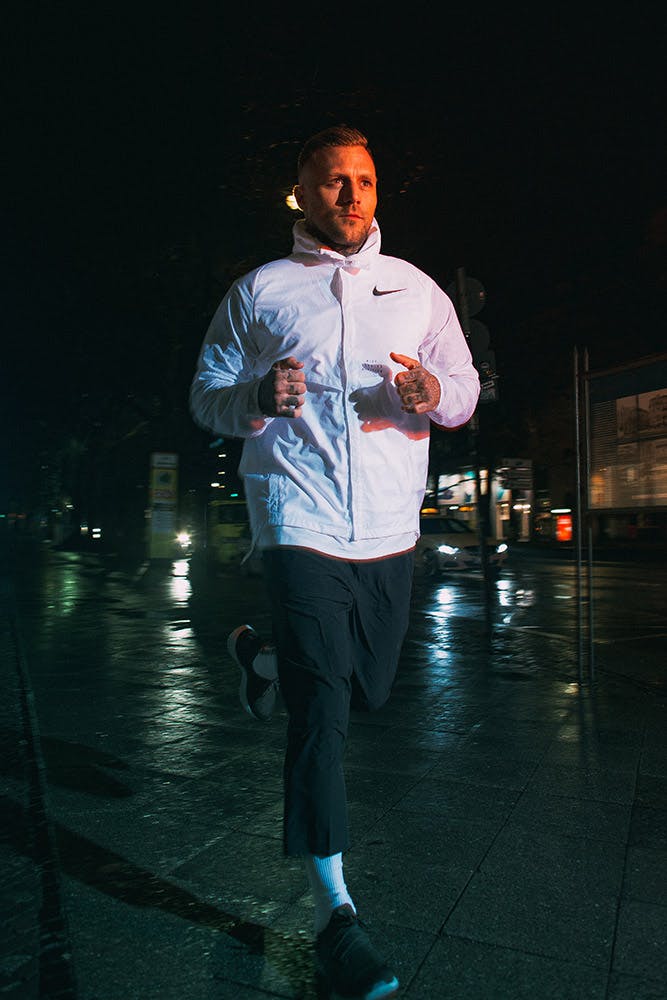 What is it like balancing a music career with the need for exercise? How do you do it?
With a strong will and discipline, it works. Will and discipline complement one another. Whatever I learn about myself in sports, I can use in my musical career. And, vice versa.
How does working out benefit your life?
Motivation, discipline, a fighting spirit, perseverance, and a sense of physical wellbeing! In every healthy body, there's a healthy mind.
How did sports in general impact your life?
From every perspective, only positively!
If you could choose to change your life today, what direction would you go, what would you do?
I would keep on going in the current direction and be ready at any time for challenges or spontaneous shifts in direction which result from what life has to offer.
How important is change in your life?
Change is good if you're unhappy!
Strength, honor, loyalty — these are terms on which you pride yourself and often rap about. Can you expand on why they are so important to you and how you apply them to music, boxing, life?
These are old values which should be carried further and unfortunately were somewhat forgotten. In these fast moving times today, it's important to have tangible values which don't let you lose ground.
What are your favorite places in Berlin that inspire change in you?
All of Berlin is my playground.
What makes Berlin special for you?
Diversity, different cultures, troubled spots (but always with a solution) — Berlin is so many things, one can't possibly put it into words.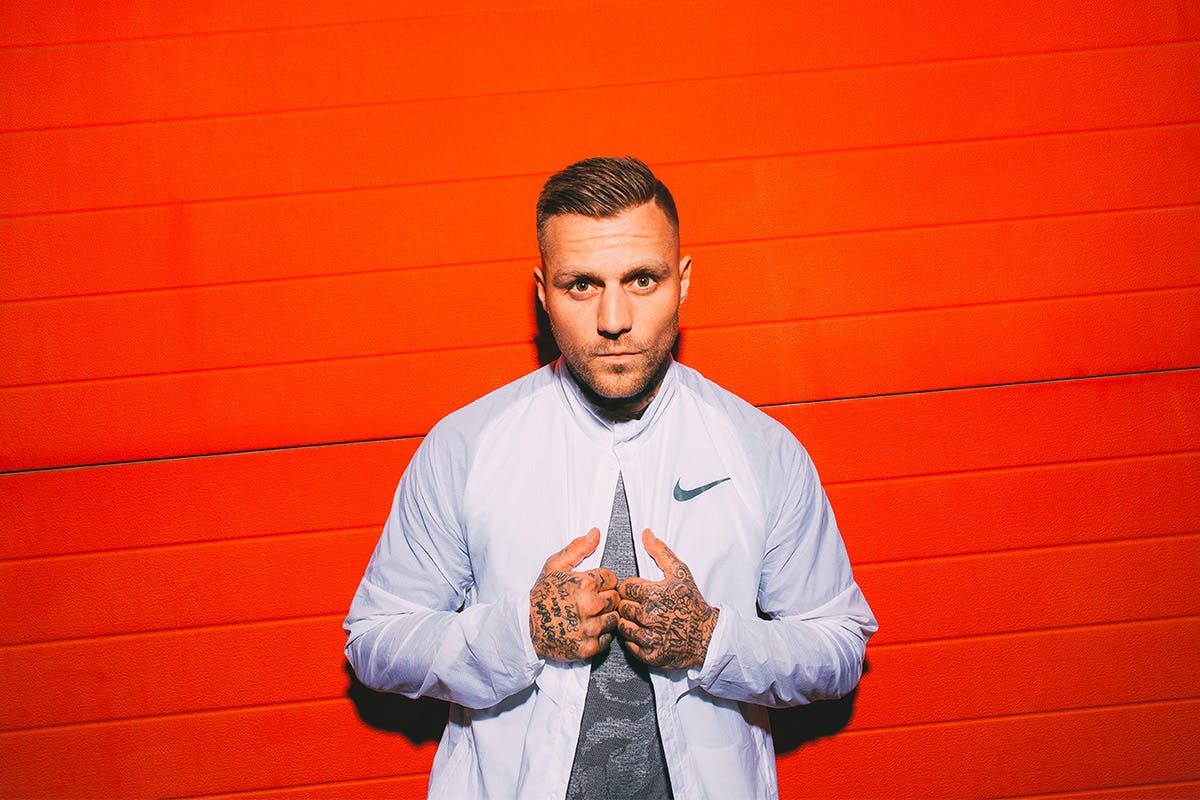 What energy do you get from the city and the opportunities it presents?
Sometimes good energy, at other times less good energy. No matter what it is, I can process everything in music or sport.
Why do you run at night?
The streets are empty and the air is fresher.
The Berlin Half Marathon takes place April 8 and the Nike Epic React Flyknit is available from the Nike Store Berlin now. It's then available worldwide soon after via nike.com from April 19.